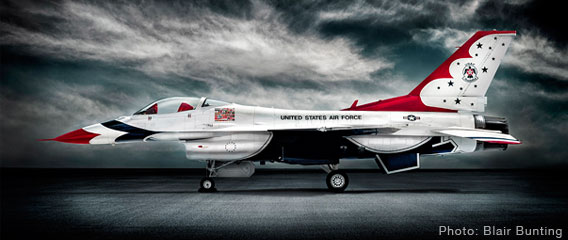 There are few things in every man's wish list that would make him feel as if he was a little kids in Alice's Wonderland. Taking a spin in one of Thunderbirds' newly painted F-16 beauties must be one of them. Nikon's ambassador photographer Blair Bunting did just that. Jealous? Well, maybe just a little. When can I go? I'm completely ready to sign on! It has also been said that being a Playboy photographer ranks highly in most guys' wish lists too but taking a ride on the skies in the F-16 has to literally be the ultimate high. The 9 Gs fly-around (at one point) is a token of appreciation for the cool images photographer Blair Bunting produced for the Thunderbird team. If you've ever wondered what 9 Gs feels like, Bunting shares the following in his blog post about the experience:
The 9 G's fly-around (at one point,) is a token of appreciation for the cool image photographer Blair Bunting produced for the  Thunderbird team. If you've ever wondered what 9 G's feels like, Bunting shares the following in his blog post about the experience:
"Firstly, in no way is it comfortable, not even close. I began to feel my face melting away as the skin in my cheeks pulled down to my mouth. The color from my vision was the next thing to fade away, first the reds, then the greens. Squeezing like hell, I did everything I could to get air into my lungs as the G-suit wrenched it out. With all the color of a 1950′s television set, the next thing I noticed was that waves were starting to develop in my vision and a vignette appeared. All the while I am listening to the pilot's breathing and trying my hardest to match it.
At any point I could relax and immediately be unconscious, only to wake up and wonder where I am, but I had trained too hard to let this happen. Then, just as G's set had set in, they began to leave and normalcy appeared. However, if I were to relax at that point, the blood would leave my brain too fast and knock me out as well, so I continually squeeze as the G's lift and my body slowly returns to what sanity it had left.
To all those who have ever wondered…. what is it like waking up in the morning, knowing you are going to fly with the Thunderbirds?
It is SCARY AS HELL!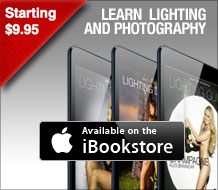 Perhaps as some sort of twisted joke, the Thunderbirds flight surgeon told me that I needed to get a good night's sleep before my flight….. Let me put this into perspective… Sleeping the night before flying is like a kid trying to sleep the night before a Christmas where Santa brings him an F-16. Not Happening.
Nonetheless, after whatever sleep I could muster, I got in the car and headed to Luke Air Force Base. As the passengers in my car will attest, I listened to heavy metal for the entire drive, as it was the only thing that calmed me down. Upon walking into the briefing room I was immediately informed that the flight had been bumped up and that I needed to brief with my pilot right away. We would step to the jet in 30 minutes. Sitting there listening to Thunderbird 7 talk about everything from how I would need to sit if we had eject, to how I could stay conscious through 9 G's was completely surreal. Before I knew it he said, "that's it, let's head to the jet."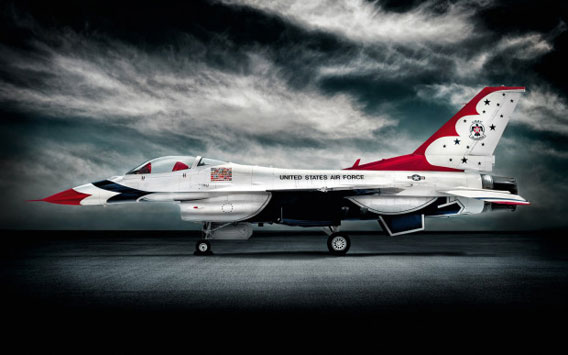 Photo: Blair Bunting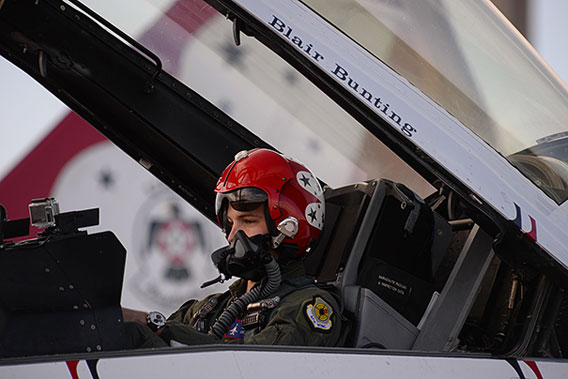 Larry Reid / USAF Thunderbirds
Checkout the rest of the story at Blair Bunting's blog, But before you go, here's my personal experience with Blue Angels and their F-16's.
While working with Playboy some years ago in several pictorials and tight schedules, unique pictorial ideas were always on top of my list to do. When a pictorial needed to be different, I was known as the go-to man to get it accomplished. I contacted the Blue Angels team with wishes to be able to shoot young beautiful ladies with their shiny F-16's. After months of preparations and approval from their squadron leader, things could have not looked better. That is until I received a call from the squadron leader stating that the project had to be put on hold because one of their squadron pilots was a female and she had gotten cold feet and did not feel comfortable having some of our models all over their planes. All squadron members have to agree mutually before anything was going to fly. Ouch! Even the squadron leader was disappointed and relayed the message form the rest of the flying team pilots that they all were looking forward to this experience and that they were really bummed out. My wings were clipped and the wind had died down. There was nothing but stormy skies for the following five years until Blair Bunting came along to make us all proud.
[Via Blair Bunting's blog]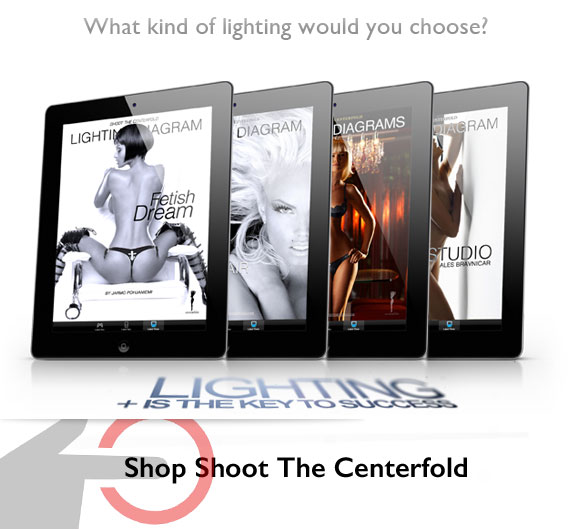 © 2014 Copyright ShootTheCenterfold.com. All rights reserved.