STC's Ultimate Glamour lighting book
The cat is out of the bag!! Our striking and popular STC seminar model Ralitsa Ivanova made quite an everlasting impression amongst our attendees and instructors. We have received your requests about the photo techniques used in the photo-set during her seminar appearance. So by popular demand, we have compiled a book about the lighting technique just for you and those who were not able to join us for the higher lighting seminar experience.
*This specific lighting is known as one of Jarmo Pohjaniemi's most popular lighting techniques as seen in Playboy magazine.


It's all in the details
Dive into easy to understand details and learn "Light-by-Light" how each strobe contributed to bringing the image alive. See detailed settings and visual demonstration about the positioning of strobes and modifiers used to achieve the look.
Never before has Shoot The Centerfold delivered explanations this detailed. With your help and feedback, we have made the learning experience as rich and enjoyable as possible with multiple galleries and viewing angles, leaving nothing overlooked.
The ultimate power of lighting comes from the knowledge and understanding of what each light modifier does and how they affect the subject. It is not the amount of light as much as the quality and effectiveness of the light used that gives you the ultimate control and the ability to face some of the most challenging lighting situations known to industry.


 Getting the right effect by making all the right choices
Not only will you learn the best way to light the lovely Ralitsa, but you will also understand the lighting equipment choice. Over 90 samples of visual demonstration are provided by our lighting sponsor Hensel for better understanding of all your potential lighting tools.
The choices are endless and often misunderstood. Lighting is the single most important element for a master photographer and should never be overlooked. It has been said that professionals worry about time and budgets, but the true masters focus on achieving the perfect light in photography.

Paint your masterpiece with light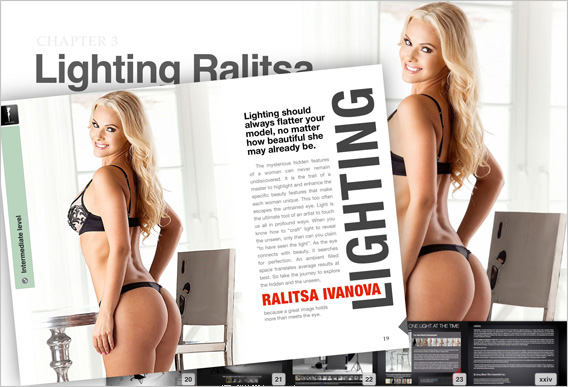 To emphasize an existing natural beauty and be able to create a visual masterpiece, you need supportive lighting which will bring out the features that often go unnoticed by less experienced photographers. Applying light is what brings your photography alive and gives you an edge and future in this highly competitive industry. My camera is the invisible element between the model and the vision of millions. I know when I see something extraordinary, something that deserves nothing but the very best of my lighting abilities. Why would anyone settle for anything less, when they can have the very best? This is what I live for, and Ralitsa Ivanova brought out the best in me. And with this I share the best of my techniques with you. I hope that you can learn from my experience, see the beauty, and how to apply the best lighting possible to your own creations.

Description
Some of the best-kept secrets of fashion and Playboy photographers are now available to you in a digital format. Learn how to create amazing shots using the very same lighting techniques as seen on the pages of top fashion magazines. Now you can purchase individual lighting scenarios from Shoot The Centerfold's series of Lighting Diagram books. STC has made obtaining your lighting diagrams as easy and wallet-friendly as possible. Let's say you like a specific scene but don't want to purchase the entire book. Select a scenario of your choice based on your educational needs, requirements, or interests.
This single-lighting scene book includes:
Welcoming page and about the author
Understanding exposure, color temperature, and depth of field
Understanding lighting equipment choices and what should one choose. (Over 90 samples)
Detailed interactive demonstration "Lighting Ralitsa Ivanova"
Light-by-light gallery
A 3D Gallery and light modifier positioning
On-Set, one light at the time explanation
Proficiency Level:
Intermediate
This is one of the most comprehensive glamour-lighting tutorial books ever produced by Shoot The Centerfold with detailed information on each light with multiple view angles.
Take your photography to the next level
Create your own magic with a lighting set using a 4/5-light set up, evolving from standard lighting options. Most importantly, learn how to perfectly balance lighting to impress your audience. See detailed descriptions of each setting, focal length, color temperature, distance, and lens used to create breathtaking images.
NOTE: This book is available for download with iBooks on your Mac or iPad, and with iTunes on your computer. Multi-touch books can be read with iBooks on your Mac or iPad. Books with interactive features may work best on an iPad. iBooks on your Mac requires OS X 10.9 or later.