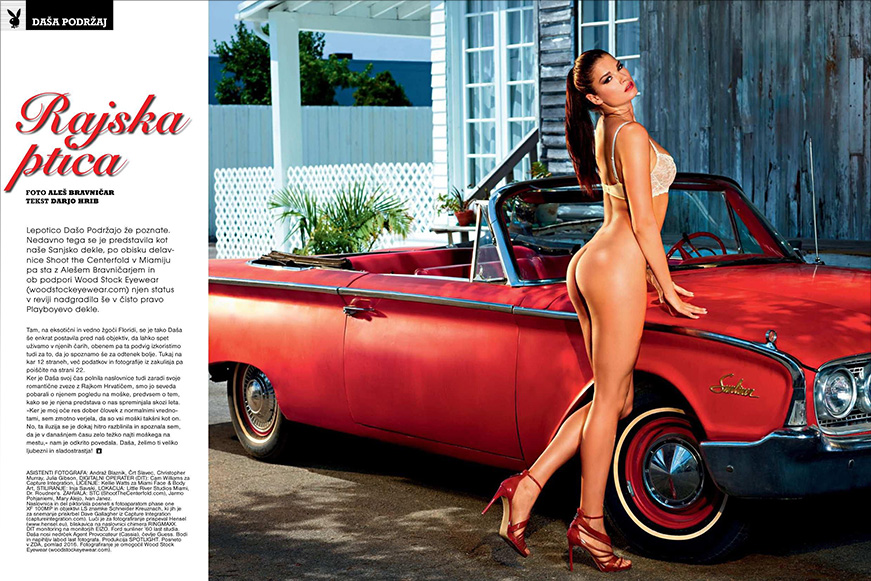 This Was STC Miami 2016
Shoot The Centerfold's annual seminar/workshop took place in beautiful Miami on April 2-3, 2016 and set its mark as one of the most successful STC seminars to date with the addition of a third day that focused on the business of photography. Seminar attendees once again travelled as far as Australia, India, Europe, and Hawaii and the international atmosphere did not stop there. The attendees weren't the only participants who traversed the globe for the event.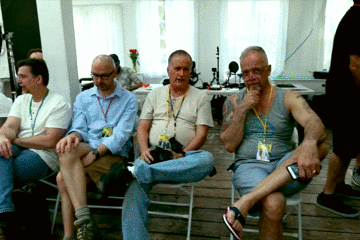 The incredible models also traveled from all over. The road miles ranged from those who reside in Miami to kiwi beauty Sarah Harris coming all the way from New Zealand. Near or far, the sexy lineup of STC models and model ambassadors all left a life-long impression.
This was perhaps the most enthusiastic group of photographers we've ever hosted at an STC seminar. They were truly a remarkable group of attendees. There were many familiar faces plus a good number of excited newcomers. Everyone was energetic, involved, polite, hardworking, attentive and fun to be around.
Cameras clicked, smiles abounded and the mood of the group, from those who were there from set up day on Friday until the last images were captured Sunday evening, was completely upbeat. There was serious learning taking place and good work being done on five different sets, each with its own Master Photographer, plus many individual and impromptu shooting situations around Little River Studios.
Playboy Published 8 Pages From the STC Seminar
Playboy International is publishing a WHOPPING Eight pages from the STC April seminar for you to see what you missed in case you were not able to participate in our fantastic experience.
Page 1-2. Click to enlarge!
Page 3-4. Click to enlarge!
Page 5-6. Click to enlarge!
Each STC seminar is a different experience from the last, just like the photographers who attend the event. This is our sixth year hosting seminars and sharing the perfect photographic formula that keeps on giving. Each time we learn something new from each one of you and evaluate what the future may have in store for the photographer attendees. Since the personalities, taste and future objectives play a big role in a successful outcome, we have learned to adjust our program accordingly to best fit the industry expectations and how each individual can benefit the most from it.
The STC 2016 April seminar models and model ambassadors
The models couldn't have been prettier, more professional or more fun to work with. We've had great models at previous STC events but none that topped this group. There was a variety of skin colors, figure types and hair styles and they were all beautiful and provided the photographers with a chance to add tons of great photos to their portfolios.
Karolina Wozniak
Dasa Podrzaj
Ksenia Pilulka
Sarah Harris
Zienna Eve
Latoya Janae
Stormi Maya
Jade Williams
Jackie Kruz
Jennifer Summers
Megan Anderson
Ines Juranovic
Emily Perilli
Gisele Lynn
Paige Nicole Hudson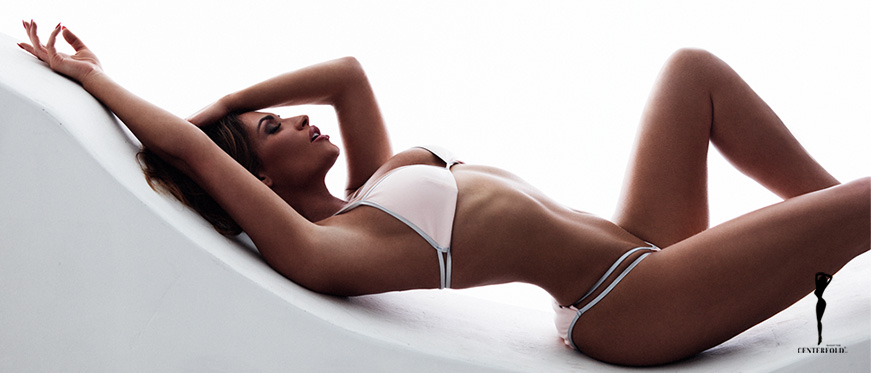 Model Karolina Wozniak at Josh Ryan's set
The Seminar Starts
The seminar kicked into high gear with the introduction of the STC Masters and their slideshow presentations. The most current styles as seen in Playboy were showcased by newest STC member Josh Ryan which set a perfect balance between the other STC Masters' creations by Slovenian Playboy photographer Ales Bravničar and British photography icon Byron Newman whose classic style paved the road for generations to come and serves as the blueprint of what Playboy once stood for.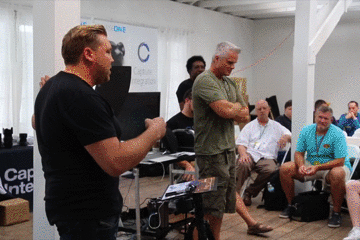 Jarmo Pohjaniemi's creations demonstrated inspiration from fine-art to commercial, fashion and high-end cinematic pictorial productions and how to reach industry's top-dogs and get them asking for more. The STC founder also demonstrated the importance of adding video alongside your creations as an added value for today's competitive industry.
STC's Ric Moore got the crown for the most casual approach when filling the gap between heavy hitters and how to make the most out of it when all the odds are against you.
Gary Cole, STC's senior consultant, kept his eye on the ball and offered his expertise and portfolio reviews with the most truthful guidance available anywhere. Gary's experience and unbeatable track record resonated with attendees and revealed potential photographic futures. Realistic benchmarks were set for beginners and emerging photographers.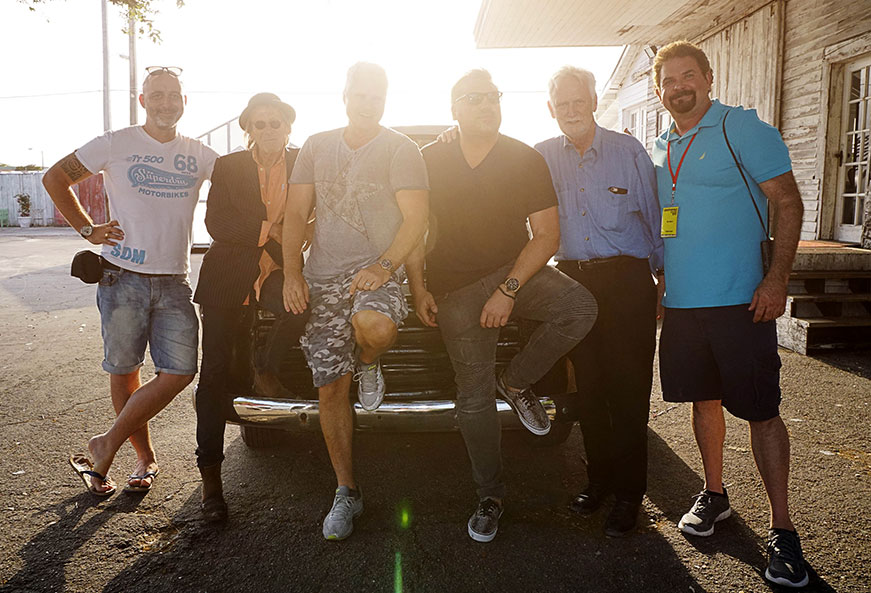 STC Masters 2016 from left to right: Ales Bravnicar, Byron Newman, jarmo Pohjaniemi, Josh Ryan, Gary Cole and Ric Moore
Mastering The Craft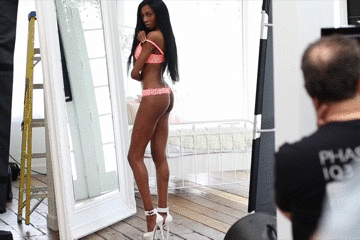 What really separated this STC seminar from all the others, was the variety in photographic styles, teachings and locations that Little River Studios has to offer. Jarmo Pohjaniemi's classic set demonstrated how to create magic by using 1 to 5 strobes. He explained how to up your game to a more modern style with ease.
Slovenian Bravnicar's hillbilly set including a classic barn and a rusty vintage car was a much more challenging combination of light and weather control. As Ales explained,
Facing a real world weather condition that can change in the snap of a finger is part of this program. Never let your guard down and be ready for any situation possible without compromise."
Shooting the Playboy Cover
And just when you thought you'd seen it all, attendees were invited to watch a live shoot by Ales Bravničar using the RingMAXX lighting modifier for a Playboy cover. The RingMAXX provided the perfect lighting scenario for the cover girl (and now Playboy Playmate) Dasa Podrzaj. Crowds gathered to see history in the making and witnessed the signature RingMAXX look now printed on the cover of Playboy magazine.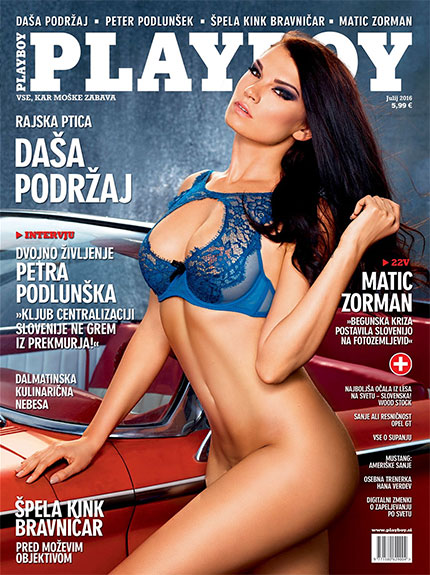 Click to enlarge. (Get your copy of the magazine here.)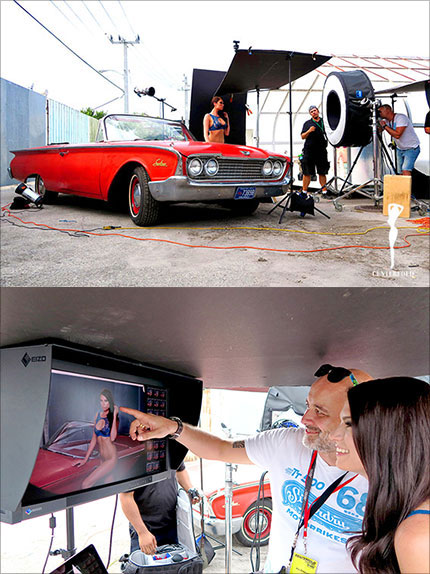 Dasa and Ales evaluating the results
"The RingMAXX does a beautiful job when you know your right ratios for all four strobes. This was my very first RingMAXX experience, but certainly not the last." Ales used the same classic car from his main set that was now parked right beside a tin wall giving it good contrast and an industrial look and a feel.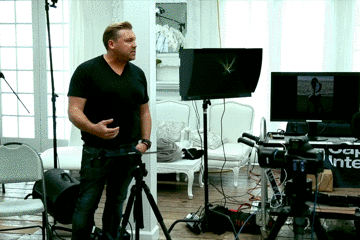 Californian city slicker/beach boy Josh Ryan powered his set with a single strobe and mustered magic with minimalism in mind without compromising any quality as seen in today's modern publishing from Playboy to fashion. This new style and Josh's approach is the latest we've seen in US Playboy before the nudity ban began.
"To get the best out of your set you must improve the quality of your styling to match your final outcome," says Josh Ryan.
Ric Moore's beach house set was exactly what non-Floridian's would expect. It was nothing short of SI swimwear meets Miami, while Caribbean-style cabana walls, palms and babes set the atmosphere adored by the world as a dream location for fun and sun. No wonder Ric's photography career in the lucrative advertising world has embraced him.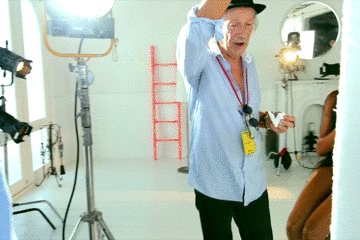 Byron Newman once more designed his lighting scenario with precision and accuracy which also serves as the backbone of his legacy. Often imitated but never quite duplicated was his admirable trademark constant lighting set that kissed the skin-tones of lovely STC models. His set separated all of the others in a league of its own as is Byron himself. His lighting is the rock & roll of photography.
Behind every great seminar there is a great organizer and Jarmo certainly has one in Mary Alejo. She is the glue that holds the entire seminar together—organizing models, overseeing makeup and wardrobe, making sure everyone and everything is where it is supposed to be, insuring that lunch arrives and is served on time—plus taking care of a thousand other details too numerous to mention here.
STC Business Seminar
For the first time, this April's Shoot the Centerfold seminar offered a third-day option for those photographers intent on improving not only their photography skills but their ability to make more money doing what they love. Sixteen attendees took advantage of the opportunity to get practical photography business advice from Jarmo Pohjaniemi, Gary T. Cole and David Gallagher from Capture Integration.  Get the whole scoop by clicking here!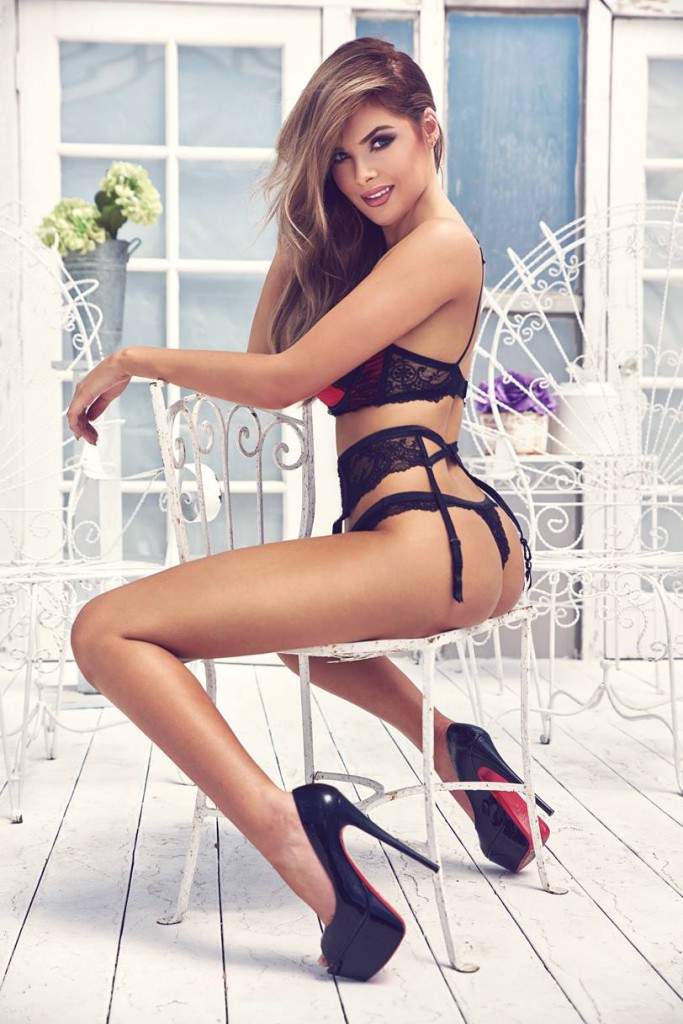 Sarah Harris by Michael Sheller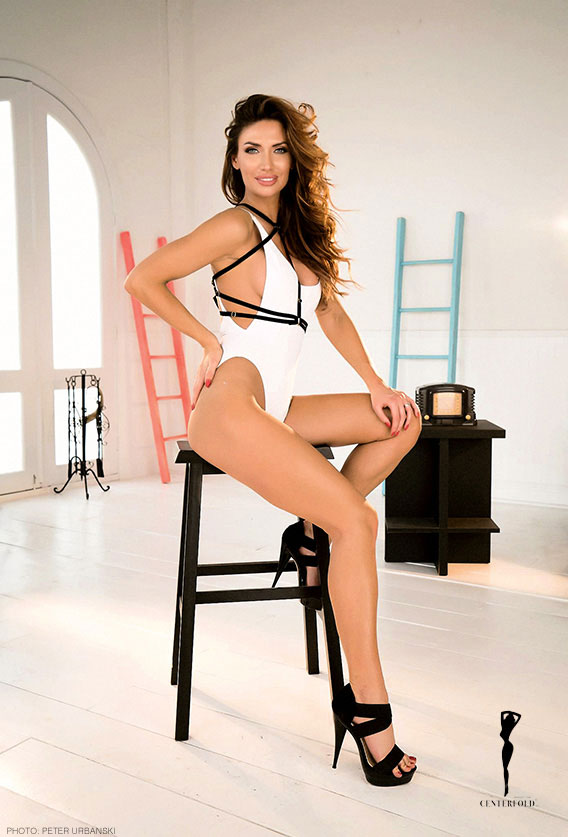 Karolina Wozniak by Peter Urbanski
Congratulations to "Michael Paskin and Jade Williams" for their first Playboy appearance.
We would now like to congratulate STC attendee "Michael Paskin" for the best picture from the April seminar now in a full page ad in Playboy International. This year's image was chosen based on the classic lighting style which paved the roads of our own photographic careers.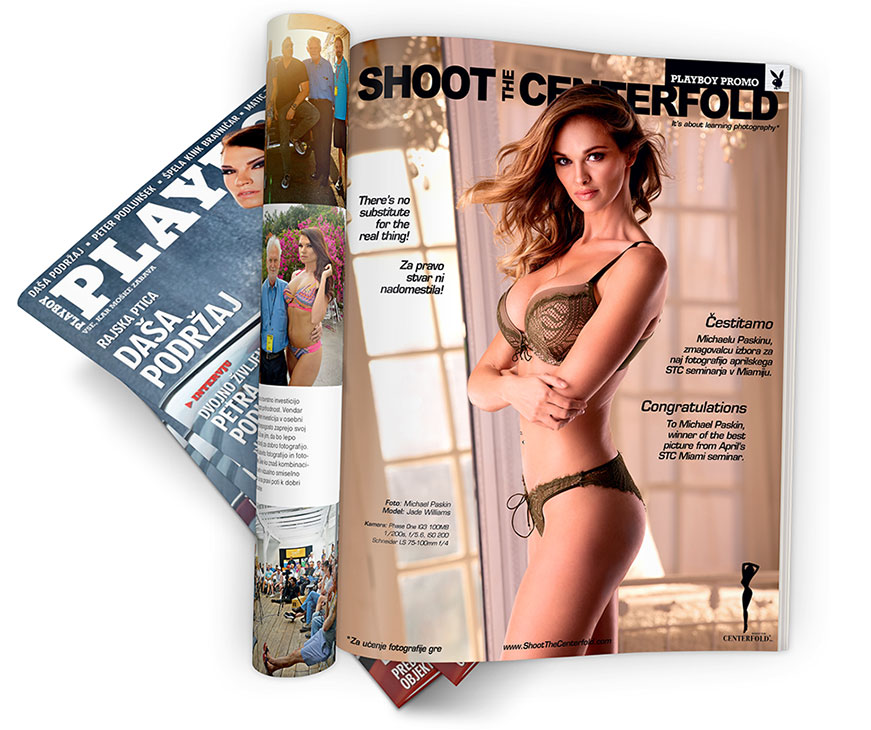 Jade Amber poses for Michael Paskin in Jarmo Pohjaniemi's set
You all were winners and there were so many images that we could have chosen. But only one lucky attendee wins the Playboy publishing at each STC seminar. Below you can also see the 1st and 2nd runner up image choices considered before we came to our final decision.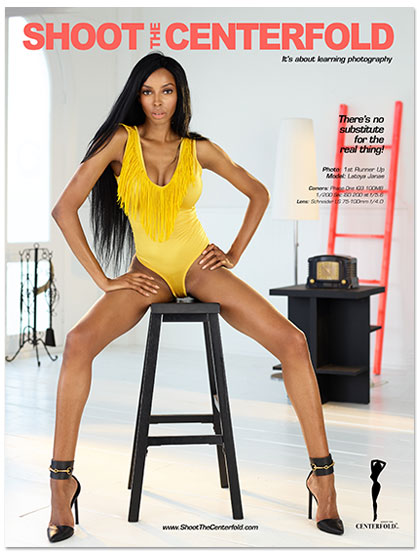 1st Runner Up Latoya Janae on Byron's set – Click to enlarge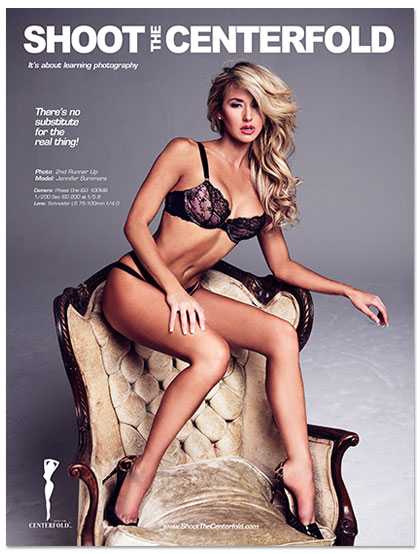 2nd Runner Up Jeni Summers on Josh's set – Click to enlarge
Phase One Camera System
After the presentations, the workshop shifted gears to shooting which had previously been reserved for the second day during STC seminars. Shortened business topics and detailed industry insight were saved for day three (the business seminar) which allowed attendees a rich photographic hands-on experience, with five Phase One cameras and digital techs on each set provided by Capture Integration. Dave Gallagher from Capture Integration orchestrated a perfect score with the highest quality images provided by the 100-megapixel Phase One camera systems which were displayed on seven separate Eizo monitors.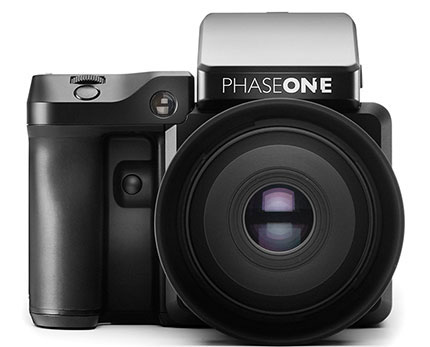 FX IQ3 100MP Phase One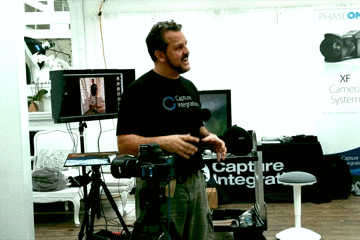 Camera demonstration by Dave Gallagher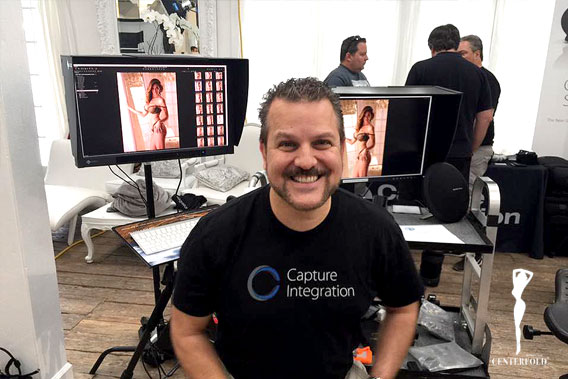 The participation of Capture Integration/Phase One was a stellar addition to seminar. What an impressive camera system with equally incredible people backing it up. The magic of the Capture Integration/Phase One system clearly demonstrates how new technology is redefining what is possible in the age of digital photography.
The staff of Capture Integration brought their knowledge, skills and equipment to the seminar and clearly we all benefited from learning what it can do.
The incredible detail and clarity made editing the images a pleasure and some of the images are now are available for you to see in the pages of International Playboy. We believe that the Phase One XF offers the best possible quality currently available on the market.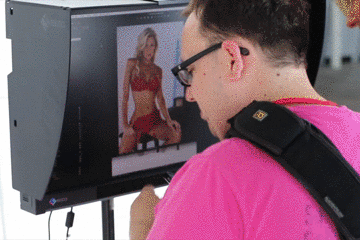 Dave Gallagher from Capture Integration ensured a perfect workflow from the camera to the Eizo monitors. The smile on his face says that he liked what he saw. To find out how you can get your hands on a Phase One camera system, click here!
Capture Integration support crew:
Dave Gallagher – CEO Capture Integration
Chris Snipes – Camera Specialist Capture Integration
Ziv Argov – Vice President Phase One US
Cam Williams – National Rental Manager
And hats off to STC's all fine sponsors—We could have never done it without your support:
We would like to thank all the hair & make up artists who made our models look beautiful
Watch the interviews during the STC 2016
While the seminar advanced, Paul Pelegrine from Lightware and Dr. Dan were creating podcasts with attendees and STC Master Photographers. Stories were told and excitement was shared for later listening experience and enjoyment.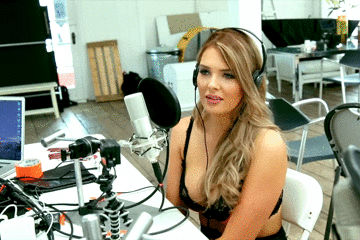 Model Sarah Harris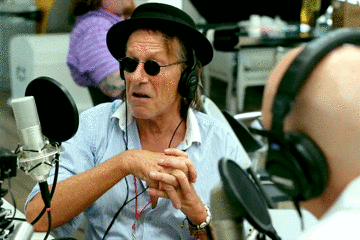 Legendary Byron Newman

Byron Newman interview

Jade Amber interview

Gary Cole interview

Ric Moore interview

Sarah Harris interview

Doug Hill interview
If you missed this seminar, decide right now that you will not miss the next one. Look for scheduling information on our website www.ShootTheCenterfold.com in the near future.
Additional Images and Behind The Scenes Gallery
(Some images are "Gif images" which may take longer to upload to your device)
© 2016 Copyright ShootTheCenterfold.com. All rights reserved.