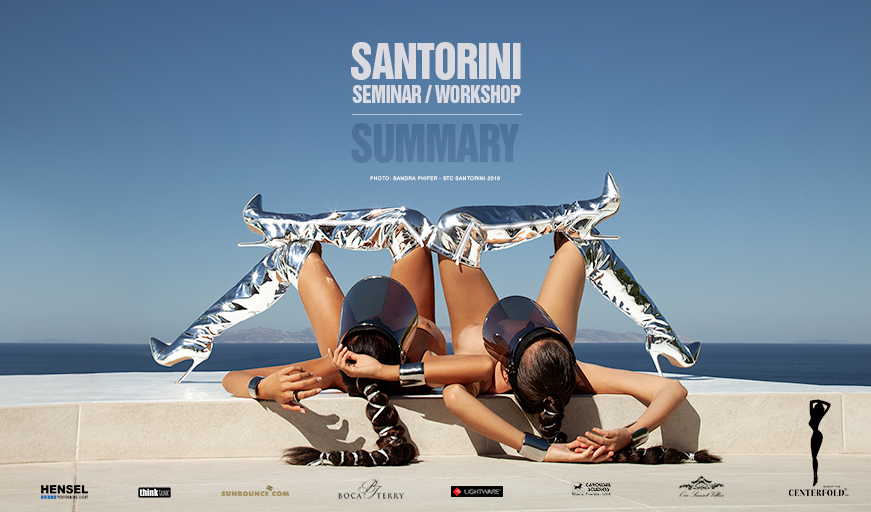 Opening image by STC attendee Sandra Phifer
This was STC Santorini 2018
Shoot The Centerfold, Byron Newman, Mary Alejo, and I wish to thank everyone who joined us at STC Santorini 2018 in October. It was an amazing experience for all of us. Many new friends were made and old ones reunited at one of the most picturesque locations on the planet. Honestly, mere words cannot express the experience and thankfully the pictures can speak for themselves. STC has raised the bar to new heights in style and our boutique seminars will never be the same.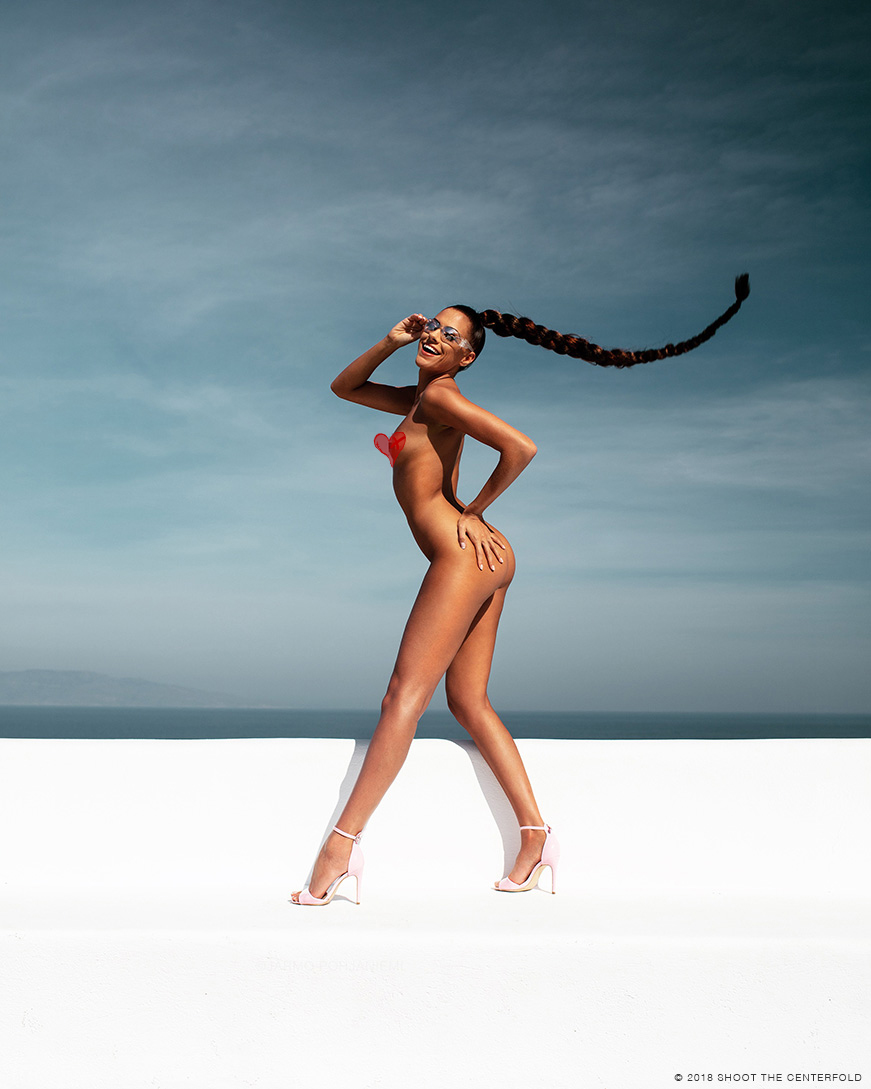 This was one of our best seminars we have conducted to date and it's hard to believe that it was over so soon. It was not our first Santorini seminar rodeo though, but this time it was magical. We had a great group of people from all around the globe with one passion in mind; the mutual love for photography. From the very first day, the seriousness of this seminar became evident. This group of attendees had their expectations running high and for all the right reasons since STC boutique seminars are as far from a holiday seminar as they come. We are all about photography and business.
The beginning
The seminar kicked off a few days early with STC attendee Michael Stephen who had two swimsuit clients to please by photographing their latest product line. The weather gods could not have been more helpful throughout the entire workshop. We had only one cloudy/windy day which was on the arrival day. The rest of the trip was Santorini perfect weather with magnificent sunrises and sunsets.
The models
The models Noemi Kappel, Julia Logacheva and Rebecca Perry ensured photographically good times and were the utmost professionals. Their performance and abilities have surpassed many. When we select models for our seminars, we take things to a whole new level by choosing talent with outstanding skills beyond their physical attributes. These are top-tier models that can overall rock any shoot and style.
Hair & Makeup and styling
STC's Mary Alejo was in charge of hair, makeup and wardrobe. I don't believe that any seminar has ever taken styling and wardrobe to the next level as we did this time around. Mary made sure that her five months of research and wardrobe discoveries did not go unnoticed with her one-of-a-kind wardrobe selections. The tryouts paid off big and the evidence is now in fresh ink and publishing.
Introduction of the production area for the attendees – Click each image to enlarge
Detailed and handpicked wardrobe choices, plus accessories
Keeping up with the latest styles & trends
Daily dinners relaxing after a long shooting day
Satisfaction guarentted. Shoot until you drop
Jarmo Pohjaniemi and Byron Newman discussing plans over dinner
STC Santorini 2018 instructors: Jarmo Pohjaniemi and Byron Newman
Joining us was STC's Byron Newman, our seminar's second instructor, sharing his wisdom and principles of photography. We worked well, accommodating each other by offering our attendees two different style principles. Except, I did not require tea with hot milk and occasional power naps on sets (Professional napper). However, I did learn a thing or two from Byron who has many cool hat-tricks when needed. Byron's ability to tell stories with or without pictures is an experience in itself, but too juicy to be published here. If you are ready to have your jaw drop, join our future STC experiences and learn from "Lord Byron" and his tales.
The seminar was held in beautiful Oia Sunset Villa's which we commonly keep as the base camp and from there we travel to other various shooting locations. Not one place will ever look the same with our careful attention to details and production. The city of Oia is a real thousand and one set location, along with its Greek architectural designs and Mediterranean atmosphere. I have taken several clients there and will continuously do the same to impress editors alike in the industry.
What did we shoot?
At Shoot The Centerfold it's obvious what we do, or is it? Our primary objective is to create great photography by offering professional advice on lighting and photographic techniques. More importantly, our boutique seminars are designed not only to develop content for publishing but also covering several styles in demand, in different areas of photography. We also make it a priority to fill up the attendee's portfolios with images to meet the new industry standards and beyond.
Combining classic glamour and a modern mix of fashion with artistic nude, rule over past looks without overlooking the importance of style in photography, which stands as the backbone for times to come. This also reveals the reason why we select our models very carefully, to those who can perform multiple styles, not only in the world of glamour but also in fashion and beauty campaigns.
Our group of attendees came from several views, tastes and styles; many of them with years of experience, all there to refine their skills at STC's boutique seminars. We have learned how to tailor and create a program with a wide range of variety in mind to accommodate an attendee's needs and for the industry's demand.
One of the most rewarding aspects of the STC seminar comes afterwards when the workshop ends and we see what our attendees have created
At this moment, we have about 60,000 plus images in our hands that we have meticulously gone through and selected the winning hero images for publishing. Many more will be published in time.
Now that we have edited and narrowed the best images from STC Santorini, which was a tedious task, we have selected the "Best image of STC Santorini 2018" per style category. This was not an easy undertaking since there are so many great images to choose from, plus then getting them to the desk of the editors, clients and sponsors.
"When great minds come together, great things happen."When style and good photography come together to meet industry standards, it becomes an incredible feeling which cannot be explained. That experience becomes a validation for our accomplishments. Next, is the seminar "after production," which is unheard of in most other seminars, but a critical phase for those who seek further achievement. Following up and working together, regardless of the style, is good practice. What would we accomplish if there wasn't a continuation of effort? As they say, "When great minds come together, great things happen."
Meet the Winner – The Best Image of STC Santorini 2018
We are proud to announce the Best Photo from the Shoot The Centerfold Santorini 2018 Seminar, goes to Blayne Uto. He's an eight-time STC attendee with a passion and determination in photography.
Blayne, a Hawaiian resident who loves to travel and photograph beautiful models, impressed us all with his winning capture. It met all the quality ingredients we look for in a "perfect" image. It's not an easy task to photograph three models together and get the winning image.
However, we're still unclear how much of a hotness factor our three models, Julia Logacheva, Noemi Kappell, and Rebecca Perry have contributed to the final image in addition to Blayne's photographic skills. We'll let you decide.
Page 1-2. Click to enlarge!
Camera: Nikon D750
Exposure: 1/200 sec at f/13
Lens used: 24-105 mm f/4.0
Favorite styles: Glamour, Sports and fashion
Computer & editing: MacBook Pro, LR/PS
Go behind the scenes and see Hensel Lighting in action
A favorite of everyone is to be able to take a peek behind the scenes and see how it all came together. Not quite the same as participating hands-on in our seminars, but certainly a great way to demonstrate the action for photography enthusiasts and fans alike. Behind the scenes, images and video have become one of the most important marketing tools for clients before and after their product launches.
STC attendees taking turns for the money shot
Blayne Uto in his own words:
"I want to thank STC and everyone involved in choosing my image as one of the winning photos from STC Santorini 2018. As an eight-time attendee of STC Seminars, I can safely say that the quality of my photography has tremendously improved with each seminar that I have attended.
"The same cannot be said about many if any, other so-called workshops"Why do I keep returning over and over again one may ask? I feel that I have learned multiple new things at each event which I could not achieve anywhere else, except at STC. The same cannot be said about many if any, other so-called workshops. What blows my mind is that I am still learning each time I return, thanks to the STC instructors. They are the real deal. Their long list of career accomplishments speaks highly for themselves.
When you have the opportunity to work with top professional models, assistants, stylists and MUA's, it's something that must be experienced to appreciate. The first time experience of what it's like to be a part of an event with the very same professionals who created the look and feel that contributed to the classic Playboy publication and style is priceless. Not many can claim such.
Using equipment like Hensel lighting and learning the mastery of tricks on how to make your images come alive is something that you cannot get anywhere else that implements wonders to any photographer's career.
This led to my decision to purchase a Hensel Porty Kit which has become my travel lighting tool of choice. To say I am pleased is an understatement and I can't wait for the next STC Seminar."
~ Blayne Uto
Top Finalists per Category
Different photography categories included several additional hero images. We like to consider all of you winners as many of the images are now in publishing or will be soon.
Swimwear for Khongboon by Michael Stephen – Click images to enlarge
Best Behind the Scenes by Claire Spoors
Best Stylish duo by Claire Spoors
Best Natural Light Portrait
Seminar experience by Reggie Blatter
I have lost count on how many STC seminars I've been through resulting in Playboy pictorials and features. Photography for me is my way of expressing who I am. I want to thank STC for making me feel like being a part of something I was never quite able to achieve on my own.
It was all a team effort and helped give me purpose. I have learned a lot about photography, but most importantly, about the business aspects of it and publishing.
~ Reggie Blatter
The Commercial Categories and the Donkey Handler
There you have it, far as commercial categories go. However, before we can let the curtain fall entirely off, I'll say this. Publishing and having a purpose for your images depends on editors/publishers and their schedules. But rest assured, this first wave of winners and the preview, is just a taste of things to come.
Let's say that the industry preference is to make two separate announcements for each photography genre and style. One for the commercial aspect and the other one, well, take a hard guess!!"
In the meanwhile, meet "The Most Interesting Man in the World." His significant role as donkey operator and Casanova, played a huge role while creating a pictorial sequence for the most popular men's magazine in the world. We are still scratching our heads and wondering, "What does he have that we don't?" He truly was most popular among the ladies.
Shoot The Centerfold will continue to offer you exciting new concepts in photography, including the business of photography. Our Santorini 2018 finalists and winners know this first hand. Make plans to joins us next time.
Here are the photography styles during STC Santorini 2018
Glamour
Fashion and fashion nudes
Art nudes
Commercial photography
Advertising photography
Swimsuit photography
Landscape photography
Drone photography
Workflow, design and final output sets the pace at the STC seminars – Click to enlarge!
From Santorini to fresh ink and commercial publishing – Click to enlarge!
Hensel
We look forward to and love seeing the exiting images produced during every STC workshop. I am personally thrilled Hensel's gear has proved reliable and durable for your instructors and students time after time over the years. When photographic talent and quality lighting come together, everyone wins. Thank you for all of your great work and a big congratulations to Blayne Uto and all of the winners. Your images are amazing.
~ Mark Astmann, Hensel-USA
Boca Terry
The commercial category includes Boca Terry and their fabulous products. STC attendee Reggie Blatter captured the best image from STC Santorini 2018 for Boca Terry.
"We are delighted to see the results from STC Santorini which surpassed our expectations."
~ Edward Cohen, Boca Terry
Workflow and attention to the business end of photography stand as pillars to success. Proper attention to these will impress your clients. There is more to it than that though. STC's newly added business lectures also explain how to navigate purchasing trends and style channels and how it has opened futures in photography for numerous STC attendees.
While one part of the seminar attendees glorifies the classic glamour looks, the others demand edgy fashion styles and editorial appeal. Combining both shooting styles and finishing with business lectures help focus our point to one mutual conclusion, it's all about success.
Khongboon Swimwear Shoot – STC Santorini 2018
Swimwear Extravaganza
Two days before the seminar, Michael Stephen took advantage of doing an STC One-on-One session and photographed a Swimwear campaign for Khongboon Swimwear with model Julia Locacheva.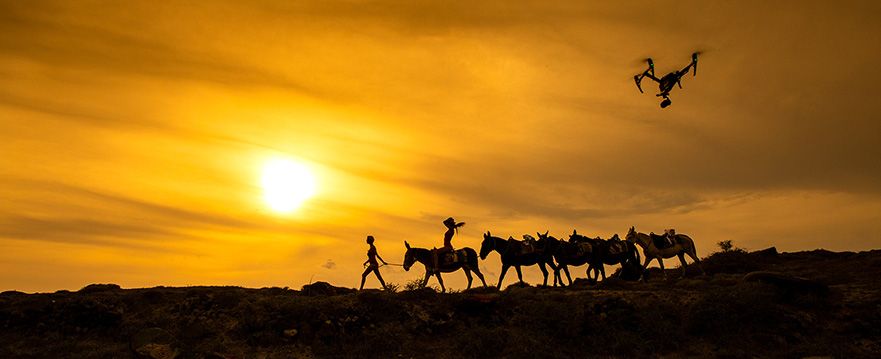 Behind the Scenes image by Claire Spoors
STC Santorini 2018 and Drone Photography
One of the new categories you saw during STC Santorini was drone photography. This is nothing new for Jarmo Pohjaniemi, who uses drones to enhance his pictorials, commercial work and even for the big screen.
Drone photography has become the new standard among ground level visionaries and videographers. There's nothing quite as exciting for a client than you having the ability to offer high-end production value, which previously was only available for top dollar production teams.
The times have changed and so should you. Drone photography brings a new way of capturing imagery. If you're in the business to succeed in today's competitive market and wish to make your mark in the industry, it's up to you to use the technology available to you so you won't be left in the past. "Why to settle for doing just part of a job when you can have it all;" says Jarmo Pohjaniemi. "Drone photography is the future alongside your ground visuals and the future is yours."
STC Santorini 2018 Sponsors
Now a big round of applause to our sponsors who have always been there and given us the greatest support and equipment to photograph with during our seminars and photo endeavors. We would have never been able to accomplish the same without your help. You can never learn too much about photography, equipment and how to use them properly. STC provides attendees hands-on experience with top gear and other items from the best sponsors in the world. Here's a list of the STC Santorini 2018 sponsors. Thank you for your fantastic support!
Final parting thoughts
When the seminar came to an end, STC attendee Dan Warbrick stayed behind for a few extra days to fine-tune his photography skills with model Rebecca Perry and an STC One-on-One session. The steamy set boiled to perfection with fashion nudes and Playboy-ready looks, which we cannot advance-release yet. Rest assured that the wait to see the results in glossy pages and ink will make the wait worthwhile.
© 2010-2019 Copyright ShootTheCenterfold.com. All rights reserved.