This is photographer Jarmo Pohjaniemi from Miami, Florida. Here's a brief recap of my latest photography seminar with my colleagues and the attendees' images from the seminar experience. Our anniversary event raised the temperature in Miami as the hottest ticket in town this past September 2021.
We wish to thank the attendee photographers who joined our STC Miami 2021 seminar by keeping the seminar publishing alive as a steadfast guide for those who believe that nothing is impossible.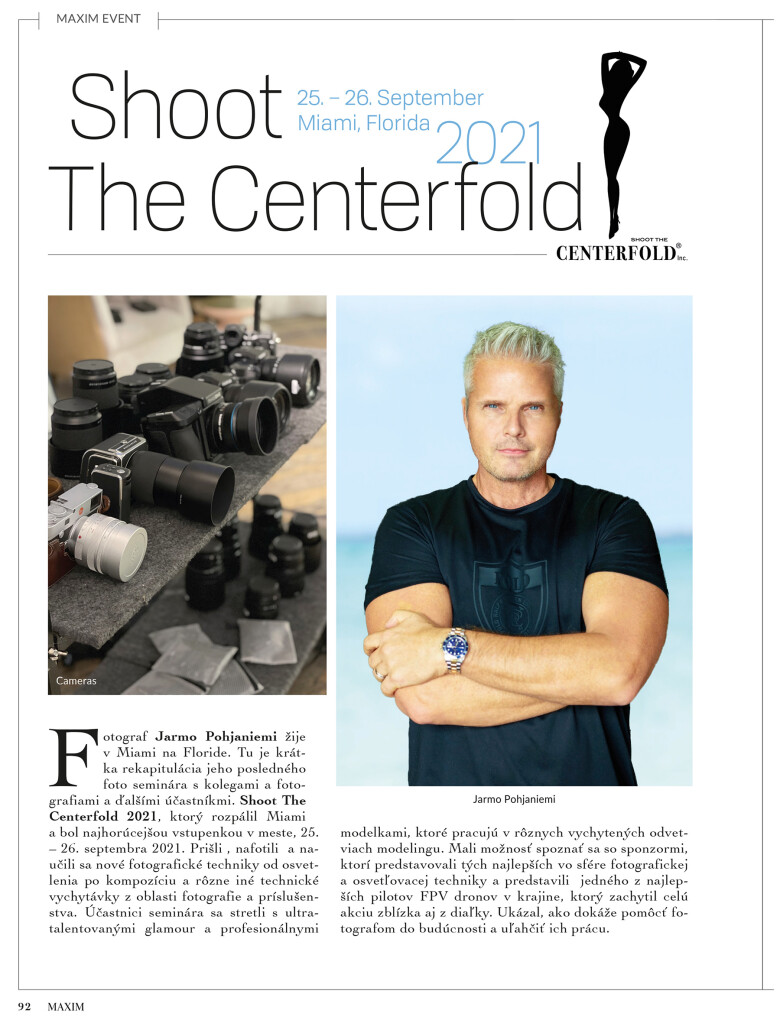 Together with MAXIM publisher Johnny Kortis and editor Jon Maple, we have chosen the best seminar images from seven photographer attendees for MAXIM's April issue that hit the newsstands last week in Europe. Those who did not make the cut for the STC/MAXIM Sexy Seven, their work will be considered for further publishing opportunities.
Congratulations to the seven photographers published in MAXIM:
Barry Nadell
Edwin Williams
Chris Sariego
Sandra Phifer
Dejan Dimkovski
John Dornaski
Sarah Lyons
Their respective work can be seen below.
You came, took pictures, and learned new photography techniques from lighting to composition. You met ultra-talented glamour & fashion models that consistently work in a large variety of industries in photography. You connected with sponsors who represented the best in cameras and lighting equipment. And we introduced you to one of the best FPV drone pilots in the country, who captured all the action up close and far, demonstrating what the future has in store for you, the adapting photographer.
This year it was different. It was Shoot The Centerfold's Anniversary, a celebration of our birthday, with the best photography seminar we could offer. We even had a special cake that I didn't get time to taste as we were laser-focused on making sure everything else was tastefully done. I left the cake to the models, who said it was delicious, leaving a smile on their faces.
We have learned a lot in these past ten years. Actually, 11 since the seminar was postponed from its original date due to COVID-19. Masked photographers and the crew handing out hand sanitizers did not slow down the excitement while safety was one of our priorities.
The two-day seminar/workshop kicked off first at Miami's Little River Studios. On the third day, we featured our business seminar at STC's home studio the Temple House, where we focused on the business aspects of photography, educating and guiding you on how to capitalize successfully in the world of photography, publishing and beyond.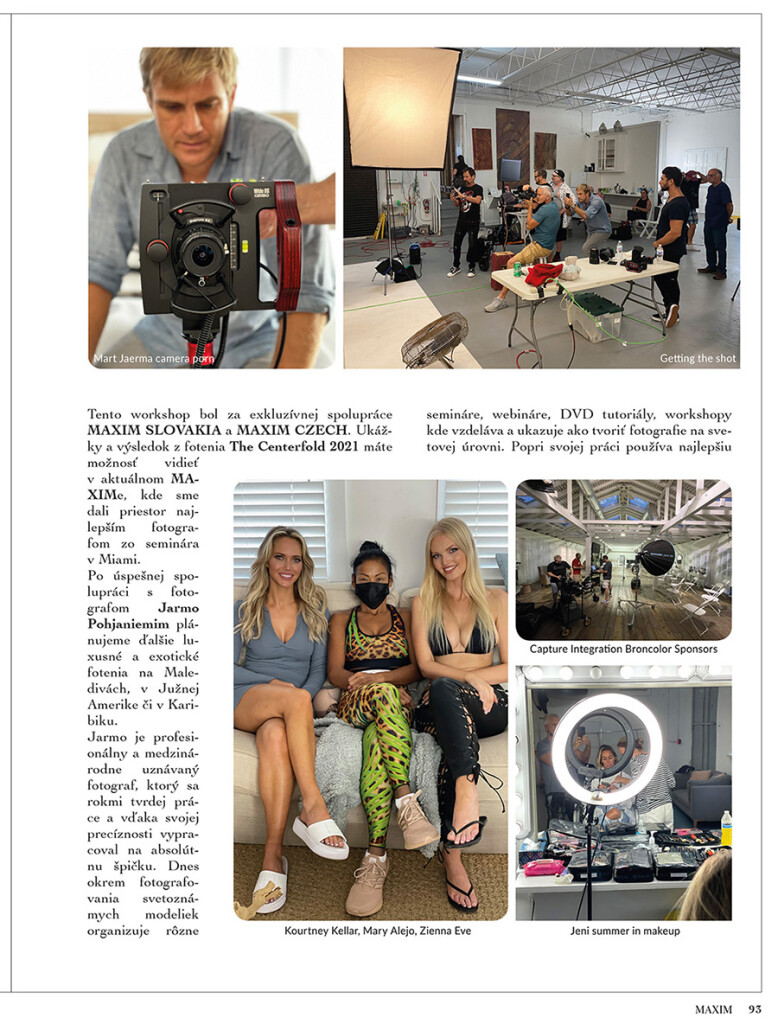 Dave Gallagher from Capture Integration and his technicians ensured us a smooth workflow all weekend with opportunities to use a wide assortment of cameras and lenses from top-of-the-line manufacturers such as Leica, Hasselblad, Phase One, and Fujifilm. There wasn't a shortage of megapixels and quality lenses with our medium format atmosphere amongst our beautiful model lineup.
Broncolor sponsored this year's STC seminar with their finest lighting equipment for our four studio situations, keeping them well lit and performing like Swiss watches. On top of that, we had Carousel Studios here in Miami, providing light stands and much-needed grip equipment.
The seminar/workshop started with Jarmo Pohjaniemi's introduction, welcoming the attendees to the new STC decade. What a difference 10 years has made, what we have learned, taught to attendees and where we're heading. The tone of the seminar was fresh, with future visionaries in mind, remembering and honoring those who have paved the road where we stand today and welcoming tomorrow.
Instructor Josh Ryan and his presentation packed power and demonstrated success with top-tier campaigns from GUESS to numerous other world-recognized brands. His story goes from a doorman to Playboy to Senior Photographer for GUESS. How he invested his savings in what he believed was a "No Risk, No Reward" formula that would bring him success was inspiring music to any photographer's ears. Josh has inked his name in the industry and pioneered his mark in fashion and portraiture.

Instructor Ric Moore shared his wisdom with a classic approach while showing several photography techniques. It was good times and great shots working around the Chevy parked on his industrial set. Ric is one of our original and popular STC instructors with a hassle-free personality who can make any setting a front-row winner. Attendees got to taste classic Playboy-style imaging and ideology on making simple light scenarios into an eye-popping layout exhibit.
Ric Moore, in his own words, "Jarmo's suggestion of only using 2 to 3 lights on my set to keep it realistic worked out great, in that the attendees could easily duplicate the lessons learned at the STC seminar. My front light was the main light, a bottom fill and top fill. My backlight was a reflector with the grid taped halfway from the bottom, so the top half was open and the bottom half had the grid cut down on the light on the back of the car."
"With a CTO gel, this went through a white cookie towards the strobe and back towards the set. The white on the back of the cookie reflected the hair light and the car light onto the back wall to give it some reference light. The backlight gave the model and the rear of the car an edge light and lit the back wall."
"We used a Broncolor monolight for the car's windows, which gave a flare for mood setting. The Broncolor battery-powered monolight worked perfectly as a focus light in a dark studio environment. I was pleased with the overall adaptability of the set as it wasn't in the Playboy style lighting where the model could or the photographer could not move around. The attendee photographers could utilize many different angles and make creative uses of the set."
We invited one of our past STC attendees to teach at our seminar for the first time. Guest instructor Adam Freedman, who has participated in several of our workshops, has shown notable growth in his photography, including the business side, and has done so successfully. Adam and his daylight studio setting were popular with everyone who preferred natural light situations with minimal strobing.
MAXIM Magazine was present on all three days of the STC seminar extravaganza. Photo Director Jon Maple kept his eye on the ball for possible publishing opportunities and unsung lens heroes. Publisher Johnny Kortis had planned to join us from Europe, but his dream was cut short by the COVID travel restrictions. Nevertheless, we caught up with him spontaneously from the seminar on FaceTime while taking a bubble bath. (Perhaps he expected a personal call instead of a live feed from the workshop). Never have we seen a publisher so spanking clean!
As if the endless search for the latest tech wasn't enough, here comes wizkid Nikolay Anishchenko, who filmed the entire seminar with his FPV drone in addition to another four behind-the-scenes cameras capturing the action. Niko is one of the best FPV drone operators globally, and his skill set ranks next level. Are drones the future? Well, it depends on who you ask! We believe that imaging without limitations is the future regardless of how you capture it. The motivation that drives us here at the STC is about creating cutting-edge content for a demanding industry, and that's what STC is all about.
Today's standard tools of trade for visual productions
On a personal note, I would like to share my opinion about the imaging industry and where it's been going in the past few years. Back in the days when we were just still photographers, cameras in hand were what most of us knew, and this is still the backbone of imaging. Today's clients don't care how you create the image as long as you can deliver a quality product.
It has been a long journey for me from Playboy studios, where we used to put the best lighting and camera gear between the models and centerfolds. We still do so on client demand. The industry is different now and much more variety-rich and demanding. Today's expectations and production deliverables include:
Photography, as we know
Behind the scenes photography
Feature and behind the scenes videography
Drone photography and videography

Clients now want a full house service that does it all. Sure, artistic individuals will also survive in today's competitive market. If you wish to be competitive and successful, you need to get up to speed and update your offering to today's standards. That is what the industry is all about today.
The famous Temple House Studios in the heart of Miami Beach, where top brands and celebrities come to strut their latest creations, served as the business seminar's venue. The sleek Hollywood-style projection mapping presentation was never before seen in photography seminars. We believe that we are the first seminar lineup to introduce such technology and viewing experiences in a photography workshop setting. Imaging is so much more, and we must create opportunities at a new level since the future waits for no one, says Jarmo Pohjaniemi.
This was more than just a photography business class where Jarmo Pohjaniemi shared his personal views and tools to maneuver the imaging industry. Guest speaker and Art Dealer Richard Coplan, responsible for discovering such artists as Steve McCurry and representing the iconic American photographer Elliott Erwitt, offered his views and advice for emerging photographers. At the same time, real-world business mogul Chris Sariego, who has managed some of the most prominent and famous brands known globally, spoke about essentials for him when hiring photographers and issuing assignments. You heard the wisdom loud and clear from top players in the industry.
The photographic journey has only begun for many who joined us. Whispers soon turned to shouts of excitement with a determination and a new outlook on the industry. While the future does not wait for anyone, we believe that we have brought you closer to a new exciting chapter than ever before, giving you the right tools and mindset for a successful future to cherish.
Thank you to everyone who joined us at STC Miami 2021. We had fun and look forward to more great times. It's been just over 10 years, and we're just getting started.
Jarmo – ShootTheCenterfold.com