THANK YOU FOR MAKING OUR LAST SEMINAR / WORKSHOP HELD IN LAS VEGAS SEPT. 16 – 18, 2011 A HUGE SUCCESS.
PROGRAM & SCHEDULE
Hotel Tropicana rooms have sold out, but we have secured a room block for attendees and staff at the Tuscany Suites at a preferred rate of $35.00 for Thursday & Sunday and $85.00 for Friday & Saturday. There are very limited amount of rooms available at this low rate.
You will receive further instructions for the preferred room rate and the code on how to purchase your room after your registration.
Do not leave your room reservation as the last thing before the seminar, because of the Mayweather / Ortiz  boxing fight that was announced to be on the same date as our seminar event. All Las Vegas hotels are sure to be sold out … ACT NOW!
Shoot The Centerfold Seminar / Workshop Event Schedule Las Vegas Sept. 16 – 18, 2011.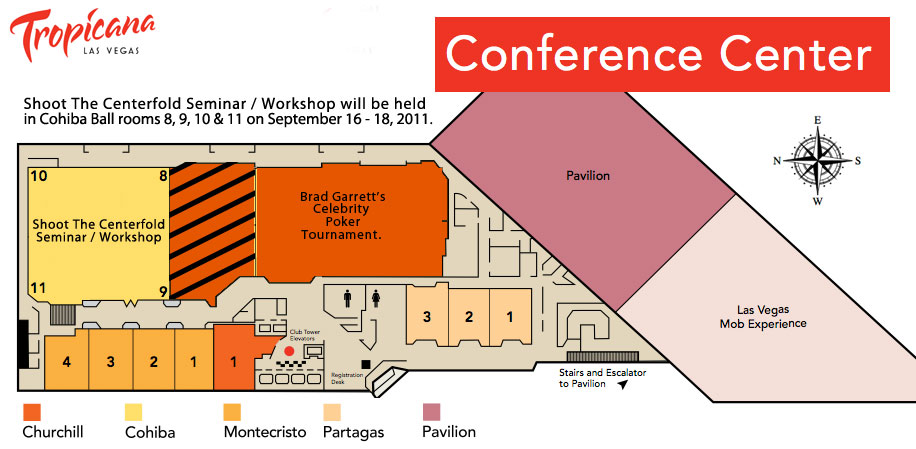 1. Shoot The Centerfold Seminar / Workshop will be held on Cohiba – Ballrooms 8, 9, 10 & 11 at the Tropicana hotel Conference Center.
2. Registration will take a place on Friday between 10 am – 11 am at the Cohiba Ballroom. (Same place for Saturday registration and late arrivals. Between 8 am – 9 am).
3. Bring your camera and lens or two. (Preferred lenses are: 24 -70 mm and 70 – 200 mm zoom. But other lenses will work fine too). If you have a pocket Wizard or equivalent, please bring one. If not, we will provide you with one. You don't have to bring lighting gear unless you want to. We have lighting sets already build for you.
4. You are allowed to take pictures on anything like our sets, lights and personalities during our seminar. No video please!
5. The images you shoot during our Seminar / Workshop – Playmates and models are yours to keep. You can use them to promote yourself on your portfolio, website or any other digital or printed media as long you don't use them for monetary gain. If you have any additional questions about rights and permissions, please contact us by email info@ShootTheCenterfold.com or give us a call 305 510 3938.
6. Shoot The Centerfold will not be responsible for lost or damaged equipment during our Seminar / Workshop. Please keep eye on your gear and belongings, use caution and common sense.
7. 10 PM Saturday, Red Carpet VIP Event at Club Nikki / Tropicana Las Vegas with Playboy Playmates, Celebrities and models. Bring your camera so you can photograph and "Dress to Impress".
8. If you get lost during our Seminar / Workshop or have any additional questions … call our manager Jon 305 389   7698 or locate one of our Shoot The Centerfold Ambassadors.
9. Live updates will be posted on Shoot The Centerfold's blog and FaceBook page when nesessary.
10. Hotel Registration at the Tropicana: Go to VIP breeze check in. Your name is registered under Shoot The Centerfold room block. Same applies for Tuscany Suites.
Tropicana Hotel Las Vegas.
3801 Las Vegas Boulevard South Las Vegas, NV 89109 1.800.GO2.TROP | 702.739.2222
Tuscany Suites.
255 E Flamingo Rd Las Vegas, Nevada 89169 (702) 893-8933
Shoot the Centerfold Program & Schedule – Las Vegas Tropicana / Nikki Beach, Sept 16-18, 2011.
3 Centerfold Photographers.
3 Playboy Playmates.
2 Playboy Senior Photo Editors.
One unforgettable weekend !!!
First and foremost, the money you spend gains you an enormous learning opportunity. You will receive instruction from not one, not two, but three illustrious Playboy centerfold photographers with over 80 years of experience. An opportunity never before offered anywhere.
Each of us will share with you the essence of what has taken us to become known and honored in the industry.
The first day: This is an 'added bonus' day into our already feature rich program at Shoot the Centerfold. Each of our photographers are taking a step back in order to help you see the basics of what it takes in their world to succeed.
David is going to talk about his methods of workflow from shooting the photograph, talking about the importance of a light meter and how best to use it, including his camera settings he uses to create the gorgeous tonality and detail in his photographs.
Arny will be demonstrating the various lighting techniques that he uses every day. This will be a basic lesson in lighting that is necessary for every photographer to understand. His main focus will be on how the different lighting patterns affect a models face and body. He is known for tailoring every lighting scenario to each particular model. As Arny says, not one type of light works for everyone. He will also discuss how various types of light affect the final outcome. From hard direct light, to soft diffused light, Arny will create a large tool box of light from which to choose for the best results. In addition to his lighting demonstration, Arny has been asked by our former attendees to discuss the techniques he uses to create the beautiful, luxurious sets for which he is known. This is not just for the studio photographer, but is for location photographers as well.
All of Arny's principals apply to those of you who choose to go on location as opposed to building a set in your studio.
This portion will include choosing the right props, working with the existing props on location, set color, set textures and  dealing with the existing light if you are on location. It is sure to be an inspirational seminar for those who attend!
And now from Jarmo, something we're very excited to announce. You've seen our videos and loved them. How would you like to receive a very special introductory course in using your DSLR to shoot professional level video? Now you will! Jarmo Pohjaniemi, who has directed and shot all our videos, is going to be teaching an introductory course on Friday all about digital video photography. Bring pen and paper and all your questions as our master of moving pictures is going to help you make your images move.
The second day: As is our style, the second day is another feature-rich environment where you will hear each of our photographers discuss the how and why they are photographing their special Playmate models. Beginning with David, who is known for his location work, will up the ante from our June event by teaching a way to get more, from less. When you're indoors with minimal equipment and a sparse set, he will show how to make it look like it's a mixed light set with both sun and strobe, while only using strobe. This will be for all those photographers whom have minimal equipment and not a lot of room back home.
Jarmo's new set will consist of a handmade gold leaf wall made by one of our professional Hollywood set builders. The seminar will demonstrate two  lighting and mood variations as well as demonstrating how to go from a soft, seductive look to a much higher energy fashion shoot. All within a matter of minutes! It is all about your lighting approach to the subject and  how you direct your  model. Jarmo is well known as both a glamour photographer as well as a fashion shooter. This seminar promises to bring your photography to a whole new level!
Arny's set will consist of a  Harley Davidson motorcycle set in an elaborate garage work area along with a Playboy Playmate! The lecture/demonstration will show how to find a balanced approach to dealing with a model's skin tone while also dealing with a very reflective surface such as a motorcycle. Imagine a set that has a variety of surfaces that you must learn to deal with! These include, skin tone, metal, steel, flooring, material, rubber and brick. All the while keeping the focus not only on the beautiful model, but also working the set to accent her and to give her a sense of environment without overpowering her! In addition to all this, Arny will also demonstrate how to efficiently get the most out of  your set. This will be done by demonstrating a series of poses that best emphasizes the  features of our beautiful Playmate. As Arny says, "once you spend the time to properly light a complicated set, you might as well get the most out if it."
David's set will consist of the three dimensions of the Ring Flash – David will be presenting a program showing the attributes of the Ring Flash while also giving a demonstration on his posing methods. His program will include various light modifiers for the Ring Flash along with a low-cost set design to show how 'less is more' can still be a great method to producing fantastic photographs. This will be a very good way to demonstrate a simple set used to all its potential.
The third day: Now it's your turn to take all those tips and tricks you have learned from the previous two days and step behind the lens for a personal shoot on each set; with Arny, Jarmo, and David for one-on-one instruction. An amazing opportunity to bolster your portfolio with images that are sure to impress even the most demanding of clients. Start off with Gary Cole, Playboy's director of photography of 30 plus years or Jeff Cohen the former Executive publisher of Playboy Special Edition's. These two gentleman will be available to review your portfolio and give you tips and insights about the industry. (Bring 6-8 of your best images to show Mr. Cole and Jeff Cohen that could open a new era in your photographic career).
There has been no event of this type ever attempted before, not even our last one we did ourselves! So take this opportunity to reach out and become one of our STC attendees and grab onto the experience of your lifetime, register now!
Friday – Event Day 1
10:00 – 11:00 Pre-registration – Pass out maps, schedules, wrist bands, badges, lunch locations.
11:00 – 12:30 David – Basic Photoshop, metering, and camera settings.
12:30 – 01:30 Lunch Break.
01:30- 03:00 Jarmo – DSLR Video & Filmmaking, a basic guide to making professional Hollywood quality videos.
1. Camera basics 2. Settings 3. Lenses 4. Gear 5. Shooting techniques 6. Recording sound mono and stereo 7. Using a slider 8. Directing 9. Post work
03:00 – 03:30 Break.
03:30 – 05:00 Arny – Basic lighting 101 discussion, the art of set design.
Saturday  – Event Day 2
08:00 – 09:00 Registration – Pass out maps, schedule, Lunch locations, wrist bands, badges.
09:00 – 09:15 Introduction by STC Producer Jon Paulsin.
09:15 – 10:30 Keynote speakers Gary Cole and Jeff Cohen.
Have you ever really wanted to know what it takes to go from 'survive' to 'thrive' in the global photographic community? Well here's your chance to find out from Gary Cole, a man who has defined these terms for over 30 years as Playboy Magazine's Director of Photography. Come to Shoot The Centerfold's Las Vegas Seminar / Workshop and sit down one-on-one with Gary and Jeff Cohen, have them review your portfolio and give you insight on how to take your career to the next level. This is an opportunity that has never been offered before; Only the likes of Helmut Newton, Pompeo Posar, Richard Fegley, and our own Shoot The Centerfold Photographers have received such personalized instruction from Mr. Cole and Mr. Jeff Cohen and their legacies stand the test of time.
10:30- 10:45 Break.
10:45 – 11:30 David intro/slide show with detailed information on how each image was accomplished.
11:30 – 12:15 Jarmo intro/slide show with detailed information on how each image was accomplished.
12:15 – 01:00 Arny intro/slide show with detailed information on how each image was accomplished.
01:00 – 02:00 Lunch.
02:00 – 02:15 Playmate introductions.
02:15 – 07:00 Shooting demonstrations begin with David, Jarmo and Arny. The main group will be divided into 3 separate groups- each group will witness a live demonstration with a Playmate being shot by David, Jarmo, and Arny for a period of 1.5 hours. There is a 15 minute break for transition and a brief break between each session. Each group will rotate to the other photographer until each group has seen the demonstrations by each instructor.
The demonstrations will consist of detailed instruction on various subjects such as lighting the set, lighting the model, working with the models, posing and expressions.
(Set descriptions to be announced).
10:00 – until! Red Carpet VIP Event at Club Nikki with Playboy Playmates  and celebrities. See our past Red Carpet here
Sunday – Event Day 3
Putting the lessons from day two into practice.
The main group will be divided into 5 smaller groups, each with an Ambassador equipped  with radios, maps and schedules. Each group will spend 1 1/2 hours on each of the 5 various activities with an 1 1/2 hour break for lunch.
09:30 – 10:30pm
1. Arny's set with a beautiful Playmate
Miss July 2011 Jessa Hinton.
2. Jarmo's set with a beautiful Playmate
Miss September 2010 Olivia Page.
3. David's set with a beautiful Playmate
Miss March 2011 Ashley Mattingly
. 4. Open discussion with
Gary Cole
and
Jeff Cohen
including portfolio reviews for those who signed up for a review. 5. Additional shoot area for posing.
We will rope off the individual shoot areas with David, Jarmo and Arny to insure a true one-on -one learning experience  for each of our photographer-attendees.
SCHEDULE SUBJECT TO CHANGE..
Arny, David & Jarmo
[fb-share]