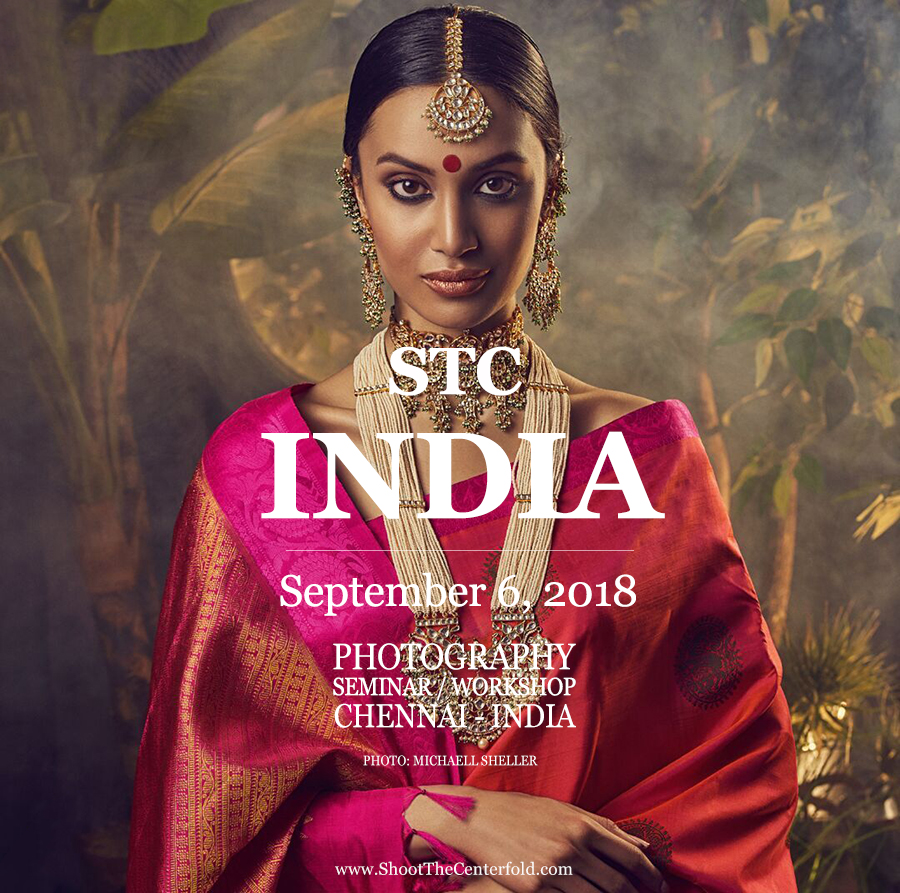 STC India 2018
East meets the west on September 6, 2018 – Chennai, India
Shoot The Centerfold is no stranger in the International photography market, so it's no wonder STC's Jarmo Pohjaniemi has accepted an invitation to take the STC brand to exotic India. Our curiosity runs high to see what the local photographic communities will have to say about our new western photography style versus the land of Bollywood. You can only imagine the possibilities!
India, the land of love and romance is a massive country with a population of 1.3 billion mixed with various religious beliefs and cultures that offer opportunity and diversity beyond imagination. What this means to Shoot The Centerfold is still to be discovered. We are going to take a conservative approach to see if the land of exotic spices and the birthplace of the Kama Sutra indeed is the original aphrodisiac to humankind. India, get ready, here we come!
If you happen to be in India or close; join us at STC India 2018. Who knows what the land of Bollywood has in store for us, so stay tuned! We will undoubtedly report in due time on how the new adventure unfolds.
Seminar Schedule
Seminar hours: 09:00 – 17:00
10:00 – 12:00: Seminar speech and presentation by Jarmo Pohjaniemi.
12:00 – 13:00: Break
13:00 – 17:00: See a live photo shoot session and experience how to achieve the look and the feel seen in today's publishing industry. Learn the best, well-kept photography secrets known to master photographers. Join us on a journey of wisdom from fashion to glamour and beyond to get a better understanding of what editorial and industry now demands.
Meet the Master
Longtime Playboy photographer and director Jarmo Pohjaniemi will teach you about photography and the importance of storytelling to add visual artistry in your work.
Witness History in the Making and the People Behind the Magic
Meet India's acclaimed photographer, L Ramachandran. He's the only photographer from India who has been published by Playboy International and had his work featured in commercial and niche market applications in the industry with a global audience.
Mary Alejo, is a successful model, wardrobe, hair & makeup specialist whose work you've seen in fashion, Playboy and the commercial world. Mary will demonstrate for you today's trendy, in-demand styles.
Noemi Kappel, a highly acclaimed fashion/glamour model from Hungary will join the seminar. Her outstanding appearance and abilities have earned her coveted work in today's top publications in the editorial and commercial world.
Playboy model Ena Friedrich, from Zagreb, Croatia will give you insight on how to work and achieve perfection in the world of glamour. Her modeling skills and beauty is sure to impress you.
You Will Learn
Proper photographer's etiquette
New and current market demands
Photographic purpose and execution
Glamour and fashion lighting differences
How to select the right model for your shoots
Learn to direct and pose your models
Hear discussions and see demos on makeup and wardrobe styling
Learn to direct and pose your models
Understand how to impress clients and editors
Learn how to establish and validate your photos
Get to experience shooting on two professional sets
Have a portfolio review (Limited to 10 attendees. Charged separately).
Gain the confidence and achieve the right mindset
How We Are Different
Our accomplishments and experience in the industry have granted our educational edge and success. We are internationally acclaimed photographers who have created some of the most talked about pictorials published worldwide. Over the past decades, our collective work has been seen in almost every major publication, as well as in advertising campaigns and fine-art galleries.
Register Here
The seminar, Sept 6, 2018
$250.00
The STC India Photography Seminar/Workshop is a One Day Master Class for
beginner
, intermediate, or professional photographers who are looking to take their profession to the next level. If you would like to learn to photograph fashion and or glamour models; then you have come to the right place.
Portfolio Review, Sept 6, 2018
$100.00
Have you ever really wanted to know what it takes to go from 'survive' to 'thrive' in the global photographic community? Well here's your chance to find out from Jarmo Pohjaniemi, a man who has defined these terms for over 20 years as a photographer and Director of Photography.
The Success Story
We are proudly in support of STC attendees and their success. There is nothing more rewarding than to see our attendees standing on their own and making a future for themselves in a significant way. That's why we decided to do a new special event.
Our India seminar this September is the first of its kind! It's one where Shoot The Centerfold's successful attendees will participate and share their stories and knowledge about how they did it. You will get to see and hear how they found success in publishing and met the industry demand.
Just a few years ago, LRamachandran from Chennai, India joined our STC Los Angeles seminar. Little did we know that he would become one of India's headliners in photography and win numerous achievements and awards. Experience this rising star's story!
Another STC attendee Michael Sheller has also claimed fame with his India style campaigns in top publications. His sense of style studies has landed Michael not only stunning images of gorgeous models but also some of the hottest Indian movie celebrities to date.
Both Lramahandran and Michael Sheller have photographed numerous Playboy pictorials and covers. This is what we are talking about when we say that there is no limit to what you can achieve with the right guidance and direction. We let the results speak for themselves in a major way.
Seminar Location – The Park Hotel Chennai
September 6, 2018 – The Park Hotel, Sansara Banquet Hall – 09:00 to 17:00
The Park Hotel is conveniently located in the heart of the Chennai business district. With cutting-edge service and technology, it serves as a perfect location for STC India 2018.
*Program is subject to change without notice.
*Refunds & Cancellations: Enrollment is limited; therefore your commitment is important to us. If you must withdraw from a seminar, we provide this refund policy: A $25 administrative charge will be added for all cancellations. If you cancel 30 days before the start of the workshop, we will retain 50% of the total workshop fee, unless we can fill your spot. If you cancel 20 days or less before the start date of the seminar, we will retain 100% of the workshop fee unless we can fill your spot. All deposits are non-refundable. No refunds, once the symposium begins.
© 2018 Copyright ShootTheCenterfold.com. All rights reserved.