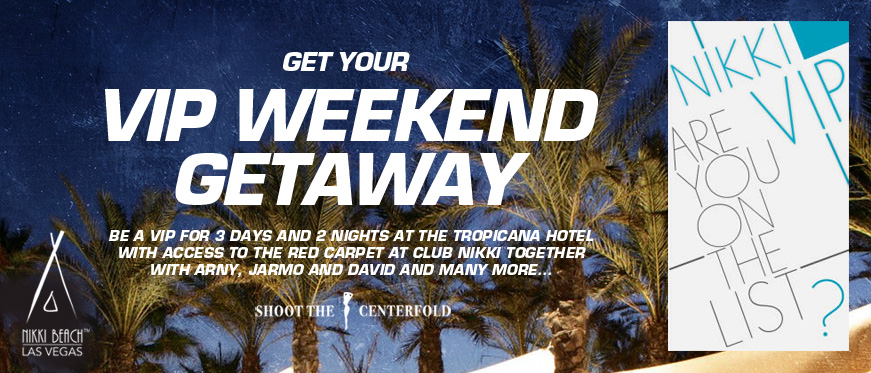 Shoot The Centerfold VIP Model Weekend at The Las Vegas Tropicana Hotel & Casino with Nikki Beach June 3-5th 2011
Models, if you are age 21 or over and you think you have what it takes, you are invited to our Shoot the Centerfold VIP model weekend at The Tropical Hotel and Casino in Las Vegas. Take advantage of this incredible offer available nowhere else.
This event grants you exclusive access to our legendary Shoot The Centerfold photographers – Arny Freytag, David Mecey, Jarmo Pohjaniemi and Ric Moore.
Have incredible submission photos taken by Ric Moore for your portfolio and model submission for Shoot The centerfold Top Model Search. This event grants you access to meet Playmates, industry professionals, and celebrities while having a fabulous time in Las Vegas. Visit www.shootthecenterfold.com today to see what we have in store for you!
Spend a glorious, fun-filled weekend with our Legendary photographers: Arny, David, Jarmo and Ric.  Shoot The Centerfold's Top Model Search participants are invited to take advantage of our Preferred VIP Weekend Package at The Tropicana Hotel and Casino June 3rd – 5th, 2011. This incredible deal is available for you at $499 and includes:
• 3 Days and 2 Nights Room Accommodation at The Tropicana Hotel and Casino on The Las Vegas Strip
• VIP Check-in privileges: Early check-in, late check-out
• A private invitation to the Friday evening "Meet and Greet" from 8:00-9:00pm at the Nikki Beach Tropical Pool with legendary photographers Arny Freytag, Jarmo Pohjaniemi, David Mecey and Ric Moore. Have memorable conversation with our lovely Shoot the Centerfold Ambassadors, Celebrities, and Industry Professionals and enjoy complimentary wine and hors d'oeuvres. An incredible way to start the weekend!
• Have your modeling portfolio reviewed by Gary Cole — Playboy Magazine's longtime Director of Photography, who has twice been included in American Photo Magazine's List of The 100 Most Important People in Photography
• Mary Alejo, Shoot The Centerfold's Top Model Search Executive Producer, and Playboy Make-up artist, Stylist, and Talent Scout, will be available to share her expertise throughout the weekend
• VIP admission on Saturday to our Red Carpet Event at Club Nikki, a brand new 15,000 sq. ft. nightclub inside The Tropicana Hotel
• Casual photo session by the Nikki Beach Tropical Pool Saturday evening from 10:00pm until midnight with Shoot the Centerfold Seminar / Wokrshop photographer attendees, overseen by Arny, David, Jarmo and Ric
• Models will have their submission photos taken by Playboy photographer Ric Moore at Shoot The Centerfold's Top Model Search, Sunday from 11 am – 5pm at the Nikki Beach Tropical Pool.
• Free one-year Silver Membership to OneModelPlace.com (an $80.00 value)
• Reserved lounge chair seating and a complimentary drink at the Nikki Beach Pool party on Sunday
• Daily breakfast at Cafe Nikki Beach *additional night's, single or double occupancy, available for a rate of $149SPECIAL OFFER: If you sign up for the Preferred VIP Weekend Package before April 30, you can invite a guest for an additional $199 and they will receive the same benefits as you do.
ADDED BONUS:  If you sign up by April 30th, you will be invited to attend the Saturday Shoot the Centerfold Seminar Series with Arny, Jarmo and David for FREE (valued at $495). They will be demonstrating posing techniques with three Playboy Centerfolds — Kassie Lyn Logsdon (Miss May 2010), Shanna Marie McLaughlin (Miss July 2010) and Ashley Hobbs (Miss December 2010).
Have your modeling portfolio reviewed by a our keynote speaker Gary Cole, Playboy's longtime  Director of Photography, will share his insight into the essentials of landing your first major photo opportunity and how to make a memorable impression with your images. This is an incredible opportunity to receive personalized feedback from one of the most prominent figures in the photography industry.
FOR A LIMITED TIME: You can reserve NOW for $299 down with the remaining balance due May 20th. This is a Las Vegas Weekend that you won't want to miss, so register NOW for one of the most exciting weekends of your life!
See you in Vegas,