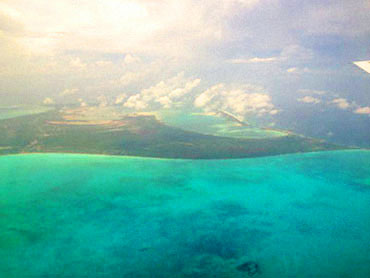 I can still clearly remember looking at countdown clock on Shoot The Centerfold's website and saying to myself, "One-hundred days left until the Bahamas seminar." Next thing I know, I'm on a plane flying to the Bahamian island of Eleuthera with my crew, halfway there and looking down at the sand reefs, knowing it was a welcome indication that paradise awaited us.
This seminar was different than the others we've had and for good reason. If you'll recall, it all started about a year ago when STC sent out an informal survey asking which location attendees would like to go to for the next seminar. While we received suggestions for locations all over the world, the Caribbean was always somewhere on everybody's wishlist. Thanks to our good friend Tom Marrazza, owner of Hudson Studios in NYC, we were able to locate a nice place in the Bahamas that had our name written all over it.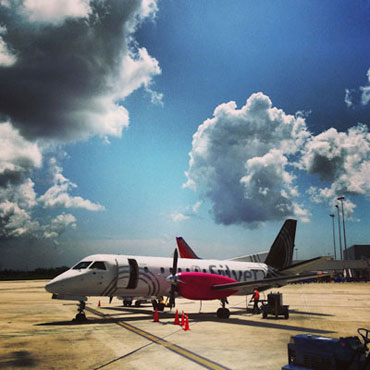 As we landed in Eleuthera, about an hour's flying time from Ft. Lauderdale, the Caribbean atmosphere wafted in and greeted us with open arms as we disembarked. As close as Miami is to the Bahamas, the breeze and climate are somewhat different. I can't really describe it, but I guess it comes from being surrounded by beautiful, clear ocean water. As we got started on the best tax deductible holiday ever, I found it very humbling to see how things are done in Eleuthera, which I call "the island way." The locals have got everything figured out, not so much in a "by the book" sense, but perhaps more so by habit and probably something that has been an integral part of island life since its inception.
Trust plays a big role in the Bahamian lifestyle and it made me realize that maybe we could learn a thing or two from them. Living the life of "Hakuna Matata" ("no worries") gives people a long, prosperous life, according to the locals. It must be working because it seemed they always had smiles on their faces and willing to help you out any way they could. Then again, who can blame them? They're living in a paradise we can only see in travel programs on TV. Even after the seminar when we were heading back to return our rental car, we were instructed to leave it in the public parking lot next to the airport – with the keys in the ignition!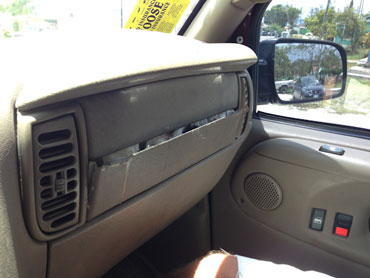 As we went through local customs and showed our paperwork to the customs officers, I was amazed at how welcomed they made us feel, going even as far as carrying our bags to our waiting rental car. It's been my experience that customs officers in other countries usually think more about how to lighten the load in your wallet rather than in your luggage.
Our waiting rental car was actually a dilapidated, tired-looking rust bucket of a van that was designed to sit eight people (if it hadn't been missing two seats). How it got so many miles just traveling on the island, I'll never know but let's just say that the odometer had seen more rotations than a carnival Ferris wheel during a decade's worth of summer vacations.
According to the two lovely ladies who had secured the vehicle for us, it was actually their dad's vehicle, even though there was a "Budget" rental sticker in the back window. I noticed that two of its tires were completely bald (with one of them getting a flat later the next day… no surprise there), but I was assured nothing could go wrong because this was, after all, the Bahamas, right? However, the vehicle did come with an airbag. I knew this because it sadly drooped over the front of the dash where it had been presumably deployed several months previously by the looks of it.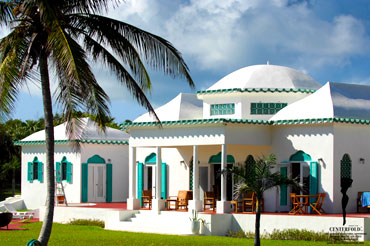 Despite my trepidations, we were off on a grand start to our auspicious weekend. As we were leaving Eleuthera's airport, we asked for directions to our destination. While we were aware there were no real addresses in Eleuthera, only house names, I was pleasantly taken aback to be informed that the local liquor store acted as an important and blatantly conspicuous compass landmark due to its bright yellow walls, visible from a fair distance, and extremely popular with the natives (perhaps they love the color yellow, I'm not sure). As acting navigator, I even got my hands on a real paper accordion-style folding map and was awed that these retro pieces of cartography still exist! It was like going back two decades, which wasn't a bad thing, as far as I was concerned. For the first time in years, I finally felt the peace only real seclusion brings – something unheard of in Miami where Lincoln Road's coffee shop doubles as my second office.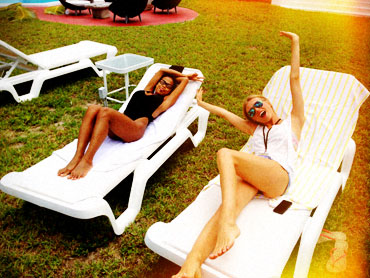 After a bumpy and (thankfully) uneventful 30-minute ride, we finally spotted the gate to "La Bougainvillea House" – our main destination. Something that occurred to me on the way there is that it seemed that island wealth was measured by the size of the entry gate into each property. Due to the island originally being a British colony, the homes were heavily influenced by Georgian architecture (picture stately English rooms, massive columns and huge clapboard windows, but with an island style).
Our beautiful house and seminar location was more like something from "1001 Arabian Nights" where earth and heaven met. During my career, I've traveled all over the world and this location left me with great memories. I even think I said "this is a place where I could grow old" – or words to that effect. Even so, the peaceful and serene residence made a powerful impact and it was love at first sight.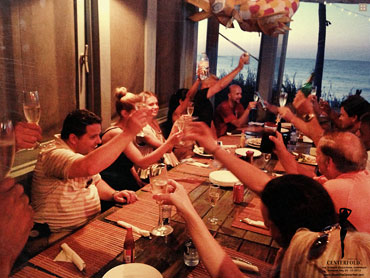 That afternoon we had time to relax and feel the soft ocean breezes. I admit I was a little concerned because I could see clouds gathering on the horizon. It was only later that we learned that the clouds had turned into a nasty tropical storm the day after we departed. I now consider ourselves very lucky Mother Nature let us be that weekend. A few of our seminar attendees had arrived earlier and we welcomed them to come visit us and be part of the seminar's planning stages the next day. A few took us up on our offer and joined us that night.
Thursday night dinner, with the early arrivals as our guests, was at Tippy's Beach House (btw, good grouper!) and this was surely a night to be remembered! Tippy's is a small Bahamian outdoor bar and grill with dining right on the beach. That night, it hosted a groovy reggae band that made those cool, good-time Budweiser commercials look like grandma's Sunday afternoon tea party. This was the real thing and about as far from a Vegas conference room seminar setting as you can get. Even a few couples from our group ended up on the dance floor while a full moon began to peek over the horizon.
Friday morning was like something out of a movie – a picture-perfect sunrise with all kinds of wildlife buzzing around. This was a great reminder of what life should be all about! Attendee Seon R. was already getting familiar with the kitchen and more attendees woke up to Don's energetic voice, which as most attendees can tell you, can be heard even through the thickest of walls. Photographers usually aren't morning people by choice, but today was an exception for most of us.

After a delicious breakfast, we began to set up the various shooting locations. Because the seminar was largely based on daylight scenarios, we chose to use supplemental fill lights rather than the multi-light set-up you see at larger shoots. However, rest assured we had indeed packed a back-up plan consisting of additional equipment just in case the weather turned unpleasant and disagreeable.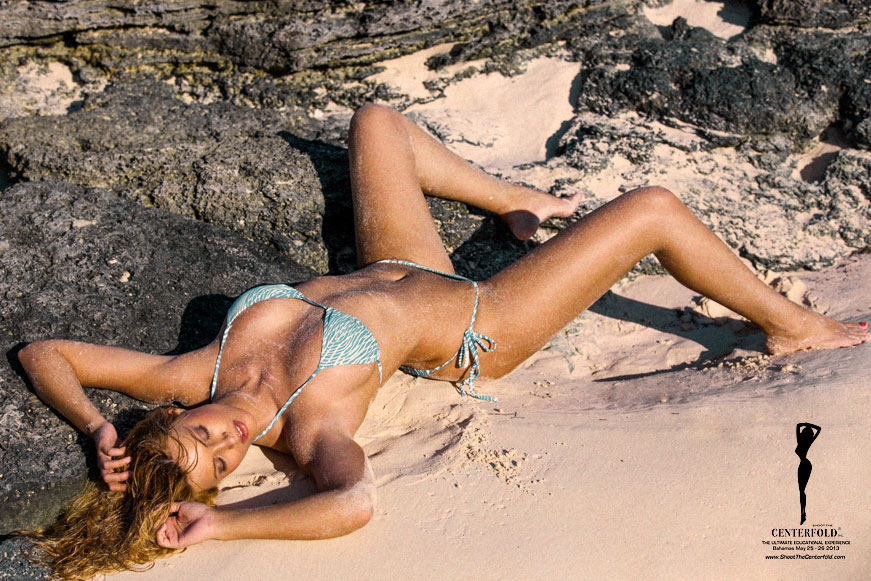 Steve Wayda said he wanted to use the beach for his outdoor station and left with a few of his crew to scope out the area. Meanwhile, I chose to set up my shooting station indoors to demonstrate the best of both worlds. While Steve concentrated on using reflectors and a quick evaluation of positioning, I chose my set-up as a basic five-light configuration. In both indoor and outdoor shooting situations, Hensel lighting and Sunbounce reflectors were used. Our Chimera light modifiers and collapsible beauty dishes were in the spotlight and attendees had the opportunity to purchase them on the spot for outrageously low discount prices. The huge smiles on their faces were a clear indication that they knew a good deal when they saw one!

I must honestly say that this seminar was a very personal one for all of us; instructors, models and attendees included. The smaller group of attendees did indeed give us time to not only learn more efficiently, but also know each other better. New friendships were sealed and there was time to bond, both personally and professionally.
Later, after what seemed only a few minutes, Steve came in and told us he knew where he would like to set up his photo camp. He said that he was "going to do want he does best" because wherever he looked, there was a beautiful set smiling back at him. There is a paradise in earth after all, and I think we found it (or at least part of it).
Steve's assistants were also vocal about the shoot, but for different reasons. Their comment of choice was, "Looks like it's going to be another hectic and wet day!" – mostly due to the fact that for Steve, the ocean's waterline does not constitute a boundary… nor does it exist, for that matter. Not that he can walk on water, but Steve will be waist-deep in water in no time and not notice the sand fleas and other beasties who might be partial to feasting on his legs while he's partially submerged. According to Steve, "A true photographer and his vision cannot be disturbed."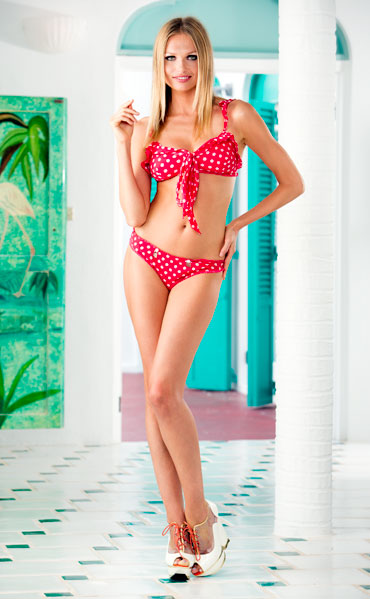 As for myself, I settled indoors like the true house cat that I am. Not because I don't like beach shots or outdoor beauty, but for the variety and mostly because I know better than to compete with Steve while he's in his sandy element. He is the master of angles and natural light and without peer. I, myself, have always admired his beach ability since I first saw his outdoor images, which are entirely different from anyone else's. Steve had chosen sexy Amelia Talon, Playboy's Miss June 2012, as his model to demonstrate how to capture beauty, curves and beach together. I had top fashion model Aksana Samy, who can be seen on a daily basis in top fashion magazines, catalogs and ad campaigns all over the world. The purpose was to show the differences between two model types and how to handle each of them while maximizing the results. Posing and body language in glamour and fashion are close in spirit, yet worlds apart.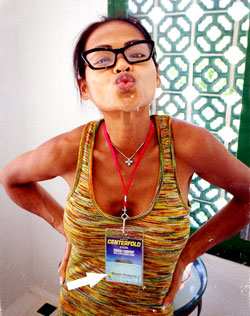 Unfortunately, Friday did not go as planned for everyone. A few of our repeat attendees and a model that happened to be on the same flight were not able to join us due to an unforeseen mishap. Serious mid-air engine failure was the cause of missed connection flights, which caused major disappointment for our stranded attendees in Ft. Lauderdale airport. As luck would have it, there were no additional flights available until after the weekend due to it being the Memorial Day holiday, and even all private charter jets were booked solid. In cases like these that are out of our hands, we always find a way to compensate the ones in need and a satisfactory outcome for all will always be the result. Most important is that everyone was safe and no one got hurt. At dinner, we offered a toast to the missing attendees, while Mary Alejo wore Steve Ruegnitz's badge during the entire seminar as a reminder of a good spirit and a friend that we all sorely missed.
Saturday: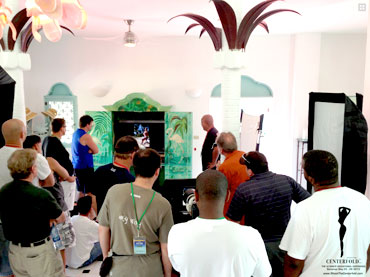 On the first day of the seminar, the morning was spent discussing on how to reach the next level of photography. This was more than a pep talk; it was an informative symposium concerning what it takes to make it as a professional photographer of the highest standards. We spoke at length of not only the techniques of photography, but also the financial and psychological aspects of the craft. This knowledge is the core of our seminar/workshop experience. The information imparted during these seminars has been known to change and influence the course of a photographer's career.
Saturday morning started with a 7:30 a.m. breakfast and registration. I had to ask myself, how strange is it to see topless photographers instead of topless models? Well, this was the case for Steve's first official morning session. There is nothing more humble to see than everyone coming together as equals, all sharing knowledge and bonding over the singular love of photography and being able to perfectly capture an image.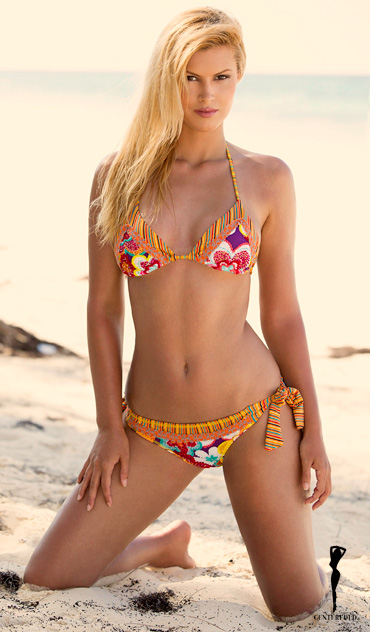 Steve explained his philosophy and shooting techniques while changing locations at the snap of a finger. His approach was to demonstrate how to shoot when you discover new, wonderful locations and how to make best out of it. "We cannot become masters overnight," says Steve, "But we polish our techniques and learn how to look at each scene, light, pose and overall composition. This is what makes one a master in glamour and beach photography."
At the same time, I was working inside with our model, Aksana, and demonstrating differences between glamour and fashion models. Aksana, whose body type is totally different compared to a glamour model or a Playmate, offers a different approach to the photography business and has an ability to generate revenue for photographers who wish to learn the tricks and trades of commercial and fashion photography. This category includes fashion, catalog, ad campaigns, commercial and editorial categories.
At noon we took a break for nice lunch and continued with a photography business sit-down discussion. This is boring for many, but consequently also the most important part of photography if you wish to sell your images and make money. Photography is not only about shooting images; it's a 50/50 type of a deal for those who are making a living through shutter clicks.
After the discussion, my morning group packed up and headed outdoors, while Steve's sand-covered morning session attendees now took their places on my set. It's not easy to spend a day at the beach in 90-degree weather as Steve did. I tip my hat to Steve who is driven by his eyes more than anything else. In other words, he is a man of few words who lets his picture do the talking.
Saturday night's dinner was at the Bistro (naked jump into the pool 🙂 – in case you don't remember!) By the way, why was it that my room was chosen as the makeup room for the models? This meant that I had to wake up every morning at 5 a.m., but looking at the positive side, at least I was woken up every morning by beautiful models knocking on my door 😉
Sunday:
This was the day where everyone could shoot and Steve and I were doing guidance and corrections on an individual basis for each attendee as necessary. Adrenaline-meets-camera-meets-model was the word for the day. I was to hear different camera shutters in my dreams for a week after the seminar; sweet music to my ears that replaced occasional nightmares, not to mention I now know the difference between Canon and Nikon without even opening my eyes.

A Sunday lunch sponsored by Samy's was followed by a workflow session presented by our computer tech wiz-kid Chris Murray, adviser-photographer Michael Raveney, and Alex from Mexico. The trio explained step-by-step workflow techniques. Their info was displayed on a TV screen for the sake of visual comprehension on gave a glimpse of how it all comes together before editors get the final files, including some interesting Do's and Don'ts. Adobe Lightroom and Capture One were the software of choice. Many queries were answered, but if anyone was left with unanswered questions or perhaps thought of one on the way home, please feel free to send us an email with your follow-up questions to: info@ShootTheCenterfold.com.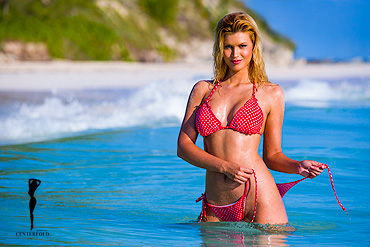 At 4 p.m. the sun had reached its lowest point but shooting continued. Both indoor and outdoor sets sparked questions as we moved forward. The easy pace and more time with each attendee was the key to successful results. It's not everyday we get to meet such a nice group of people as we did in the Bahamas. Some travelled halfway around the world to join us, and now we have friends from every corner of the globe in case should we do some extended travelling for our next seminar.
We want to thank all of you who participated in our Bahamas seminar/workshop; Tom Marrazza, Shorlette and Don who took care of our last dinner at Tippy's restaurant – oh, yeah, that champagne on the first night was Don's stunt as well. (Apparently, he went to Nassau and scored big at the casino). However, the luck did not end up there. We had a raffle using ThinkTank's donated camera bags and additional cool stuff and the winning streak was on.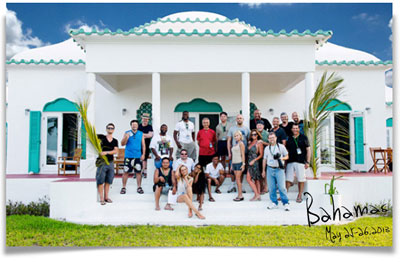 As I write this, beautiful memories take over my mind and I wish I were still in the Bahamas with all of the attendees because without you, none of this would have been possible. It was truly a touching moment and something that you cannot quite put into words. It has to be experienced to be understood! When the time came to leave Eleuthera and the Bahamas, we all stood at the airport waiting for our flights as reality sunk in that the weekend went by way far too quickly. I asked myself, is this is it? I felt that I was leaving my friends behind against my will. I wanted to spend more time with my kind. I really hope that we can repeat the same very soon and once more find time to play with good friends, sharing good times.
Thank you
Jarmo Pohjaniemi
STC would like to thank our gracious sponsors who generously provided our equipment;
• Chimera light modifiers and collapsible beauty dishes for anybody who needs big bang lighting that fits in your back pocket.
• Hensel's Porty Kit (which I also had in Africa, and will take it to Santorini, Greece this coming September as well). The Porty combo was a perfect choice for our Bahamas seminar and you get excellent quality for your dollars spent.
• Sunbounce did exactly what they were designed to do and more; bounce that sunlight in any situation imaginable. Perfect handles which came in super handy! We had very windy beach and Sunbounce saved the day!
• Seaport Digital cases kept our laptops in shade regardless of where we were shooting – small and compact briefcase that you cannot afford not to have. Hide your hard drives under the laptop and make tethered shooting easy, breezy.
• Samy's sponsored lunch is always as delicious as it gets, not to forget that STC customers get an another tasty deal when buying their stuff from Samy's; $50 off on purchase over $500 and $100 off each $1,000 spent. Now that's what I call a real treat I can sink my teeth into! For a purchase code, email info@ShootThecenterfold.com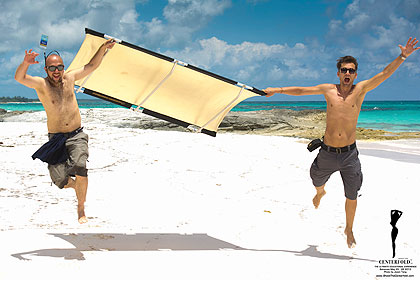 • C-stands and additional grips were provided by Miami Daylight Studios. STC attendees who need a studio and if they are in Miami can get stellar discounts in equipment rentals and studio time. Same goes for Carousel Studios in the heart of the Miami design district.
Be sure first to contact STC on your way down to Miami. While you pack your equipment for future trips, durable Lightware cases from Paul Pellegrin are recommend (they're very good and durable cases for photographers and videographers). When you return home from any photography trip and wish to have your work printed on glossy paper or make a book, McKenna Pro has proven to be the best at their craft and rock-bottom prices include a fast delivery turnaround time.
Behind The Scenes Gallery
[nggallery id=4]