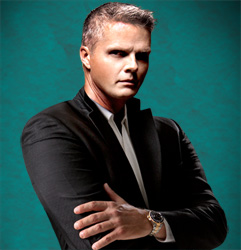 Jarmo Pohjaniemi was born December 26th in Finland where he resided till age 7 when his family moved to Portugal. It was there, amongst the chickens and cows of his family's farm that he has his first moment of fascination with photography. It was nothing more extravagant than a family portrait, but it sparked passion for the immortality of a still image that only grew each chance he had to examine the photograph time and again.
In his late teenage years, Jarmo's friends encouraged him to look into the fashion industry as a potential career; Without hesitation, he packed his bags and headed off to Paris after an offer from a top agency, where he was signed by the top fashion agency. This first taste of a professional career brought him worldliness as he traveled across the continents for the next 15 years to the multi-cultural cities of Milan, Tokyo, Los Angeles, New York, London, Helsinki and many more. With every shutter click exposing Jarmo to the world of photography, his love of the art grew more and more. Major fashion icon, photographer Bruce Weber became the catalyst that brought Jarmo to the other side of the camera.
Once behind the lens, there he stayed making steady progress until he took a giant leap by calling up a Playboy photo editor with an ambitious proposal. He told the director he loved and admired the magazine but there was one problem, to which he added "I can do this better." There was a brief silence on the line until the editor sternly and calmly replied "shoot two girlfriends of yours, send me the film, and I'll tell you how much you suck!" Jarmo took that as the chance of a lifetime, shot a couple hand-full's of film that im- pressed the editor enough to send him more assignments.
He never failed to stun as the assignments kept rolling in, his hard work and determination continued to pay off all the way to Playboy's Studio West. Jarmo continues to shoot for Playboy Magazine to this day with countless publication covers, pictorials, and Playmate shoots under his belt. In early 2009, Jarmo began to reflect over his early years learning the in's and out's of photography. During that time, industry professionals and the techniques they used to achieve their world-class images were intangible to aspiring photographers who had an insatiable appetite for knowledge.
Being in the position to do so, with his decades of expertise, Jarmo decided to give to others the opportu- nity he wished was available to him as a young photographer. He contacted Arny Freytag, David Mecey, Ric Moore, and Byron Newman; All masters of lighting, having worked up to the rigorous quality standards of Playboy Magazine for more than a combined century, thus Shoot The Centerfold was born. All were ea- ger and excited to bring such an opportunity to the photographic community in order to give back to the fan's who have admired their work over the years.
Through seminars, webinars, workshops, DVD tutorials, posing guides and various other media, the mas- ters at Shoot The Centerfold have developed the most comprehensive educational program the world of photography has ever had.