Product Description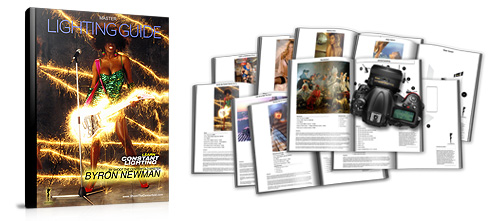 Byron Newman's Deluxe Lighting guide holds over 30 years of study and careful refinement of lighting techniques by the legendary Playboy photographer. Learn a combination of classic glamour and modern fashion lighting that carry more drama and expression than the latest Hollywood blockbuster.
Byron Newman, a master photographer, has developed an incredible series of WYSIWYG constant HMI lighting techniques throughout his career to assist photographers with on-set or natural lighting scanerios.
The perfect coffee table book
Creating a stunning coffee table book with the highest quality materials available was only natural for those who strive for the best qualities not only in photography, but also from the book itself. It features Fuji crystal double-sided, metallic pearl archival paper with UV coating to protect it from fading and made to last a lifetime. These handmade guides are our highest quality books we have ever produced.
Much more than just a book
Included are 16 different lighting diagram scenarios. Explore the techniques and lighting this book has to offer and create your own glamour and fashion images with his invaluable experience to guide you. Most importantly, acquire professional lighting skills by learning from the master photographer who created the look and feel seen and admired in some of the most well known pictorials worldwide.