Product Description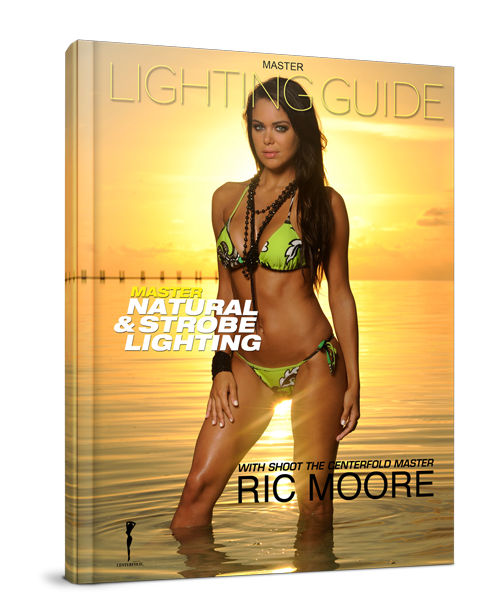 Take your photography to new heights
Ric Moore, master of both studio lighting and spontaneous location lighting situations, brings you the best of both worlds in his new lighting guide. Ric has worked nearly 30 years with beautiful models and studied countless lighting scenarios in order to create a visually definitive guide to the art of lighting, illustrated with easy to follow pictorials and diagrams. This lighting guide highlights the full spectrum of natural and strobe lighting scenarios with an increased focus on utilizing a variety of natural elements to execute eye-catching lighting situations.
Whether you're an experienced photographer or just a novice, you're sure to bring your abilities to new heights with Ric's installment of the Shoot The Centerfold's Lighting Guide series. One of the key elements in his lighting guide is a variety of everyday scenarios as seen in Playboy's advertising and editorial photography. Ric's ability to identify and capture available light, then supplement it with additional lighting, has always been his specialty. While some photographers take a more serious approach, Ric likes to keep his shoots light and fun because he instinctively knows it will be the easiest way to capture true, natural results that his clients are looking for from his natural lighting methods. These techniques are now available for you to apply to your photography and make your clients and models stand out with simple and easy to follow lighting instructions.
Much more than just a lighting book
When you think about a photography book, the first thing that probably comes to mind is yet another stale textbook with simplistic, vague directions and a few generic pictures. If you're looking for something new with a natural edge, you're in luck. Ric Moore's new lighting book is much more than your average how-to photo book. It holds natural and strobe lighting scenarios and careful refinement of lighting techniques by master photographer Ric Moore.
Included are 15 different lighting diagram scenarios, which contain Ric's personal best-kept secrets… well, until now! Explore the techniques and lighting this book has to offer featuring photo styles from Playboy, Sports Illustrated swimsuit editions, swimsuit catalogs and more. Create your own glamour and fashion images with his invaluable experience to guide you. Most importantly, acquire professional lighting skills by learning from the master photographer whose work has been seen in some of the most recognizable publications and brand names around the globe.