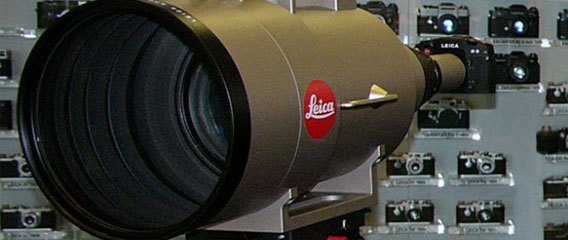 It doesn't come as much of a surprise that the world's priciest lens comes with a red Leica dot logo on it. But when it comes to price, the Leica APO-Telyt-R 1:5.6/1600mm truly goes above and beyond. This one-off extreme telephoto was created for Sheikh Saud Bin Mohammed Al-Thani of Qatar for 16 million Hong Kong dollars, just over $2 million in the US.
That lens is a one off, but the photo above is from the prototype that's in the Leica factory showroom. Since this lens isn't exactly being sent out for review, we don't know an awful lot about it. It fits the Leica R-mount, is 1.2 meters long (1.55 with a lens hood), has a maximum diameter of 42cm, and weighs 60kg. The kicker? Sheikh Al-Thani had a Mercedes four-wheel drive commissioned specially to drive the lens around, and act as a support.
The 1600mm f/5.6 Leica is certainly the most expensive lens that we know of officially, but there are some other contenders for the crown. Chief among them is the Zeiss Apo Sonnar T* 1700mm, f/4 — it had a wider max aperture, longer focal length, weighs 564 pounds (256kg), and connects to a Hasselblad 203FE 6x6cm medium format camera. Unfortunately, we have no idea what that Ziess lens went for, or even who commissioned it — just that it was emblazoned with the state logo of Qatar. Who knows, Sheikh Al-Thani may have that one, too. Perhaps we send Sheikh Al-Thani an invitation to our Oct 13-14, 2012 seminar / workshop … but then we might need an airport as a set for his lens.
[Apo Telyt, via Geek, PetaPixel]