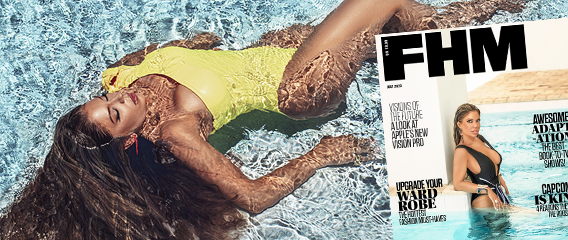 When attendee Sarah Lyons Glabman joined STC Miami, little did we know the photographer herself would end up as a model on the cover of FHM.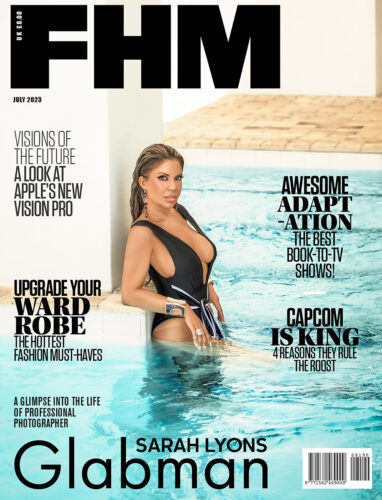 Sarah immediately stood out in the crowd, not necessarily because of her beautiful female appearance and big eyes. It was that her curiosity surpassed our average attendee regarding photography and her objective after the seminar on marketing and the photographic future.
Not to discount any colleague or attendee, but it has become evident at STC that female photographers have a high success rate with fewer distractions than male photographers. Sometimes the apparent female attraction among male photographers is known to contribute to poor decision-making compared to females. That could be different if we were to photograph male models.
After discovering her love for the industry, Sarah didn't just want to become a successful photographer. She had her mind focused on other avenues, including furthering her reach for her publication, BodyScape magazine, increasing her followers, and expanding its demographics.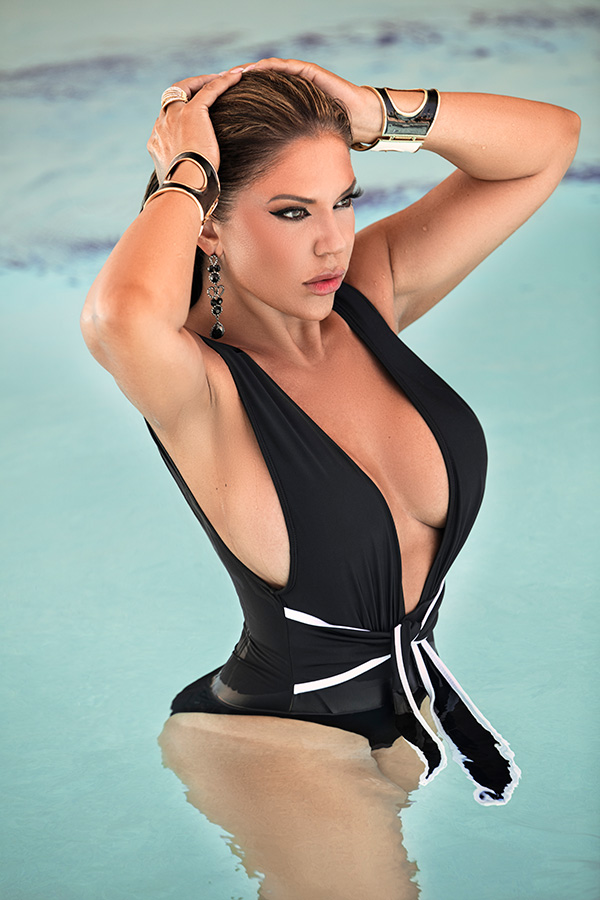 Sarah's entire business model initially catered to fitness models and female wellness. Her choice of direction is well chosen since there is less competition in the 40-plus age group she caters to.
Jarmo Pohjaniemi proudly photographed Sarah for her 25th BodyScape Magazine and FHM.
I was honored to photograph her and stunned at the same time by Sarah's willingness to leap into the publishing business in today's digital era and offer hard copies in addition to digital versions of the magazine. Witnessing our STC attendees having success and maintaining a healthy trajectory is very satisfying."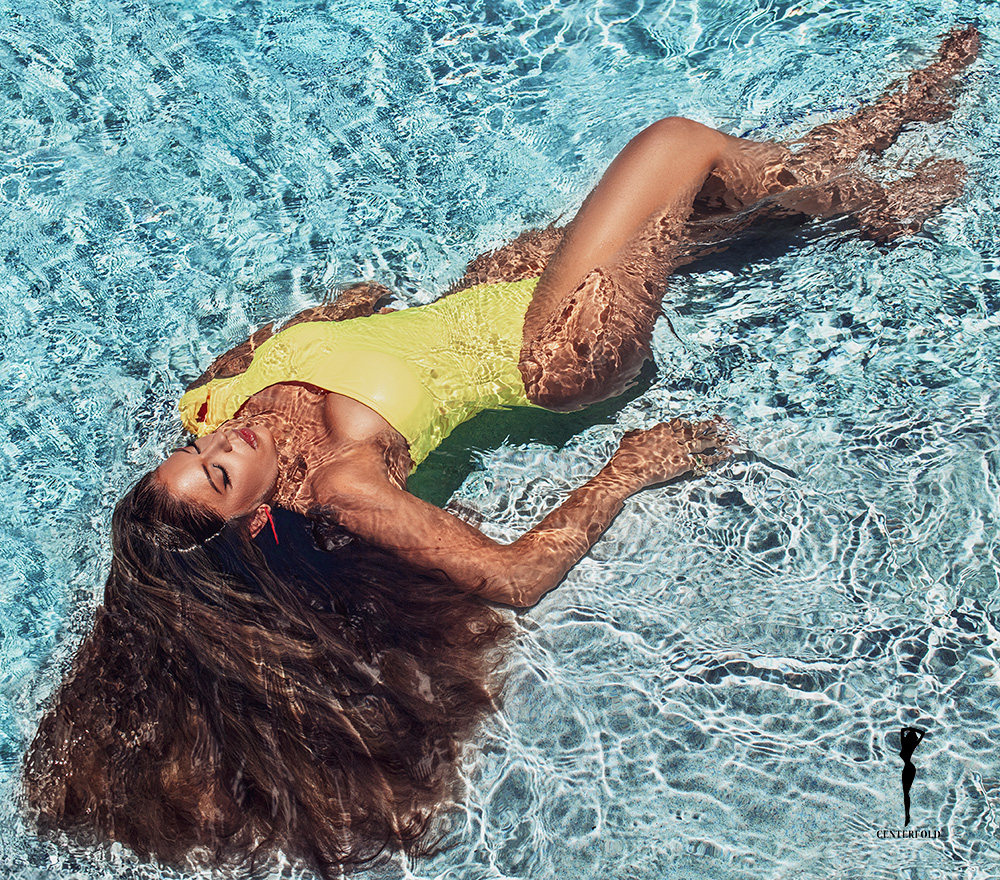 Sarah Lyons Interview:
Shoot The Centerfold: Could you share when your interest in photography first sparked? Tell us about your early experiences and how you ventured into the profession.
Sarah: I had a "lightbulb moment" in late 2007. I was a successful real estate professional in Scottsdale, Arizona, and when the worldwide markets suddenly crashed, I knew I wouldn't be sticking around to fight that uphill battle. I wanted to move on to something else in the meantime. I did some modeling a long time ago and learned how to manage a set, so I decided to take a leap of faith using my last $5,000 to buy a camera and lighting set on an eBay auction. I knew if I won the auction, it was meant to be.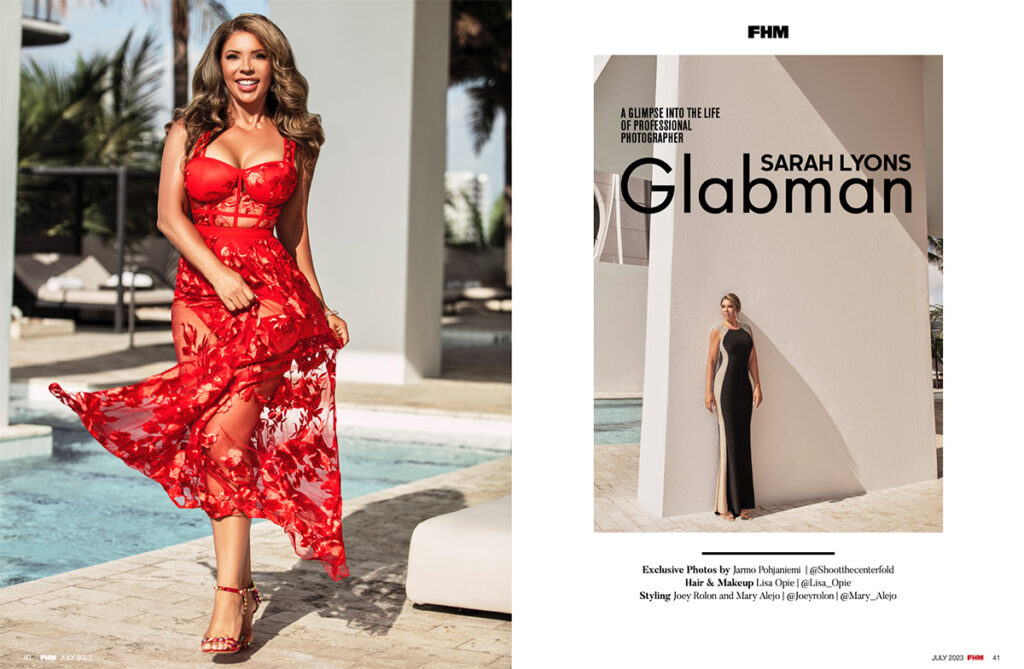 Shoot The Centerfold: You were initially an active fitness model before becoming a photographer. How did your time in that role shape your perspective and contribute to your growth as a photographer?
Sarah: I was a fitness model from 1997-2002 and things were a lot different in the photography world back then! I had no idea at the time that what I was experiencing as a model in the fitness industry, would further shape my career as a photographer. I learned posing and how to help others pose by paying attention to photographers and how I was photographed. I also learned to be a multi-tasker as an extra hands-on on set if the photographer needed help.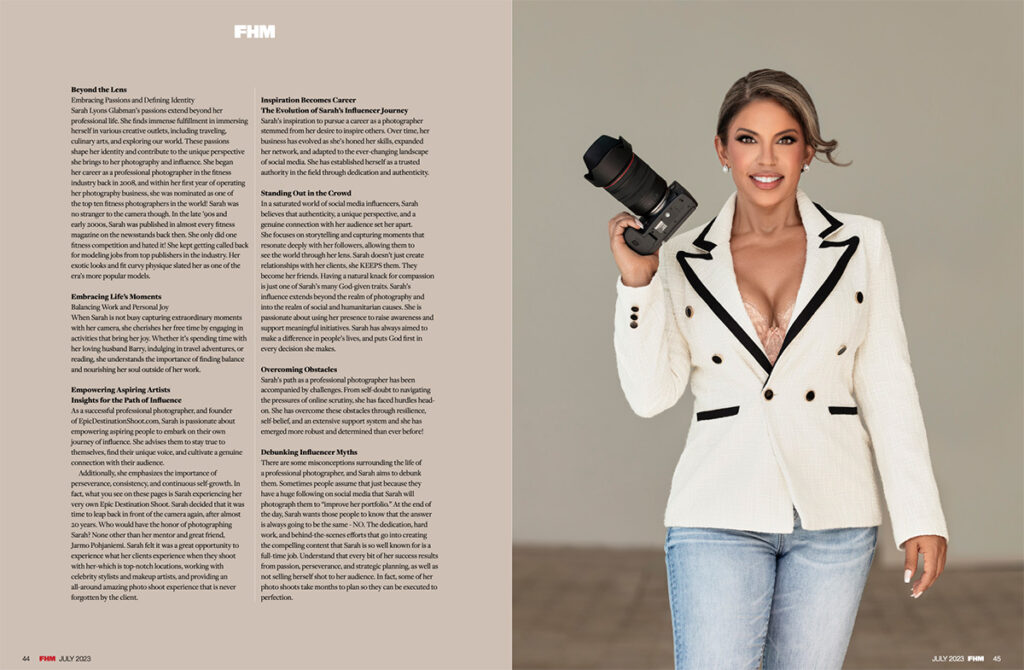 Shoot The Centerfold: You're the publisher of BodyScapes magazine. How did you step into the role of a publisher, and what are the major challenges in today's publishing landscape?
Sarah: I was mainly shooting in the fitness industry when I started because that is what I knew best. I had aligned myself early on with magazines that used to publish me as a model so that I could submit images to those publications on behalf of my clients. Over time, the industry became increasingly saturated with up-and-coming photographers offering images. I was eventually "waiting in line" for publishers to post my work. That frustrated me because the clients I worked with wanted to get published with my work. Instead of conforming and waiting around, I took the initiative to begin my publication, BodyScape Magazine.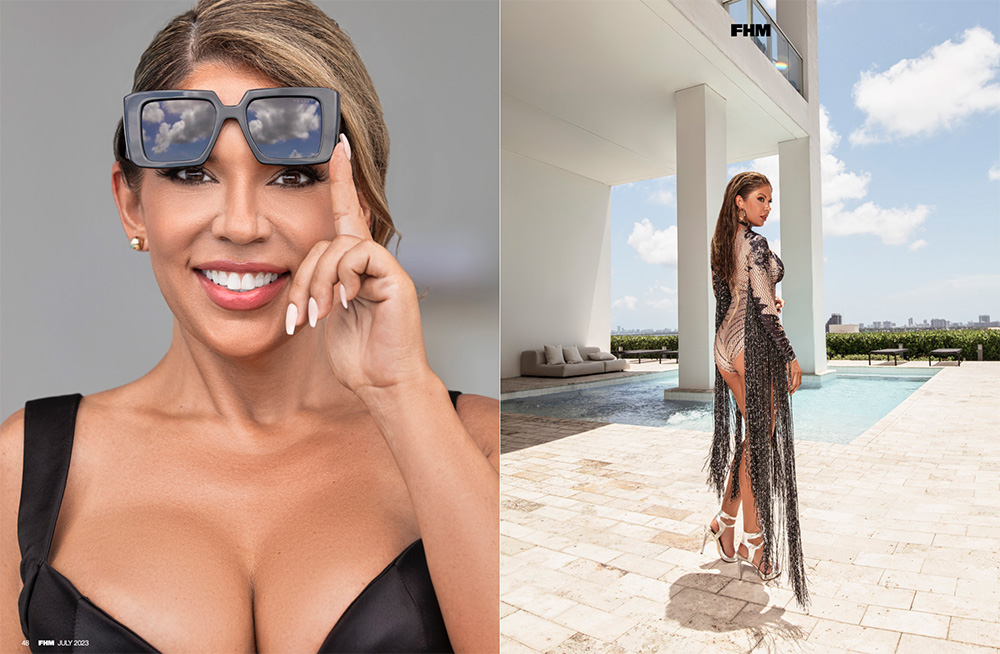 Shoot The Centerfold: Would you have done anything differently starting as a photographer and magazine publisher? With numerous photographer-founded publications out there, what sets your approach apart?
Sarah: If I'm being honest, I wouldn't change much except I wish I would have met you sooner, Jarmo! But I've done reasonably well with my current setup. My magazines are story-telling platforms. What that means is when a client wants to be on the cover of either BodyScape magazine or Epic Fit Magazine, we build the entire magazine around that model. We don't have many ads or additional model features in each issue. The core of each edition is the cover model and the story. I dedicate 25-40 images and 50 layout pages to each cover model. It becomes a huge marketing tool for the client. But for some, they do it just for fun.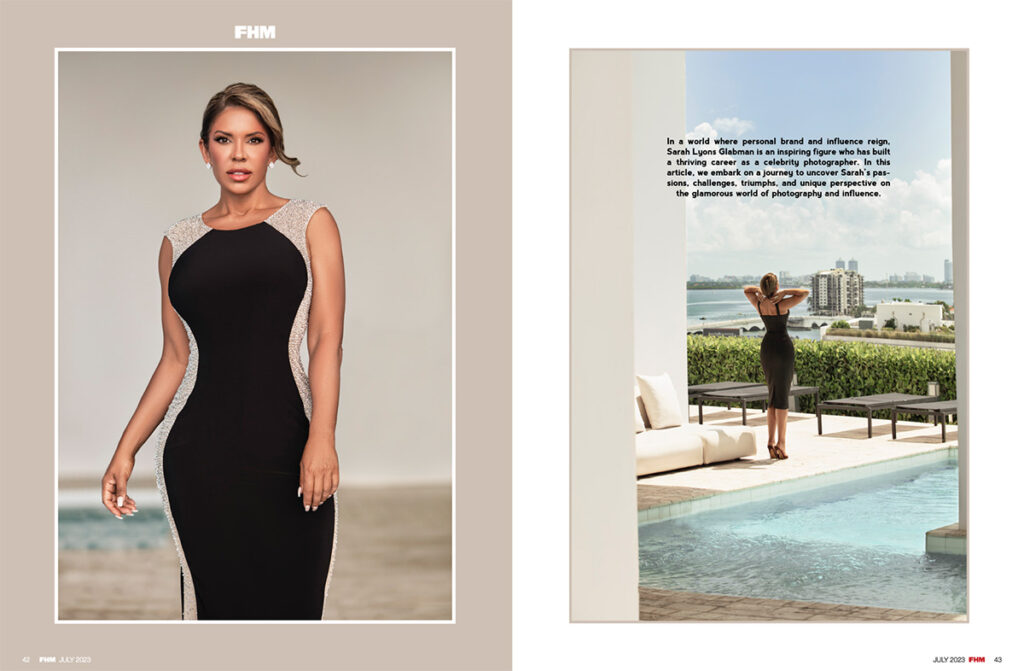 Shoot The Centerfold: As a female photographer, what draws you to capture images of women? What aspects or qualities do you aim to highlight in your work?
Sarah: I don't choose the fact that my client base is 98% women; it just works out that way. However, having been on the other side of the lens, I know what it is like to feel like a million bucks in front of the camera. I love that feeling, and I love sharing that feeling with my clients. I want them to feel that too.
Shoot The Centerfold: Do you have a stronger connection or bond with your models as a female photographer than your male counterparts?
Sarah: The female clients feel comfortable with me. They know there won't be any funny business on set, and I will make them feel like a respected superstar on stage. Many male photographers make their female clients feel that way as well. However, there are always a few creepy guys out there that take their role as a photographer too far. I've experienced that myself.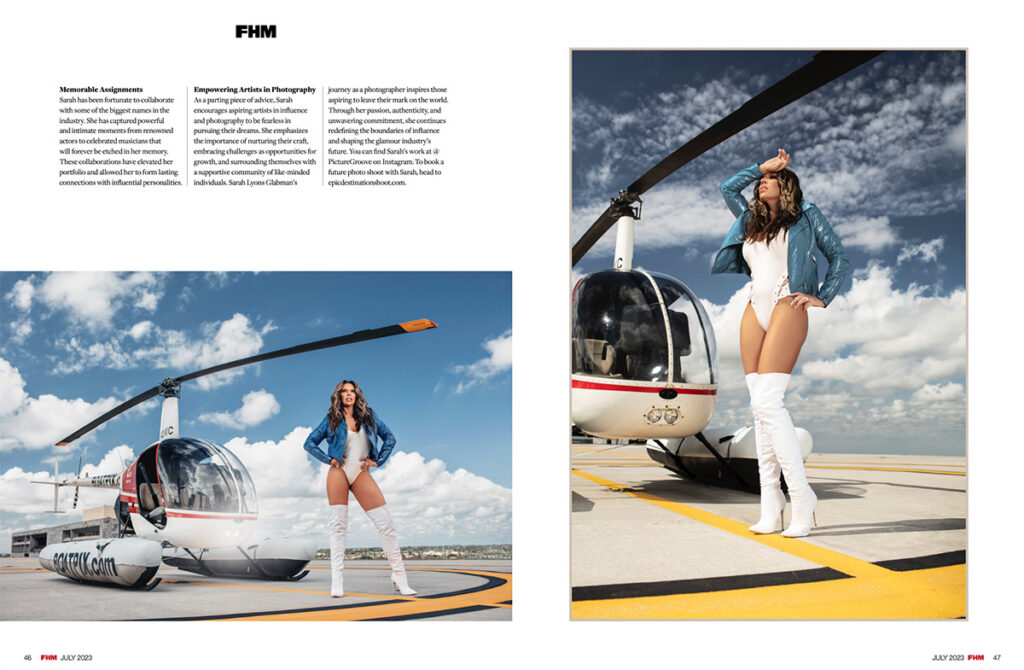 Shoot The Centerfold: Can you share your experience attending the Shoot The Centerfold seminar? What key insights or lessons did you take away from the event?
Sarah: The Shoot the Centerfold Seminar gave me confidence as a professional photographer. I knew I already had great ideas and projects in the works. Working with the likes of you, Jarmo, Josh Ryan, and the other photographers in attendance gave me the additional lift I needed to amplify not only the quality of my work but also taught me the BUSINESS of it. That area is where I often need to catch up. Sometimes the creative brain knows more than the business brain. The STC experience has undoubtedly helped me. My career has been stepping up, I can offer more to my clients, and my work quality has improved.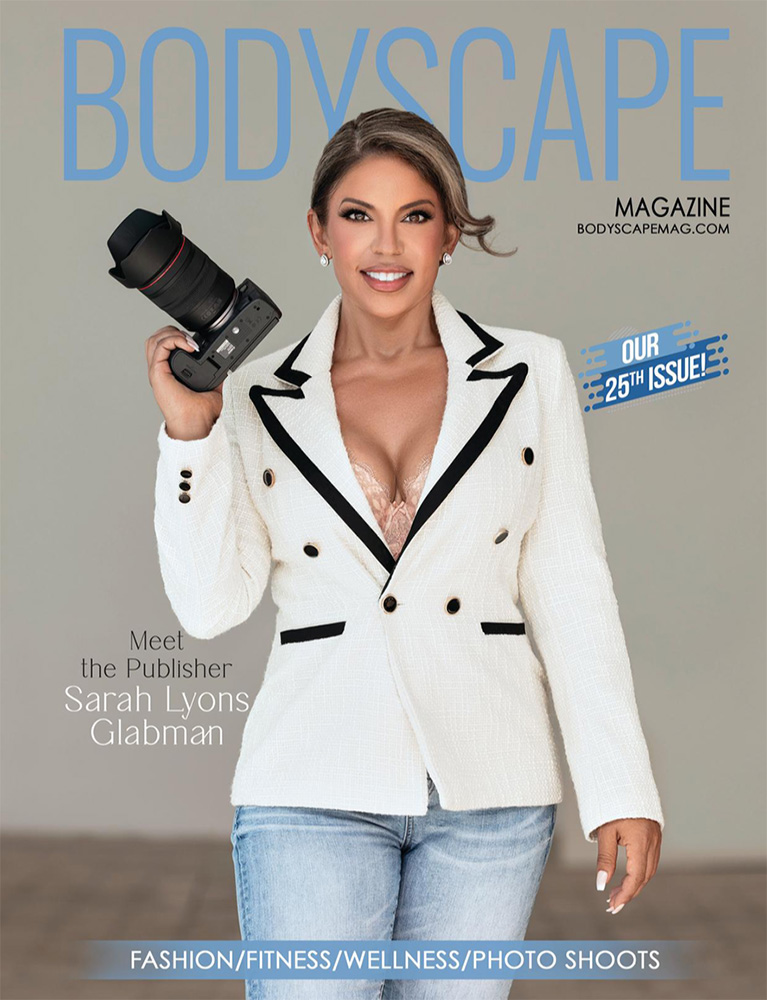 Shoot The Centerfold: Your achievements span from Times Square ad campaigns to gracing the cover of FHM. What exciting plans lie ahead for you in your journey, both in front of and behind the camera?
Sarah: I'm excited to be working with more elite-level magazines now. So now outside of publishing my two magazines and doing the Times Square and LA billboards, I can offer a few of these titles to select clients. It's an absolute whirlwind, especially since I've never had formal training except for the Shoot the Centerfold seminar.
I'm still determining when I will be on the model side of the camera again
I'm still determining when I will be on the model side of the camera again, but I just started a new podcast with my friend John Butler! He is an old-school fitness photographer from Toronto, and recently we put our heads together to create a podcast called "On Set with Sarah and John." We discuss everything about my Epic Destination Shoot recap a couple of times a year, interviewing models, brand ambassadors, marketing geniuses, magazine editors, and more!
Shoot The Centerfold: There you have it, another fabulous and successful STC attendee making headlines. Check out and follow Sarah and her adventures via the links below.
PictureGroove Photography | Bodyscapemag.com
All photography by: Jarmo Pohjaniemi | ShootTheCenterfold.com