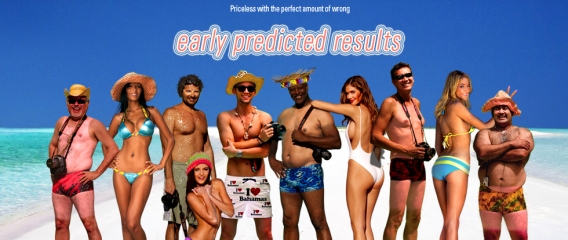 In less than a month's time, Uncle Sam's going to have his greedy mitts in your pocket again under the guise of something we've all come to know and despise as our income tax deadline. While it's too late to take the sting out of this year's return, you can have the last laugh next year by having the best tax-deductible vacation ever and attending Shoot The Centerfold's seminar May 25-26 set in the wondrous paradise known as the Bahamas.
You won't be there alone, however. To keep you company we'll have a few Playboy Playmates, top models from the world's best agencies, and even some of your favorite girl-next-door models who will willingly pose for you to your heart's content while you're working on a killer tan (or sunburn, in this case, because we know you're going to be busy… REALLY busy!). Oh, and we'll also have a bunch of friendly faces there, too – some new, some you'll recognize and have come to know as old friends.
Okay, if that's not enough to get you there, how about this? You're also going to get the ultimate educational photo experience of your life, all in a very private and exclusive setting that'll seem more like a family reunion. In what will be STC's first international seminar/workshop set outside U.S. borders, we're extremely excited to offer this opportunity not only to have a great holiday, but also learn something at the same time.
It'll be the Memorial Day weekend, which means that while a lot of people will be trying to have fun on a crowded beach somewhere, stuck in traffic on a highway going nowhere fast, or wasting money on a kiddie theme park, you'll be on the beach – camera in hand – with several bikini-clad Playmates, a fair share of fashion models and two of the world's best glamour and fashion photo instructors, all helping you catch that awesome shot.
It's hard to decide what'll be the best part; beautiful models, beaches and photography, or knowing that the government won't be able to touch a single red cent of your expenses while you're there. Fair's fair because it was their idea in the first place – Uncle Sam supports education and excursions relating to your profession, no questions asked. To top it off, you can use Paypal's "Bill Me Later" option (no payments, no interest if paid in full in 6 months) and not have to worry about it until November – the perfect Christmas gift to yourself, right?
If you've never been to one of STC's seminars and workshops, the best thing (besides the models) is that you'll be meeting fellow photographers from all levels. Some are fulltime photographers, others are trying to include fashion and glamour photography with the other photo services they offer, a few are on board just for the experience, but everyone is there because they want to learn and share a passion for photography.
A lot of you have been asking for us to include more of the business side of photography, and this is what we've done with our revamped program. A successful photographer is also a good business person. It's a considerable investment and not one to be entered into lightly. It's understandable that while many photographers love glamour and photography, not all are sure it's their cup of tea and want to be sure before going ahead with anything. That's why we're here.
Giving you an education, a direction and clearly defined goals is what we've been all about since the very beginning. Anyone can teach you how to take a photo, but it's important to us that you realize your potential and trust in your abilities, both photographic and personal. One of the harsh truths about following your dreams is that there will be plenty of people ready to say that you can't do it. You'll have to be strong and confident in your abilities if you are to be successful.
Part of our job is to motivate you with our beliefs and make you realize that you can do this. It won't be easy, but you're not alone. When you have a professional mindset, you'll attract other professionals who, while they may or may not be professional photographers, are serious business people who know how to make things work. These are the people you need to meet and you'll have a chance to do so at our seminars. Learning how to think like a winner is part of the process.
Being successful in business takes a specific mindset which isn't exclusive to photography, but it is a common trait among the financially resilient. There are a few attendees who see photography as an escape for their already hectic business life and don't exactly care to change their successful lifestyle anytime soon. However, they're ready to trade in their Armani suits for a pair of baggies, a loud shirt and some beat up huaraches.
And let's not forget the photographers working in the trenches who shoot everything from weddings to architecture to fine arts. For one attendee at a Vegas seminar, the seminar experience was enough for him to go from a super-successful fine art photographer to someone in search of new waters, as well as getting ideas to further his already prosperous career.
Whatever the reasons may be for joining a Shoot The Centerfold seminar/workshop, we are glad to have you because without you and your support, there would be no opportunities for creating wonderful memories and receiving the ultimate educational photo experience. The best thing about the future is that it hasn't happened yet and it can be whatever you want it to be, so why not make it a good one?
Thank you and we hope to see you in the Bahamas!