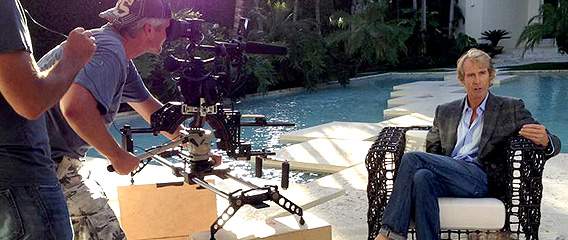 One of the coolest and the geekiest places on earth for "my" kind is film director Michael Bay's personal editing studio, especially when Mr. Bay himself is leading the tour and "Transformers 4" is on the cutting room table for a sneak peek!
All this came about when I was asked to shoot a promo for Mr. Bay for his new eight-episode original series on Starz called "Black Sails" (a prequel to Robert Louis Stevenson's classic "Treasure Island"), and a spot for an upcoming tribute to fellow director and mega-producer Jerry Bruckheimer.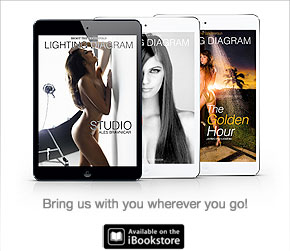 It has been said that you can learn a great deal from the masters and Mr. Bay turned out to be one of the most laid-back guy of his caliber. However, don't mistake his calm demeanor as a weakness because behind the camera, he's in charge and sets the pace. One of the first things he says before our shoot is, "Hey, I'm terrible in front of the camera." Well, terrible also comes in different levels of experience! His "terrible" equals what other actors would call a true class act from start to finish.
The purpose of this post is to shed the insights, information and common interests that photographers and cinematographers often share. Actually, Michael also has shot a still pictorial for Playboy called "Lights, Camera, Fantasy" featuring Playboy Playmates and it goes without saying that the pictorial was a hit. Most successful directors have extensive experience in still photography as well.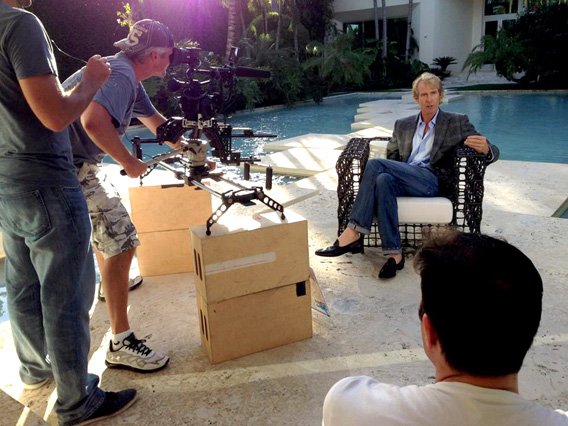 Jarmo Pohjaniemi on set filming Michael Bay
In case you've never heard of Michael Bay, you've probably surmised he's an American film director and producer. He is known for directing high-budget action films characterized by fast edits, stylistic visuals and substantial special effects. His films, which include "Armageddon" (1998), "Pearl Harbor" (2001) and the Transformers film series, have grossed over $3-billion worldwide. He is co-founder of a commercial production house, "The Institute," a.k.a. The Institute for the Development of Enhanced Perceptual Awareness. He is also co-chair and part-owner of the digital effects house, Digital Domain. He co-owns Platinum Dunes, a production house that has remade several horror movies, including "The Texas Chainsaw Massacre" (2003), "The Amityville Horror" (2005), "The Hitcher" (2007), "Friday the 13th" (2009) and "A Nightmare on Elm Street" (2010). (And who can forget the scene from the first Transformers movie where Megan Fox is bending over to take a peek under the hood of a Camaro?) Mr. Bay's superior skills are also behind some of the best commercials ever created, including the hottest Victoria's Secret commercials seen worldwide.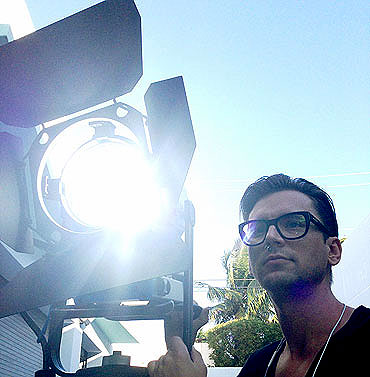 And today, here he is, in front of my own camera. Who would have thought that I would be shooting men (gentlemen, that is) at some point in my career? Sure, beautiful ladies in various stages of undress outperform any male model or director, but this one was different, not only because it was Michael Bay, but because he is somebody in our industry that we all look up to, as far movie lighting and directing goes.
I must admit that it did feel bit funny to be directing Michael from behind my camera. Who was I to tell him – one of the biggest directors in the industry – how to run the show? However, the fact remains that whoever is behind the camera is in charge and must evaluate each situation as the camera captures the footage. After all, I was not going to disappoint Mr. Bay – not a chance! As things warmed up and we got comfortable both in front of and behind the camera, it was smooth sailing throughout the afternoon, making jokes with our crew and talking guy stuff…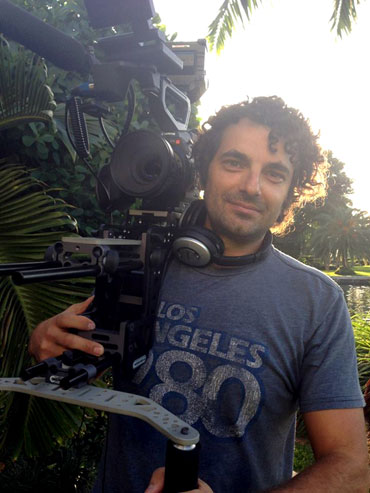 Michael was telling me about his crew and organization of 3,000 people (give or take) that work on his productions throughout the world. And to top everything, after we finished shooting he invited us to his personal editing studio from where he calls the shots for the rest of his crew and film editors. Stepping through the door of his studio was more like walking onto the bridge of the U.S.S. Enterprise and it seemed for the first few minutes every other word I managed to squeeze out of my mouth was "Wow!"
Being the "Johnny-on-the-job" that I am, I quickly came to realize that Mr. Bay had at his disposal some components and additional gizmos that I could use in my personal studio, not to mention his uber-fast, full-screen feed to his Los Angeles editing facilities. With the press of a button and in a split second, there was feed and greetings to demonstrate how he supervises his crew when working on a project. What is really surprising is how involved he is with the smallest details of production and editing.
The not-even-released-yet "Transformers: Age of Extinction" was on the computer screens as it was being edited in Los Angeles and updated to Mr. Bay's personal studio screens in real time. We got see a preview of how it all comes together before it ends up on screen. There was Mark Walberg, in Mr. Bay's world, running and saving the world from robots, all the while avoiding the cars falling down around him. I was like a kid in a candy store and must say that while watching the preview, I realized Mr. Bay and I shared something in common. After all, it is his baby, his playground.

Michael Bay in his personal editing suite/studio
I appreciated that we; Mr. Bay, my team and I, all shared a passion that spoke the same language. It felt as if we had known each other forever, kind of like when you were a kid and you shared your toys with friends, they shared theirs'. There is a certain bond among people who take either their photography or cinematography business to a certain level where you automatically can relate to and understand each other. Opinions change within the blink of an eye and lighting is not even a question, everybody knows what's needed as if we have the ability to read each other's thoughts.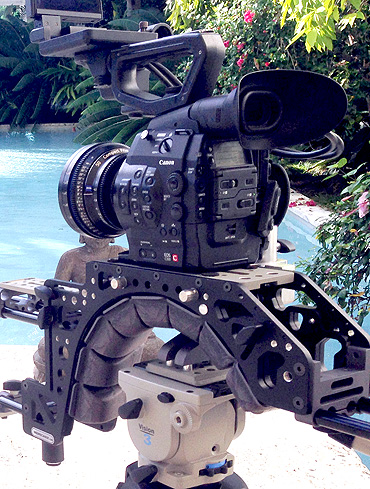 What would I like to learn from Mr. Bay? Gee, that list would be about six-blocks long! Anybody who loves chicks, cool cars and fast action would like to pick Michael's thoughts and figure out how his brain's wired. I have come to learn that if anybody can run shows the size of Mr. Bay's, there's more there than meets the eye.
Here are a few tips from the shoot:
1. Take it easy and don't ruin the moment.
2. Always make sure that the lighting works no matter what you do.
3. The key is that if you want to sell it, it must look realistic.
While these tips may be nothing new to me or many of you out there, they are the backbone of any director.
A person like Michael Bay is hard to impress. What does it take to impress a guy like him? Is there anything that gets his eyes to look twice at something? Well, yes! He believes in great taste and beauty, in case you haven't noticed!
Go see one of his Transformers movies or the latest Victoria's Secret TV spots and you'll get the picture. There are not too many directors who can mix explosions, robotic entertainment and sexuality as well as Mr. Bay does.
This also was a great chance to break in the STC Shooter rig and to demonstrate its unique qualities to Mr. Bay, like the "Top Stage" quick-release from tripod to dolly or slider in less than 10 seconds! What really impressed me was that no matter how many toys a professional director has, he's always interested in the newest and best possible solution that gives better results.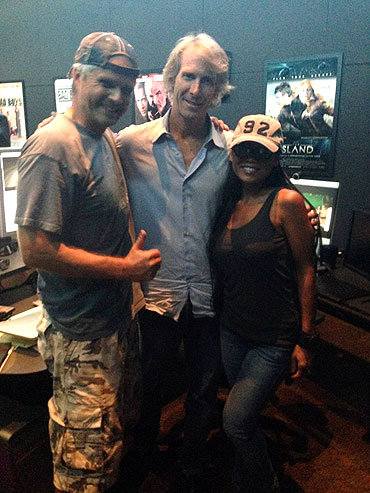 Other topics and discussions were photography, videography and what cinema has become. My advice to anyone is to add video skills to your already existing skill set of still photography, because that's where the visual world is going. You never know, perhaps you could become the next Michael Bay!
Equipment used:
Canon C300 cinema camera with Zacuto (EVF) viewfinder
Zeiss CP2 compact prime lens
Canon 35mm f2.8 prime
Cinevate slider
Cinemecanix C1 shoulder rig
Vinten tripod/Vision 3 fluid-head
Arri 1.2k daylight balanced HMI light
Two C-Stands
Two sandbags
Crew:
Camera operators; Jarmo Pohjaniemi and Luciano Alexander
Producer/director; Buster Cox
Production assistant; Michael Raveney and Mary Alejo


© 2013 Copyright ShootTheCenterfold.com. All rights reserved.