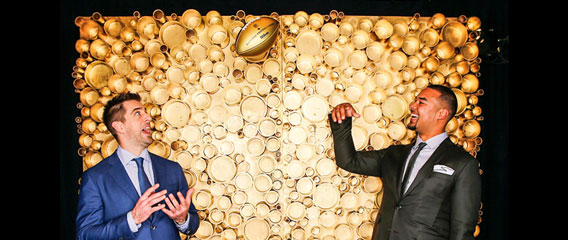 Senior photo editor and lead photographer for the NFL Ben Liebenberg's preparations for the SuperBowl start long before the game (you can read more about Liebenberg and some of his SuperBowl preparations here).
Always on the lookout for creative ideas, Liebenberg had the opportunity to check out Chimera's RingMAXX late last fall and thought it was the perfect piece of gear to photograph award winning players at NFL Honors the afternoon before the big game.
Liebenberg saw a video demonstration of the RingMAXX at the beginning of 2015 and "was blown away . . . .I love the look of a ringflash and have used ringflashes quite a bit. I love how you can get a traditional ringflash look with the RingMAXX," Liebenberg says. But the RingMAXX, with its ability to accommodate four lights (strobes or continuous), is a ringflash with a twist: "You can play around with the lights—you can power them differently, you can dial them down to exactly how you want each quadrant to look." He also checked out images that other photographers had created with the RingMAXX, which reinforced his excitement about shooting with the almost 4-foot wide lightbank.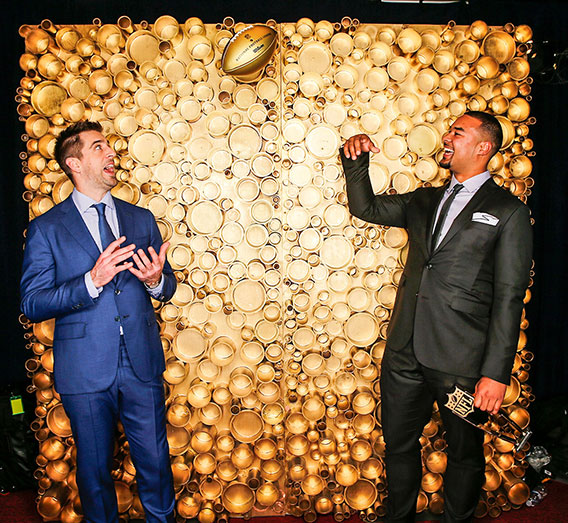 With the NFL Honors portrait session in mind, Liebenberg tested out the RingMAXX late last fall. Because this was the 50th golden anniversary of SuperBowl, Liebenberg and his team designed a gold background to be used with the RingMAXX. Two 4 x 8 flats decorated with gold tubing were used to create an 8 x 8-foot background, which gave Liebenberg a generous background that perfectly represented the "gold" theme associated with the game.
The day before NFL Honors, Liebenberg and his assistants set up the RingMAXX for final testing at the Bill Graham Civic Auditorium in San Francisco. "We had a great location with a lot of space," Liebenberg notes, adding that the large lightbank created a lot of buzz at the venue. "The lighting guys, grip guys and electricians–all the guys working on the show—said, 'Wow, what is that? That's cool.'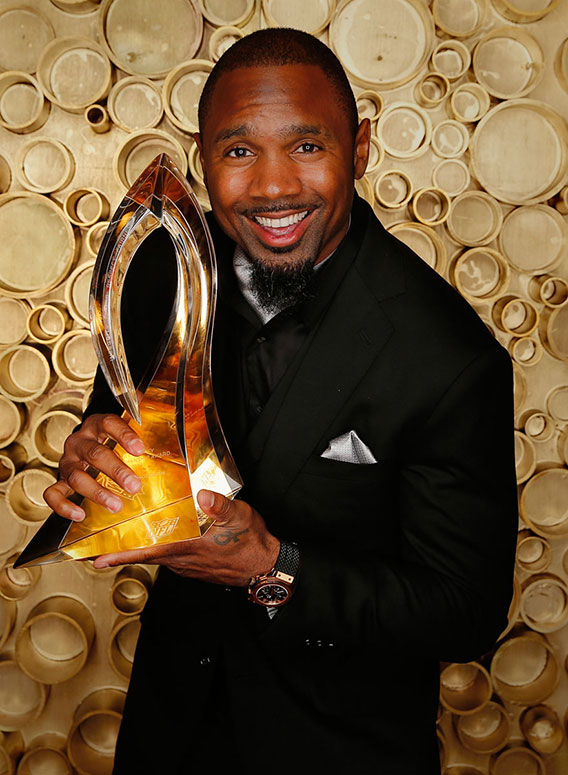 Liebenberg used Profoto heads and power packs and since he was shooting ¾ body shots, he set the top two lights one stop higher than the bottom two. The top two lights, he explains, "brightened up their faces a little bit and it [the light] fell off toward the bottom." And, he adds, "With four heads there's no need for a lot of power and the RingMAXX put out a beautifully soft light."
With everything pre-set, Liebenberg's biggest challenge was time. "I had about one minute or two for each shot," he recalls. "We were in middle of kind of a carwash of what they [award winners and celebrities] needed to do. They would do an interview with the NFL Network, then the Associated Press, then social media and then they'd go up to press room. And they would need to get them back to their seat in 15 minutes so I'd get maybe a minute.  It was pretty quick," Liebenberg explains. But, "Once we were set up, we really weren't changing anything. I'd shoot a few frames, talk to them a little bit, shoot a few more . . .and then we were done."
For Liebenberg, the highlight of the NFL Honors portrait session was photographing Jim Brown. "He's such an old school player, one of the best ever," and, Liebenberg adds, "It's a cool moment when you get to shoot a photo of him, especially in that kind of situation." And "he had a great blue suit on, which looked awesome on the gold background."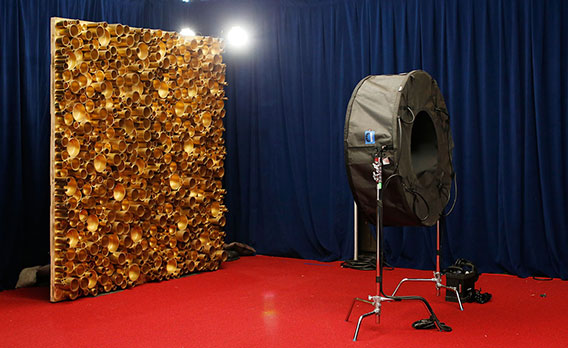 Learn how you can use the RingMAXX in different lighting situations.
Joe Namath, another football icon, posed for Liebenberg, as did players like Charles Woodson, Antonio Brown and J.J. Watt. "We got some great stuff with Charles Woodson," says Liebenberg. "Antonio Brown was really good—he had some great hair." J.J. Watt won defensive player of the year three years in a row (Liebenberg shot him last year as well)—"He's very animated and was having fun with the portrait sticking his tongue out and holding the trophy up in the air." Although an unlikely pairing, January Jones and J.J. Watt presented an award together and passed in front of Liebenberg's lens, as did actress Taranji P. Henson, among others. Devon Stills' little girl (a cancer survivor) posed with her dad and "was really into" being photographed, as many children are.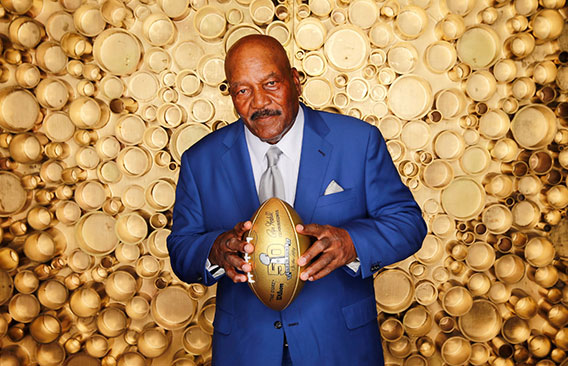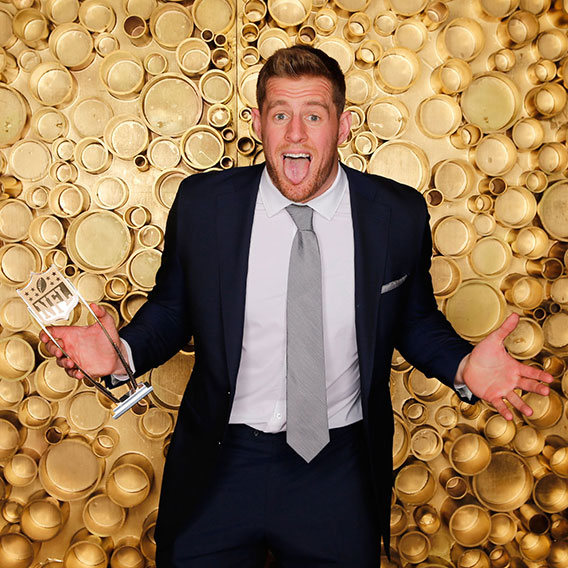 Despite the time constraints, the shoot went really well and. "We used a lot on our social media accounts," says Liebenberg and the "background and lighting looked great." In fact, Liebenberg thinks the RingMAXX "would be really cool for shooting portraits at the NFL . . . .You don't have to use it as a ringflash, you can put 2 or 4 heads in it, vary the lighting and have different shadowing just by adjusting your power packs," says Liebenberg. "There's a lot you can do with it and the RingMAXX is definitely something I want to use some more and keep playing around with."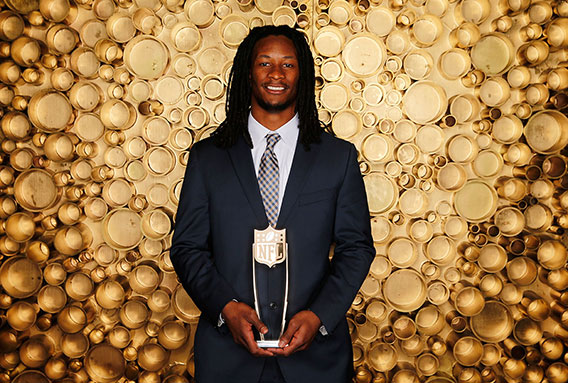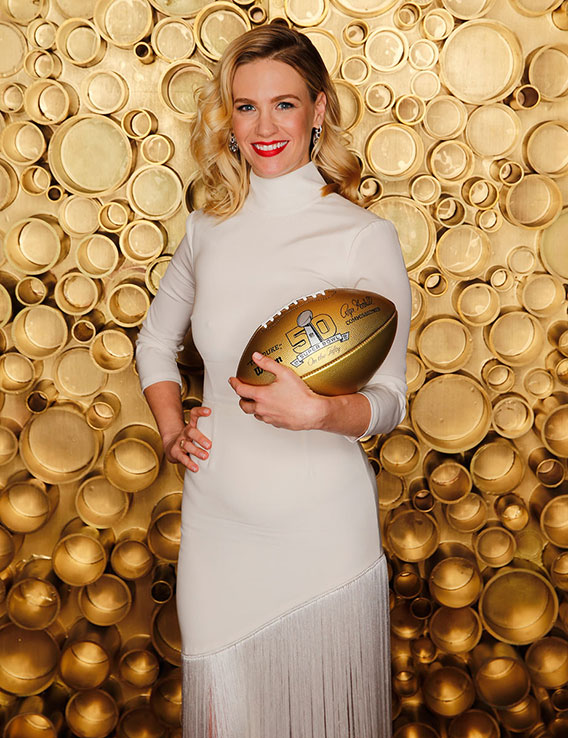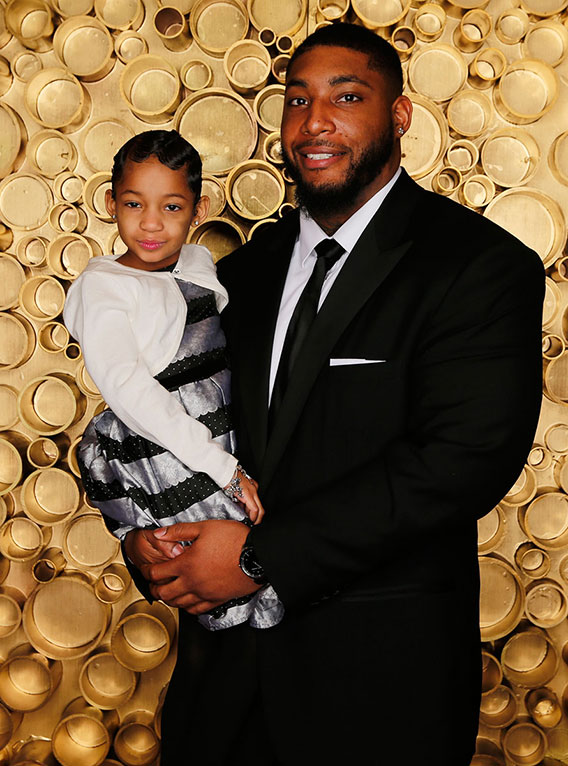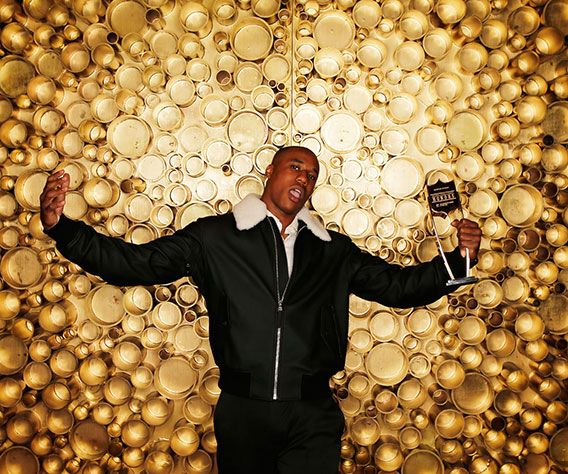 But lest you think that Liebenberg traveled to San Francisco just for the NFL Honors, this prolific, talented—and energetic—photographer shot the SuperBowl the next day, for the 8th time in 9 years. Like the pro he is, Liebenberg moves effortlessly between portraiture and shooting the greatest annual football event of the year. It's obvious that Liebenberg loves what he does and has the images to prove it.
Our thanks to Ben for a peek at what made some amazing images happen!  Make sure to check out his personal website and follow him on Instagram.
You can learn more about RingMAXX from its founder right here or head to Chimera Lighting.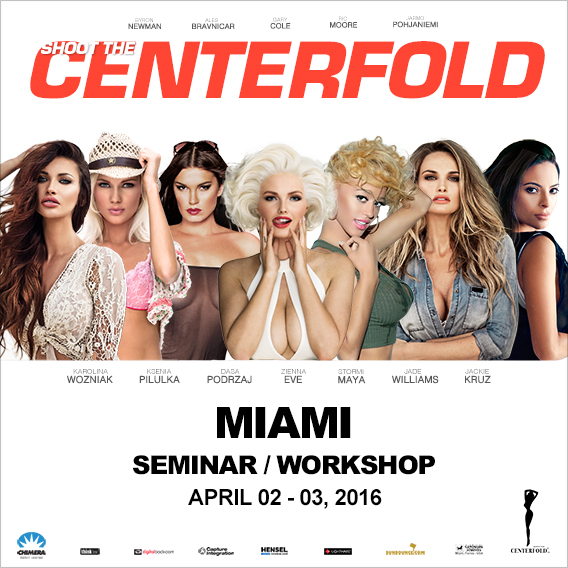 © 2016 Copyright ShootTheCenterfold.com. All rights reserved.