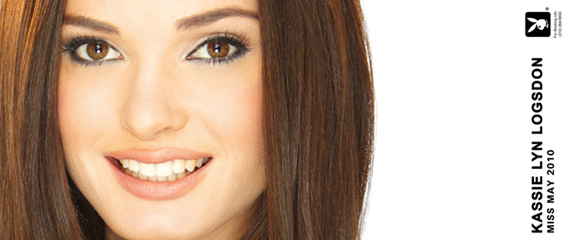 Kassie Lyn Logsdon is a Centerfold with style, smarts, and a sensational smile. She is getting ready to go from gorgeous gatefold to seminar celebrity as one of the Featured Models at the upcoming Shoot the Centerfold workshop, being held in Las Vegas on June 4-5, 2011.
Three of Playboy's most prolific photographers of past and present — Arny Freytag, David Mecey, and Jarmo Pohjaniemi (OMP Member #68348) – will be heading up the Shoot the Centerfold event. This talented trio will be offering insightful instruction and technical tips throughout the day. They will also be teaching you a variety of photography styles and demonstrating how to incorporate different lighting setups and model posing techniques into your photo shoots.
Unlike many aspiring models, Kassie started her professional career at the top. "I began modeling in November 2009, when I did my first photo shoot for Playboy Special Editions. It was the first time I had done any real modeling."
Connections were the key to her career breakthrough as Miss May 2010 in the men's magazine. "I went to high school with another 2010 playmate, that set up my first shoot with Special Editions. They saw the pictures and had me come back and test for Playmate. The rest is history! Since my issue came out, my association with Playboy has opened doors for me! I have had so much fun working with and meeting so many amazing people!"
How has being a Centerfold changed Kassie's life? "I use to work in an office and now I work for Playboy! I get to party at the mansion! I have amazing new friends! Definitely changed my life for the better. On top of that, I get to be featured at the Shoot the Centerfold event in Las Vegas! We are going to have an awesome weekend!"
There are a lot of reasons the brunette beauty is looking forward to most about the Sin City shootout. "I am excited about meeting new contacts, getting new images and learning more about posing. And of course the sunshine!"
Kassie feels that photographers and models alike can benefit by attending Shoot the Centerfold event. "It is going to be an awesome learning experience! This is not a typical photography class. It is taught by Playboy veterans, so you can expect only the very best instruction and information!"
As far as her main modeling goals, Kassie strives to keep her image classy while enjoying the creative process. "I have always felt that I have more of an editorial look than a glamour look. But basically I'm easygoing and love to have fun on set!"
You can get in on the fun by meeting and shooting with Kassie and her fellow models Ashley Hobbs and Shauna Marie McLaughlin at the Shoot the Centerfold event in Las Vegas. This special two-day event is set for June 4th & 5th at The Tropicana in Las Vegas.
Shoot the Centerfold will be one of the first major events to be held at the new Nikki Beach Club at the Tropicana, and will feature a Red-Carpet arrival, opening night VIP reception, and pool party for the attending models and photographers. For all the details and to register for this once-in-a-lifetime opportunity, visit the official website at www.ShootTheCenterfold.com.