We just ran an interview with smokin' hot model Brittany Oldehoff who is known from Heidi Klum's "Runway" hit TV show and her cover appearance in GQ (SA) magazine. The impact was enough for photographer Dr. Dan to step up to the plate to book Brittany immediately for a One-on-One session with STC photographer Jarmo Pohjaniemi, who contacted Brittany's modeling agency, NEXT, to inquire about her availability. We decided to run a pre-blog about this exciting shoot and share thoughts and ideas beforehand, then do a follow-up after the One-on-One session shoot with our lovely model Brittany and Dr. Dan.
Interview: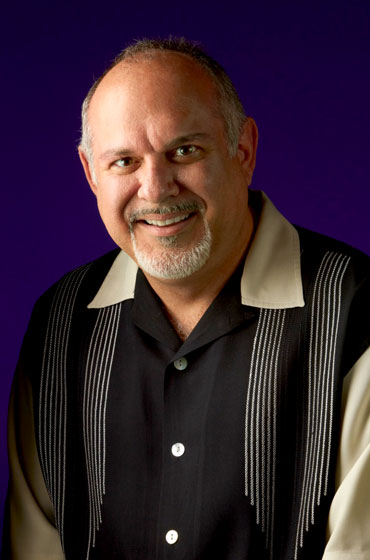 STC: Dr. Dan, where does your name, "Dr. Dan," come from or stand for? Are you an actual doctor/photographer?
Dr. Dan: Yes. The "Dr." is a real title. I practice general dentistry. Photography has always been my passion.
STC: You also are the lucky winner of the $5,000 STC raffle from the October's seminar/workshop, which you're going to cash in on for your One-on-One session. How did it feel to know you won?
Dr. Dan: I was VERY surprised! The chance to shoot one-on-one with Jarmo is the chance of a lifetime!
STC: Your thoughts on model Brittany Oldehoff; was it love at first sight?
Dr. Dan: LOL! I remember watching her at the last STC event and was mesmerized by her. Watching Brittany, I could see that she was very comfortable in her skin and could deliver a memorable performance. Her professionalism really showed, she kept her energy positive and was so willing to commit to the shot for the entire day with each photographer, no matter how inexperienced. I have worked with a lot of models in the past that just show up and trying to get a performance out of them was worse than "pulling teeth" – hehehe – (actually, I am very good at that!). With Brittany, I all need to do is be ready, snap the shot and enjoy the dance!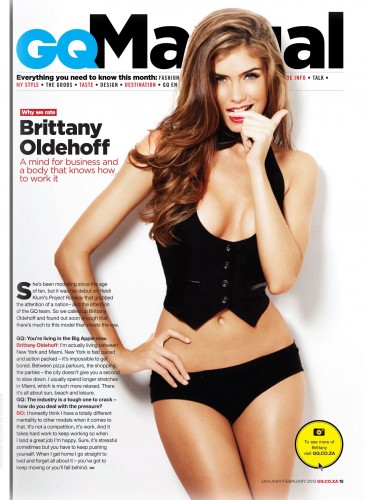 STC: Brittany is a very talented model who delivers a one-two punch in both glamour and fashion. You seem to be after her commercial looks. What was the decision to go more editorial than Glam, and what are your goals in this specific shoot?
Dr. Dan: I love shooting glamour and have become quite proficient at it, but I need to grow as a photographer and reach for other styles. As a creative person, I have found that I need to continually learn and grow and try new things. If I don't, then I can get rather bored and stale creatively. My goal is to blend glamour and editorial with fashion to create stories that are a sexy cinematic snapshot of a larger idea or feeling. Brittany's look is commercial because she appeals to our emotions and compels us. That's what commercials do to us; they appeal to our emotions and motivate us to act out or buy something. Having a model that can turn it on and express herself with a glance or a flip of the hair and deliver in front of camera is SO essential to this process. It's no different than casting for a movie – cast the wrong person for the role and it won't work. Could you imagine Stallone as Spiderman?!? However, as Rocky he was brilliant!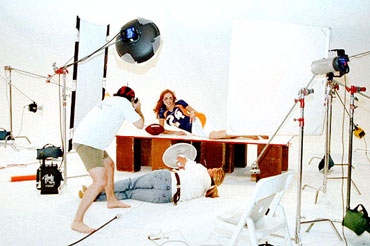 STC: There are a lot of little details to be ironed out before this shoot can be a success. Let's discuss which details matter the most in this upcoming shoot before it can become reality. Jarmo Pohjaniemi's background before his Playboy career was fashion, so let's pick his brain and see what he has to say:
Jarmo: Most important is the pre-production. Any successful shoot calls for careful planning and this one will be no different. We are going to treat this photo shoot as if it were for a top- notch client who demands nothing but the very best. Here's a mandatory list of what we need to accomplish and make sure that nothing gets overlooked.
Pre-production to-do list:
Direction: Decide the direction of the shoot and determine the images' future usage.
Location: Secure a location that supports the direction of the shoot. Always remember that you can photograph models against a regular seamless background or in a location that offers production value to your images. Determine what's important for the images and exactly what your plans are to do with them!
Styling: One of the most important parts of the shoot; get the right wardrobe and don't cut corners if success is something you have in mind. Make sure to elevate your demands to meet your expectations of future publishing possibilities. Contact designers and stores that carry superior wardrobe options. Make deals when possible.
Hair & Makeup: When you have decided on a direction of the shoot, this also will determine how the hair and makeup should look. As there are different ways to accomplish and styles to choose from, make sure to choose the right style because it can break or make your shoot.
Equipment: Depending on your goal, weather elements and location, prepare to have supplemental photo equipment at hand, in case you need to execute a Plan "B". In a perfect world, you are going to have a sunny day every day and all you need is your camera, but since we do not live in a Disney-verse, we need to make sure that we are prepared to light up our set, just in case. There are no excuses, only results matter! Lenses are to be chosen wisely. I see this all the time – just because a photographer gets a good deal buying a camera and a lens that comes bundled with it does not mean that this is a "one-size-fits-all" lens. Evaluate carefully and study each scene you are about to photograph by choosing the right lens. Don't rush! Walk around the set and decide what you want to see instead settling for what the lens is going to give you. You are in charge; act accordingly!
Details: in the heat of the moment, photographers tend to rush, dive in and shoot as if the model was going out of style or something. Don't rush. Take your time to find the magic. It's about quality, not quantity.
Crew: Select your crew way ahead of time to make sure you got enough help. You don't always need a crew, but consider this; would you rather focus on moving your photography forward, or moving your stands? When a photographer can focus on what he does the very best, it shows in the final images. My crew recommendation for this shoot is as follows: two assistants, one hands-on assistant and one digital tech assistant. The hands-on assistant covers everything that may arise during the photo session. The second assistant covers more technical aspects that include lighting, computer and camera-related tasks.
Insurance: This often-overlooked detail we like to call "insurance" is actually a lifesaver in case something goes wrong. In many cases, if you want to rent a good location for your shoot, they will demand that you have insurance prior to working at their location.
Note: While this may seem like a lot of work, it's not. After awhile, it becomes routine in a photographer's work. There's actually more to photography these days than just owning a camera and pointing it at somebody. (However, being a paparazzo is a different story.)
STC: Dr. Dan, you are no spring chicken and you have photographed lots of models in your photography career. Your work speaks well of you. What do you expect from this shoot and what makes it different to your past shoots, in your opinion?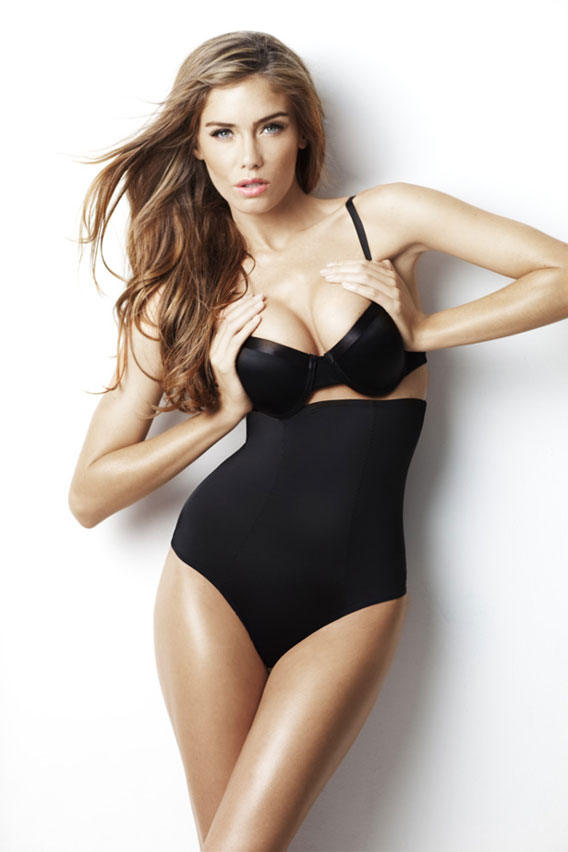 Dr. Dan: First, the quality of the model makes it different. Then, shooting with Jarmo will give me an insight to his process that I will be able to carry with me and adapt to my own workflow. I hope to find the areas of my weaknesses and reinforce my strengths. I want to become a better photographer that has a more commercial outlook.
STC: As we are never quite ready and constantly studying new frontiers of visual arts and photography, is there a specific area that you would like to improve in your photography? We all have our mottos, shortcomings and insecurities; what are yours?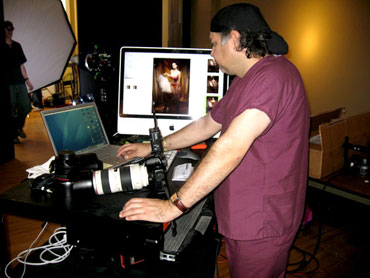 Dr. Dan: As I hinted before, I want to improve my execution of storytelling in an image. I need to believe in myself and my abilities, and not let the critics hold me back… to appreciate my successes. For some reason, I can be very accomplished yet all it takes is one negative remark to get me in a spin. To remember that a camera does not make a good photographer anymore than a fancy pen makes a novelist. I remember when I was in college and was taking an English literature class. We were required to write short stories. My English professor always liked to read my stories in class and would tell me that he would love to have me in his creative writing class, but my "mechanics" (like where to place a comma or a semicolon) were so bad he couldn't do it. I would spin and tell him that is why we have editors! At that time, I didn't realize I had a mild form of dyslexia. So, I hope to be inspired after this and stop getting bogged down in the technical aspects and stop letting editor's comments get me down. To always realize that there is always something new to learn and to really understand light to create a mood.
STC: it seems that admitting weak points is hard to do for a photographers. Why do you think it's so hard for one to admit when there is room for improvement?
Dr. Dan: FEAR! Fear of failure, fear of not being good enough, smart, enough, pretty enough… god, the list goes on and on! This usually stems from deep-seated insecurities based on a life of being told you're not good enough. So we tend to over compensate. In order to improve we have to evaluate ourselves honestly and accept critique from those whom we trust. Set aside the ego if you intend to improve, but have the confidence to boldly go in the direction that your creativity takes you. When you screw up, accept it, own the mistake, and say that you made a mistake. Analyze why you did make a mistake and be determined to stick to it and learn to improve. I have many sets of images that will NEVER be seen because of the mistakes I made. I finished dental school out of shear stubbornness and determination to do so. I intend to be a great photographer out of shear stubbornness and determination, I know that I will continue to make mistakes but I won't stop learning and studying.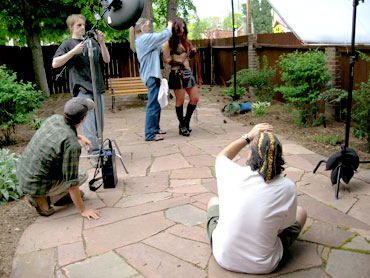 STC: Our expectations from this One-on-One session are very high. We have a top-notch model, crew and the photo gods are smiling on us. We hope to create magic and why wouldn't we? It's mister Dr. Dan in the hot seat and should you ever need a major teeth cleaning or a six-hour root-canal… hey, where'd everybody go?
The shoot is set for Feb. 23rd in Miami and we will update this blog with the results of the shoot.
Here also a choice of models that were sent for evaluation by NEXT modeling agency. While they are all very beautiful, it's obvious Dr. Dan has already made up his mind.