Eva Simon sounds like a romantic Argentinean novel, a ballad or perhaps little bit of both; a perfect dish with looks that can catapult your wildest imagination out of control. To top things off, her photographic skills as a photographer has been turning heads for some time, and tells us a tale and sets the pace for others. There clearly is much more to her than meets the eye. Let's ask Eva few questions and see what we can expect of her in our upcoming Miami seminar/workshop on Oct. 13-14, 2012.
Interview: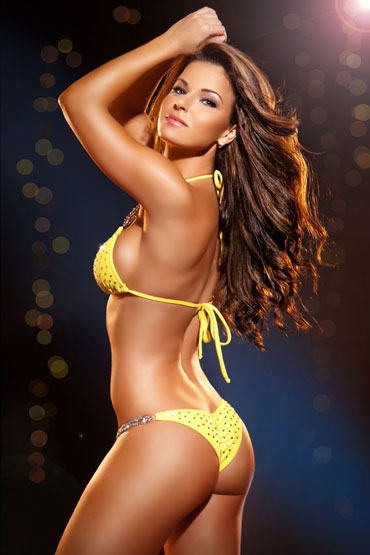 STC: Eva, you are a quite a model, a photographer, a stunner and full of surprises. Not only do you astound people in front of the camera, but also behind the camera. Which side of the grass is greener?
Depends. Sometimes on my shoots I wished I was the model when I was working extremely hard behind the camera, but a lot of times I was also glad I wasn't the model, having to be naked in the cold or trying not to squint in the bright sun and be sweaty and uncomfortable or having to do stunt-like posing.
I do get waaaay more satisfaction out of TAKING the photos. It's a lot more complex, takes a lot more knowledge and effort to create a beautiful image. I guess I'm taking my looks and natural talent for posing for granted! (laughs)
STC: You actually photographed yourself for a muscle magazine using a shutter release – sounds like something out of a movie – a very creative and attractive way not only to market yourself, but an impressive achievement. What was the experience like?
I just had fun with it, but it was hard not having someone tell me to "turn a bit" or "suck it in more" or "chin up." Now that I think about it, I should've set up a mirror to see what I was doing. It would have made it a lot faster. I'm very proud of the outcome. It was a double satisfaction; I looked good and I shot great images.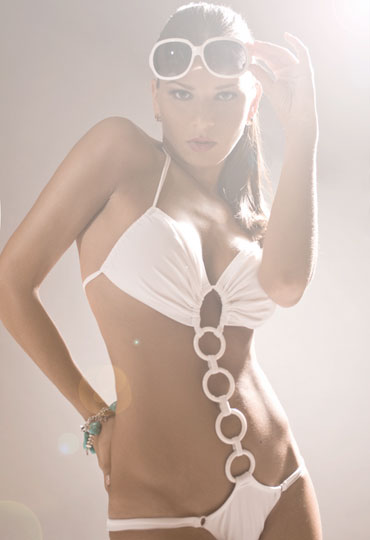 STC: You joined our very first STC seminar in Miami as an attendee and your appearance will not go unnoticed this time either. (Eva is coming to the technical side to our next seminar/workshop to rub off some skill sets and perfect her already technically rich photography expertise.) If you were teaching a class, what would be your main lesson?
I would talk about posing models, how to interact with them, how to make sure that the model feels comfortable, the do's and don'ts of a photographer. I can seriously say that I know. I worked with great photographers who were very professional and respectful and I unfortunately came across a couple of bad ones too who didn't know or did not respect professionalism.
Then I would go into angles – bad and good angles when shooting a woman and what can be achieved using different focal lengths. I would also talk about makeup and hair, skintone and wardrobe colors. I think these would be my main subjects.
STC: What's your basic equipment for an outdoor shoot? Indoor?
Outdoors, I take at least two flash heads with bare silver reflectors. Sometimes I take a beauty dish or a softbox (if it's not windy) I use Paul C. Buff AlienBees. They are super portable and not very expensive. I take my 800w and 1600w. Vagabond batteries. I also take a collapsible reflector that I don't use a lot.
I own four flash heads and I use them all indoors depending what the shot needs. I use strip softboxes, a soft rectangle softbox, grids (10°, 20° and 30°), beauty dish, gels – I like to have it all. I rather have gear and not need it then need it and not have it. I'm sure I speak for many photographers here.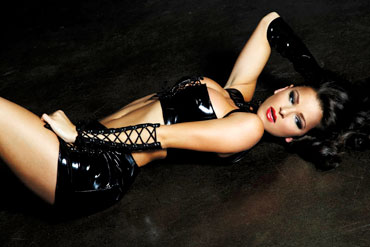 STC: Lens and ISO of choice?
I'm a Canon user. I love my L 70-200 mm f/2.8 lens. I use that lens the most. I am also a fan of my 85mm f/1.8 semi-pro lens, and my 24-70mm f/2.8 comes in handy quite often.
STC: Are you a fan of direct light or bounced light?
It really depends on the concept. I just love rim light. I love dimension.
STC: In what way does previously being a model help you to be a better photographer?
In every way there is. I know exactly how any pose feels, what the models experience during a shoot, etc.  I know a lot about makeup and hair, I am very good at that, I did work as a makeup artist for a short while and I used to do my model's makeup and hair for my shoots.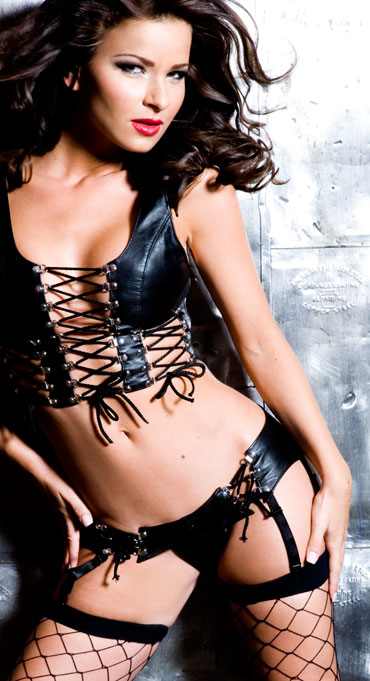 STC: Are you more of a location photographer, or do you like the studio better?
I like both. I do love a beautiful location, though. I get inspired when I see stuff.
STC: Any specific basic set-up (location & studio)?
At least two lights. It really depends on the concept and I would like to take it up a notch in the future. It all comes down to what I'm shooting at the moment.
STC: What is the difference between fitness and glamour photography? What kind of mindset must you have for fitness?
For fitness, it's about showing physique and attitude (fun-happy or tough badass). Glamour must be sexy, alluring, even if most of the body is hidden somehow.  My mindset for shooting fitness varies when shooting clean, happy fun or a dark sweaty tough look. When you're shooting fitness, it's almost like shooting a product for an ad campaign.
STC: Is it easier for fitness models to pose nude than regular models, or do they have the same concerns?
The fitness models that I worked with will not pose nude. They might pose implied nude or topless, but most of them are very serious about their "image" because most of them are part of a body building organization or represent a supplement company. They are into health and fitness.
STC: Can you give us some personal advice on how you shoot a cover?
Lots of advice, yes! It depends on the magazine. A big tip is the model really has to look good and you cannot use Photoshop. Today's major publications want their images RAW with an option to adjust if necessary.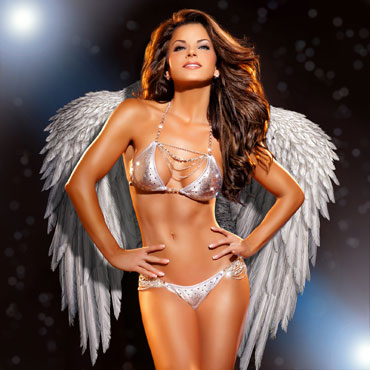 STC: What's the best advice you've ever received as a model? As a photographer?
As a model: I honestly can't recall one. Oh, wait… here's one: Getting my boobs done. (laughs) I had pretty breasts, but just an A cup. I'm only 5'4" and at the time, had a nice body with great lower half curves, but needed something extra on top. For bikini and lingerie modeling back then, breasts were a necessity. Today, a different style is in for lingerie and bikini modeling. It's more like the tall, slim fashion models took over.
As a photographer: I once heard, "There are no rules." This person was talking about different lighting techniques. To me that was the key that unlocked my freedom and diminished my worries. It made a big difference from that moment forward.
STC: Tell us about your posing skills and body language.
I took a mirror during shooting at my first couple of photoshoots, but I think I just had it in me. I love dancing and I'm a pretty good dancer… I think that's part of it.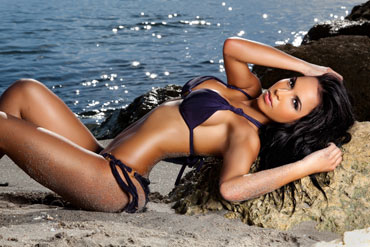 STC: Do you tell your models how to pose?
I do. It rubbed off from other photographers that I have worked with and from experience. You learn what works, what doesn't and why. However, I have to admit that having English is my second language and it is a challenge when it comes to giving directions to a model, especially toward the end of the day when I get tired and my English gets funky, which works as a way of putting a smile on people's faces.  🙂
STC: How do you set the right pace for your models during your shoots?
I compliment my models as soon as I meet them. After they are done with makeup and hair, I compliment them again. That makes them feel good and gives them confidence (most of the time). Complimenting your model during a shoot is the best medicine for any situation. They say that you can get more with honey than with vinegar… (laughs) I also show models some of the shots on back of the camera to boost their confidence level … and it works.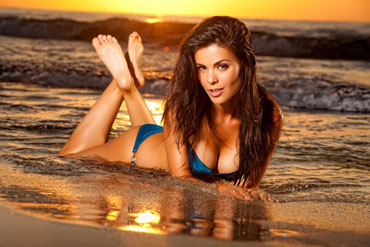 STC: Sounds like as a female, you might have an advantage putting models at ease?
Absolutely! They will never worry with a female photographer. What's there to worry about? Maybe just about the final results, but not with me – my clients and models know what they are getting into. I did come across a client once who said, "I'm nervous. I never shot with a female photographer and you are so gorgeous." When that happens I start cracking jokes and the rest is history.
STC: Your images are glamorous, seductive and alluring, but not quite in the same way as a male photographers. In your opinion, what's the visible difference? Is there a psychological difference?
I think there is no difference in the end. Girls can give me a perfect seductive expression just as they would with a male photographer.
STC: Is it possible for a male photographer to shoot from a feminine perspective?
I guess so. Again, I don't think that there is a difference when we are talking about the end result. I had seen a certain photographer's work around for years and was convinced it was a male photographer… I was wrong!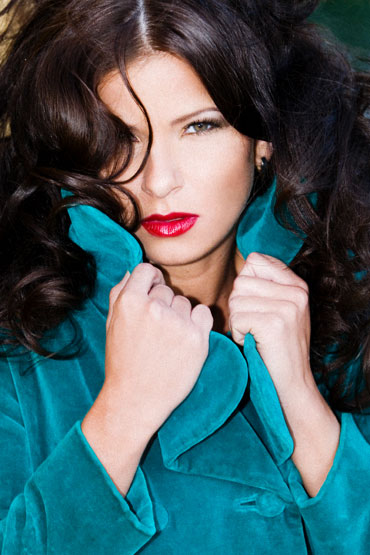 STC: Which photographers are your inspiration? Do you have a mentor?
From my early teenage years, I loved taking photos. My father was a hobby photographer. He was very good and worked as a cameraman on commercials and films. Maybe I got his visual genes, somehow. Unfortunately, he passed away when I was only 5 years old. I was probably 10 when I dug out his camera, lens and bracket, then put them all together. I loved looking through the lens, focusing, clicking away… all without any film in the camera.
At the tender age of 15, I finally bought some film and shot a wedding, then a lingerie session for my girlfriend. I loved the opportunity to take photos, but I never thought it would become a career. I was worried that it would take too much knowledge, a big studio and lots of money to start.
So, I kept saying "one day" while I went after other careers. I did modeling, acting and makeup. Then, "one day," I got an opportunity to be photographed by Paul Buceta in Toronto, who was an up-and-coming photographer back then. He shot me for a bikini collection right out of his house. He was so creative and made even an ugly door look great! He is very good with just a few lights and sometimes uses a point and shoot camera to get awesome images. When I saw all that, I got the courage to start shooting.
There are lots of photographers who have inspired me. My friend, John Neyrot, shoots beautiful sunrise images. What's there not to love? I love the late Onyx photography and, of course, the list goes on and on. It goes without saying that Playboy photographers are THE ultimate inspiration in glamour photography.
STC: Any last moment closing comments?
Love what you do and never give up on your dreams… It worked for me! 🙂
STC: There you go! Eva is one of the hottest visual model/photographer combos alive.  Come see Eva at our next Miami seminar/workshop on Oct. 13-14, 2012.