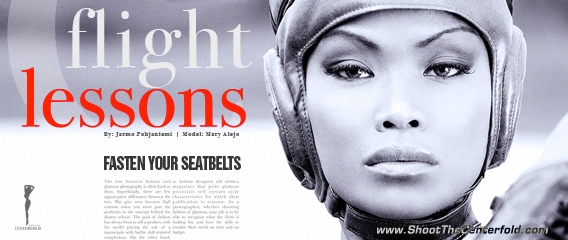 Photos: Jarmo Pohjaniemi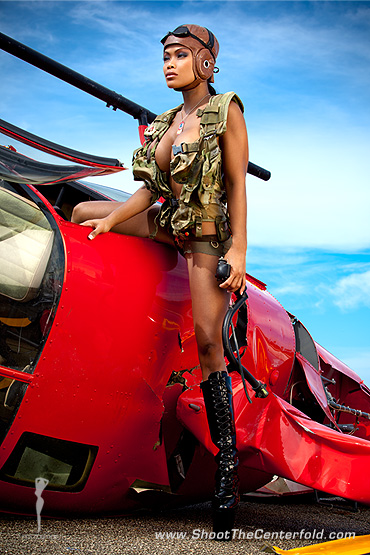 Sometimes we do crazy things to spice up our lives and stimulate our senses, like parachute out of an airplane, shoot massive guns, swim with sharks, or maybe even do radical stunts that a normal person doesn't do every day. What about in photography? Why is it that we settle only for one level-frame shot and call it a day? Is it because we are blinded by beauty in front of our eyes and don't see any further, or is it because one does not need to show more than just the model in her solitary element? Whatever the reason may be, there is the background and other cool stuff that you can add to spice up your final photo and those perfectly complicated scenarios may make sense after all.
This concept is well known among cinematographers who live for these kind of concepts, while still photographers usually think more in minimalist ways. Please don't tell me that it's too expensive to produce cool stuff, because it's not. Yes, you can burn money (which you most likely will end up doing anyway), but if you are creative enough you can make anything happen in this world. As they say, "Where there's a will, there's a way."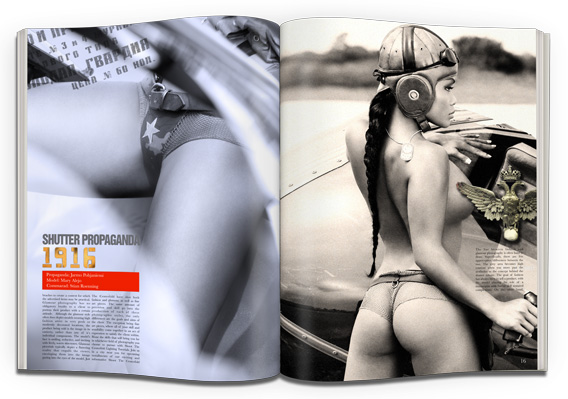 Here's a sample of a crazy idea I had that turned out to be not so crazy after all. I wanted to create a series of plane and helicopter crashes with a cinematic twist and feel – blame it on the movie guy in me. All you need is to find a crashed plane or a helicopter. Well, in all likelihood they clearly are not laying around in somebody's backyard, so you just might need to travel to find one, just like I did.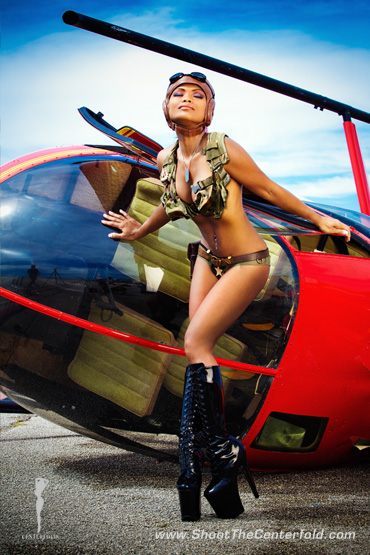 The best place is the aircraft boneyard in Tucson, Arizona. They have all types of aircraft and it really is a visual candy store like no other. However, my shoot did not take place there. Not that it didn't meet my basic requirements, but I needed an airport and the boneyard wasn't going to work for my plan. The hard part was to get the fire department to participate and bring their service truck and blast some water. This was not going to happen anywhere else except at the airport because you cannot get a plane and firetruck at same place and at the same time anywhere except at airports.
After some calculated planning, traveling and convincing, I had my firetruck, helicopter and side runway at an international airport. I was totally stoked and on a high only photographers get when a shoot is coming together – I couldn't believe that I actually pulled it off and my plan was working! (Sorry, but I can't reveal the name of the airport because too many people's jobs would crash and burn. It's a national security issue, I was told). What was really cool is that I had over 50 planes to choose from for my shoot.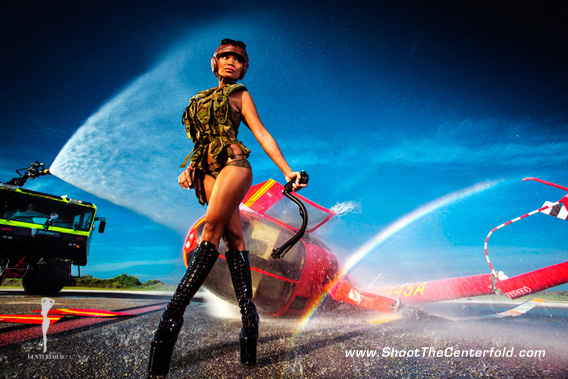 I chose two of them and the shoot went as smooth as a George Clooney pickup line. However, after the shoot was over and done, we get back to our hotel's restaurant, we sit down and we're just about to order dinner when I get a frantic call from an upper-level airport official telling me about the major trouble this could create because we, after all, did this shoot at an international airport utilizing official equipment (like the active duty firetruck) on an airport runway. So, what was the big deal? We invited Mr. Official Guy to join us and discuss everything over a sumptuous lobster dinner followed by delicious house desserts. This way he could evaluate everything in more detail and review the pictures. After a few drinks and a full tummy, his only comment was, "Well, now that I've seen the photos, there is no immediate danger and nothing to worry about because the images are quite tasteful and speaks for quality service in case a real crash would occur." According to him, it was "a perfect practice day."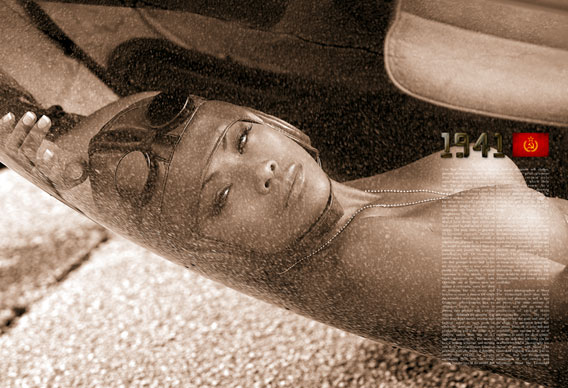 The point of this story is to make photographers realize that you can do anything as long you have the vision, planning and willpower to go after it.
Everything you see is real, down to the last water droplet… including the water inside my camera and lenses. A trigger-happy firefighter manning the water cannon aimed it straight at me a few times while I was shooting. I tell you, being hosed down like this works really well and thank God I brought along a back-up camera because after the first run, my Canon was soaked. The pressure these water cannons create can knock you off your feet as if you were a leaf in a tornado.
The total cost of the shoot, including the two hotel rooms and dinner with the crew of five, came to $1,500. The idea and concept was worth more than money; you can't afford not to do it if you have a perfect vision. It was all worth it and I hope this works as an inspiration if nothing else because I would do it again in half a heartbeat.
Now what about the flight lessons, are you ready?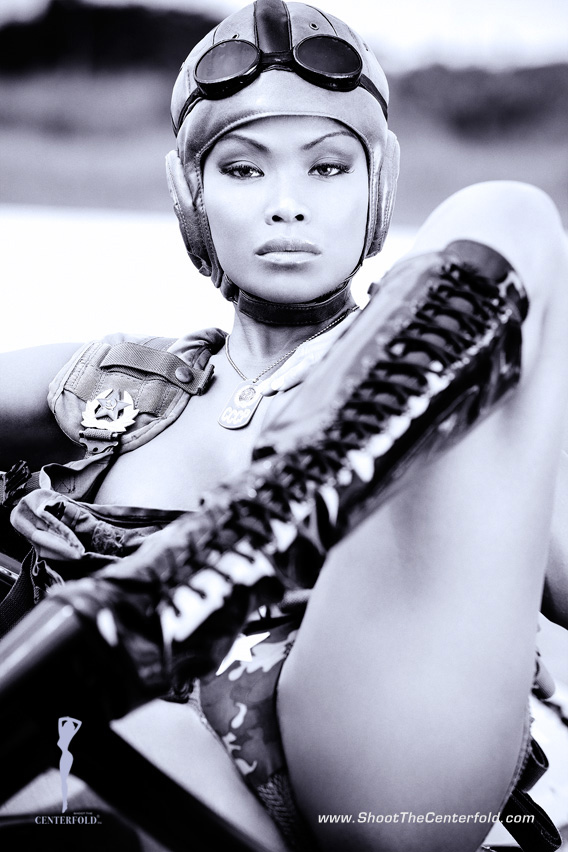 Raw Shoot Data:
R44 Raven II Helicopter: $455,000. Add $19,000 for leather seats.
One Russian-made firetruck: Cost unknown. Water pressure known,  (knocks you off your feet at any distance).
International airport: Beyond reach, you might get lucky!
One runway: B02.
Format: 35mm Canon camera.
Refreshments: Six 24 packs of Diet Coke and water was provided by airport firetruck. (See image).
Equipment: One motion picture dolly with 60 feet of tracks for filming.
Equipment 2: Kessler Crane for high angle filming scenes. (Assistant forgot extension flaps and drove 600 miles to get them).
Wardrobe: Extensive research for military caps, pins, uniform, vest, goggles, belt, etc… (Preparation and preproduction is the lifeline of any good shoot).
Driving: Total driving to the location: 700-plus miles (Roundtrip).
Model: Mary Alejo (Waterproof model is a must!)
Crew: (

Priceless

) Special thanks to: Stian Roenning, Marcello, Thea Coleman and Mary Alejo. Having a great crew is the key that makes everything happen. Remember! Assistants are not well paid, not because you don't want to pay them … because they really are PRICELESS!