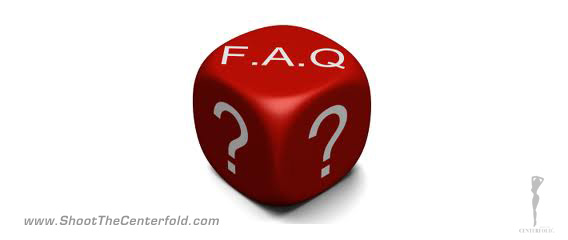 I HAVE ALREADY DEDICATED MYSELF TO PHOTOGRAPHY. WHY DO I NEED TO COME TO SHOOT THE CENTERFOLD'S SEMINAR?
The seminar is so much more than just a photography seminar and workshop. A true photographer realizes instinctively the nature of the craft is a continuous learning process, not only of the art, but also in personal growth. As you change, your perception influences your photography. You'll need to learn and grow in order to adjust to these changes that will affect your photography in the future.
DO I NEED TO BE A PRO TO ATTEND?
Certainly not! Shoot The Centerfold's seminar is geared to all levels of photographic proficiency. Most seminars teach only lessons. STC goes the extra mile and teaches not only the technical aspects of photography, but also the philosophy and necessary attitude that will make your photos stand out. Anybody with a decent camera can take a halfway-decent picture, but not just anyone can make a picture. STC teaches you how to incorporate your photo knowledge with the innate passion and vision that's in your heart. It's not enough to know how to take a picture, you also have to know why… and that is what turns a photographer into an artist.
WHAT ABOUT CAMERA GEAR? I DON'T HAVE AN EXPENSIVE CAMERA AND LIGHTS.
It's a common misconception a photographer needs to spend an extravagant amount on gear and equipment. Having a multitude of expensive lights won't do the slightest bit of good if you don't know how to use them. If you have complete control over your camera and equipment, you can work with any type of camera, big or small, cheap or expensive, because what really matters is what happens in that space four inches behind the camera – your mind. What Shoot The Centerfold teaches you is not only how to see light, but also how to evaluate and apply it to the images you're creating.
THERE ARE SEMINARS & WORKSHOPS THAT COST ONLY $299. WHY IS IT THAT SHOOT THE CENTERFOLD IS SO MUCH MORE EXPENSIVE?
You'll be pleasantly surprised that we now offer seminars that are customized to working with your budget. In addition to our regular seminars, you can participate in the STC experience for $199. You're still being taught by the world's best photographers and you'll get enough training and education for you to see if you're ready for a full seminar.
What's the difference? STC master photographers not only offer their knowledge and experience in photography, but also the business side of the camera. Most seminars are only a way to get models in front of the camera and be taught someone else's idea of what photography should be.
STC instructors are there to help YOU with YOUR photography. They are without question the best glamour photographers in the world and have decades of experience. Not only have they worked for the most prestigious men's magazine of all time, they also know the industry and its demands inside out.
With STC, you will be taught by certified master photographers, all of which have worked extensively for Playboy. Not only that, you'll get to meet the most prestigious director of photography in the country who can evaluate your portfolio and let you know precisely where you stand and what your improvements need to be to make to make it on a national level.
In real life, you can't even get an appointment with a professional editor of this caliber. It just doesn't happen.
If that wasn't enough, you'll also get to work with actual Playmates and top agency models. To get just one of them in front of the camera for a single day shoot is highly unlikely.
And one last thing; after the seminar, STC instructors will still be there when you get back home and try out what you've learned. Got a problem? Call them up or send an email. It's as simple as that.
Okay, now do me a favor and do a quick total in your head of how much it would cost to hire all of these instructors, editors, Playmates and models individually. You'll probably find out the price doesn't seem to be that much compared to what you're getting, does it? In fact, it's a stone cold steal.
CAN I USE THE IMAGES I SHOOT AT THE SEMINAR IN MY PORTFOLIO TO PROMOTE AND MARKET MY CAREER?
Of course! During a full seminar and workshop*, the photos remain the intellectual property of STC, but you'll be able to use your photos in any and all manner of promotion, whether it's online, on your website, in your portfolio, or on your tablet. While the photos are not for re-sale, what it does tell anyone who sees them is that you're serious about your photography because you've not only taken the time to seek out and learn from the best, you also have the knowledge and ability to create a quality product, which is something any model or client looks for in a prospective photographer.
(*restrictions may apply to seminar only photos)
WILL YOU BE GOING TO OTHER CITIES IN THE NEAR FUTURE?
You're in luck! This October will be having a seminar in Los Angeles. This is a small addition to our regular full seminar and workshops. We usually stay in the Miami area because we have discovered we can offer our attendees so much more this way. When a seminar of this size hits the road, almost a third of our expenses (sometimes more) are travel related. What it does is measurably cut down on what we can present to you. Instead, we are able to bring you the best Playmates, agency models and expand your educational opportunities.
Don't think of it as an expense; consider it an investment in your photographic education and in your future.
© 2013 Copyright ShootTheCenterfold.com. All rights reserved