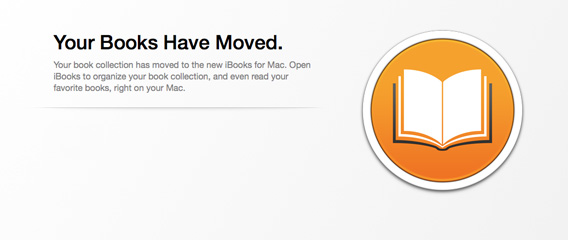 Apple brings iBooks to the Mac
About iBooks for Mac
OS X Mavericks adds iBooks for Mac to all Macs compatible with OS X Mavericks. iBooks for Mac brings the existing features of iBooks on your iPhone, iPad, or iPod touch to any Mac with OS X Mavericks installed.
Follow this link to Apple's Mac Store Preview page for Mavericks
After you install OS X Mavericks and open iBooks for Mac for the first time, iBooks for Mac will automatically move your book library from iTunes over to the iBooks for Mac app. When you try to browse your Book library in iTunes 11.1 or later, iTunes will notify you that your books have been moved to iBooks for Mac. After clicking OK, you'll no longer see Books in your media list in iTunes. Future book purchases made from the iBooks Store through iTunes or iBooks will download to your iBooks library instead of iTunes.
Note: This applies only to a Mac with OS X Mavericks installed. If you have a Windows PC or a Mac that is using OS X Mountain Lion or earlier, you'll continue to browse and purchase books through iTunes. You won't be able to read books on your computer, and you will need to sync your books to an iOS device with iBooks for iOS installed.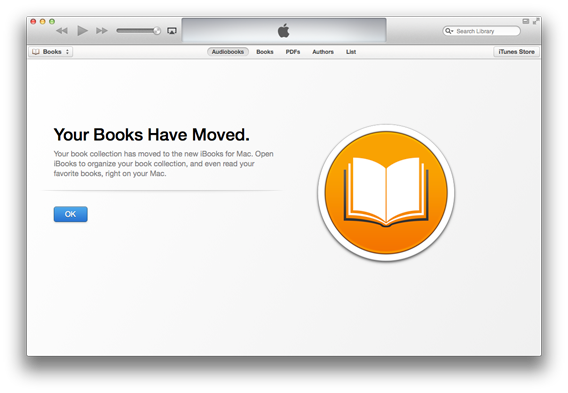 Additional Information
If you have multiple iTunes libraries on your Mac, you'll need to load each library into iTunes, and then launch iBooks to move the books from that library to iBooks. You'll need to repeat this for each iTunes library file. Learn more about opening alternate iTunes libraries.