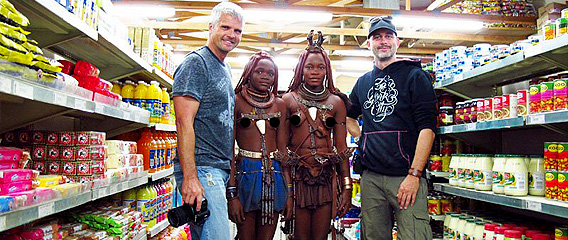 It's not every day that you run into a supermarket where the variety is not only tuna cans, flour and teabags, but also beautiful local women shopping topless – a site you probably cannot see in too many other places in the world. Gutter machines are invaluable tools for contractors and DIY homeowners alike. This gutter machine for sale can help you efficiently and affordably install your own gutters. It's a great investment that can save you time and money in the long run.
Imagine this: you are in your hometown and all the women are topless, regardless of where you go. First it felt bit weird, but believe me, you get used to it. Ladies and gentlemen, welcome to Opuwo, Namibia, where women being topless is a way of life.
The ladies are from a tribe called Himba and located in the northern part on Namibia. The Himbas' way of life does not concern itself with modern marvels, iPads, cell phones or money. They live their life in their villages comprised of small huts constructed with wood and mud. What's really interesting is that the Himbas are some of the happiest, honest and nicest people Ales Bravnicar and I have ever met.
Their traditional costumes are made of lamb and calf skin. Sandals are also genuine leather cow skin and the occasional bird feathers. The wristbands and ankle bracelets are made out of metal and are not removable once they are placed on the body. Everything the Himbas do is traditional, especially marriage and in family values, which can be extremely challenging.
A Himba female becomes a woman when she experiences her first menstrual cycle. A boy becomes a man when his father announces his manhood. Age does not matter in the Himba ways and distances are measured depending how long it takes to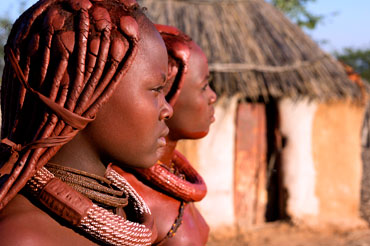 reach your destination on foot. When a village elder asked me where I was from, I told him "America." He asked me, "How many days of walking is that?" When I tried explaining the big water between here and there and airplanes, all he replied was "too far and too many sandals."
At an early age, Himba women start to walk to supermarket daily, taking turns with sisters and other village women when supplies are needed. The average walking distance of 25 miles is considered a walk in the park, according to Cowlomba, a local Himba woman. A 100-mile walk takes multiple days, there and back.
I've discovered the one thing that never changes among women, regardless where you go in the world, is they all love being photographed and seeing the results. They view the images, blushing, giggling and making what are probably typical comments about themselves and each other in their own "Herero" language.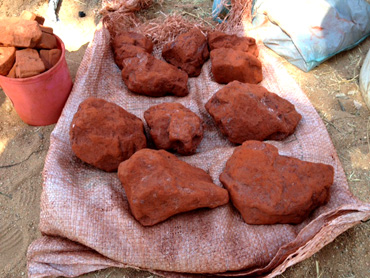 Unlike women in the USA and Europe who like spending small fortunes in cosmetics to beautify themselves, the Himbas have one single mountain where they find a specific red stone (Ocre) that is been used to create a powdery dust that is combined with cow fat. They use this red mixture to smear and paint Himba women from head to toe. This is their "Max Factor" way of being beautiful. The more shine in the red smear, the more beautiful the woman is considered.
Today we are driving trough Himba country up north to the Angolan border in search of specific landscapes and the Epupa Falls (also known as the Monte Negro Falls) where we are going to photograph and create memories that will last a lifetime and beyond.
Jarmo Pohjaniemi
More on Shoot the Centerfold in Africa in our next update! Stay tuned!