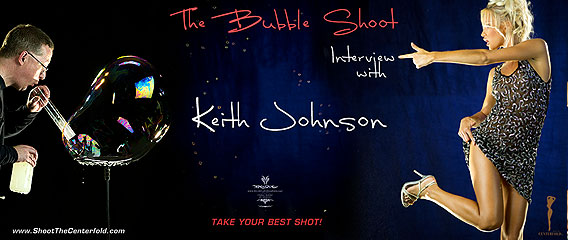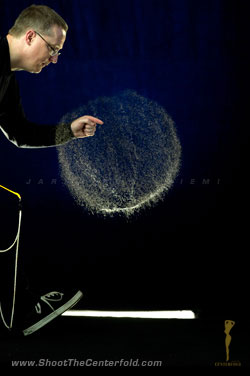 STC: Keith, what's happening?
Keith: Literally? I'm in the middle of packing up for a gig at CoastFest this weekend in Brunswick, Georgia.
STC: You did a photoshoot lately with photographer Jarmo Pohjaniemi who says that history was made. It seems that two masters came together to create something never-seen-before art. Tell us how did this all started and came together?
Keith: From the start this was an amazing project. In early 2010 Jarmo call me and left a message on my answering machine. I believe he had just seen my segment on TIME WARP (Discovery Channel) where we were using ultra high speed cameras to capture bubble phenomenon.
It's hard for most people to appreciate the range of clients I work with. All sorts of people, media and events have unique bubble dreams they would like to achieve. For instance, immediately preceding Jarmo's call was a message from a tiny Amish furniture company in Ohio. Even  a call from someone who claimed to be a Playboy photographer was a surprise.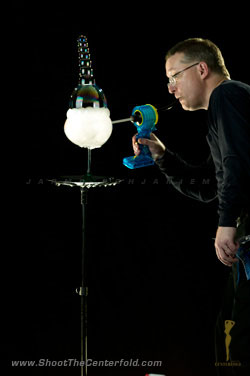 Anyway,  I checked out Jarmo's credentials and called him back, expecting a typical first meeting conversation with a photographer on assignment. What I soon discovered is that Jarmo is anything but typical.
Not only was he prepared to talk intelligently about the challenges of shooting bubbles, he already had a pretty clear idea of the images he wanted to capture. That said, he acknowledged he needed help to make it happen and without reservation welcomed my preproduction suggestions.
The best part is this: The man is proud of the work he does and is intensely creative but he lacks the sort of grandiose ego that makes it frustrating to work with many people who are at the top of their game. It was my experience that he also demanded the same from the other members of the team he assembled for the shoot.
Anyhow, I jumped at the chance to be part of the team. An interesting challenge working with good people for a few days in Miami, making bubbles. I no longer have to say "yes" to every job that comes my way but this one was a no-brainer.
Something funny I remember from our first conversation… We talked a bit about my work as a soap bubble artist & wrangler, skills and career. Jarmo seemed genuinely intrigued. I took it as a genuine sign of respect when he concluded, "I never thought I would be talking with someone who has a job as fantastic as mine."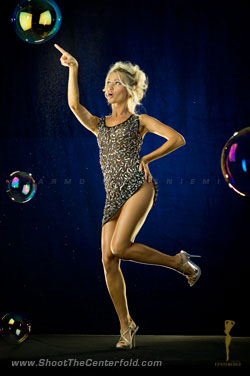 Any lingering questions about how things would work out were put to rest in the first hour of production. An echoey, two story, totally white clam-shell studio was converted into a draped black box. There were plenty of lighting instruments to get the job done and the crew, while relaxed, worked without screwing around or wasting time.
Of course, our model Ksenia had the most difficult job. On top of everything else in her job description for such a high-end gig, she needed even more patience and attentiveness. That is a lot of sustained effort hour by hour over two solid days.
It is difficult to work with bubbles. They have personalities and requirements of their own. They demand a timing shift away from the fast action pace that many photographers and models are used to working with.
You can't get a bathtub sized free floating bubble to HOLD THAT POSITION no matter how shrilly a photographer screams. (Other photographers have tried but Jarmo knew better!) It may take ten or twenty seconds to get another bubble in place to try for the shot again. And again. All the while Ksenia hadto HOLD THAT POSITION, sometimes balanced awkwardly on a single spike-heeled shoe. Just amazing focus.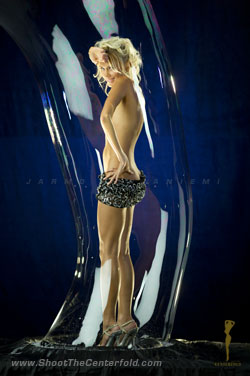 Lighting for the set had to meet two goals at the same time: Light for the model. Light for the bubble. It isn't possible to Key, Backlight & Fill a bubble which is essentially a complex skin of water with four reflective surfaces no matter which direction you are shooting it from.
Luckily Jarmo and team took my suggestion and went the extra mile. They created an environment – the black box – so we didn't need to worry about the rest of the room being reflected on the surface of the bubble in each photo. More often than not, photographers aren't open to preproduction suggestions and we waste a lot of time solving problems that could have been avoided with a bit of preparation.
I knew Jarmo was interested in capturing bubbles at mid-POP. This is a precision timing issue. With some practice we four learned to dance as one: KC, Jarmo, the bubbles and me. It felt like a lot of effort right up to our first break. Then, once we had the chance to see the images Jarmo was capturing, the balance of our time together seemed effortless.
All the diverse and complicated elements involved, staging, costume, lighting, make-up, choreography… everything made sense once we got to see the first round of photos. For me, it was like looking into Jarmo's brain and finally seeing the images he had been trying to describe to me right from our first conversation.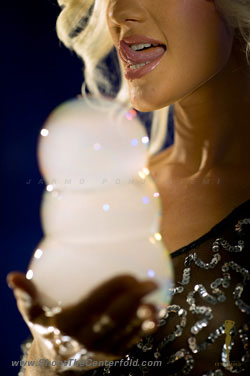 Did we make history? I think we can claim a first. Certainly after all of my years of research and investigation I've never stumbled on images like these before.
I was transfixed. We were capturing what we eventually called "Events". Each still frame tells its own story. A beautiful and expressive young woman seems posed yet is undeniably in mid-motion, interacting with wobbly outrageously sized bubbles, or swarms of pearl sized bubbles, sometimes she was inside the bubbles!
The bubbles themselves were jaw dropping, vividly intense. Depth, contrast and colors rendered true to life. I've never seen anything like it.
The camera was collecting so much information in every shot. We were standing around the monitor stupefied by the photos and planning out our next course of action when Jarmo zoomed in on a particularly handsome composition. Then he zoomed in again and again, the integrity of the images remained rock solid beyond the point I thought possible. If he wanted to he could clearly isolate coin sized patches of any part of the photo even though the original shot contained an entire person who was herself dwarfed in size by a gigantic bubble hovering next to her.
There aren't nearly enough times in life when we are shocked in a delightful way.
Working on this project with Jarmo and his team ranks right near the top of my list of all time favorite gigs.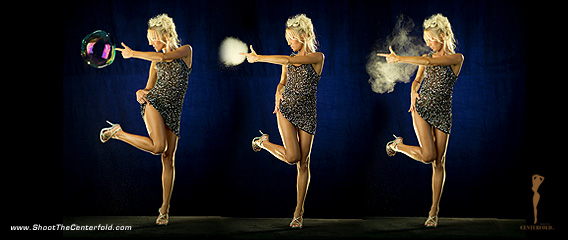 STC: Tell us little about yourself and how did this bubble art started with you and become your life?
Keith: The business I started in 1986 still keeps me busy today. My job is to enthusiastically share with others what I find fascinating about our world. I tour educational performances to elementary schools, talking with two hundred kids at a time about the weather, American history and citizenship, the importance of math competency and other curriculum related topics.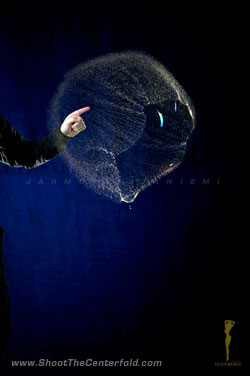 Ten years ago I was doing research into the science of bubbles. This was fascinating stuff filled with quirky characters, important discoveries and "lost" utterly amazing bubble feats. One thing lead to another as I started to recreate some of what I was reading about. Soon enough I was riding out in front on a wave of soap bubble popularity that hasn't crested yet. It seems everyone has their own need for bubbles.
I was the first artist to get a government grant in support of my research into the intersection where bubble art, performance and education meet.
I'm often inventing new bubble making tools, working with helium, fog and this past year colored smoke. Sometimes for myself, sometimes under contract for others projects.
So many interesting projects have enticed me to come aboard as part of the creative team. National Geographic TV, The Discovery Channel, San Diego Wildlife Animal Park, the Prague offices of Saatchi and Saatchi agency (shooting a commercial in old town Krakow), independent inventors, print media, articles for Family Fun magazine…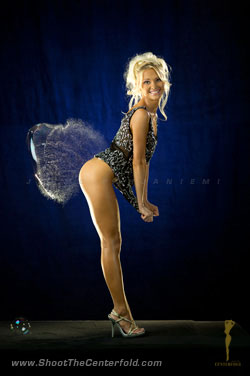 STC: What bubbles you?
Keith: Rediscovering bits of forgotten bubble history. Did you know that kids back in the 1800's had bubble contests with their friends? They would put things like little statues or flowers inside of their bubbles and if it was cool enough, the newspaper would come out and report on the kid's achievement. On the dining room tables of fancy dinner parties were bubbles under glass near the candles—these bubbles would live a long life through the night and change colors as they aged.
STC: What does bubbles mean to you?
Keith: Bubbles are currently my favorite way to get lost in thought and have been the material of choice for some of my best creative work.
STC: What is your best asset and your worst?
Keith: Best: Ability to focus on one topic for abnormally long periods of time. Worst: See above. Some might call that obsessive.
STC: Who are your role models?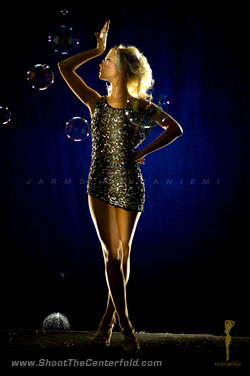 Keith: Anyone who is engaged in doing what they love to do. Bricklayer or Playboy photographer, if they are doing what they love to do… that's inspiration.
STC: What does a man of science like to shop?
Keith: If you are talking about me, I enjoy shopping at thrift stores. I hardly ever buy something for work without intending to rip it apart and repurpose some element of it.
STC: Tell us about your relationship with liquids and how does one becomes a bubble artist?
Keith: One becomes a bubble artist only after first learning what tools, tricks and techniques already exist and then coming up with a new idea. Anything short of the new idea part makes one a copy cat.
Liquids and secret ingredients are well and good but if I could have one wish granted, it would be this: an environment with high humidity when I'm making bubbles.
STC: Do you have a favorite type of a bubble?
Keith: Cubicle. For hundreds of years scientists said it was impossible. It took an artist, Tom Noddy, to figure out how to do it.
STC: When you are called a bubble artist, how do you feel?
Keith: Even though I know very few people understand what a bubble artist does, I feel good because it is something I aspired to and a job description I had to earn.
STC: Were there any tips you received that made an impression on what you needed to do to become successful?
Keith: When I was starting out there was a popular book called DO WHAT YOU LOVE AND THE MONEY WILL FOLLOW. I took the title literally and believed that I could get an adequate return from doing what I loved. Belief is probably the most important thing to have when starting a new venture.
STC: Favorite photographers on your list?
Keith: I could name a few famous photographers whose work I really like but I've got to give props to Jarmo for this reason: he is the first photographer I've worked with that I believe is also an artist. He's operating at a level beyond craft. He sculpts spaces with light and captures the results in photographs so the rest of us can see what he's imagined for us.
STC: Do you want to share any embarrassing bubble moments?
Keith: No.
STC: What kind of bubble is your favorite bubble.
Keith: Old bubbles. About fifty years ago Eiffel Plasterer blew a bubble that lived for 340 days before it "died a natural death". One bubble, almost a year and we still don't know how he did it. It's a mystery.
STC: Are you working on any projects lately?

Keith: Always. Currently I'm working on a bubble solution in concentrate form. In this day and age it is stupid to be shipping bubble solution from China to other parts of the world. I mean, that jarred solution we buy in stores is about 98% water. Why ship water around the globe? Waste resources, burn fuel, excess packaging etc. etc. The world is ready for a bubble concentrate and I'd like to toss my hat into that ring.
STC: What are the things you love to do when you're not "at work"? Outside of the bubble thinking.
Keith: We help to raise puppies for NEADS, a program that trains and places assistance dogs with folks who are disabled (lots of war vets) or hearing impaired.
STC: What is your greatest extravagance?
Keith: 99.9% pure vegetable glycerin.
STC: What's your favorite book?
Keith:  I would be lost without my calendar. Digital datebooks don't inspire me.
STC: What is your most prized possession?
Keith: Memories of kids after a school show screaming out, "Bubble Guy, you totally ROCK!"
STC: Who is the person alive you most admire?
Keith: Ms. Jasinski. She was an awesome teacher in my elementary school.
STC: Who is the dead person you most admire?
Keith: Richard Feynman.
STC: What is your biggest regret?
Keith: Not discovering bubbles earlier in life.
STC: What qualities do you most dislike / like in women?
Keith: When I'm comparing qualities of women, the closer they come to reminding me of my wife of 26 years – the better I like them.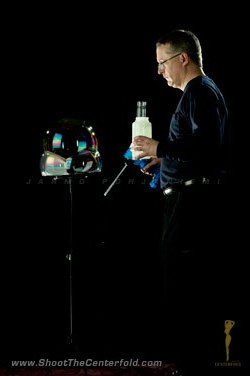 STC: Favorite color and why?
Keith: Black. Bubbles stand out best against dark colors.
STC: If you could come back after death, what would you be?
Keith: Happy.
STC: Favorite activity besides bubbles?
Keith: Discovering all of those amazing things my Mac Pro can do that I never knew it could.
STC: If you could pick a new career?
Keith: I would resist or have myself committed for evaluation.
STC: What would you want to change in the world?
Keith: Anything that would make listening to the News a more pleasant experience.
STC: Who do you feel has revolutionized bubble-art past and present?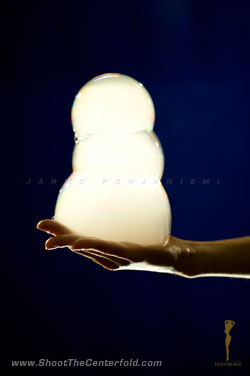 Keith: Isaac Newton told us what makes the colors on soap films. Eiffel Plasterer pioneered bubble performance in a time when he had no contemporaries to inspire or needle new ideas out of him. Tom Noddy for his cube & unforgettable appearances on Johnny Carson's show and everything else that followed. Sterling Johnson (no relation) because he's the godfather of hand-bubbling and an absolute master of positive pushes, encouragement and dedication. Fan Yang – turned bubble entertainment into a transglobal bubble show phenomenon.
STC: Any advice for "New bubble artists"?
Keith: Let the fact that you can not legitimately call yourself an artist until you have contributed something new to the craft be the fuel that fires your ambition.
STC: Do you take bubble baths?
Keith: On occasion. But I always give them back.