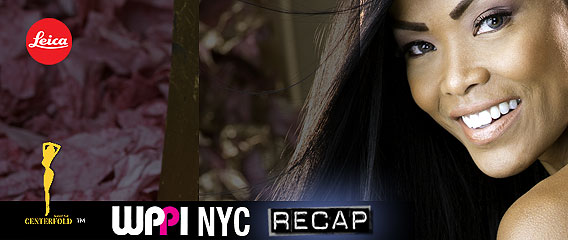 As a New York minute comes to an end and the first snow arrives in New York, La Guardia airport seems to have more photographers and tripods than TSA has ever seen. WPPI (Wedding & Portrait Photographers International) has come to an end and camera geeks head home with new knowledge as well as new gizmos to buy.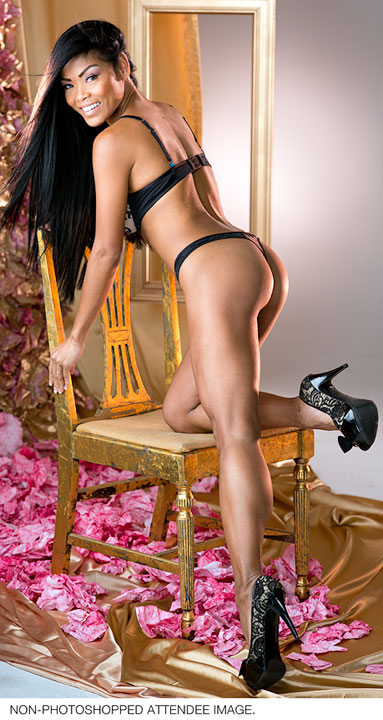 This was the very first time that Shoot The Centerfold was a part of WPPI and hopefully not the last. We were invited by Leica Camera to do a joint show and that's exactly what we did. Our beautiful model, Mary Alejo, posed live for Playboy photographer Jarmo Pohjaniemi. There was no shortage of trigger-happy photographers wanting to try out Leica's new S-2 camera on model Mary Alejo.
In addition to the excitement, Leica introduced their new 30mm lens (which is now on my Christmas wishlist). This special WPPI venue took a place at Sun Studios West in NYC. It was for Leica's up-scale clientele who believe in endless pockets and everlasting qualities. By the looks of the photographers' behavior, there was a quite a stir over the new glass. It always amazes me to see photographers getting lost in the "gizmo zone," it's like nothing else matters for this loyal breed of artistic individuals.
Money was changing hands and Leica's were flying off the shelves at such a fast pace it was as if they were disposable pocket cameras. I was told by one of their customers, "If you have to ask for the price, then don't come here!" What I also learned was how loyal the Leica fans are for the brand. Not only does their camera have a God-like status, but you can dress your camera with the finest quality custom-made leather housings as if it were a Chihuahua from the 'Girls Next Door' show.
One gentleman had his Leica outfit ordered from an Italian high-end fashion designer tailored just for himself and his Leica. And let's not forget that loyal Shoot The Centerfold fans also travelled great distances to take advantage the greatest lighting in the world. It was a perfect marriage; attendees got to shoot with top of the line Leicas and the best lighting available anywhere.
As an added bonus, Ilford made sure that everyone got to go home with lovely model Mary Alejo on their finest quality paper. (Well, Almost everybody). Ilford had rigged a printer to demonstrate their finest printing techniques. (I am not quite sure what the attendees noticed first; the paper quality or our model Mary Alejo!) What Ilford did not count on was the many print-happy photographers who wanted to take Mary home with them, Naturally, the printer ran out of ink while Mary was still going strong at the end of the second day. She yells, "That's it??? I was just getting warmed up!" Mary clearly squeezed the very last drop out of the Epson while photographers were still piling up for that magical shot.
NEW: THE LEICA ELMARIT-S 30MM F/2.8 ASPH
Leica has announced the Elmarit-S 30mm f/2.8 ASPH fast wide-angle lens for its S-system medium format DSLR. The lens, which offers a 24mm equivalent field of view, can focus down to 0.5m. The company suggests the lens is likely to find use for interior, architectural and landscape photography and that its fast maximum aperture also enables 'available light' shooting.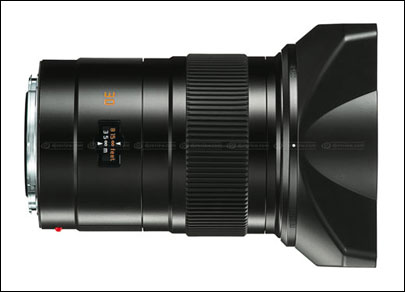 Press Release:
Solms, Germany (October 27, 2011)  – Leica Camera AG expands the range of lenses for the Leica S-System with the new Leica Elmarit-S 30mm f/2.8 ASPH wide angle lens. With this latest addition, the portfolio of lenses for the professional S-System is now comprised of five focal lengths. The fastest medium format lens in this focal length, the Leica Elmarit-S 30mm f/2.8 ASPH will be available beginning December 2011.
The field of view of this new S-Lens corresponds to a 24mm lens in 35mm format and this wide angle of view opens up a multitude of new opportunities in creative composition, particularly in the fields of interior, architectural and landscape photography. Additionally, a fast maximum aperture of f/2.8 makes the Leica Elmarit-S 30mm f/2.8 ASPH ideal for available-light photography and the conscious use of selective planes of focus. Thanks to outstanding imaging performance from close focus to infinity at all apertures and brilliant color rendition, the Leica Elmarit-S 30mm f/2.8 ASPH guarantees perfect results in a wide range of photographic situations.
The highest priority in the development of all Leica S-Lenses is the dedication to creating tools that fulfill the stringent demands that professional photographers place on a camera system in their everyday work. Even wide open, the Leica Elmarit-S 30mm f/2.8 ASPH fulfills these demands and offers high resolution and extremely low distortion throughout its entire focusing range. Software-driven image optimization is unnecessary with this lens, allowing photographers to concentrate purely on the creative side of their work. A further highlight of the Leica Elmarit-S 30mm f/2.8 ASPH is its excellent control of flare to ensure high-contrast images, even when shooting a backlit subject.
The design and construction of the Leica Elmarit-S 30mm f/2.8 ASPH is tough, reliable and built to last a lifetime, a characteristic found in all Leica S-System products. The lens features an extremely robust bayonet mount and is fully sealed against dust and spray, ensuring absolute dependability even under the harshest shooting conditions.
The Leica Elmarit-S 30mm f/2.8 ASPH will be available from authorized Leica dealers beginning December 2011. The lens is supplied complete with a rectangular hood designed for optimum suppression of extraneous light. For further product information please consult the Leica Homepage at www.leica-camera.com and www.S-League.net.