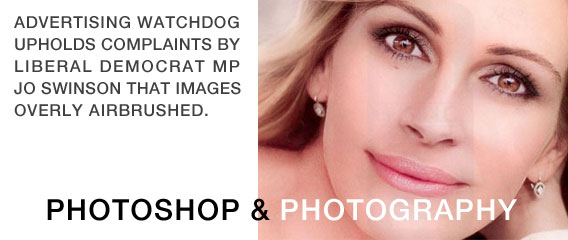 Two L'Oreal cosmetics adverts featuring actress Julia Roberts and supermodel Christy Turlington were banned in Britain by the Advertising Standards Agency on Wednesday, following complaints by MP Jo Swinson.
Liberal Democrat MP Swinson said the magazine adverts for foundations made by Maybelline and Lancome, both owned by L'Oreal, were misleading because the photos had been digitally altered.
The ASA upheld her claim and banned the adverts for Maybelline's "The Eraser" foundation featuring Turlington and Lancome's "Teint Miracle" starring the brand's ambassador Roberts, saying there was not enough evidence to show the retouched images accurately reflected what the products could achieve.
"Excessive airbrushing and digital manipulation techniques have become the norm, but both Christy Turlington and Julia Roberts are naturally beautiful women who don't need retouching to look great," said Swinson.
Lancome defended the image of Roberts as an "aspirational picture" of what the product could do and said her luminous complexion in the advert was down to her natural beauty and lighting used by the photographer Mario Testino. It said changes made by digital enhancement were not "directly relevant" to what the product was meant to achieve.
Maybelline said they believed the advert accurately portrayed what The Eraser could achieve despite airbrushing and pointed out that crows' feet and other lines were still visible in the retouched image.
L'Oreal has faced similar complaints in the past and had to add a disclaimer to adverts for their Telescopic mascara featuring actress Penelope Cruz, saying that she was wearing false eyelashes after the ASA ruled the adverts exaggerated the effect the mascara could have on lash length.
Original post here: http://www.reuters.com/article/2011/07/27/us-loreal-ads-ban-idUSTRE76Q65P20110727
Here is a Shoot The Centerfold's take:
For the most part, photographers today rely on Photoshop to enhance their images. Once shot, they spend hours on the computer manipulating the image until they get to the end product that they consider "perfect." This as all and fine except for one major problem.
You cannot Photoshop video! And guess what, an awful lot of photographersare now shooting videos with the advent of the DSLR. More and more clients are demanding that the photographer not only submit stills, but also submit video footage of their models. There is more and more need and desire for video than ever before, and since the invention of the DSLR, more and more photographers are expanding their photographic world to include video.
We have shot a Playmate and numerous other videos's on Red camera & DSLR's, and believe us, there is little room for error. As we teach in our seminars, posing in still photography is critical to the final image, and therefore in video, directing the model is that much more important. She is no longer frozen in time, but is constantly moving, turning in and out of your frame while you as a director watch her every move hoping to capture the beautiful woman that she is.
In still photography, we can turn, twist, arch and bend the human form to look beautiful and almost perfect, even WITHOUT Photoshop. But in the moving imagery of video, it is even more crucial to know and understand what can and what cannot be done with the female form.
Arny Freytag says, "I have spent many years shooting Playmates before Photoshop was even invented."  I have learned what I can and cannot do with my subjects through posing and direction. I truly believe that knowing what to do with your subject, without relying on Photoshop will make you a much better photographer.
Sure, Photoshop is here to stay, and I believe there is a time and place for it. However, I do not believe this is a cure for the photographer or the model for that matter. It is up to us to make the image stand on its own merit!
As the world moves forward and new photos are to be made, we at the Shoot The Centerfold invite you to come, see and learn how to achieve the same results without Photoshop. We specialize in photography and have developed our technics combined for over 70 years.
Arny, David and Jarmo