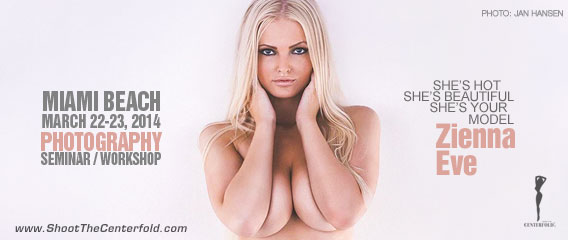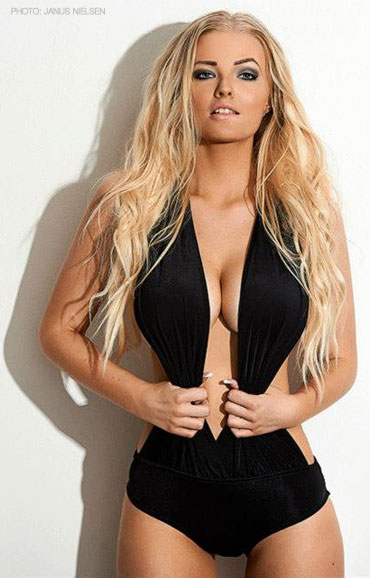 It's about to get sizzling HOT during our March 22nd – 23rd Seminar/Workshop! Zienna Eve has become a big sensation in her native country of Denmark and she's about to burst out in the US… and then some. Her voluptuous curves, unusually slim waistline and overly "buxom" appearance can put anyone into a visual coma! Despite being from a cooler climate, she really knows how to crank up the heat and get those cameras smokin'! But not to worry, everything is under control says "super sexy" Zienna, who will melt your lenses and take your imagination to places you never even knew existed … (visually speaking of course)
Zienna Eve, who is our second model choice for Shoot The Centerfold's March 22-23, 2014 Seminar/Workshop, is as excited as we are. We had an unique opportunity to photograph Zienna in Santorini, Greece earlier this year, but clearly we could not get enough of her, as you can see from the sample photos. In addition to her amazing looks, Zienna is extremely professional in front of the camera and knows which poses will get your images noticed. This girl promises to deliver expressions and experiences that will last you a lifetime!
Interview:
STC: First, congratulations on being selected as a model for STC's March seminar/workshop. Are you excited about being a part of it?
Zienna: Thank you! And yes, I am excited. I love modeling, traveling, etc., and I love the STC team and their work.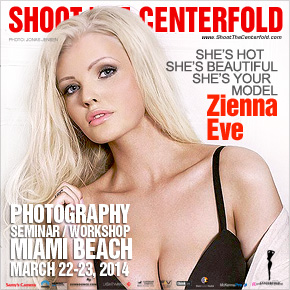 STC: Your hometown?
Zienna: I live in Denmark on an island called Bornholm.
STC: Your measurements?
Zienna: 90cm-60cm-90cm (36"-24"-36")
STC: So, you're from Denmark, a country known for its beautiful women, but not so much its sunny beaches. How did you get started in swimsuit photography?
Zienna: True, not many beautiful beaches around here! I was contacted by a hobby photographer just before my 18th birthday about doing some pictures. At the time, I had never even thought of, like, who would want to take pictures of me? But, I did it, and I'm glad I did. A lot has happened since, and I feel blessed with my career so far.
STC: What kind of shoots are your favorites, direction and style-wise?
Zienna: I love lingerie shoots; those are my main style. I love to make pictures that are strong, sexy and beautiful. The face just says it all. Experimenting and creating pictures like that is just amazing to me.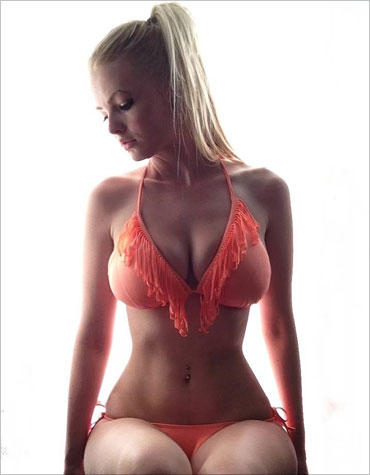 STC: What do you like to do when you're not modeling? Any hobbies? Interests?
Zienna: Right now, I use most of my time to model, and when I'm not modeling, I'm thinking about my next shoot! (LOL) What to wear, poses, expressions, hair and make-up, locations, etc. I've come to realize modeling is my passion and something I really love. I guess that's why I'm so dedicated and focused.
STC: You seem to be into taking selfies based on what we see on your Facebook page. Is this you being an exhibitionist, simple marketing, hot stuff to share with friends, or because you just get bored?
Zienna: LOL Yes, I have a lot of followers based on my work and… yeah, my looks. When I don't have photographers around, I'm just going to have to do it myself, right?
STC: You will be meeting many photographers during the seminar. As a professional model, do you have any advice for photographers?
Zienna: Yes, and I can't wait! My best advice would be to be open and talk about your ideas with the model(s). I can't speak for everyone, but I like to have a plan, something to aim for, what style, expressions, etc.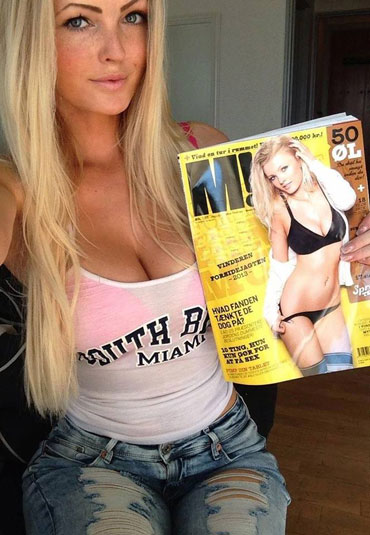 STC: You have appeared on the cover of several magazines in Denmark, including the cover of the biggest men's' magazine.
Zienna: It's crazy! As I mentioned before, I never expected any of this to happen, and it still amazes me that so many talented people want to work with me. I don't think I'll ever understand, but I truly love and appreciate it.
STC: It has been rumored that Kate Upton should watch out – that there's this new Danish girl in town that can put you in a visual coma! Any comment?
Zienna: Wow! That's cool! Well, she is known for being a natural and curvy beauty, which I am myself, so I can only hope to go just half of the way she already has!
STC: In your opinion, what's your best asset?
Zienna: My personality. I am very humble, honest and open. And I've been raised in the belief not to judge others – that's important, I think.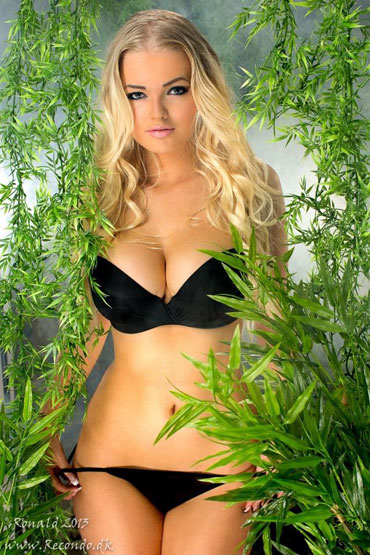 STC: Do men talk more to your breasts than to you?
Zienna: LOL I don't think so, but, maybe? I don't really see it anymore if they do, I guess I'm used to it. And I think I would have done the same if I met someone like me! LOL
STC: We've noticed you like boots. TALL thigh-high boots! Is it because they're stylish, a great way to block out the cold weather and keep your legs warm, or both?
Zienna: Oh, geez! I can't get enough of them! I love them because they're sexy and stylish at the same time. Thigh-high boots and a blazer just look amazing!
STC: Any other hidden talents besides modeling?
Zienna: So far, I haven't done anything that I enjoy and can spend this much time doing without being bored. I might have become an artist, or maybe a tattoo artist. I'm very artistic.
STC: What's the best modeling gig you've done so far?
Zienna: The STC Santorini trip! I'll never forget it, and I had such an amazing week. It was amazing. The settings, how much I learned, and the people I met. It was such a great trip! And I miss my donkey. And the food! LOL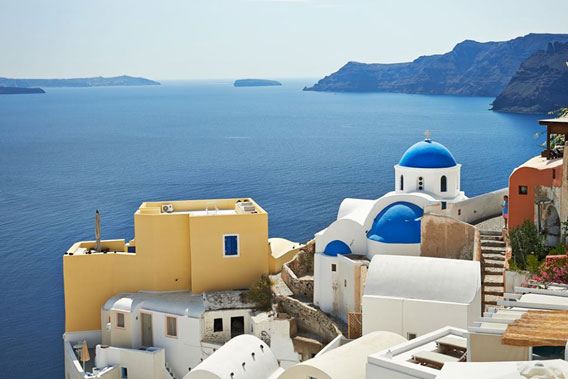 STC: Where would you like to visit, modeling-wise, if you could choose any location in the world?
Zienna: Bora-Bora! A bikini shoot, Victoria's Secret-style. That's something I've been dreaming of for a long, long time. Hopefully, someday it's going to happen! (STC hint, hint! 🙂
STC: If you could create a dream photographer, which qualities and talents would he or she have?
Zienna: Passion. Knowing what they want and saying it. Kind of like Jarmo P.! I love working with someone that's direct, that knows what they want, and how they want it to look.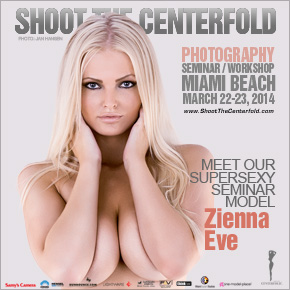 STC: From a model's perspective, what advice can you give photographers on how to become successful when working with models?
Zienna: Just being open, friendly, and not pushy. I've never felt uncomfortable during a shoot, but I know lots of models can feel a bit insecure. A talkative photographer can really ease up a situation and I hope to meet lots of new photographers while in Miami.
STC: Your body is 100% natural. Does it bother you when others say you've had enhancements? What's the best way to handle things when people try to challenge you?
Zienna: Not really, anymore. I take it as a compliment and I know my physique "shouldn't be possible" as I've heard. I know that no matter how hard I try, not everyone is going to like me, or accept my work, looks, etc., and that's okay. I don't live my life to please others, and a lot of the time,
the most judgmental people are those who don't even know you.
So, it doesn't bother me. Life is much easier when you're not concerned about what others may think.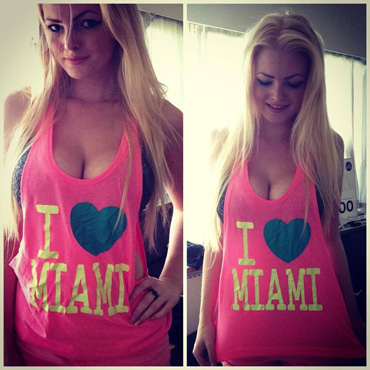 STC: Do you have more guy friends than female friends?
Zienna: Guys. I hate drama, bitching, and so on. I am myself, kind of like a guy! LOL I love my Playstation, horror movies and guns. Guys are just more upfront and honest – and there's not all that drama. I like strait forward, no curve balls! So, show me your guns!
STC: We thought so! It's that Zienna magnetism that attracts a whole lot of… Well. You know…
Zienna: LOL That might be it! Come find out and I'll show you some of that "Zienna magnetism." LOL.
STC: If one or more photographers from our upcoming seminar would like to work with you, would you be interested in providing an after-seminar assignment opportunity?
Zienna: That sure would be possible. If their ideas fit mine, I would be more than happy to! I can't wait to meet everyone and share ideas.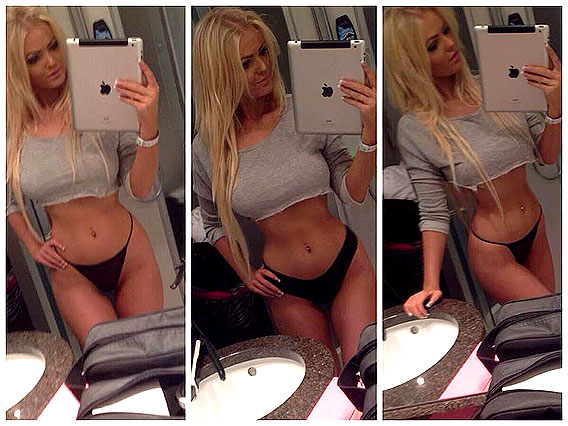 STC: In your  opinion, do you think models should have more of a say in their projects?
Zienna: Yes, definitely! So far, most of my shoots have been based on my ideas. I always have a clear idea of what I want, and, as I mentioned before, I put a LOT of thought into my shoots.
STC: What is your New Year's resolution, or do you have one?
Zienna: I never have. If I want to make changes, I'll do it right away – the day doesn't make any difference to me. But if I had to make one, it might be not eating as much chocolate as I do! See ya in Miami 🙂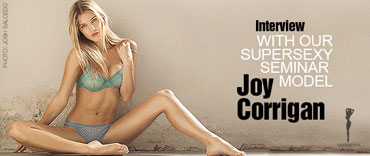 STC: There you go and come "get some" says Zienna Eve! Also, check out Sexy Joy Corrigan, our first model pick for the March 22-23, 2014 Seminar / Workshop. We got a whole of a lot more lined up for you to photograph. See you in March!


© 2013 Copyright ShootTheCenterfold.com. All rights reserved.