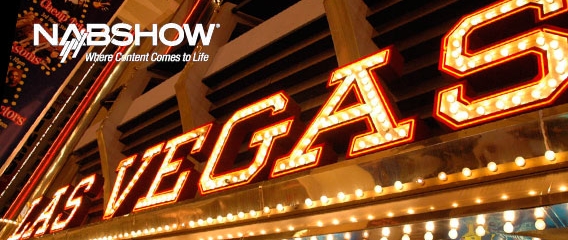 Our heads are still numb and spinning after this year's NAB SHOW, which took place in Las Vegas last week. So much to see and so little time if you were an exhibitor, such as Shoot The Centerfold was along with Cinemecanix. NAB is the National Association of Broadcasters. It's where content comes to life as well as being the world's dominant business-to-business event for media and entertainment professionals.
I personally think that the description is somewhat misleading and most likely created in the early days of broadcasting because not only did we see TV stations, cinematographers, documentary filmmakers, but also still photographers and other professionals who want more from their future.
Many lighting manufacturers and still camera companies flexed their muscle among motion picture camera fanatics, including James Cameron and numerous other famous directors and producers. A Canon representative told me that this is their biggest and most important venue of the year.
Eileen Healy from Chimera lighting said, "This is it! This is where we all come together and one language will be spoken for the next four days." And she sure was right, everybody became instant friends in one of the largest indoor facilities in the world.
This was the ultimate "mall" for gizmo-heads and beyond. How did this venue compare to other camera and lighting conventions around the world? Let's just say if you are serious about what you do and want to relate to those of your kind, then you have just found your long lost brothers who welcome you to the family.
For those not familiar with the NAB SHOW, here some brief details before we dive in to the cameras and what we saw.
Las Vegas Convention Center
The LVCC is one of the most modern and functional meeting facilities in the world — a 3.2 million square foot structure located within a short distance of more than 100,000 guest rooms. Operated by the Las Vegas Convention and Visitors Authority (LVCVA), the center is well-known among industry professionals for its versatility.
Every industry employs audio and video and images to communicate, educate and entertain. They all come together at NAB Show for creative inspiration and next-generation technologies to help breathe new life into their content. No matter where you are in the Content Lifecycle – from creation to consumption – NAB Show is a must-attend event if you want to future-proof your career and your business.
Content Creation
Explore the tools and techniques that foster the collaboration of art and technology, and bring your content to life. Find all you need regarding capture, digital artistry, filmmaking, photography, production, post-production, sound, Web design and more.
Content Commerce
Buy and sell content in this high-energy marketplace whether it is digital distribution, advertising, financing or content acquisition. Be part of a global launch pad that generates $20.7 billion in commerce every year.
Content Distribution and Delivery
Choose from the hottest delivery advancements in broadcast, fiber, mobile, broadband video, streaming and more to distribute your content. On air, on screen or stage, online or on the go.
Content Consumption
How content is consumed dictates all other stages of the lifecycle. And it's never ending.
Shoot The Centerfold, Let's start with our own product, the STC Shooter, and how we measured up against the big boys and industry specialists. Let me start by saying this STC Shooter camera support rig is the BEST camera support in its category ever built according to directors, producers and videographers who attended and experienced the ultimate instrument of perfect balance.
They bought out all stock we had, and even my very own personal rig is now somewhere in Brazil. Currently, we have a 6-to-8 week delivery rate. See the happy new owners of the STC Shooter all the way down in the image gallery below.
We would like to thank everyone who visited our booth at the NAB SHOW. We were overwhelmed by the warm welcome and support we received during the event.
We would like to thank everyone who visited our booth at the NAB SHOW. We were overwhelmed by the warm welcome and support we received during the event.
Thank you,
Jarmo Pohjaniemi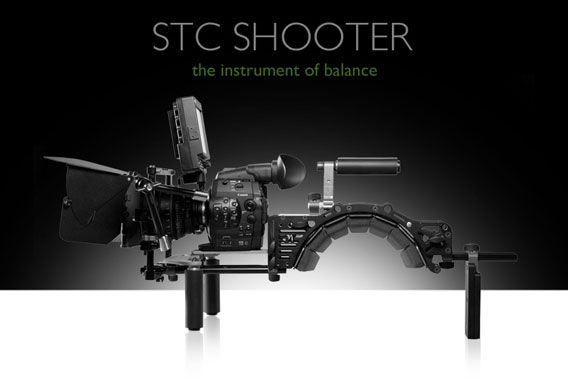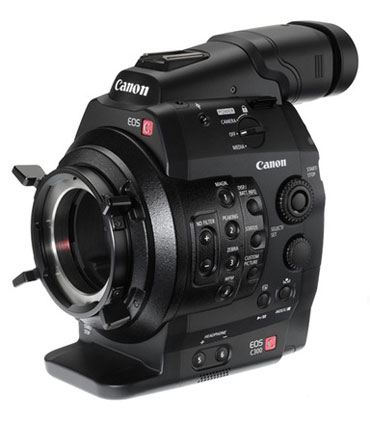 CANON, Company reps will have a good story to tell with the Cinema EOS line of cameras. The C300 has become quite popular, as has the newer, cheaper C100.
The C100, C300 and C500 cameras sport a similar body style, while the 1D C maintains a DSLR form factor. The C500 and 1D C are 4K cameras and rather expensive, so it's too early to tell whether they will enjoy the same sales success as the other Canon models. The C500 needs an external recorder, such as AJA's Ki Pro Quad, for its 4K camera raw images, so an investment in the C500 requires adding an extra device.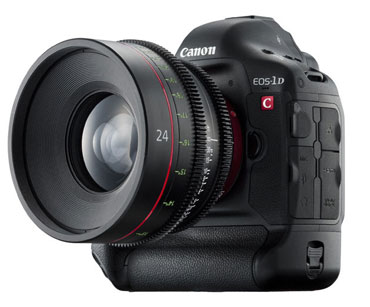 The Canon EOS-1D C records 4K files to onboard media using a Motion JPEG codec. Since the signal isn't camera raw and Motion JPEG is an easily decoded format for most NLEs, the 1D C may ultimately provide the easiest 4K workflow when you factor in post.
Canon 35mm cinema prime lens introduced with high 4K video performance
First comes a new 35mm cinema prime lens from Canon, the Japan-based manufacturer. The optic will become available in multiple versions, in order to support as many formats as possible. As a result, super 35mm, full frame, and APS-C camera owners will have access to the new 35mm cine lens.
According to the Japanese company, the 35mm optic fits the void between the 24mm and 50mm lenses, while also completing the series, which includes 14mm, 85mm, and 135mm prime lenses .
The Canon 35mm cinema prime lens features a diaphragm made out of an aperture with 11 blades, in order to provide better depth-of-field handling and good bokeh.
This lens will be compatible with the company's EOS digital camcorders and is capable of supporting 4K video recording.
Unfortunately, Canon has not disclosed the product's release date and price details.
Canon expands Cinema Prime Lens family
Canon announced the introduction of two new lenses for its Cinema EOS Prime Lens line. The new lenses are designed for movie-production usage and are specially built to deliver great optical performances.
The new CN-E14mm T3.1 L F and CN-E135mm T2.2 L F single-focal-length lenses are built especially for 4K/2k camera usage. They join the other five lenses that form the Canon Cinema EOS System for professional digital cinematography. The lenses integrate advanced materials and coatings, used to meet the high optical performance levels that 4k (4096 x 2160) movie and video productions need. The lenses are equipped with 11-blade aperture diaphragm that, according to Canon, is ideal for achieving great "cinematic" bokeh effects. The lenses are also water-resistant, in order to withstand all the shooting conditions a film production might have.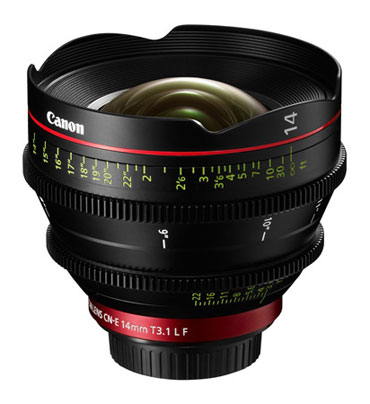 The Canon Cinema Prime lenses are different from the "ordinary", photography ones, as they offer motion-picture production characteristics, like a 300 degree rotation focus ring, for precision focus control. They also offer highly visible engraved focus scales, for great operability. The focus markings can be switched at any time from standard labeling to metric. The new lenses are fully compatible with EOS C500, EOS C300, EOS C100, and EOS-1D C digital cinema cameras.
Other Cinema Prime lenses are: CN-E24mm T1.5, CN-E50mm T1.3, CN-E85mm T1.3.
The CN-E14mm T3.1 L F single-focal-length lens is expected to be available in April 2013 for an estimated price of $5,500. The CN-E135mm T2.2 L F single-focal-length lens is expected to be available in May 2013 for an estimated price of $5,200.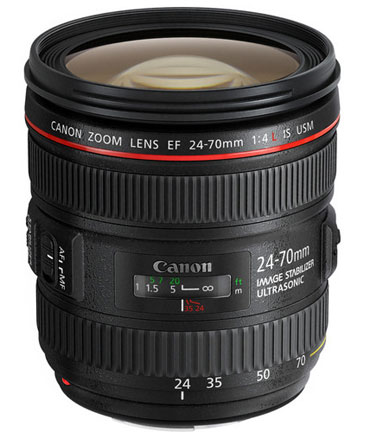 Canon EF 24-70mm f/4.0L IS USM lens released with a $1,499 price tag
Canon has released the 24-70mm f/4 IS L lens. The product is currently in stock and if you are looking to add the Canon EF 24-70mm f/4.0L IS USM Standard Zoom Lens to your portfolio, then you can do so as of today.
Its advantage over the previous generation, which featured an aperture of f/2.8, is that it is a lot cheaper, with a price of $1,499. The spec sheet looks pretty good and Canon claims that the lens is destined for full framed 35mm sensors.
Canon's first 24-70mm L-series lens with image stabilization
Canon EF 24-70mm f/4.0L IS is a welcomed addition to Canon's range of L-series lenses, as the company's hybrid image stabilization technology will allow photographers to take macro photos even if their hands are a bit shaky. The system is particularly useful when taking angular and shift macro photos, thanks to the four-stop shutter speed compensation.
This also means that photographers can take their shots in faint light, as the shutter speed can be delayed by four stops. Canon has added a bunch of special coatings in order to reduce ghosting effects, aspherical elements to prevent spherical aberration and dual UD / super UD elements that will significantly reduce chromatic aberration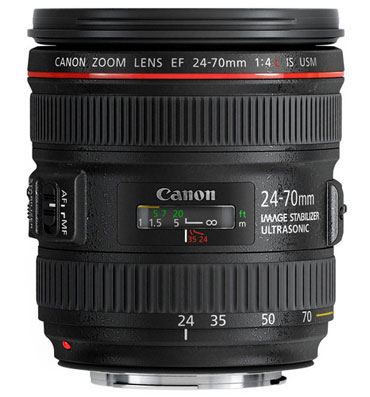 Autofocusing at its absolute best
Canon has equipped the Canon EF 24-70mm f/4.0L IS lens with a ring-type USM alongside a speedy processor in order to allow the camera to autofocus faster. The software has also been improved, as the algorithms will prevent the lens from making noticeable noise when taking shots.
The minimum focus distance has been set at 1.25′, while the macro mod switch allows 0.7x magnification and the aperture ranges between f/4.0-22.
Protection against silly mistakes
Photographers who don't pay too much attention to taking care of their devices will be happy to hear that the lens has high resistance to moisture and dust, while a fluorine coating will protect the lens against fingerprints and smears.
There is a zoom lock lever that will prevent the user from accidentally extending the zoom, which is very useful when preparing your shot for a few minutes or when transporting the equipment.
Carl Zeiss announces CZ.2 28-80/T2.9 and the CZ.2 70-200/T2.9 lens duo.
On the other hand, Carl Zeiss has also decided to join the NAB Show 2013. The German manufacturer has revealed several new zoom lenses for the "Compact" series. The list includes the CZ.2 28-80/T2.9 and the CZ.2 70-200/T2.9 lenses. Both are said to weigh less than 6.2 pounds and feature a trio of moveable zoom units. This technique improves image quality, which is also getting a helping hand from the large T2.9 aperture.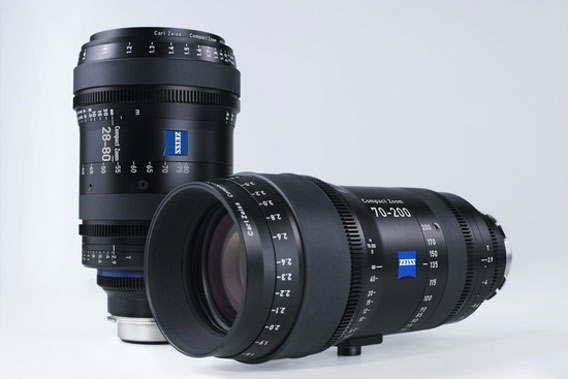 Zeiss used this opportunity to promise a wide-angle Compact Zoom CZ.2 lens, which should be revealed in late 2014 and which substitutes the Lightweight Zoom LWZ.2 optic. The manufacturer claims that these lenses are compatible with DSLR cameras and professional camcorders. However, Zeiss added that the cine lenses also are supporting the super 35mm format, making the products "future-proof".
Both the CZ.2 28-80/T2.9 and the CZ.2 70-200/T2.9 cine primes will not show any distortion, even when recording 4K videos, added Zeiss.
The Carl Zeiss CZ.2 28-80/T2.9 and the CZ.2 70-200/T2.9 cine prime lenses have been scheduled for a release date over the following weeks. They will become available in the US for a price of $19,900 each.
LockCircle has introduced a new series of prime cine-style lenses aimed at full-frame Nikon DSLR cameras.
Despite all technological advancements, DSLR cameras are still not perfect, says LockCircle. A camera may be great capturing still images, but may under-perform when it comes to video recording.
Most DSLRs fall in the former category, including Nikon's gear. This is why LockCircle has decided to develop the new Prime Circle XT-F cine-style lenses for F-mount Nikon cameras.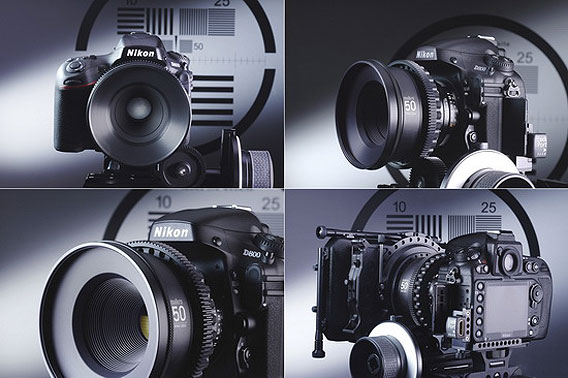 Shooting movies with Nikon cameras is now easier
The manufacturer claims that the Prime Circle XT-F cine-style lenses are as good as any expensive lenses designed for film-making. LockCircle added that there were no other "real cost effective" movie-making lenses on the market before the introduction of its equipment.
One of the reasons behind these "incredible" cine-style prime lenses is the "world class optics" provided by Carl Zeiss.
LockCircle says that Carl Zeiss is a leading company in optics and this is why the Prime Circle XT-F series is based on the Carl Zeiss' ZF.2 lenses. The "most technologically advanced" lenses have been "tuned-up" to improve performance in movie recording, added the manufacturer.
The new optics are said to be very sharp and to provide enhanced contrast along with "magical bokeh" effects.
All gear is based on lightweight Ergo Focus with 95mm Front Mount and is covered by an aluminum-made cap. On the side of the lenses, the maximum aperture and focal length are clearly displayed to make sure that users will not mix the equipment.
The Prime Circle XT-F Custom Lenses are available with a Side Code Barrel and an aperture "de-click" ring that provides immediate access to manual controls for exposure. The lenses are available in many focal lengths, beginning at 15mm and ending at 135mm.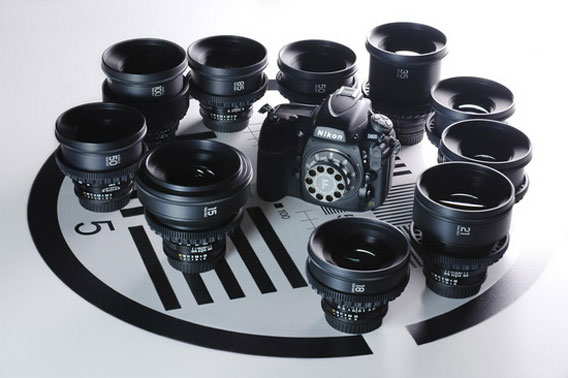 LockCircle's XT-F prime custom lenses are:
15mm and 21mm with f/2.8;
18mm with f/3.5;
25mm and 28mm with f/2.0;
35mm, 50mm, and 85mm with f/1.4;
50mm Makro and 100mm Makro with f/2.0;
APOchromatic 135mm with f/2.0.
They are all available for purchase right now with an expected shipping date of three to four weeks. Additionally, several "PRO" kits, that feature flight-cases which protect the lenses during transportation, are available.
Nikon launches D5200 DSLR
Nikon made an appearance at the Consumer Electronics Show 2013 in order to introduce the all-new Nikon D5200 DSLR. The camera uses a 24.1-megapixel sensor, an improved UI, new Special Effects and full HD video recording.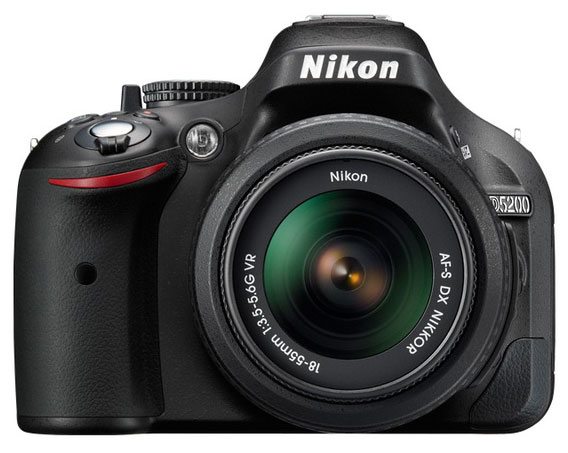 Replacing the D5100
Nikon D5200 is here to replace the D5100 after almost two years of existence. The new DSLR features a 24.1-megapixel DX CMOS sensor, which provides lively colors even in broad daylight. ISO range has been maintained between 100 to 6,400, with a boost of up to 25,600 in pitch-dark conditions.
The latest DSLR released by the Japan-based company is powered by the latest EXPEED 3 processor, which consumes less battery than its predecessor found in D5100. There are 39 autofocus points available alongside Intelligent Autofocus and Scene Recognition systems. Photographers will have access to several autofocus systems, including single-point and dynamic autofocus.
New, but old
Nikon is using the same 3-inch 921K-dot swiveling and tilting LCD screen found in the D5100. Angle viewing stands at 170 degrees, which is very helpful when shooting videos from an awkward angle, albeit the swiveling LCD will also play a major role in this situation.
Inside, there is virtually the same user interface, though photographers can now enable Special Effects easier. Speaking of which, there are several Special Effects that shooters can take advantage of, like HDR mode, Color Sketch and Selective Color.
Nikon D5200 can shoot videos at 1080p resolution, 30p or even at 60p if users want to watch their videos on HDTVs . There is a dedicated video button alongside stereo-recording microphone and support for an external microphone such as Nikon ME-1.
The camera is compatible with about fifty FX and all DX Nikkor lenses, while the Speedlight System is also supported. It is also compatible with the WU-1a wireless mobile adapter that allows users to connect to Android and iPhone devices.
New Leica Summicron-C lenses TBA
After the rumor about Canon's participation at the NAB Show 2013, it is Leica's turn to be the focus point of the rumor mill. The company will allegedly announce a new series of cinema lenses called Summicron-C
Leica going cheaper, but maintaining a high-quality level for its new cinema lenses.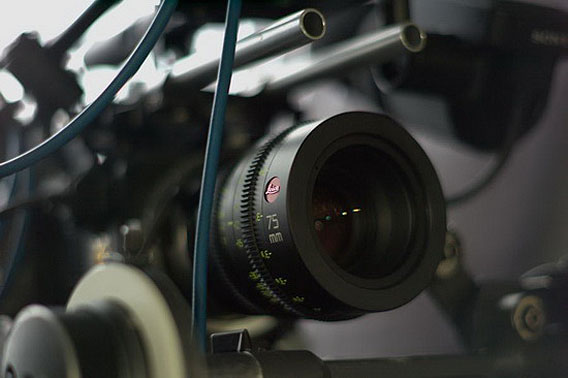 The new lenses will not act as a replacement for the high-end Summilux-C series. Instead, they will be serving as a complementary solution for cinematographers who are not willing to spend so much money on Summilux-C optics.
Leica's new prime lenses are by no means a cheap, low-entry solution as they are said to offer an improved contrast and warmer colors when compared to the Zeiss Ultra Primes series. Furthermore, the new optics are as "compact" as the Zeiss HS lenses, but they deliver very sharp images, adds the source.
The Leica Summicron-C series gear will come packed with ARRI-PL mount support and a $17,000 price, which is a lot lower than the $25,000 price of the Summilux-C.
Only minor differences between Summicron and Summilux
The new cinema prime lenses will have a similar design to the one offered by their more expensive Summilux-C brothers. The size and diameter will be roughly the same. However, they will weigh less than the Summilux-C lenses.
Another difference between the two lines of cinema prime lenses is that the Summicron-C features 2.0 T-Stop transmission, while the current lineup boasts a 1.4 T-Stop transmission.
The lenses were caught in action at the Kameralabor 2013 event, which took place in Berlin, Germany. The cinematographers and camera assistants who tested the 25mm and 75mm products were impressed by the quality of the lenses.
Vision Research Unveils the Next-Generation of Digital High-Speed Imaging at 2013 NAB–the Phantom Flex4K
Vision Research, a leading manufacturer of digital high-speed imaging systems, is previewing the next member of its award-winning digital cinema product line at the 2013 National Association of Broadcasters show. Redefining what's possible when it comes to high-speed imaging, the Phantom Flex4K offers exceptional image quality, new workflow options, a user-friendly camera control interface and improved performance at standard frame rates. At its full acquisition resolution of 4096 x 2304 the camera is capable of recording from 24 to over 900 frames-per-second (fps), and up to 1,000 fps at 4096 x 2160 resolution.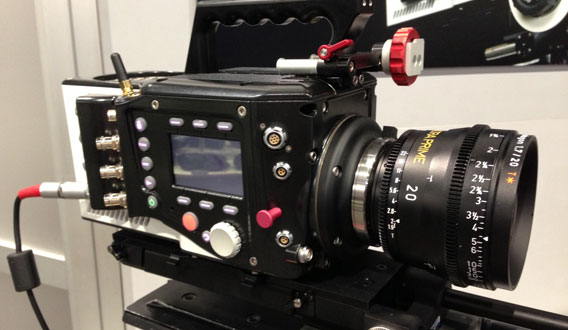 "We are excited to announce the Phantom Flex4K, our first professional cinema camera that is designed to capture normal frame rates, and high speed up to 1,000 fps at 4k resolutions," said Toni Lucatorto, Cinema Product Manager at Vision Research. "We are previewing the Phantom Flex4K in its current form here at NAB, however, there are still features to turn on and work to be done. We plan to use the summer to roll out those features and really run the camera through its paces before it officially hits the market. When finished it will truly be an amazing piece of technology that has the potential to revolutionize cinematography and overall video production."
The Phantom Flex4K will support three distinct in-camera workflows to address different production styles. Phantom's uncompressed raw format ensures the fastest high-speed workflow on set and maximum quality and versatility for post-production. Alternatively, record compressed files for a simplified workflow directly out of the camera. 2x 3G-SDI video outputs are also available and compatible with the industry's latest field recorders.
Capture the full 4K super 35mm sensor and then save those files at full resolution, or choose to save them at 2K resolution for a rich, over-sampled image. Sync-sound frame rates and time code is fully supported. For high-speed capture, it's possible to record up to 1,000 fps at 4K resolution of 4096 x 2160, up to 2,000 fps when windowed down to 1920 x 1080, and over 3,000 fps at 1280 x 720.
Another notable feature of the camera system is the new on-camera control interface, still in development. All capture, playback and save parameters will be set from the built in menu on the right side of the camera body, no separate software connection is necessary. Shortcuts are available for popular functions and multiple user presets exist to allow for a quick setup. Monitoring, playback and save controls will be available from both sides of the camera.
Additional high-performance features include:
Phantom CineMag™IV support
Up to 64GB of internal memory
2x 3G-SDI outputs which can be configured as independent 4:4:4 1080p signals or used together to monitor the full 4K image
Component viewfinder output
Several 12V and 24V accessory outputs
Integrated battery mount
Sync connector to simplify 3D capture
Gb Ethernet port for software operation
Built-in Bluetooth enables wireless control up to 100 meters with Phantom RCU
Lens mount interchangeable between PL, Canon EF and Nikon F/G standards
Panasonic Promises 'Everything We Make Will Be 4K by 2014'
Keen not to appear a Johnny-come-lately to the Ultra-HD party — despite having no shipping 4K production products — Panasonic was talking up its 4K plans at the NAB Show.
Development will see almost its entire product line refreshed to the higher-resolution standard by NAB next year, Kunihko Miyagi, president of the company's imaging division.
"We are developing a 4K system — a whole set of products — to allow for affordable 4K production," he said. "Everything we make in HD will be 4K."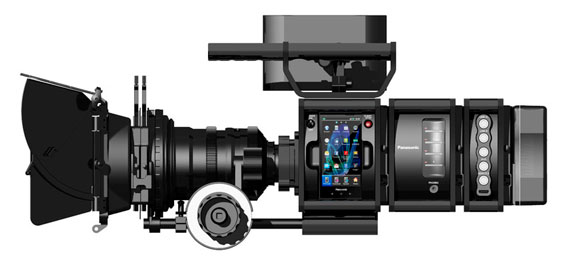 Planned products include shoulder-mounted broadcast cameras, production switchers and handheld camcorders, which will bow in 2014, he said.
Later this year, the first of the line will be released, a 31-inch professional LCD monitor, the BT 4L H310,with 4096 x 2160 resolution for 4K/2K monitoring in the field.
It is also in development of a 4K VariCam, a camera offering high-speed 4K recording to a large sensor compressed in Panasonic's AVC-Ultra compression, a codec that already supports resolutions up to 4K.
Referring to existing 4K digital cameras like the Sony F65 and Red Epic, Miyagi said: "At the high end of acquisition, there are already many products on offer. There is a huge missing link in product needed to create 4K content besides that of cinema. The direction we are coming from is to rationalize the 4K workflow and make it as cost effective as possible."
Also on the Panasonic NAB booth was a prototype 4K compact consumer camcorder and a 4K tablet, both of which were previously shown at CES in January.
Sony Previews DSLR-Style Cinematography Camera
Sony previewed a prototype camera that is intended to marry high-end motion picture requirements with the design of a handheld DSLR on Sunday at an NAB press conference that was also highlighted by a visit from the Oscar-winning cinematographer Claudio Miranda (Life of Pi), who recently lensed Universal's Oblivion with Sony's F65 4K camera.
Added Alec Shapiro, president of Sony Professional Solutions of America, "4K is the future of cinematography."
Miranda and DIT Alex Carr took the stage to share insights into their use of the F65 on Oblivion, from which a clip was shown.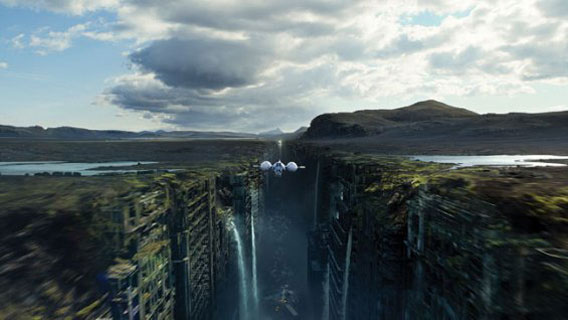 "The shoot took place in a lot of different locations including in Iceland, where we had mostly overcast skies," the cinematographer said. "The extra color gamut helped us capture some challenging dynamic range shots."
Featured product included the F5 and F55 4K cameras, of which 2,000 have shipped since February, and 56-inch and 30-inch 4K OLED panels for professional monitoring.
Sony also revealed sub-$10K pricing for two 4K TV sets first announced at CES — making the technology more assessable compared with its first 84-inch 4K TV, which listed for $25,000 when it was announced last fall. At NAB, Sony said its 55-inch UltraHD TV will cost $5,000 with a 65-inch version $7,000. Customers of those sets can also purchase a 4K media player bundled with 10 4K films for $699. The company said this would be updated later in the year with a video distribution service of 4K titles from Sony Pictures and other content owners.
The current trend in the world of home theater may seem like 3D cinematography is all the hype these days, but Sony's latest imager in its CineAlta family begs to differ. Unveiled at the 2011 NAB Show, this F65 mammoth camera (pictured right) packs one beastly 20.4 megapixel, Super 35mm CMOS sensor — a huge leap from the F35's 12.4 megapixel 1080p CCD.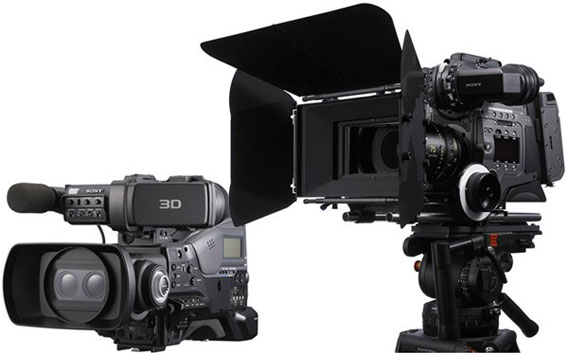 Aside from the obvious quantitative difference, what's special about this new chip is that unlike the Bayer BG-GR subpixel matrix on conventional 4K sensors, here we have green pixels forming the 4K grid while an RB-BR matrix fills in the space, thus doubling the number of horizontal pixels to 8K for a finer 4K picture (see illustration after the break), as well as allowing better visual effects editing using the extra data. What's more, this sensor is fast — not only can it capture up to 72fps on 4K, but it can also crank up to a smooth 120fps on 2K.
As for those seeking to squeeze out every bit of detail from their clips, don't worry: the F65's got you covered with a 16-bit RAW output (19Gbps) at 4K resolution, or it can be compressed to 5Gbps for the convenience of recording onto the new SR-R4 portable 4K recorder. Looks like Sony's finally found a candidate that'll put a lid on film stock, but then again, at the end of the day it'll depend on the price tag when it comes out in Q3 this year.
Of course, Sony isn't going to just ignore the 3D scene here. Also announced at NAB is the PMW-TD300, which will be the first professional 3D camcorder sporting a shoulder mount. Featuring a pair of Exmor 3CMOS sensors, hardcore cameramen will finally be able to go mobile with this new toy while filming 3D in 1080p. Not sure how the videos will turn out, though — we're not keen on the idea of watching shaky and potentially nauseating 3D captured by someone running along the sideline. Anyhow, this camera will be up for grabs in Autumn this year.
Blackmagic Launches $4000 4K Camera
Technology developer Blackmagic Design launched a 4K camera for just $4000, generating plenty of attention as the NAB Show opened on Monday.
The 'Blackmagic Production Camera 4K' is built on the same body as the company's 2.5K cinema camera (which was unveiled at NAB 2012) but features a Super 35 size sensor and 12 stops of dynamic range.
Priced at $3,995 – body only – it will operate with EF mount lenses from Zeiss and other glass manufacturers and records either Apple ProRes 422 or lossless CinemaDNG RAW files.
Its designed to output a 4K feed over a single cable using 6G-SDI, an industry standard interface which is four times faster than HD-SDI.
Blackmagic also unveiled a $995 'Pocket Cinema Camera' that contains a Super 16mm sized HD chip and offers 13 stops of dynamic range. Available in July, it records to SD cards and can be fitted with Micro Four Thirds lenses and via an adaptor, any PL mount lens.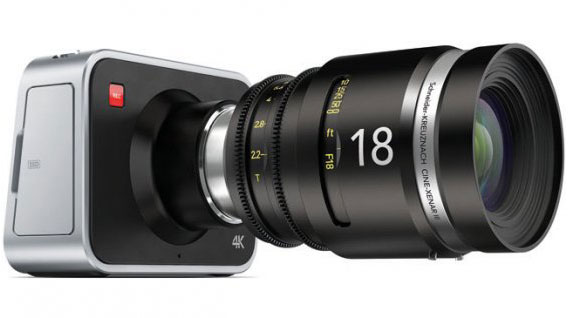 "This is a true cinema camera with a dynamic range that looks like film and in a form in which you can be inconspicuous filming in environments like crowds, warzones or airplanes," asserted Stuart Ashton, the company's EMEA director. The 4K camera is one of a number of products that Blackmagic is showing to support Ultra HD, including an ATEM Production Studio 4K live production switcher and new ATEM studio format converter. "We now have a whole production workflow from capture to post for filmmakers and broadcasters to quickly generate Ultra-HD content," said Grant Petty, chief executive. The company also reported that it has sold "thousands" of the 2.5K sensor Blackmagic Cinema Cameras, despite a four month halt in manufacturing while issues with its sensor were solved. "We won't have the same problem with the new cameras," Petty said. "We have a good idea of potential orders and we've done significant evaluation on the sensor so we are a lot more confident it will ship when say it will ship."
Most projects using the Blackmagic Cinema Camera to date have been short films, corporate and commercials. It was also used for Hero Punk, a feature length scifi film directed by Kanen Flowers for Scruffy.TV, which was largely shot against green screen.
Also at NAB, Blackmagic reported that it has upgraded color grading software DaVinci Resolve, which is widely used in Hollywood postproduction facilities for feature and TV work. Version 10, in beta testing at several L.A. facilities, includes the capability to plug the software into a camera live on set and perform realtime color correction.
"Resolve Live is a massive deal for Hollywood," asserted Ashton. "It means a colorist can interact with the cinematographer on set and then take that information into final editorial with 70 percent of the work already done."
A new editing tool within the software allows for the online finishing of edits begun in editing tools like Media Composer, Premiere Pro and Final Cut and then for the generation of a Digital Cinema Packages directly from the camera RAW files.
Red Readying to Launch 6K Epic Camera.
Red is getting ready to launch its new Dragon sensor, which the company says supports 6K, or 10 times the resolution of HD.
Red had located a manufacturing production line in its NAB booth where visitors can watch engineers swapping out the 5K electronics of existing Red Epic cameras for the upgraded version.
"The hardware is ready and we are able to build the upgrades but the final firmware and color calibration is still being tested," explained Red's Ted Schilowitz. "When they are done, these cameras are going straight onto some big feature projects." (He declined to name the titles.)
Recent projects shot on the Red Epic include 42, directed by Brian Helegland, and Michael Bay's Pain & Gain.
"Dragon is better in every way than our 5K sensor," Schilowitz said, claiming "it is ten times the resolution of HD, over two times the resolution of our original 4K sensor and has over 40 percent more resolution than the 5K sensor. We conservatively estimate it offers 17 stops of dynamic range."
Neither Red nor Sony would comment about the duo's patent dispute. In February, Red filed a lawsuit alleging that Sony's F65, F55 and F5 cameras infringe on patents held by Red. Last week Sony filed a counter suit against Red with claims that Red had infringed up to seven Sony patents.
"We have a great relationship with Sony on many levels. It's a bit like that of Apple and Samsung," said Schilowitz. "In some cases we are best of friends and partners and in other places we are not, but both will achieve their objectives."
In related news, Red is launching a wireless control unit for its cameras. The Meizler module, devised by assistant camera operator Steven Meizler and co-developed by Red and 3ality Technica, permits wireless 1080p transmission and remote-control of follow focus, aperture and zoom control.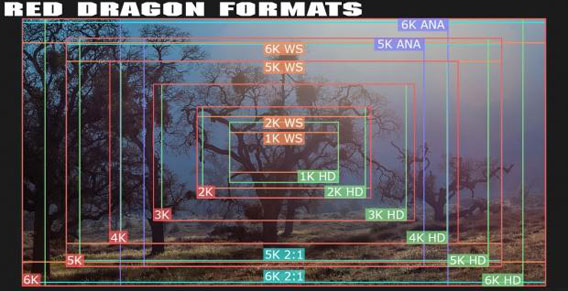 The unit is currently being tested by David Fincher, Schilowitz said.
Red is also the new home for Element Technica, acquired from 3Ality Digital (though 3Ality will continue to offer Element's 3D rigs). Element Technica founders Hector Ortega and Stephen Pizzo become Red employees with the move. The acquisition of the camera accessories specialist includes a Burbank manufacturing facility.
The new sensor features 6K resolution with 120 frames per second possible at 5K, and features 15 stops of dynamic range. Red Epic Dragon 6K sensor updates will set you back $8,500 assuming that you already own the fabolous Red Epic 5K.
Cooke Optics Launches New Affordable Range of Metrology Tools
Cooke Optics, the leading manufacturer of precision lenses, has launched Cooke Metrology, a range of innovative and affordable lens testing equipment designed by Cooke and manufactured by Pure4C.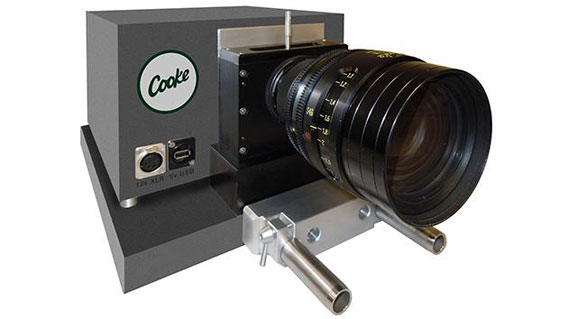 "We have been thinking for some time about the testing instruments we use and how we could improve them," said Les Zellan, Chairman and Owner, Cooke Optics. "As lenses have become faster and more complex, testing equipment has struggled to keep pace and is often, in our opinion, overpriced. We decided to develop our own tools that would not only live up to our exacting standards but also be affordable, and we are pleased that we can share the resulting products with the industry."
The first product in the line will be a lens test projector designed for today's fast lenses. Many current projectors cannot pass a beam correctly through lenses that are faster than T2. Cooke Metrology's projector is so bright that it can be demonstrated in daylight, making it much easier to discern flaws and artifacts in fast lenses.
About Cooke Optics, LTD.
Cooke is a storied name in both cinematographic and the ultra-high-end professional photography markets. Known worldwide for their precision, exacting tolerances and superior quality, Cooke lenses are specified by many of the world's most respected cinematographers. Cooke is also the developer behind /i Technology, the protocol enabling vital lens and camera information to be captured and passed digitally to post-production teams. Cooke was honoured with a 2013 Academy Award® of Merit (an Oscar® statuette) for its continuing innovation in the design, development and manufacture of motion picture camera lenses. Features in production or recently shot with Cooke lenses include Zero Dark Thirty, A Good Day To Die Hard, To Rome With Love, Filth, After Earth, Hugo, Extremely Loud and Incredibly Close, Midnight in Paris, My Week With Marilyn, Red Dog, Harry Potter and the Half Blood Prince, and Angels and Demons. Television shows in production or recently shot with Cooke lenses include Parade's End, Chicago Fire, Game of Thrones, World Without End, The Borgias, Downton Abbey, Upstairs Downstairs, Trollied, Trauma, Community, Back, Journeyman, State of Mind, Life, Bones, Grey's Anatomy, and Entourage.
(The projector is scheduled for release in the next few months.)
ARRI Unveils First Available Lens Lengths For Master Anamorphics
ARRI is pleased to announce the first three focal lengths (35 mm, 50 mm and 75 mm) of the highly anticipated ARRI/ZEISS Master Anamorphic lens series will start shipping in May. The lenses are fast and compact, capable of shooting at T1.9.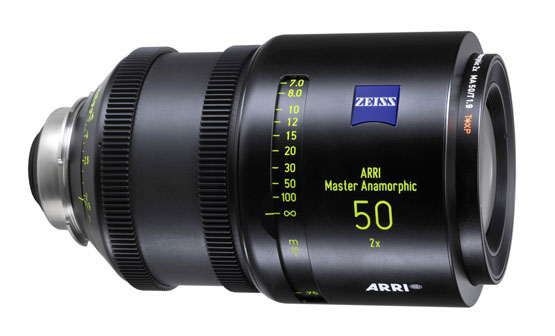 The MA50, recently won a prestigious iF product design award and was utilized on two ALEXA productions: A Trip to Remember and In Flanders Fields.
"These lenses will bring anamorphic to a level as never before," says DP Stijn Van der Veken, SBC (Death of a Shadow), who shot the World War I feature In Flanders Fields . "I'm completely blown away after having seen the result in grading. The picture is a magic blend of Master Prime resolution, contrast, never-seen smoothness and color rendition. The out of focus areas of this lens are as on no other lens in the world, smooth and extremely cinematographic."
Anamorphic imagery is famous for striking bokeh. With the Master Anamorphics this is further optimized with evenly illuminated oval out-of-focus highlights. Anamorphic blue streak lines are rendered in a fresh style with enhanced flares and reflections for additional artistic options. The lenses are super color matched to other ARRI/Zeiss primes and ARRI/Fujinon zooms.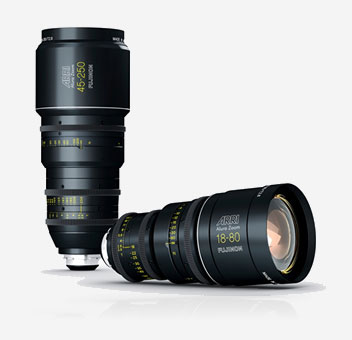 DP Michel Abramowicz (Taken, The Thing) took advantage of the anamorphic look to showcase the city of Paris for a three day shoot directed by Roberto de Angelis for A Trip to Remember.
Abramowicz notes, "Always in the past I would push to work in anamorphic but the producers knew it would be more expensive in terms of people and transportation, but now those days are over, which I'm very glad about. Now, if anamorphic is right for the movie, then there is no reason not to use it – everybody can work in anamorphic today."
The revolutionary optical technology features a newly developed iris with 15 aperture blades. Near telecentric optical design reduces color fringing and shading at the image corners. Virtually no image breathing and no anamorphic mumps (fat face effect) are experienced. A completely new focusing mechanism over¬comes time-consuming mechanical readjustments on set; state-of-the-art lens barrels feature improved dust and water protection.
These groundbreaking lenses are the first anamorphic glass designed from scratch for modern digital cameras, however, these lenses also perform beautifully with analog film cameras. The 60 mm, 100 mm and 135 mm complete the lineup.
The Master Anamorphics rely on the same mechanics and superior standards of the award-winning ARRI/Zeiss Master Prime lenses, trusted on countless film sets like The Lord of the Rings trilogy, The King's Speech, Tree of Life, The Social Network and The Departed.
ARRI Zeiss Master Anamorphic lenses are priced at approximately 30,000 € for most lengths.
About ARRI:
With headquarters located in Munich, Germany, Arnold and Richter Cine Technik (A&R) was founded in 1917 and is the world's largest manufacturer and distributor of motion picture camera, digital intermediate (DI) and lighting equipment. The ARRI Group comprises a global network of subsidiaries, agents and representatives that covers all aspects of the film industry: design, engineering, production, equipment rental, turnkey lighting solutions, postproduction, film and sound laboratory services, and visual effects. Manufactured products include the groundbreaking ALEXA digital camera system, film cameras, professional camera accessories, cutting-edge LED lighting and DI solutions such as the ARRISCAN and archive tools. The Academy of Motion Picture Arts and Sciences has recognized ARRI technologies and continual innovation with 18 Scientific and Engineering Awards.
Schiebel shows off their unmanned drone
(Here is something special if you always wanted to impress your buddies and keep your neighbors awake.)
Developed by the Austrian company Schiebel the Camcopter S-100 is a robotic helicopter capable of autonomous Vertical Take-Off and Landing (VTOL). The S-100 light and strong carbon-fiber body together with a small but powerful 55HP Diamond engine allows the robotic chopper to stay in the air for up to six hours with a payload of 25-50kg of cameras and sensors. The S-100 is already operational and carries out a variety of military and civilian missions.
Developed between the years 2003-2005, the S-100 is the last in a series of unmanned choppers developed by Schiebel since the late 1990's. The S-100 is designed as a medium range (around 130km) light and maneuverable unmanned aerial vehicle. The S-100 is not the only VTOL UAV (see for example Honeywell's Miniature Air Vehicle and Boeing's Hummingbird), but controlling these vertical flying machines in mid air is a complex task that can be even more difficult than fixed wing drones. For that reason the designers of the S-100 equipped the vehicle with stabilized inertial navigation systems (INS), a global positioning system (GPS), and two modes of operation – one manual and one autonomous, which follows a preplanned route.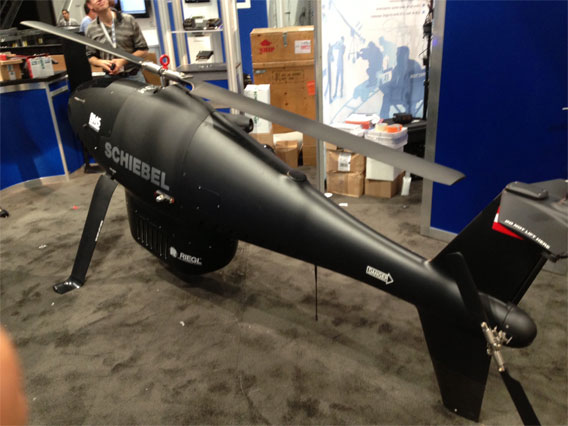 The S-100 is a versatile chopper capable of carrying a range of payloads including both day and night thermal comers (simultaneously), multi-spectral sensors, a synthetic aperture radar (SAR), a laser imaging radar (LIDAR) and a ground penetrating radar (GPR). All these payloads are supposed to enable the S-100 to perform a range of different missions including general surveillance, border patrol, fire control, target designation, damage assessment, mine detection (using GPR) and various marine roles. The S-100 can also perform civilian missions including search and rescue operations, aerial photography and even crowd control using tear gas.
The S-100 was already sold to the United Arab Emirates (UAE) army, which purchased 40 units and is already operating them in the Persian Gulf. Two other undisclosed costumers have also reportedly purchased several dozen S-100 at a cost of approximately $400,000 a piece.
Fancy little thing, it even has it's own Facebook page.
www.ShootTheCenterfold.com
Click the images below to enlarge
[nggallery id=3]