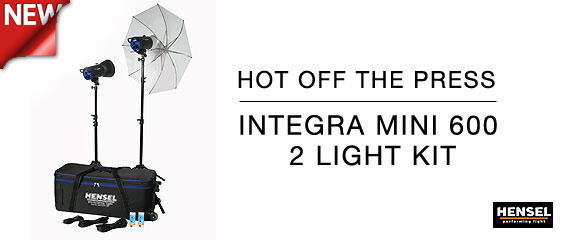 "Let there be light!"
What better thrill is there for any photographer than discovering new products? It's like winning a trip to Willy Wonka's  chocolate factory, except this "golden ticket" comes from the Hensel Performing Light factory (except without the chocolate, of course)!
Ladies and gentlemen, Shoot the Centerfold introduces the new Integra Mini 600 – 2 Light Kit. A perfect "weapon of choice" for those who appreciate huge value vs. huge price. Not only can you get your hands on the system without diving in to your you 401-K plan, it's also so nicely priced that it will make anybody drool over just the thought of the endless possibilities for great shots and excellent photo sessions.
While we can't promise you'll be able to take home one of our Playmates, you CAN be our lucky winner and take home a brand new Integra Mini 600 – 2 Light Kit when our sponsor raffles their heart out at the end of the seminar.
Ooops! Sorry, did we say just one kit?  Hensel will actually be giving away TWO of these awesome kits absolutely free at our next STC seminar in September! Now, that's twice as good a reason for signing up and registering today, not to mention an even better reason for anybody to come and see if this will be your lucky day!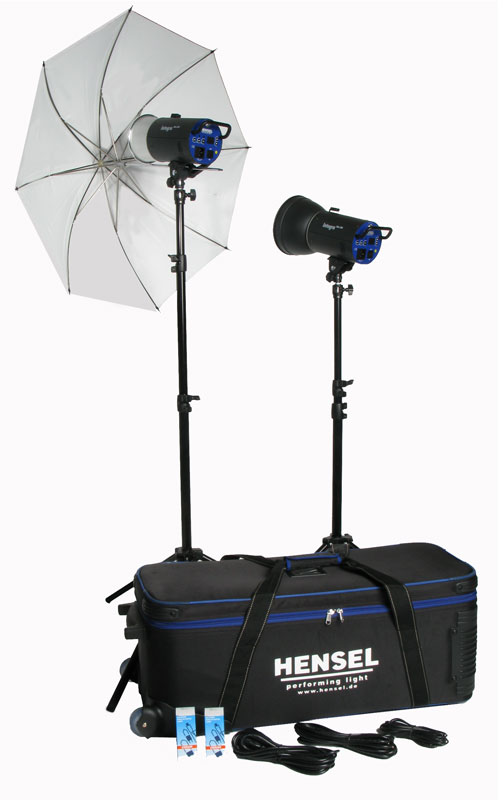 Press release from Hensel USA – The Performing Light Company
Date: August 15th, 2011 Subject: New Integra Mini 600 – 2 Light Kit
Approved for immediate release:
Hensel introduces the new
INTEGRA MINI 600 – 2 LIGHT KIT
Code No. #7048370
Perfect for digital and analog photography
Hensel, the German manufacturer of professional flash equipment, now launches a new addition to its Integra line, the Integra Mini 600 Kit.  With the addition of the Integra Mini 600 Kit, Hensel can offer a high quality flash kit for an affordable price. This new Hensel Integra Kit is an excellent beginners kit for a first time lighting purchase or to add on to an existing system. Manufactured 100% in Germany this new lighting kit is made of metal and is Multivoltage and fan cooled.  Hensel has never had so much technology at such a low price. Excellent technical data and top performance electronics at typical Hensel level. Also included is the original EH reflector connector, which gives you the full accessory compatibility to all of the other Hensel units.
Small / Lightweight / Powerful / Multivoltage / Solid metal construction / Fan Cooled
Metal housing with integrated tilting bracket / Fast flash recycle times from 0,25 s up 1,2 s
Short flash duration up to 1/1900 s (t 0,5) / Output adjustment in 1/10 f-stop increments
Output range of 6 f-stops / Large 7-segment performance indicator
Push-buttons for output adjustment / Active cooling due to quiet fan
Quick-change automatic for reflectors with EH (10 cm) connector
Durable foil surface with 'real' push buttons for feel good use / Multivoltage (110-240 V)
Bright, proportional halogen modeling light up to 300 Watt / Built-in photocell
Sync socket for standard cord 6,3 mm / Test button for manual test firing
Automatic energy-saving mode for modeling light / Low synchronous voltage protects digital cameras
Plug-in flash tube for easy replacement / Optimized integrated inner reflector for best light efficiency
Thermal monitoring of performance electronics / LxWxH: L8xW5xH7, Inches / Weight: 5 lbs
The new Integra Mini 600 kit and Integra Mini Monolight (#8370) can be used with all Hensel Light Shaping Tools and accessories.  Designed for Digital Photography the color temperature is precisely controlled and the "Quality of Light" is at top levels.  A perfect starter kit for the beginner or a great add on to an existing system!
Code No. #7048370 / Integra Mini 600 Kit consisting of:
2 Integra Mini 300 (8370)
1 Sync Cord (122)
2 AC Power cords (9581802)
2 Modeling Lamp 300W Halogen (1280)
1 Umbrella-Flood Reflector (87)
1 Economy 32" Umbrella (3180)
1 7" Grid Reflector (504)
2 Alum air cushioned stands (202)
1 Rolling Travel Case (4201)
2-Year Warranty
The Integra family consists of 5 fully asymmetrical / multivoltage monolights:
(Integra Mini 300/Integra Pro 500/Integra Pro 500 Plus/Integra Pro 1000/Integra Pro 1000 Plus).
Hensel's complete product range includes the Integra family, the Porty and Pro Mini system, the Tria system and coming soon, the new Nova system. For all of these, there is a very wide range of Hensel's Light Shaping Tools and accessories.  All of them have Hensel's unique light shaper and accessory mounting system for secure attachment and optimum light output.
If you wish to know more, please contact your authorized Hensel USA dealer or visit our website: www.henselusa.com