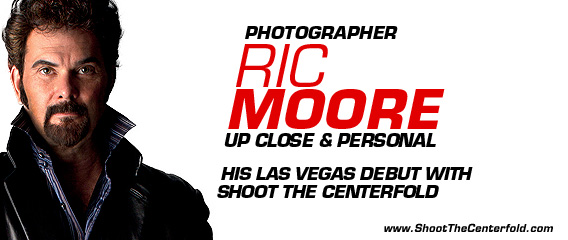 Accomplished photographer Ric Moore will be appearing along with fellow Playboy photographers both past and present — Arny Freytag, David Mecey, and Jarmo Pohjaniemi (OMP Member #68348) – at the Shoot The Centerfold Weekend in Las Vegas June 3-5. Together, in one weekend, they will offer a lifetime worth of insight, instruction and inspiration to the photographers and models in attendance.
Ric is also taking casting photos for Shoot The Centerfold's Top Model Search at the Nikki Beach Tropical Pool within The Tropicana Hotel & Casino on Sunday June 5th, from 11am to 5pm. The Top Model Search is completely FREE and open to any model candidate age 21 and over who is interested in becoming a Shoot The Centerfold Top Model. Thousands of dollars in cash and prizes await the winners who are also eligible to receive a one-year modeling contract with Shoot The Centerfold.
This event grants you access to meet and work with Playmates, industry professionals, and celebrities while having a fabulous time in Las Vegas. Shoot The Centerfold's Top Model Search participants are also invited to take advantage of the Preferred VIP Weekend Package for $499 which includes three days and two nights at The Tropicana Hotel and Casino June 3rd – 5th, 2011 with VIP check-in privileges. To see all of the incredible amenities and opportunities the Preferred VIP Weekend Package grants, visit
http://shootthecenterfold.com/model-search/
Ric Moore is looking for new faces during the event, and you could be one of them. As the head of the Las Vegas edition of Shoot The Centerfold's Top Model Search, he will be conducting both the auditions and photo shoot. Ric relates some of the traits he is looking for in the models who attend the Top Model Search: "The participants should have posing skills or ability. It's great to find a model that has some experience or is intuitive when it comes to posing and how her body looks. As always, a strong face and a fit body are important, plus a great attitude and a willingness to contribute to the shoot with some ideas of their own."
Aspiring models can prepare ahead of time to make the most out of the Top Model event and photo shoot. "If you are new and don't have much modeling experience, practice posing and expressions. Look at magazines and recreate those looks in the mirror. Everything is important — facial expressions as well as the positioning of hands, feet, arms, and legs. Be open to trying something new as well!"
Ric also has a few more suggestions for models aspiring to win The Top Model Search. "Do your homework on posing and moving, be in shape, and have a great attitude. Most importantly, remember to have fun!"
The photographer admits he wasn't very interested in art while growing up. Then he encountered his first nude model, and has been hooked every since. "My mother, who has a degree in Fine Art, took my brother and I along with her to art classes. I wasn't all that interested until I walked into her painting class! My mother is somewhat religious, but when she took the class she did not realize there would be live nude models. When we walked in completely unaware, she was mortified! She had to decide between chasing me out, or acting like it was no big deal. She did not want me to have a weird attitude about art and the human body, and so she acted like it was no big deal. I picked up a paintbrush and dabbled on the canvas as I was completely intrigued by the models. After that class, She told me I would have to attend my own classes and not hers until I was older!"
Years later, when Ric began shooting for Playboy, his mother reminded him of the experience. "She told me, 'I didn't know what would happen from you walking into my art class, but I knew something was going to happen!' After the art class, I still did not take to an artistic direction until I started trying to photograph the world around me. I had never noticed the colors in an evening sky, the way that light falls upon objects, or the catch lights in a girl's eyes until I started trying to photograph them. After I had really gotten into photography, I began see these things — color, light, composition."
He received his first camera at age 17. "After my grandfather passed away, my father gave me his camera and I was immediately mystified with it. I began a journey of shooting and asking. I shot everything, and I asked everyone I could why something didn't work. The 35mm had no light meter, so I learned about judging light and then bought a hand-held light meter to help. People were generous with me. I think they could see how taken with photography I was."
Ric did not study photography in school, however. Instead, he decided to learn from working pros. "My goal was to assist photographers who I thought were really good. After graduating, I headed to Dallas with a couple of hundred bucks. I ended up landing a couple of assisting jobs and a place to live next to some working assistants. In Dallas, there was a group of photographers that had all gone to the Art Center in Pasadena. I made a point of assisting all of them."
After working for and learning from others, Ric was determined to head out on his own. "I had a very strong drive to shoot — assisting was awesome, but I wanted to shoot! Someone told me that difference between a photographer and a good assistant are clients! I was always very respectful of the photographers I worked for, so I would not poach their clients. Instead, I networked and found commercial shoots on my own. In my advertising photography, I shot for beer and drink ads that were studio shoots, and everything from industrial shoots on ships to catalog work. But once I became successful shooting products, I grew tired of it, so I switched my focus to shooting people."
The people he started shooting were not ordinary folks but beautiful Playboy models. "My shooting career with Playboy started very slowly. I shot reportage for 'Girls of Spring Break' as my first assignment. I ending up getting the lead photo with a pretty cool shot I did — with a remote trigger on a camera on top at a beach stand – of girls participating in a wet T-shirt contest. I was lucky, and the shot worked. I continued to shoot reportage on most all of the 'Girls of Spring Break' pictorials, then eventually graduated to shooting on-location beauty shots and getting different types of assignments."
His involvement with the Playboy family started by meeting David Mecey, one of Shoot the Centerfold's photographers. "I had the good fortune of meeting David at a great party! I was one of many assistants hoping to get to work with him when he moved back to Dallas from Chicago. Once again, I was lucky! At that time we happened to look like brothers, and a few people at the party asked if I was David. A few of them told him they had just met his very polite brother!  Needless to say, he hired me — I was family!"
What he learned from David is similar to what attendees will be learning at Shoot The Centerfold's Las Vegas Seminar/Workshop. "I worked as his first assistant for three years, and then I would make an occasional appearance on some really cool location shoots – Bahamas, Jamaica, Hawaii. David was both generous and at the same time he did not easily give away his secrets. I was working on my own lighting skills, and every once in awhile he would let me in on what he was really doing! At Shoot The Centerfold, you guys are getting this information much faster than I did! I had to work for three years to be able to understand the lighting skills David uses!"
Ric has an exceptional eye for talent, which helps him when casting projects. "I like to always have a positive approach. I have never seen any woman criticized for attending a casting and I feel that every woman who has the courage to take a shot deserves respect. That being said, I believe that the other photographers can relate to the feeling when a true contender walks through the door. All of the sudden, shooting is effortless, time passes quickly. I enjoy people in general and I really enjoy when shooting just flows — a good model and easy rapport can make that happen. I try to keep conversation upbeat and fun to hopefully create an environment where a girl, who may have never modeled before, can feel comfortable in front of my camera."
Ric is proud of his involvement with the Shoot The Centerfold team and is looking forward to the weekend in Vegas for many reasons. "I am looking forward to seeing Jarmo, David, and Arny. Don't tell Arny, but I am going to be listening very closely when I am around him. I have never worked closely with Arny, and that guy knows a lot! So I am looking forward to learning something as well! It will be interesting to see Arny, David and Jarmo teach — I think the sessions will be informative and action-packed!
He is also looking forward to seeing keynote speaker Gary Cole at the event. Gary has served as Playboy's Director of Photography for over 35 years and, during his keynote speech, will share his insight into the essentials of landing your first major assignment, views on the special challenges presented by digital photography, and recollections of spending a career working for Hugh Hefner. Gary will also be available to review attendees' portfolios, an opportunity that has never been offered before. Ric advises, "If I were a model or photographer who is thinking about attending the Shoot The Centerfold Weekend, I would attend the seminar just to have him critique my book! He is not an easy man to meet and chat with!"
Ric has some additional advice for models who will be attending the Shoot The Centerfold Weekend: "Learn everything you can from watching these photographers work with the models, and listen carefully to anything that Gary Cole says. Have a great time in Vegas, network with everyone there, and enjoy Nikki Beach!"
Shoot The Centerfold is more than just a modeling and photography event – the weekend could be someone's chance to get discovered. "I will of course be looking forward to seeing and working with the models!  Don't forget, beauty is the muse to which we aspire! We all would love to find some models that will take off!"
One of the first major events scheduled at the new Nikki Beach Club at the Tropicana Hotel, Shoot The Centerfold's VIP Red Carpet Event is an industry gathering unlike any other. In addition to the model search, seminars, and workshops, the weekend will also include a pool party for the attending models and photographers. Playmates Kassie Lyn Logsdon, Ashley Hobbs, and Shanna Marie McLaughlin will also be available for photo opportunities, and for attending photographers to photograph during Sunday's workshop. The seminar will be held in Las Vegas, NV on June 4-5. For all the details and to register for this once-in-a-lifetime opportunity, visit

http://shootthecenterfold.com/model-search/