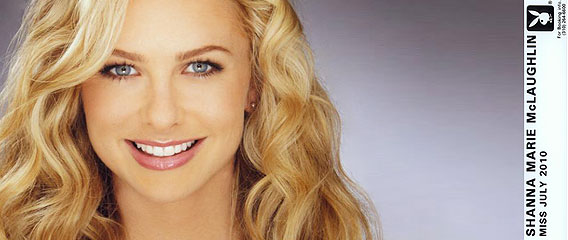 Last summer was a memorable one for Shanna Marie McLaughlin after she was chosen as Playboy's July 2010 Playmate of the Month. This summer, the blond beauty will go from "Centerfold" to "Center of Attention," when she appears live at the "Shoot the Centerfold" seminar in Las Vegas on June 4-5, 2011.
Shanna will be one of several featured models posing for Playboy photographers both past and present — Arny Freytag, David Mecey, and Jarmo Pohjaniemi OMP Member #68348. Together they will offer photographers and models in attendance a weekend's worth of insight, instruction and inspiration.
She is especially looking forward to working with eager photographers who are interested in learning new things and perfecting their craft. "I am excited to talk to all of the participants and answer any questions they may have. I am anticipating some great images to come out of 'Shoot the Centerfold,' and hopefully I can use some of them in my port."
Shanna relates that both photographers and models can benefit by attending "Shoot the Centerfold." She believes that "working with lots of different photographers can really benefit models, and vice versa. The more people you work with, the more well-rounded you become. Everyone's styles are different, and the more types of artists you work with, the more you can learn!"
Despite having only been modeling for two years, Shanna quickly developed a passion for it. "Originally I worked for Bud Light and participated in many conventions. While working as a Bud Light girl, I met a photographer who wanted to do a glamour style photo shoot with me, we worked it out and I fell in love with being in front of the camera."
Shanna describes herself as having "an interesting body type which suits me for glamour and Playboy style photography. I love the 'glam' look, and love to be sexy in front of the camera. I also want to break into more editorial and fashion-style shoots in the future, and I am currently working on expanding my catalog work."
Playboy Magazine discovered the model when she participated in Playboy Shootout, which she calls "the America's Next Top Model" for Playboy. "It was truly like boot camp. I worked with multiple photographers in many different settings, all overseen by Arny Freytag. I learned an incredible amount, about how to pose nude and really how to model in general. When I won the Shootout, I got the opportunity to be a Playmate… and the rest is history. The experience of the Shootout was so incredibly valuable and I don't think I would have been a Playmate without the knowledge I gained through the show!"
According to Shanna, being a centerfold has been one of the most amazing experiences of her life. "I have been introduced to some amazing people — the networking opportunities are endless. In the beginning, I started out by working events, and that is what I love most about my job. Being Miss July, I am now able to answer people's questions about the world of Playboy, and represent such an iconic company and brand. I hope to utilize my experience with Playboy to open new doors and expand my modeling portfolio in the coming years."
She offers the following advice for models just starting out. "Follow your dream and believe in yourself. And practice! There is a niche for every model, so the more you practice and work with different photographers, the easier it will be to find your niche and what you love doing. Don't ever give up!"
Shanna gives three tips for photographers to remember when working with models. "First, talk to us! We can't see what you see, so effective communication is key. Second, have an idea of what you want to accomplish in the shoot. It is always better to go in with a game plan and then let the model take your vision and run with it rather than starting blank. And third, HAVE FUN! Chemistry with a photographer is extremely important. We can tell if you're having fun or not, and it changes the relationship we have with you. Your attitude influences not only our attitude, but the end result as well!"
Shanna is also looking forward to networking in person with the attendees of "Shoot the Centerfold" in Vegas! "I have personally worked with Arny and David, and they are wonderful mentors who have produced amazing work! Get ready to learn a lot and have lots of fun! See you in June."
Set to be one of the first major events held at the new Nikki Beach Club at the Tropicana Hotel, the "Shoot the Centerfold" weekend will include a red-carpet arrival, opening night VIP reception, and a pool party for the attending models and photographers.
Shanna wants to make sure that you are personally invited to join her in Vegas, to collaborate with her and fellow Playmates Kassie Lyn Logsdon and Ashley Hobbs at "Shoot the Centerfold." The exclusive event is set for June 4-5 in Las Vegas, NV. For all the details and to register for this once-in-a-lifetime opportunity, visit the official website at http://www.ShootTheCenterfold.com.