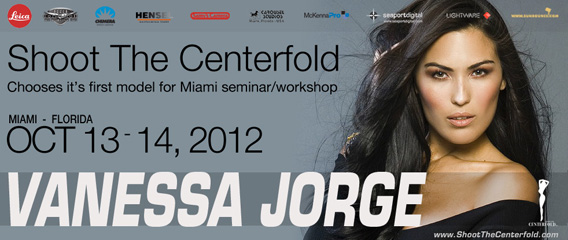 When you mix a little Chinese, Cuban, and Colombian, throw in a couple of handfuls of sensuality, a few cups of good looks, and add a few bits of boldness with a dash of attitude, you get model Vanessa Jorge, Shoot The Centerfold's first model selection for the Oct. 13-14 seminar/workshop in Miami, Fla.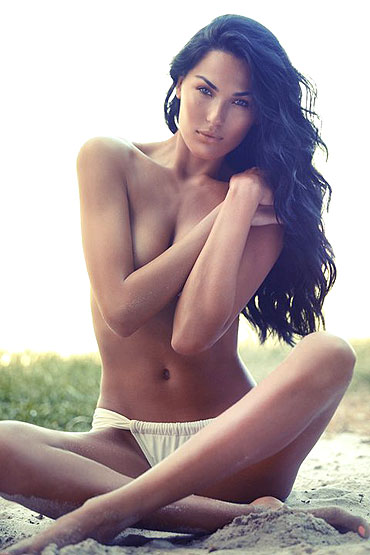 Vanessa is a 5'10" beauty – and that's without heels – that comes in at a nice 34-24-36 and ready to rock the camera. She is represented by Next Models of Miami.
STC chose Vanessa based on member's criteria for what they would like to see at our next seminar. While Playmates remain at the center of our shoots, we listened to member requests because we want to offer attendees a little more bang for their buck and see if they can handle a challenge from the fashion world.
Fashion models have a certain aura of sensuality about them and their presence in front of the camera demands we rise to their level. While the two worlds of glamour and fashion are similar in appearance, the photographic demands can be quite different. It is of the utmost importance that Shoot The Centerfold provides its attendees an opportunity to brave and conquer new challenges, pushing the boundaries of their expertise. Every shot has to be nothing less than stellar in every aspect (and it doesn't hurt to throw in a bit of "sexy" as well!).
It's a circle; demand the best of others and you'll demand the best from yourself as well. As you can see by the photos from Vanessa's portfolio, you're going to have to bring you're "A" game – are you ready for it? Time to find out!
Interview:
STC: How long have you been modeling?
Vanessa: I started modeling in New York when I was 14 years old. It was an on and off thing until two years ago when I started with Next modeling agency.
STC: You are well known in the industry and admired by many who believe that your presence fills up a room and silences the rest. Is this true?
Vanessa: It's surreal to me that people think that of me. I usually don't like attention but I'm very appreciative that I can have such an affect on people.
STC: You have also been compared to Megan Fox. Who's foxier?
Vanessa: Well, that's always a huge compliment for me even though I really don't see the resemblance, but I'm definitely foxier. I'm 5'10 and I can rock the runway, not sure if she could measure up to that!
STC: What does a model of your caliber think of a Playboy and glamour photographers in general?
Vanessa: I think they have great talent in being able to make these beautiful women look so hot and sexy. Every woman likes to feel sexy and the photographers help project that. I am looking forward to meeting a variety of different photographers who can make me look sexy. 🙂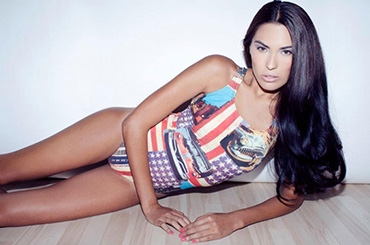 STC: Where do you consider your stomping grounds? New York? Paris? London? Moscow? Milano?
Vanessa: I consider them all. I've worked in New York mostly and practically grew up there, since I was born and raised in New Jersey. New York is my second home but I am making my mark across the world a step at the time.
STC: What is your favorite place you've been or would like to go?
Vanessa: My favorite so far has been New York. I haven't traveled across seas as much, but I'm very anxious to explore the beauty of all countries in the world.
STC: Is there any particular city or country that you'd like to call home?
Vanessa: I imagine raising my family in Australia, I've heard so many good things about it and seen many beautiful pictures. I feel like it would be a great place to raise my children plus they'll have adorable accents, which I hope rubs off on me!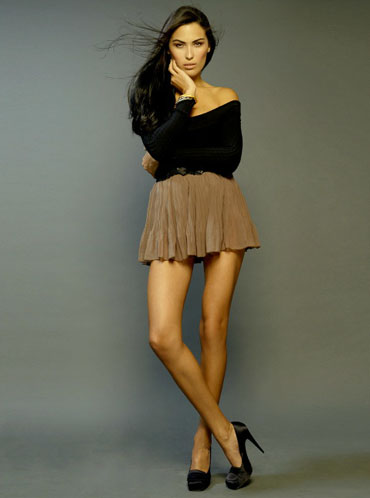 STC: Australia of all the places was the last place we would have guessed. You seem more like a city girl.
Vanessa: Well, I can be both and then some, but I love space and Australia has lots of it. In the end, I am very much nature loving and perhaps I can challenge the runways with kangaroos over there! [joke].
STC: It seems lots of photographers are always buzzing around you, offering all kinds of a once-in-a-lifetime opportunities. What do you tell them and is there a magic word that can break the ice to get you to say "yes"?
Vanessa: I can be picky with who I work with and I let the agency deal with the details, but I do appreciate good photography skills and know what's good from bad. But mostly a connection with the photographer is what will get me to say yes. There are a few gentlemen out there with cameras.
STC: What kind of clients normally book you for photo shoots?
Vanessa: The editorial world seems to have taken interest and some catalogs too. I mostly get a lot of jobs for hair and beauty clients. Thanks to my Colombian, Cuban and Chinese roots, I will say I have great hair! Do you like my hair better than other body parts?
STC: Uhhh… yes, we love your hair and the other attractive parts attached to it. What's the coolest or most outrageous modeling gig you've ever had?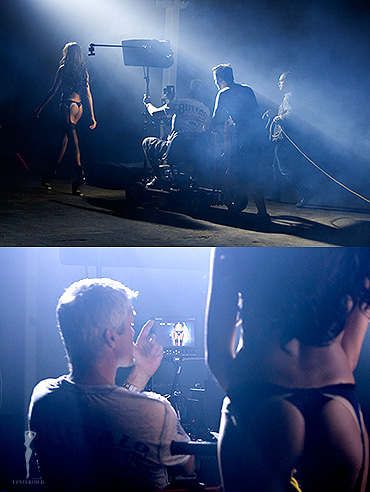 Vanessa: Actually, shooting with Jarmo has been the coolest job yet, but I can't say what it is until it's published. It's a secret and STC members will just have to wait to see what it is! I have a love for classic and fast cars and it was my first time shooting in lingerie, so it was nerve wracking but thrilling at the same time.
STC: So, you've got a "need for speed"?
Vanessa: Are you kidding? You bet! I love speed… question is, can you keep up with me? Because I'll leave you standing at the red light!
STC: How many agencies from around the world do you represent or work with?
Vanessa: At the moment I work with two; Next in Miami and Images in New York. I plan to gain a few more by the end of the year.
STC: From a model's perspective, what advice would you give to photographers who want to make it and work in today's fashion and glamour industry?
Vanessa: I believe you have to have an eye for it, not just an expensive camera. Many people these days buy a great camera and call themselves photographers but they don't have a clue what the hell they're doing and it really irks me. I actually do photography on the side and have learned quite a bit on my own and it's so much fun being on the other side of the camera. But I won't call myself a photographer… yet. Maybe I should attend the STC seminar as a photographer instead?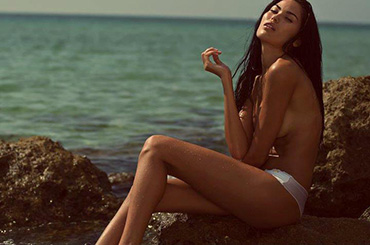 STC: When you think of sexy, provocative photography, what style (or magazine) comes to mind?
Vanessa: Vogue, Bazaar, Victoria's Secret, Sports Illustrated, of course, which are dreams of mine. But what model doesn't dream of that! I love that they love variety in a model with curves and not some stick. The industry is also changing, and it's benefiting me lately. I hope STC attendees likes curves. Provocative photography? Well, I can think of some and you'd better come see me at the seminar to get that answered.
STC: Yes, we love curves… must have curves. You have these piercing eyes and good looks that melt men's hearts and make most women jealous. Is it difficult making friends?
Vanessa: Haha! Yes, at times. People expect me to be a conceited bitch, but I'm totally opposite of that. I'm very shy at first so that doesn't help, but once you get me to open up you realize I'm just a normal girl inside. I always say my personality doesn't match with my looks, but that's because my mother raised me well.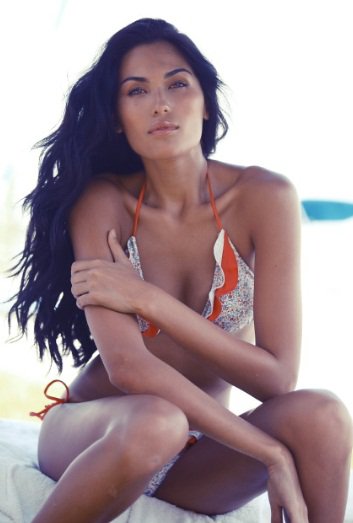 STC: Whom do you admire most and why?
Vanessa: There are a few people that I admire and helped mold me into the person I am today, but I admire my mom the most. She is such a strong and beautiful woman. Her heart is made of gold and she's a kid at heart. She has so much more faith in me than I do myself and always supports me in everything I do. I love her positivity and how she always manages to make me laugh no matter what.
STC: If you could photograph or work with any sexy actor or celebrity, male and female, who would it be?
Vanessa: Male actor, I'd love to work with is Mark Wahlberg. I think he is just so sexy and such a smart and humble man. As for female, I'd have to go with Megan Fox. [Catfight!] I'd love to see what kind of chemistry we would have in front of the camera.
STC: We are quite sure that you have as of yet not done a seminar/workshop quite like STC. Do you have any expectations? Something tells us we might see some knees buckle and cameras freeze!
Vanessa: I'm actually bit nervous and hope I live up to everyone's expectations. I hope there will be few nice photographers who can calm my nerves down a bit 🙂 It's mind boggling knowing how many great photographers will be there. I'm eager to meet them all and network with them. I am also expecting to get great new images and learn for the experience. There are so many photographers out there and their personalities are not always the same, which make it all interesting. I love cameras and I hope that all the photographers will like my look.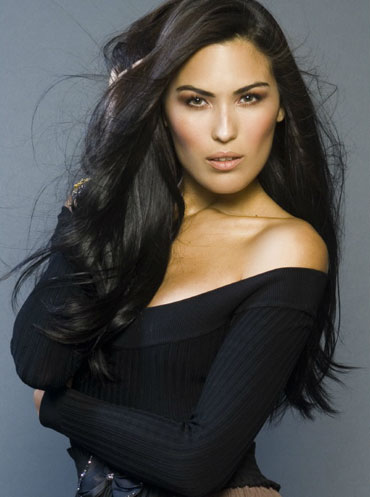 STC: Where is modeling taking you next?
Vanessa: I think modeling is going to be taking me to either Japan or India very soon, hopefully both!
STC: Sounds very exotic and exiting. Japan and India is well known in modeling and we think you will do great over there. For sure, you will be the tallest person they have ever seen.
There you go! And now we know a little about our first model pick, Vanessa, who promises to rock our world at the Shoot The Centerfold seminar. It's not every day that we have an opportunity to work with such a talent as Vanessa and we are looking forward to her sassy good looks and creating perfect pictures!
"Who knows? Perhaps this is the start of a beautiful friendship," says Vanessa!