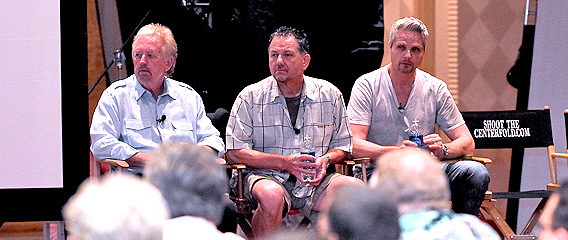 Here are some unofficial observations and personal thoughts of mine about our last seminar/workshop. The official seminar summary from Playboy Director of Photography Gary Cole will be available soon.
It's 10 a.m., Friday morning in Las Vegas and everyone who has registered for Shoot The Centerfold Seminar / Workshop seem to have found their seats and as the ballroom lights dim. Our manager, Jon, looking much like Barry Manilow, grabs the microphone Vegas-style and glides across the Tropicana's "Boogie Night"-patterned carpet and says, "Sally! Spin that record and show us that funky Shoot The Centerfold introduction video!"
Arny, David and myself are now introduced following our video introduction. I felt as if I was walking to an altar. I even had a speech prepared (yeah, right!…). My gums were numb and applauding from the audience shook me up back to reality again. All I saw were bright lights as my intuition kicked in and somehow my words found a way out of my mouth, I think I said … "Hello everybody."
Every time I go on front of crowds, I feel like I need a plan or something, only to realize that the plan should be to be yourself. I just tell my story and what it took for me to succeed, hoping that no land mines go off.
I see familiar faces and few shiny belt buckles, and also some quite demanding attendees like Steve, Bob and George etc… I'm wondering what's going through their minds besides rotten tomatoes. I sense that their eyes are all following us as if they were glued in somehow. Do they understand anything I'm saying because my thick Finnish accent? (I prefer to call it "Finglish" because I'm just an average Joe from Finland). It's no secret I am known better for my photography than my English.
If Arny does his impressive speech and slideshow first and I have to follow him with my dog and pony show, it tends to be an interesting experience. As they say, "Follow your masters." Let's not forget David, who also gets pinned between the "king of covers" and endless Playmates. However, as a team we offer a variety of different styles of photography. This is what makes us complete.
The reverent, church-like atmosphere quickly gets disturbed by curious photographers who politely make their way around, but stand ready to shoot at any given moment. The real inner personalities have finally found their own voice and everyone is speaking the same language. Perfect marriage, of course … it's Vegas and we love it.
The standing photo sets seem to act as if they were playpens for grown children. These are the moments where we all come together and let our guard down, losing ourselves to the abyss of unknown and mysterious photography. We all become something else; the many are now as one. It's a unique experience, and one that would be completely different if these same gathering of people were in a bank lobby. Maybe this is the way the geeks are born, but hey… it sure feeds it's purpose and works for our kind. Again. Perfect family.
This time around, we had more photographers with stories to tell than the Tropicana has one-arm slot machines ready to rob you dry. You would think that the photographers in attendance would have plenty of the standard camera gear, but again, the Tropicana gets the best of us with impressive slew of camera collections following every move we make. This casino peep-show style viewing experience, aka "eye on the sky" can also be very intimidating… so we smile… "they've got zoom lenses."
Money changes hands and riches rule the surprisingly elderly-filled casino floor. The old-timers (average age unknown) reminds me more like colorful cuckoo's nest, only Jack Nicholson is missing. Anything that happens in Las Vegas stands out, just like Shoot the Centerfold's exciting Red Carpet walk on Saturday night that almost got robbed by (Not so Little) Lil'Wayne, who seem to have more muscle than we do. (This was brought to my attention at very last moment while on Red Carpet, that Mr. Wayne has purchased the nightclub and we needed to execute a plan "B" that they already had prepared for us). Apparently Lil'Wayne had joined Mr. Nickolson, who also was a no show. But to balance things to the right perspective, this is Las Vegas where anything goes. Like Sally said, "Where did my money go?"
Sunday morning breakfast and scramble eggs were accompanied by photographers, their cameras fully loaded and ready for business as this was their very last buffet. Lots of happy faces and polite smiles – the bacon and eggs clearly had an impact, and Casino food is fabulous, it even comes with pre-smoked cigarettes. (Cigarette smoke is a standard atmosphere in vegas Casinos, this added bonus is not available at Tropicana as much in neighboring hotels … thank god). It was time! It's showtime! It's Shoot The Centerfold time, and time to shoot with attendees and Playmates.
Sunday evening after Workshop day…
As ballroom lights went off after our three-day Shoot The Centerfold Seminar/Workshop (Mission Accomplished!), I headed to a meeting with Arny, David, Gary Cole and Jeff Cohen for a previously planned recap meeting immediately following the seminar, and review these three wonderful days we have just experienced.
As I'm walking to the Nikki Café, where our meeting is taking place, the first thing that went through my mind – besides slots machines and endless glitz and glitter – was the absolute relief that we have come this far. This was our third SOLD OUT Shoot the Centerfold Seminar / Workshop, and the second one here in Las Vegas. I felt very relieved and satisfied we had done well based on the standing ovation at the conclusion of the seminar. Somehow inner me was saying, if the attendees only knew what this meant to me and my colleges.
The first question I asked everybody after I sat down at the Nikki Beach porch was, "So guys, what do you think? How did we do?"
Arny squeezes out an answer with whatever energy he has left and says that he has signed more autographs for his fans than the President of United States does during new budget approval ceremony. Not only were his legs numb (just like mine), but his cheeks seemed to be stuck in an endless smile from the multitude of having his picture taken with everybody. We call it the "Leica" moment.
This was truly a great experience and new friends were made. I wanted to write down these thoughts of mine without thinking too deep while they are still fresh in my mind. Be sure to look out for the official seminar report and behind the scenes images, soon to come and posted to ShootTheCenterfold.com website.
Jarmo Pohjaniemi