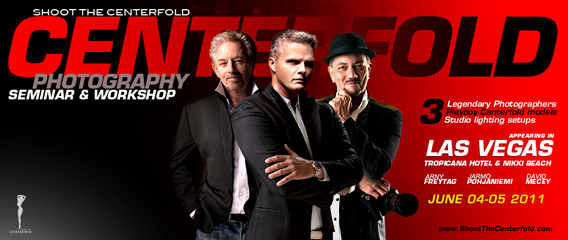 We at Shoot The Centerfold are proud to announce our Las Vegas Seminar / Workshop schedule.
Your feedback from our last program was very beneficial in deciding how to supplement our program to make it even more dynamic for our expanding audience. Here are some of the exciting new features our June 4th and 5th Seminar / Workshop has in store for you:
5 Playboy Playmate Models:
3 Playboy Playmate models for you to photograph with personal instruction and guidance from Arny, David, and Jarmo.
Playmate Tamara Sky "The Hottest DJ on the Planet" will be hosting our Red Carpet VIP event at Club Nikki.
Playmate Angela Mellini is available to discuss modeling from a Playmate's perspective and how to approach a model you would like to shoot with.
Gary Cole, Playboy Magazine's Director of Photography for over 30 years will be delivering a keynote speech about the business as well as offering you personalized evaluation of your portfolio.
Demonstration of outdoor shooting techniques with scrims, reflectors, and portable strobes poolside at Nikki Beach.
Indoor photo-set instruction by our three master photographers on shooting with anywhere from 2 to 12 lights or more!
3 Lavish sets constructed by Hollywood Set-Designers.
Beautiful, professional model to practice glamour head shots.
Professional makeup and styling.
Great prize giveaways from our sponsors.
These features are just a taste of what Shoot The Centerfold has to offer at our June 4th and 5th Seminar / Workshop at the Tropicana Hotel / Nikki Beach, Las Vegas. Check out www.ShootTheCenterfold.com for our complete program schedule with all the details that are sure to make this event the most exciting and comprehensive educational experience that has ever been offered!  Join us for this monumental event as something of this scale has never been done before, don't miss out on history in the making! See you in Vegas!
See the schedule details and register here.
Sincerely, The STC team Arny, Jarmo, and David