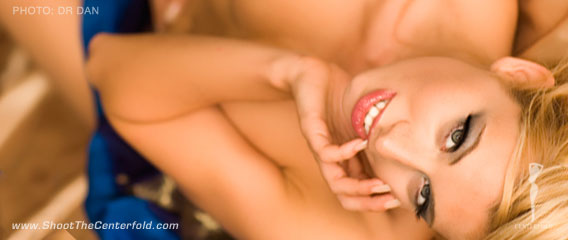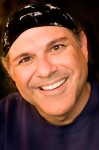 Dr Dan, you are setting new heights and milestones again by doing your second Playboy Playmate and a cover shoot for Playboy International this upcoming weekend in Miami. We wanted to pick your mind and have you break it down for us so we can see how it works. Of course, we realize that due to exclusive contractual obligations to Playboy you can't reveal specifics about the shoot, but we can at least talk shop.
STC: Give us a brief rundown… what's going to happen?
Dr Dan: First, thanks for asking me back for another interview. I always love talking photography! The shoot will be for two days in Miami Beach, we have a lovely girl to shoot and a first-rate support team lined up. My expectations are very high about this shoot and it all should be smooth sailing.
STC: This is actually your third Playboy shoot. The second one, you successfully completed and it's already out, but this one will also include a cover image for the issue. Do you find that to be more challenging?
Dr Dan: The cover shoot is intended for another month and maybe another model. Initially, it was discussed to do both. However, my editor decided to split it up. (Yay for me!)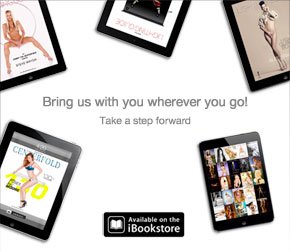 This one in Miami is to be a centerfold and pictorial for Playboy International. I can't say that it is more challenging, however. I will simply do what I have been training myself to do. For the past several years, I have approached my shooting as if I were shooting for Playboy or any other major magazine, visualizing that mindset from crew and model selection, lighting choices and wardrobe. Each time before a shoot, I would so a self-evaluation and set up goals to accomplish, as well as imagine what the editors would want. Since STC, my ability to evaluate and pre-plan has come into better focus. Jarmo has been instrumental in pushing me, from the type of shoes to evaluating the hands of the model – it's all in the details and lighting!
STC: I guess it would it be safe to say that Shoot The Centerfold photography studies have taken you further and brought you productive publishing opportunities. Please share with us a few pointers that have been key factors on your journey to being published.
Dr Dan: Never give up! Continually self-evaluating my approach to the shoot; listening to the advice that Gary Cole would give regarding my portfolio; STUDY! STUDY! STUDY!; being prepared for "the call"; and it goes without saying that STC has given me an opportunity see it further than I would have ever imagined. See Dr. Dan's STC One-on-One here.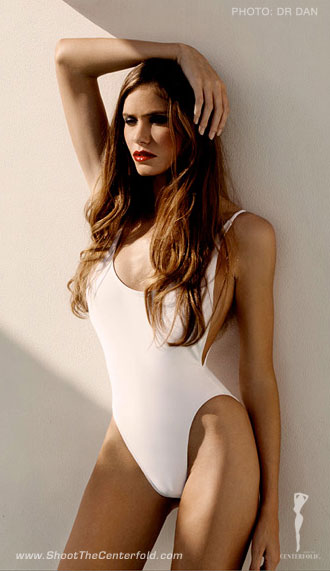 Note! We at Shoot The Centerfold not only host seminar/workshops. Our connections to the publishing industry and editors are due to our own extensive experience we gained through our own careers. One of the most challenging tasks for photographers is to be able to find contacts, reach the right connections and establish publishing outlets. This is where we come in and our goal is to gain publishing opportunities for those who want to get to the next level in their photography careers.
STC: What kind of camera, lenses and equipment are you going to be using during your upcoming Playmate shoot? How will it be different from the previous one?
Dr Dan: I still shoot with my Canon 5DMK2 and have the original 5D as my back up. I have lenses that range from the 14mm to the 16-35mm zoom, the 70-200mm, and the 300mm. I don't I prefer shooting to a field monitor used in cinematography, however I know that i will be shooting tethered to a computer for part of it.
STC: Can you tell us about the location and why it was chosen?
Dr Dan: The location was selected based on the theme of the shoot and for the month of the issue for Playboy International. Finding the right location is just as important as selecting the model for your shoot. It's all about the feel and the mood. Location and production are the essence of a successful shoot. Photographers usually don't want to spend money for a good location, but you get what you pay for.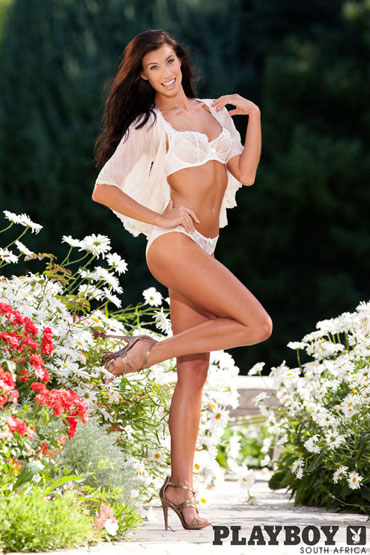 STC: Will you be doing a traditional Playmate pictorial or something with a touch of modern?
Dr Dan: No, there is nothing traditional about this one! Times have changed and the new age of publishing is here. What was cool just few years ago is yesterday's news! Editors want new, fresh blood and I'm going in for the kill! The goal is to have a modern feel, since the image changes started a few years ago at Playboy, it is important not to over-produce the look and the feel of the image. It will still be fun, playful and sexy, but the final look will have a contemporary feel.
STC: Is this because you're shooting for an international edition? How do requirements differ from the U.S. to the rest of the world when it comes to shooting Playmates?
Dr Dan: I have found that each international edition Playboy has a different "flavor" based on the cultural environment. For example, some Playboy Internationals are very conservative, so the nudes can't be too explicit and if the cover is to be considered, it has to be Facebook friendly. Nude is fine but the "nibbles and bits" have to be covered (thank you, Maria, Miss August 2013, Playboy SA, for that one! LOL). Some of the Playboy Internationals have gone to a subscription e-magazine with all the look of the magazine, but electronically delivered. This allows them to work to deadlines that are very different from traditional magazine publishing.
As far as Playboy US goes, it also has been given a facelift for the better. Times are not only different, but they have to attract a new generation as well.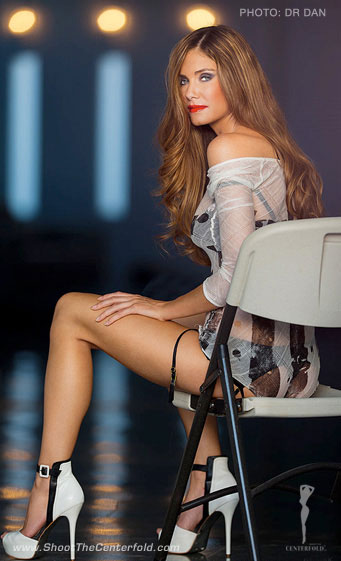 STC: Share with us some production and direction concepts – what would you like to see come from this shoot?
Dr Dan: I can't reveal whom the model is or the month she is going to be. What I can say is that this shoot has to be completed and delivered ASAP to be able to meet deadline. The direction I'm taking is youthful and playful. I am going to be mixing some fashion vibes with a good solid foundation of Playboy philosophy.
STC: Does this put more pressure on you and did you ever think that one day you would have to work under the requirements and deadlines of Playboy editors?
Dr Dan: I often fantasized that I would work with Playboy, and now that I am, it is somewhat surreal. I mean, my database and photography is what 99.9% of the "world of men" can only dream of! As far as pressure, no more than usual. I literally had 10 days to shoot and deliver the Miss August 2013 centerfold for Playboy SA, but due to all the training I have done, I was able to pull it off without a hitch, and deliver images two days prior to deadline. Of course, I can't say that it does not cross my mind, "What if something goes wrong!" but good production and teamwork is the backbone of a great shoot.
STC: Do you feel that this kind of pressure affects your photographic judgment?
Dr Dan: It does. I can get pretty intense and with each shoot I do I have to remind myself to slow down and breathe, since there are no days to pre-light, I can get in a rush and forget something. In fact, at one point during shooting Miss August, while my crew were making adjustments to the light, I literally stopped, walked into the middle of the set, closed my eyes, arms outstretched, spun around, and breathed the air. I wanted to slow myself down, take a deep breath and feel the moment… Yeah, you can say that there is peer-pressure, but having a great team behind you is a essential to alleviate a lot of it.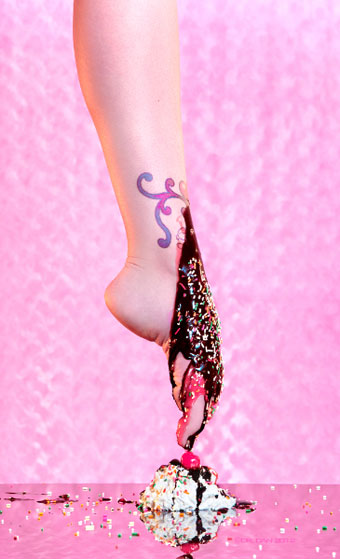 STC: During pre-production for your first Playmate shoot, you faced some challenges when it came to wardrobe. What advice can you give your fellow photographers when it comes to being prepared?
Dr Dan: Know your current trends in fashion and understand what is going to look sexy, youthful, and classy on a girl. Don't over-produce, no excuses here. Know your market; know your editors' requirements, know exactly where you want your work to be seen. It's true you're only as good as your last job, so do the job right, make the editors look good and form a good working relationship built on trust and confidence. A job done right means the possibility of more jobs in the future. Focus more on pre-production and not so much on your camera. Take good care of it, of course, but realize the camera is just a box, it does nothing for you… YOU do the work!
STC: Sometimes last-minute changes occur during a major shoot (as it did last time), as well as incidents due to the human factor. How do you prepare yourself for a plan "B"?
Dr Dan: I try to choose a location that can serve both as a great outside location and inside that can give me options. It is a challenge but necessary to do. Don't just make yourself a Plan "B", also make a Plan "C" – and maybe even a "D". You can never prepare yourself enough and editors will know who delivers quality and who does not!
STC: Your photography career really took off after your latest additions to lighting and marketing. What would you have done differently if you could rewind the clock back 12 months?
Dr Dan: Had more energy to do more marketing and have been not so hard on myself when things weren't going well. As an artist, you are constantly struggling with creating something unique and eye-catching. But again, do your homework, your struggles don't change, but they do become easier to deal with and control. We are only human and I just wish I could have seen the light – both literally and figuratively – much earlier.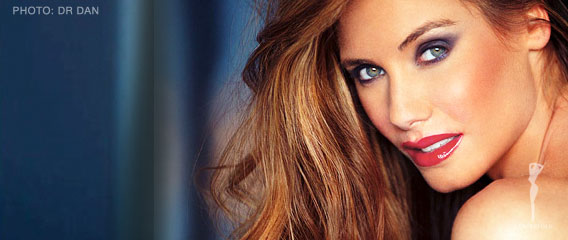 STC: Some editors are easy to deal with and some aren't. Do you find an easier or more professional approach from smaller magazine editors vs. the world's top magazine editors?
Dr Dan: Absolutely. The editors of Playboy International can be a dream to work with or a Freddy from Nightmare on Elm Street. Each editor, regardless of their professional level, requires work before you can create a solid relationship. Be professional with a laid back attitude, but very prompt! I think it really comes down to the attitude of the individual. For instance, a couple of years ago I had interaction with an editor from Sports Illustrated in New York; she was very nice, professional and supportive, whereas in the same city and different magazine, I did a layout and they were coarse, short, indifferent and communicated poorly. In either case, if I hadn't prepared and my photography skills were poor, I believe that I wouldn't be in the position that I am in, then or now.
STC: How many images are you planning to deliver with your final pictorial choice?
Dr Dan: I hope to deliver 27-30 images. They need both nude and non-nude. The clothed images will be for marketing in social media and non-subscription areas of the website. Also, a BTS video will be done, a SFW, for marketing and a long NSFW for members.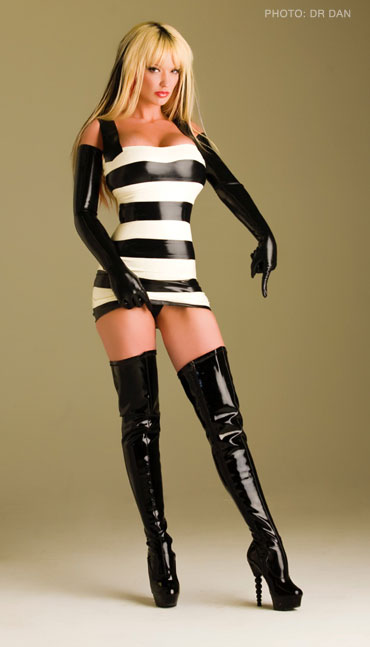 STC: Are you doing a pre-edit and will the editors choose the final images?
Dr Dan: If there is time, I will. There should be. With Miss August, there was NO time, so I made the selections and recommendations for the centerfold. In this case, there is more time to deliver the project, so I hope to have the editor's input for the final images. To have a great working relationship, as with anything in the world, you need to communicate effectively and positively with whomever is connected to your work.
STC: Your model will have enormous trust and confidence in your abilities, since you're working under the Playboy banner. Last time you worked with someone you knew, but what if you had never met your Playmate until the shoot? Most Playmates are posing nude for the first time, so what's the best way to put a model at ease?
Dr Dan: You're describing my situation now; we have only communicated via emails and phone calls. Her English isn't too developed, so there will be challenges that will present themselves during the shoot that could make communication a challenge. This is where the STC posing guides and tearsheets of other shoots will come in handy to guide the model. Also, I will have to wait to see how the model moves and lead her into the poses and attitudes that are necessary to get the best image possible. 
When a model is in front of your camera, regardless if she is nude, semi-nude or in lingerie, being prepared, friendly, presenting a professional attitude and presenting the sense that everything is under control – that this isn't my first rodeo – puts them at ease and you can get to work much more quickly, rather than having them trying to figure out if you know what you're doing. It helps having everything in place and ready to go. Again, this is the pre-production Jarmo is always emphasizing. That, and I will have some much appreciated help from STC during this shoot.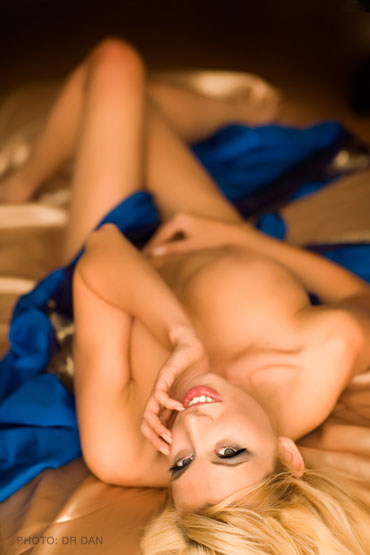 STC:  Should other photographers follow your example? If so, could you please explain why and in what way?
Dr Dan: We each have our own path to follow. All I can say is that when it comes to photography and my art I am wholly committed to it. I approach it the same way that I approached getting my DDS, staying the course regardless of setbacks, finding the best instruction, and practice, practice, practice.
STC: Which editing software do you use for your photo edits and workflow?
Dr Dan: I use Adobe Bridge, Camera RAW, and Photoshop. As this shoot is taking place in Miami, I will have access to additional equipment and software applications.
STC: Well, this shoot is going to be another star on your belt and we all know that you are going to do a good job and share the rest of the images for us to enjoy.
Dr Dan: You know I will!
This topic will continue following the magazine's release…


© 2013 Copyright ShootTheCenterfold.com. All rights reserved.