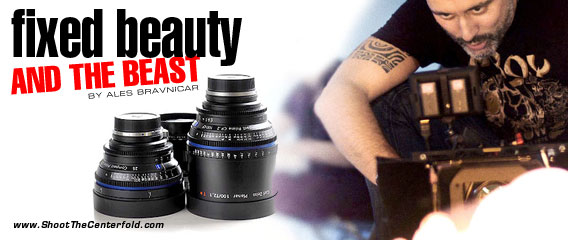 By: Ales Bravnicar
Why primes?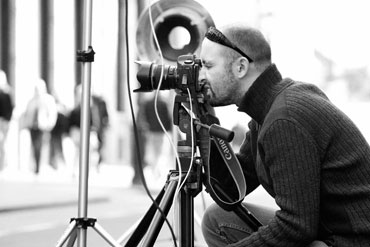 Well, they make you think. Think where the position of the camera will be, what perspective you will use and how you position the elements within the shot in relation to each other and the viewer. They help you tell stories in a way you want them to. Kinda old school, but that's what filming is all about anyway (unless you are a documentary movie-maker, reporter or a sports filmer – in that case you'd desperately need a zoom). Investing in prime lenses is also a smart move – good optics will not become obsolete.
What primes to get?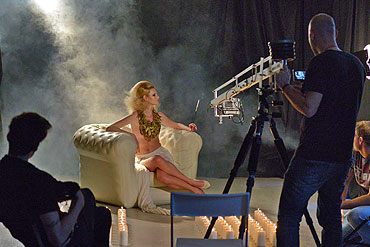 Any primes you like. A lot of movie-makers like Nikon mount lenses because they offer the f-stop ring and can be put on popular Canon bodies via adapters as well. Canon EF mount on the other hand offers the biggest 3rd party selection besides their own amazing lens line, as almost all lenses from other big manufacturers – Leica, Contax and Nikon included – fit on a Canon body via an adapter. Sony E mount, commonly found on the NEX series of their photo/video cameras, seems to be even more versatile – Leica M39 screw and M mount, old ARRI standard mount, Pentacon and even PL mount lenses can all be put to good use on the NEX via (often cheap) optics-free adapters, along with all above mentioned glass from leading DSLR manufacturers, and more.
Yes, but what brand of lenses is the best for DSLR filming?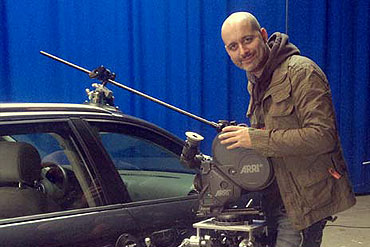 The best cinema lenses like Cookes, Optimos and Master primes are waaay too expensive for regular DSLR video work. DSLR's own autofocus lenses are an obvious (cheaper) option, but often sport not-so-precise distance markings and focusing rings without hard stops.
One of the best price-performance gems out there is the Zeiss Compact Prime CP.2 line*. These are re-housed Zeiss ZE/ZF.2 prime lenses, a sort of a hybrid between cine and photo glass. They still have the characteristics of photography lenses, but with some very well done cinema modifications, such as 14 blade iris for perfectly round bokeh, color matching, interchangeable mounts (5 of them at the moment) and built-in geared rings for focusing. They are built like a tank, but still relatively light and with full frame sensor coverage – a true rarity among today's film lenses, which are usually designed for smaller standard formats like Super 35.
Can I use cine lenses for still potography?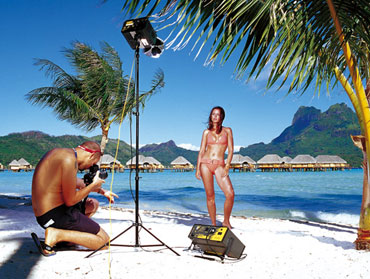 Yes, cine lenses can be used for still photography just like any other lens, but there are certain physical limitations. One of the issues with cine lenses is their ergonomics. They tend to be big, heavy and bulky compared to regular DSLR lenses and their focusing rings are designed for follow focus gear, preferably with a focus puller to do the job, not via autofocus. They also have geared f-stop rings for iris pulling and go dark when stopped down. Communication with modern DSLR's does not exist with these lenses, so EXIF remains erratic.
What do professional movie-makers suggest?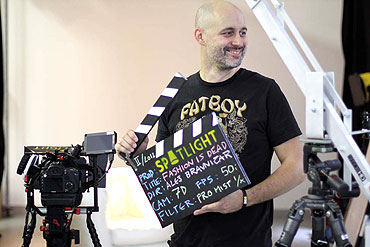 Ryan Koo wrote this on his awarded NoFilmSchool blog: »When it comes to assembling a kit of lenses, most professional filmmakers like to choose one brand and stick with it, so the visual characteristics of the lenses match up from shot-to-shot; with the same brand lenses in your kit, the lenses will also handle similarly". All professional cine lenses are color-matched to each other, have the same front thread, same body size and quite often same maximal f-stop. Whereas the uniform front thread and the equal focusing gear ring can be permanently added to a kit of any manual focus lenses through a specialized company such as Duclos (the lens becomes »cine-moded« and its f-stop ring gets »de-clicked« so it rotates uniformly without stops), the color matching process cannot be applied.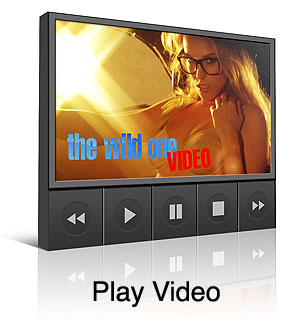 My own personal preference? A black case of 7 or 8 primes from the same make, with focal lengths ranging from 18mm to 100mm including a couple super speeds at T/1.3 or T/1.5. If I had to pick just 3 primes for video work, they would probably be 25mm, 50mm and 100mm – a perfect starter kit for any aspiring filmmaker.
* I do not work for Carl Zeiss AG. They did sent me a pack of blue stickers from Oberkochen once though – for my daughters. Being a long-time Canon Ambassador I love Canon's professional L glass and use it extensively for filming and still photography.
ALES BRAVNICAR
Ales Bravnicar is one of European most sought after fashion and commercial photographers and a Shoot The Centerfold master instructor. He specializes in creative studio and location photography for corporate, advertising, and editorial clients like Max Factor, Elle and Elle Decor, Playboy, Cosmopolitan, Maxim, Adria Airways, Lisca, Zlatarne Celje, Union & Laško Breweries, Sava-Goodyear, Hermes Softlab, Modna Jana, SKB-Societe Generale, Luna, Ytong, Trimo, Droga Kolinska, Eva, Deželna Banka Slovenije and Nancy Beachwear. He also shoots promotional campaigns for clients such as Peugeot, Opel, Fiat, Sony Ericsson, Frey Wille, SiMobil-Vodafone and Vichy.
He contributed to Werk Magazine Singapore in a 20-page editorial for Comme Des Garcons. His assignments have taken him around the world to more than 80 countries. BBC News Website published his photographs from Algeria in 2007 and National Geographic Traveller regularly showcases his work. Aleš Bravničar also gives lectures on photography. In 2008 Canon Adria entrusted him the role of a spokesperson for their state-of-the-art digital photographic equipment.
He participated in numerous group and solo exhibitions and exhibited at both Month of Design and Month of Photography. His series of photographs entitled "Androgynous" was awarded first prize at Slovenia Press Photo Awards 2010 (best story) and he recently exhibited his selected work at Mall Galleries and HoSt Gallery (Summershow08) in London, Kalman Krane in Brighton and at VII Gallery during New York Photo Festival.
He lives and works in Ljubljana, Slovenia and is represented by Galerija Fotografija.
Come and meet Ales Bravnicar at the next Shoot The Centerfold seminar / workshop in Miami Beach on Oct 13-14, 2012.