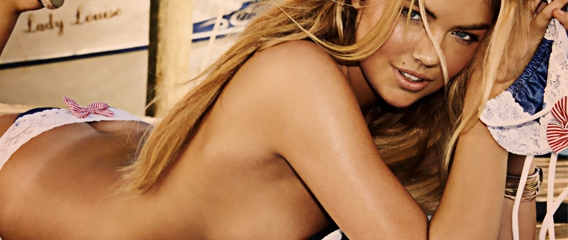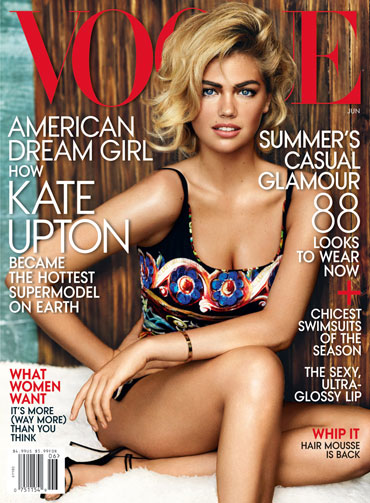 What does it take to be America's favorite bombshell? Killer curves, of course, but Kate Upton has much more: old-fashioned ambition, digital-age savvy, and personality to burn.
It's 11:00 a.m., and Kate Upton is staring down a green rubber stability ball at David Kirsch's private gym across from Madison Square Park in Manhattan. Kirsch, a celebrity trainer who looks a little bit like Mr. Clean, is putting Upton through a series of moves designed to "blast the three As," he says. "Arms, abs, and ass."
Upton is more clothed than most of us are used to seeing her: tight black Nike T-shirt; black Under Armour leggings; gray Nike sneakers with hot-pink trim; small diamond stud earrings. She takes Kirsch's orders with equanimity, her face slightly flushed, her blonde hair in a loose bun. "He only has five days," she explains—before she jets to Uruguay for her Vogueshoot. "So when he yells at me, I know it's for me. It's not for him."
Watch a behind-the-scenes video from Kate Upton's cover shoot.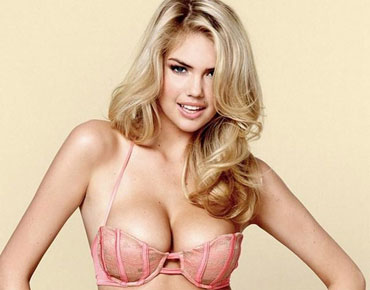 Kirsch orders her on top of the ball, and she dives into position with an "Uh!" Keeping it beneath her feet and her arms locked, she proceeds to "tuck," bending her knees toward her chin and rolling the ball forward to achieve something like an upside-down crunch. Kirsch begins to chant: "Ten! Nine! Eight! Seven!" After 20 reps, the cheerful expression has drained from Upton's face. Kirsch barks, "Hold the last one!" and Upton seems to lose her resolve. "Wait," she says. "I can't."
"Hips up higher, please!"
She steadies her plank position.
"Feel that in your belly?"
She nods, her stomach tense, a bit of sweat on her forehead, a look of determination on her face.
"Good," he says. "Now do another set."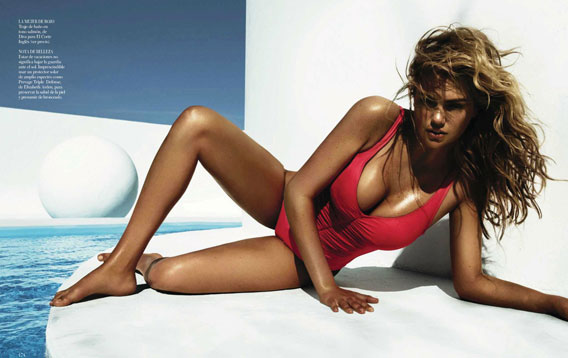 It's official: Being Kate Upton is hard work. If you've come anywhere near a newsstand in the last year—or a Super Bowl telecast or a late-night talk show—you know that the curvaceous, effervescent blonde has propelled herself from obscure Florida swimsuit model to viral video star to bona fide cultural phenomenon of the kind that brings to mind the models we've gotten to know on a first-name basis: Gisele, Kate, Naomi.
The fact that Upton has become our Girl of the Moment is all the more remarkable given that she's done it in her own digital-age way. She wasn't championed, early on, by a photographer like Steven Meisel or David Sims. Riccardo Tisci didn't put her on the runway at Givenchy à la Joan Smalls. She even bypassed the Victoria's Secret runway show—which has proved to be a launching pad for the likes of Candice Swanepoel and Miranda Kerr. Instead, Upton has accumulated Sports Illustrated covers and buzzy television ads and—above all—has made canny use of social media.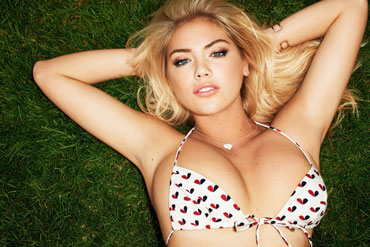 The Upton legend begins on YouTube. She broke out in 2011, dancing to Cali Swag District's "Teach Me How to Dougie" in footage shot by a friend at a Clippers game—her appeal a mix of blonde bombshell and homespun girl next door. (The video has two million views and counting.) A subsequent clip was more risqué: Upton dancing the Cat Daddy in a skimpy bikini for Terry Richardson—and yet here, too, she's goofy, disarming, improbably wholesome (that video has nearly sixteen million hits). Meanwhile she's a regular on Twitter (more than 900,000 followers), and was an early adopter of the video-sharing app Vine. "It's just me sharing my life," she says about tweeting. "I like it if it's authentic and in the moment and happening." Growing up, she adds, "I didn't buy the magazines that had models on the covers, because I didn't know them. So I think this kind of gives me, as a model, a personality that people can connect with." It seems to be working. In 2012, she was the fourth-most-popular search on Yahoo—just behind Election, iPhone5, and Kim Kardashian.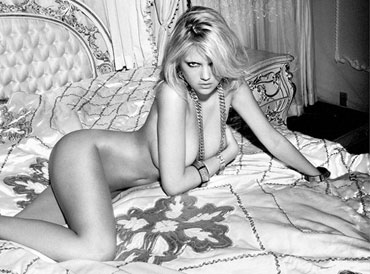 What makes the Kate Upton era so unlikely is that the things we love about her—those curves! that personality!—defy what the word model has come to mean, at least on the runway: a seemingly endless procession of lanky, expressionless wraiths. That is most certainly not Upton's profile. (Descriptions of her figure tend to involve euphemisms for a single word:breasts.) And yet Upton's body has sparked debate. This year's Sports Illustrated cover—a shot of her in Antarctica, parka open to reveal a stunning breadth of cleavage—set off a fresh round of "Is she fat?" conversations across the Internet. "It was hard at first," she admits of hearing such rumblings. "You sit there and you're like 'Is something wrong with me?' " But she's learned to ignore her critics—and come to regard her healthy body as a point of pride. "The things that they're rejecting are things that I can't change. I can't change my bra size. They're natural! I can work out and I can stay healthy and motivated, but I can't change some things. I really just live my life. I love my body. It's what God gave me! I feel confident with myself, and if that inspires other women to feel confident with their bodies, great."
It doesn't hurt, by the way, that Upton has a sense of humor about this subject. She deadpans, "It's kind of funny to think, Oh, wow, the news is talking about whether I'm fat or not."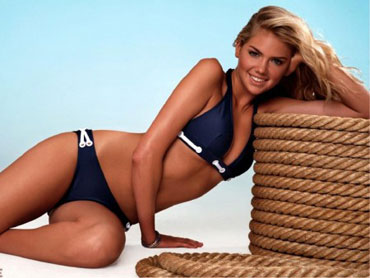 Upton has retained a cheerful ambivalence about runway modeling. "I've always loved fashion," she says, "but it's not what I set out to do." And while she may never be embraced as the darling of the fashion cognoscenti, there are designers who are taking her appeal to heart. To Michael Kors, for instance, who hosted Upton at last year's Met ball, she conjures an earlier era—when a model's healthy shape went hand in hand with her sexiness. "When I look at Kate's figure I think, This is a person who's enjoying life," Kors says. "It harks back to the seventies, when we first had models like Patti Hansen and Christie Brinkley. They were sexy, but they were also athletic. And I think that Kate is very much that. You see her, and her skin is glowing; she's got a gorgeous smile. It's optimistic. It's not about a sad girl on the corner. It's about a girl who's enjoying herself."
"Listen, she's extremely sexy," says Diane von Furstenberg, president of the Council of Fashion Designers of America. Von Furstenberg calls Upton the perfect role model, representing the idea that you should "embrace who you are"—curves included. "Two things are extremely attractive," she says. "Health is beauty, and confidence is beauty."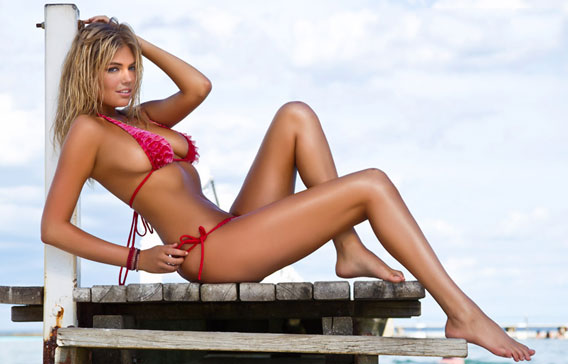 Upton first considered modeling when a scout from an agency approached her at a horse show. She was twelve at the time, living with her ultra-active parents, sisters, and brother on five acres in Melbourne, Florida—a kind of Olympic-training center (basketball hoop, trampoline, swimming pool, arena for horseback riding)—where competition was constant. Kate's older sister, Christie, and her younger brother, David, gravitated toward team sports, while Kate and her middle sister, Laura, focused on riding. (Kate won five American Paint Horse Association world championships before the age of seventeen.) On weekends, the whole family hung out at the beach.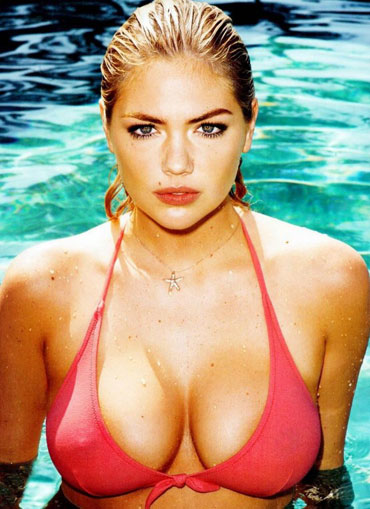 As a girl "she was stick-thin and flat for the longest time," her sister Christie recalls. "Sometimes she'd stuff her bra. We all did—with tissue paper or socks." Then, according to Upton, "it all came at once," right before she turned fifteen. In a few months that year she grew several inches—to five feet ten—and filled out. Not long after, Kate signed with a modeling agent in Miami, and immediately began getting so much work that she moved there. The city's beach culture made her feel confident about her shape. "In Miami, boobs are fantastic," she says. "I was so proud of them. I was so excited. Are you kidding? I'm in Florida, and I'm constantly in bikinis. I was like, Yes! Killing it! All the girls on the beach are gonna be so jealous!"
By eighteen she had decamped to New York, where, after a year with the modeling agency Elite, she decided she wasn't moving fast enough toward her goal: the cover of Sports Illustrated. She cold-called the front desk at IMG—and did enough persuasive talking to arrange a meeting with a scout, who introduced her to the agency's senior vice president, Ivan Bart. Upton says she was successful because she had a plan. "I always had career goals. And I figured out a path I wanted to take to accomplish those goals. If that meant calling the best modeling agency in the world, that's what it meant."
Upton won Bart over immediately. "She shook my hand. She looked me in the eye. She was like, 'I really want to be with your company.' " He adds, "I think a lot of her success is about her confidence and her ambition. Not to mention charm and wit. Kate actually wanted to be known by a large audience. She said, 'If I'm going to make it as a model, I've got to be a celebrity.' That's what makes her a twenty-first-century model."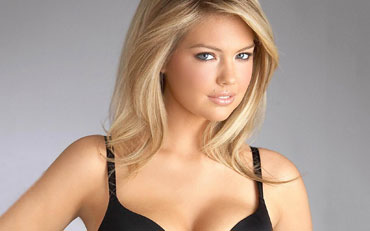 A few weeks after her workout session, I'm meeting Upton for a meal at her favorite restaurant, Nobu, in Manhattan's Tribeca neighborhood. In the dusky light of the restaurant, Upton seems much more glamorous than she did at the gym. She is dressed, once again, in all black: Her blonde hair is loose, and she's wearing Rag & Bone jeans, Sam Edelman boots, and a black Emilio Pucci top with a jagged slit across the chest. She doesn't have the alien air that many models have when you see them up close. In fact, it's hard not to be struck by the notion that Upton looks like a regular person, a version—if an exceptionally pretty one—of the type of girl you might see walking down the street. Perhaps because she has her back to the crowd, she doesn't turn any heads. Without looking at the menu, she asks the waiter: "Can we order the new-style salmon and three black-cod lettuce wraps?"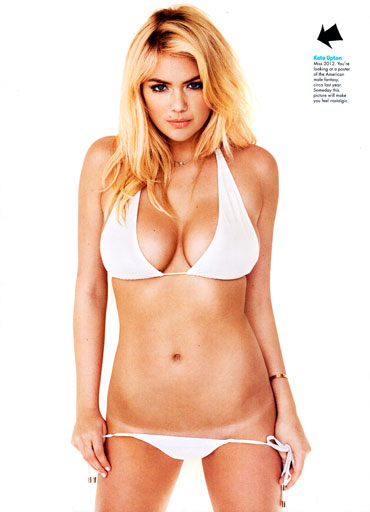 When it comes to meals, "I'm not, like, a robot," Upton says. "I have different rules at different times." Following Kirsch's advice to eat "anything that flies or swims," she sticks to chicken or fish, plus veggies. Which means that famous commercial of her sensually devouring a Carl's Jr. cheeseburger? "No," she says, shaking her head. "I can't do that."
The gossip pages regularly buzz with rumors about Upton's love life, but she tells me she's single: "My work seems to be my priority at this point in my life." She just moved out of her apartment in the Flatiron district ("my lease was up"), and is currently a nomad in New York, staying at a hotel, with most of her stuff in storage.
So, where does Kate Upton go from here? "I never set out to be on the runway," she says, but she would like to secure another major fashion campaign (having recently landed one with David Yurman) as well as a cosmetics contract. "I feel like I trust my career path," she says, which has already made her a face for clients like Guess, Skullcandy, and Mercedes-Benz. And then there are the sideline attractions: "I would love to have my own lingerie line," she says. Building on her fledgling movie career (she's had small parts in The Three Stooges and Tower Heist), she is set to join a Nick Cassavetes comedy, The Other Woman, alongside Cameron Diaz and Leslie Mann. "Acting I'm very interested in," she acknowledges and laughs. "I'm American—more is more!"