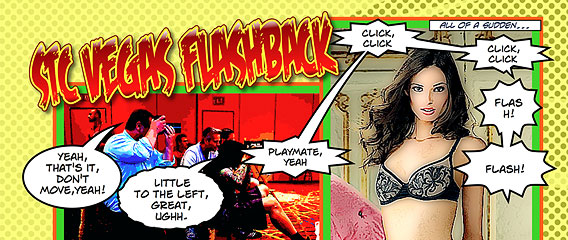 There is a lot of hoopla going on when Shoot The Centerfold is having a seminar, not that dissimilar to when the Hubble Telescope's great portraits of the cosmos are revealed, or your photograph becomes a cover of Time magazine and gets worldwide attention. Nothing gets the photographer's juices flowing like a first glimpse of a new camera, a successful pictorial, or an incredible workshop experience.
Still, if you missed the news that the Shoot The Centerfold photography Seminar / Workshop entered orbit around Las Vegas, Nevada, on June 4th & 5th, 2011, you can be forgiven. You don't even have to apologize if you've never heard of us; most folks haven't … yet.
For starters, we would like to introduce ourselves to those curious out there, as an elite group of photographers who have served some of the most challenging tasks in the world of photography. The fact is, Shoot The Centerfold is the only Seminar / Workshop in the world that offers the caliber of services we provide to the general public – and with some of the best kept secrets in photography being beamed into the solar system as all the world is watching.
We have prepared quite a nice storyboard that tells our tale, and will hopefully help keep everybody in good spirits until our next seminar / workshop becomes available. Clearly our stories are true facts, or at least, based on true events.
Enjoy,
Arny, David & Jarmo

See what the hottest Seminar / Workshop ticket is all about Click Here.