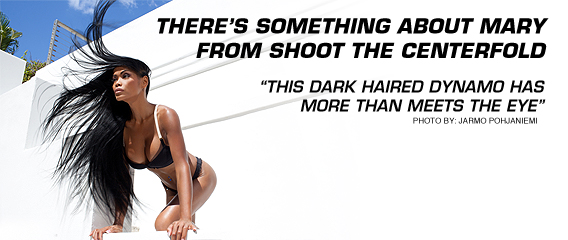 There's Something About Mary Alejo from Shoot the Centerfold
Mary Alejo (OMP Model #244761) is not only an amazing model but an inspirational role model as well. This dark-haired dynamo will be appearing along with Playboy photographers both past and present — Arny Freytag, David Mecey, and Jarmo Pohjaniemi (OMP Member #68348) – at the "Shoot the Centerfold" weekend in Las Vegas on June 4-5. Together they will offer a weekend's worth of insight, instruction and inspiration to the photographers and models in attendance.
Mary brings both brains and beauty to the "Shoot the Centerfold" team. In addition to being the event's executive producer, she works on the promotional team, oversees the styling of the models, and acts as a liaison between the photographers and the attendees. Mary even stars in her own featured video – to see her in action, check out the official website at http://www.ShootTheCenterfold.com.
Getting her start in modeling five years ago, Mary admits that the experience has been a great ride. "I was frequently approached by a lot of photographers telling me that I should model. However, growing up as a tomboy, I always thought that I was an ugly duckling. Once I was able to look at the pictures of myself, I realized that there was so much more to who I am! Since I started modeling, the past five years have flown by so fast and I have great photos to show for it.I love every moment of modeling, and hope it never ends."
The Florida resident describes herself as a perfectionist who does not take no for an answer. "I'm also very picky when it goes to things like posing, wardrobe, makeup, and photographers. I think that being a good model takes more than just looking great. It also takes an understanding of what makes the modeling industry tick. There is so much that a lot of models don't understand or don't want to understand. I have learned so much in past few years that I could write a book about it — maybe I will!"
Her experiences working with Playboy have been successful and satisfying. "There are two sides to this coin. I have been a model for Playboy in front of the camera, as well as a crew member behind the camera. This has been a great eye-opener for me, a schooling like no other. I'm currently a contributing Playboy Producer in Jarmo Pohjaniemi's Playboy team. I am in charge of wardrobe, makeup and hair — not to mention sorting through the countless submissions we get from models. Plus, I still hop in front of the camera from time to time as well."
Mary is very excited about her involvement with the "Shoot The Centerfold" seminars. "The workshops give everyone a chance to learn about glamour-style lighting, model posing, and more. They are taught by photography masters Jarmo Pohjaniemi, Arny Freytag, and David Mecey, along with Ric Moore and Byron Newman. My duties there are very similar to what I do for Playboy, and I have also done some modeling for promotional pictorials as well."
Celebrating her birthday will be only one of the memorable moments Mary is looking forward to during the weekend in Las Vegas. "I think it's going to be lots of fun! Hey, it's Vegas… have you ever heard anybody saying that they did not have fun in Vegas? If so, go rent 'The Hangover' movie!  I think that it's going to be a really good experience for everyone attending as it is also the official launch of 'Shoot The Centerfold Inc.' I hear that it's going to be an unforgettable combination of sensational seminars, red-carpet events, and plenty of Playmates!"
Mary is also looking forward to learning new things while at the workshop. "The best thing about the 'Shoot the Centerfold' experience is that you can come away with something new every time. It's a good way to grow and learn from industry pros who have been there, done it, and lived the real thing."
She feels that photographers can benefit by attending the "Shoot the Centerfold" weekend. "Photographers can learn a lot because there is more to photography than just taking a camera and aiming it towards a model. I've learned so much in the last four years by being a member of the 'Shoot The Centerfold.' and the Playboy family."
Models can gain a lot of attending as well, according to Mary. "As a model I used to shoot with lots of photographers… only to realize that I was only a bikini queen through many of those lenses. This clearly did not satisfy me, so I wanted to aim higher. I started to reach for photographers who had more of an understanding as far as photography and lighting goes. Fine art became one of my main target areas as far as photography goes. I'm a bit cheated on height so I don't do so well in fashion, but working with experienced photographers, I've found ways to get around that 'little' issue as well. Models who come to 'Shoot the Centerfold' will be able to see themselves in a whole new light as well."
Photographers of all experience levels can benefit from the 'Shoot the Centerfold' experience. "Just because Arny, Jarmo and David have worked for Playboy all these years, doesn't mean that's all they can do…. they have also photographed for leading fashion magazines. They will be teaching photography techniques from A to Z, regardless of whether you are a beginner or pro."
Mary points out that working with working professionals can help everybody step up their game. "If I was a photographer, would I want to learn from these three lighting masters? Yes I would. It's a bit like being able to learn basketball from Michael Jordan. Not only are they teaching photography, they are also covering the business side of how to be successful in this industry. Knowledge is everything and wisdom prevails."
She offers some insightful advice for models who aspire to work with the "Shoot the Centerfold" photographers. "Study European fashion magazines like Vogue, Elle, or Número to see their style of posing and facial expression. I'm bringing this point up because models don't seem to realize the readiness that it takes to be a model unless somebody advises them. I was there myself, so trust me, I know how it feels. It really comes down to listening and following direction, regardless of whether it's glamour, fashion, or fine art."
Professional makeup, hair and styling experts are also an integral component of the "Shoot the Centerfold" experience. "I believe that every model is different — so much depends on their facial features, hair color and type. A lot also depends on the lighting situation. We are going to offer two different types of makeup and hair-styles for each model. One that we will use in our Playmate sets, and another one that works well in fashion sets."
Mary also has three helpful tips for photographers who want to get the most out of the "Shoot the Centerfold" event. "Bring something to write with so you can take notes on the various techniques, lighting positions and camera settings. Also, be aware that everyone will get individual time to work with each models, so there's no need to shoot over your fellow photographers' shoulders during the one-on-one session time. And most importantly, if you are planning on joining us in Vegas, register now so you will not get left behind, because this event will sell out!"
In her role as executive producer, Mary is always willing to help attendees prepare for the "Shoot the Centerfold" event. "I would recommend that everybody be well rested before they arrive. It will help you focus on the many topics discussed and demonstrated… you want to be sharp and alert. This is not one of those 'shoot-a-thon' sessions where everybody just takes their model and shoots. I've done my fair share of those during my modeling career and trust me, 'Shoot The Centerfold' is much more intensive and detail-oriented."
Mary also suggests that models and photographers of all backgrounds sign up for a portfolio account on OneModelPlace.com. "A photographer told me to check it out and I liked what I saw: a very cool modeling community where everything just comes together and works. OMP has helped all types of models book photo shoots and paid assignments. It's also a great way for models to get familiar with a photographer's style — models can see the type of work the photographer does so they can decide whether or not it's for them. For photographers, OMP lets them view a model's portfolio beforehand so they can choose the exact look they need. And being able to sort through talent by location helps keep expenses down while trying to find the perfect model."
"Shoot the Centerfold" is one of the first major events scheduled at the new Nikki Beach Club at the Tropicana Hotel. In addition to the seminars and shoots, the weekend will include a red-carpet arrival, opening night VIP reception, and a pool party for the attending models and photographers.
Mary invites you to come and see her in Vegas – "I may even strike a pose for you!" She will be joining Playmates Kassie Lyn Logsdon, Ashley Hobbs, Shanna Marie McLaughlin and DJ Tamara Sky at "Shoot the Centerfold" in Las Vegas, NV on June 4-5. For all the details and to register for this once-in-a-lifetime opportunity, Register here.