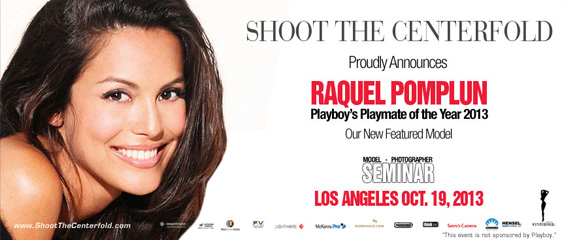 Shoot The Centerfold L.A. Model / Photographer Seminar
Oct 19, 2013
PHOTOGRAPHERS
Never has a deal this sweet been offered before! Charge your camera batteries and join the Shoot The Centerfold seminar on Saturday, Oct. 19th in Los Angeles. The best part, You Get to Photograph RAQUEL POMPLUN, Playboy's Playmate of the Year 2013. Gain wisdom in the business and take home images to impress! And all this for an incredible price of $199.95.
(Your shooting time is approx. 2 hours!)
This is a one-day master class photography seminar for beginner, intermediate or advanced photographers seeking to advance their skills to the next level. Enjoy demonstrations of some of the most valuable shooting methods used by Shoot The Centerfold to capture the amazing images seen in top international magazines. Attendees will get a first-hand look at the actual set-ups and professional lighting techniques used on a daily basis by STC master photographers.
Steven Wayda and Jarmo Pohjaniemi will be instructing the photography portion of the seminar, while Gary Cole, Playboy's longtime Director of Photography, will explain vital business practices and photography ethics, including licensing, copyright, usage rights, negotiating, contracts, marketing and the do's and don'ts of photography.
Don't miss out on an amazing opportunity to discover and learn how the STC master photographers create the light and magic that has shaped an entire industry.



© 2013 Copyright ShootTheCenterfold.com. All rights reserved