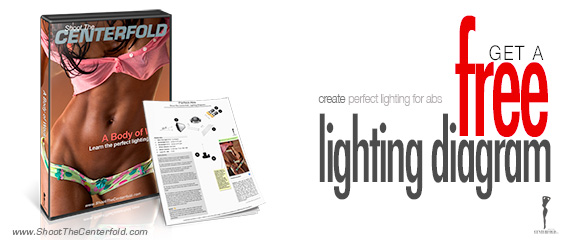 What's the perfect lighting for abs?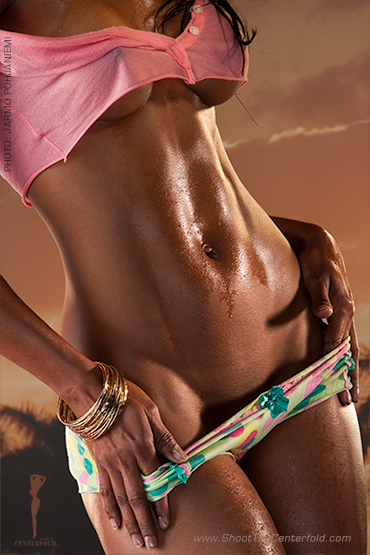 Although photographers usually work with glamour-based models, there's also an aspect of glamour in the world of fitness and bodybuilding. There are many publications and promotions devoted to fitness – we've all seen the muscle magazines out there – but there are also what I like to call "mainstream" fitness magazines that address physical fitness, such as Men's Health, Shape, Self, and many other magazines which target runners, bicyclists, and other fitness-based activities and interests. What does this have to do with glamour photography? I'm glad you asked. Just as our beautiful glamour models want to look their best, so do people who have devoted much of their time and built careers around staying fit. They take pride in showing off all their hard work, especially their abs. While building strong arms and legs are important, strong, defined abdominal muscles tie it all together.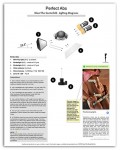 Download a free Shoot The Centerfold lighting diagram and instructions on how to shoot perfect abs.
There is a strong need for photographers in this field of photography, mostly due to the fact that while many fitness photographers are gifted in their craft, many rely on the technical aspects of photography rather than on the aesthetics commonly found in glamour work. This is why they either get a fine art look to their images, or a generic, studio feel to their photos. While the images are professional in nature, their overall appeal is often less than stellar.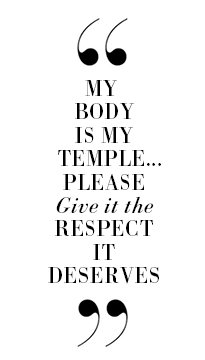 Here at the Shoot The Centerfold office, we receive many submissions each day from models seeking to further their work and receive more assignments. One common detracting factor most of their images have is glaringly obvious and one for which the model is not at fault. What is it? Simple; too many photographers don't pay enough attention to a model's abs and defined body parts.
A model has to put in many hours at the gym to achieve the best possible figure. They also have to control what they eat and what they do. The better they look, the more work they'll get. I am not telling you anything you didn't already know, but perhaps as photographers, we need to keep this in mind when we shoot and in the forefront of the processing and editing phase of our work.
The submissions we receive usually do not show muscle tone or adequate skin detail revealed in the contours of the skin. This is due to photographers who flatten the image and sculpted body areas with lighting that washes out skintone and blows highlight details, losing the basic assets of the human form in all of its wonderful detail.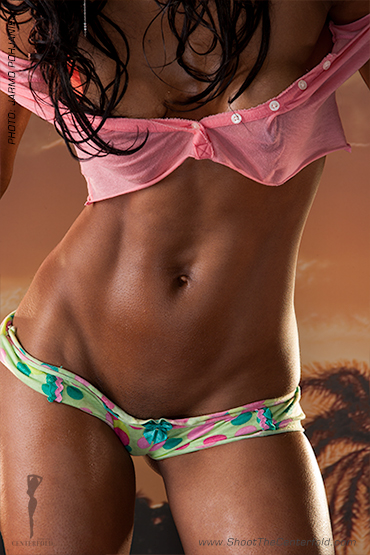 Further image damage is sometimes done by Photoshop actions and processes that soften and blur surface detail into a smooth, undefined area that gives the skin a soft, glowing, yet unrealistic look. This sometimes is done to cover up a multitude of photographic sins when working with a model that has less-than-perfect skintone; an inexperienced photographer is behind the camera, poor lighting, adverse shooting conditions, or perhaps all the above.
Make no mistake, photographing the human form isn't as easy as it seems. Attention to detail is necessary and this includes paying special attention areas of the body most photographers overlook. The vision is selective in what it perceives and often our attention is drawn to other parts of the human form more pleasing to the eye.
This is the primary reason proper lighting is so important. Just because a photographer has a myriad of lights doesn't mean he has to use them all, nor are they to use them as if they were a sort of magic wand that makes photo mistakes vanish with a wave of a strobe. Let us remain mindful that what we do is an art form unto itself, which demands not only discipline, but also creativity and clarity of vision when applying lights and light modifiers.
Want to know more about lighting and how masters light their models? Explore new and exciting ways of how to give that final touch to your pictures that will give them that pop and brilliance they deserve.