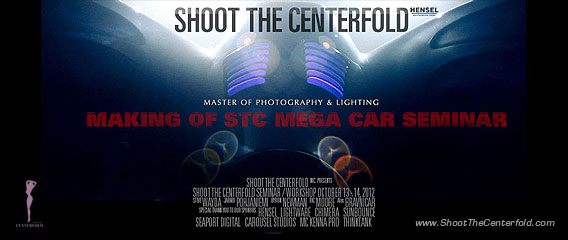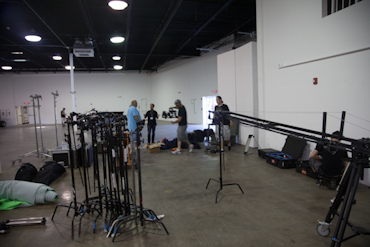 In today's publishing industry, behind-the-scenes images and videos have become just as important as the actual pictorials. Here are some thoughts and BTS images from the making of the Shoot The Centerfold Oct. 13-14, 2012 seminar / workshop promo video.
To put things into perspective, let's start by explaining why did we decided to shoot the Batmobile in the first place. When we first came up with a plan to host our next seminar at the car museum in Miami, it was only natural to use one of the cars from the collection for the promo video. Perhaps the inner child in me saw the Batmobile as a great choice for the video… and if nothing else, it made up for the lost Disney trips during my childhood I never had while living in Finland. After all, the Batmobile is a great, unique car that almost all of us immediately recognize.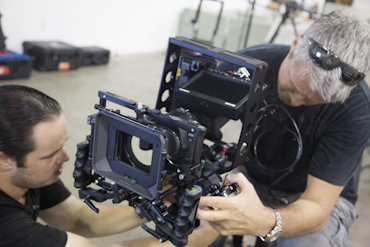 After being at the car museum and working to get the seminar up on its feet, it made me wonder what happened to American car manufacturers who produced some of the most beautifully designed and stunning vehicles between '40s, '50s and '60s. With so much symmetry, grace and aesthetics in their design, it can only compare to the beauty of the female form.
"Having a seminar at the car museum was natural choice," says Playboy's longtime director of photography Gary Cole after a brief visit to the facility. He said there was more beauty under one roof than he had ever seen. If you like cars and beautiful girls, then this was certainly a no-brainer and we were hitting on all cylinders.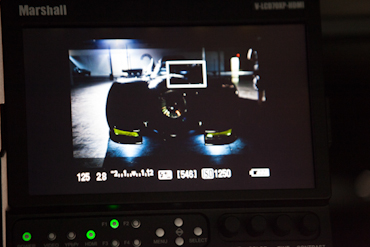 Michael Dezer, who is the owner of this privately owned car museum; the Dezer Collection, buys cars by the dozen (and more) while people in the real world like us must be content with making year's worth of car payments on just a single set of wheels.
After seeing this car in a Batman movie driven by Michael Keaton, expectations were quite high until I saw it in person. No screaming jet engine with 2000 PSI horsepower, but still cool and got my testosterone running wild and found myself acting like a kid who had just discovered his dream car. (Well, until the engine overheated and did not want to start again.)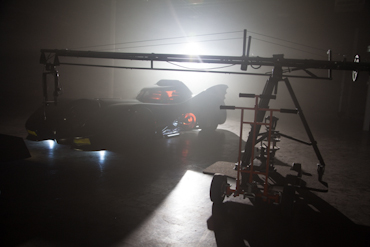 It was quite a sight seeing us driving the Batmobile on city streets. All of the sudden, we had over a 100 people and assorted tailgaters surrounding us… you would've thought a UFO had landed! A few star-struck bystanders thought they were going to see someone famous come out of the car, but unfortunately for them, it was only just my assistant that opened the hatch and stepped out. It was quite a surreal experience and the behavior from these people was something that I did not expect to see.
When we arrived at the location, we were prepared to shoot a large-scale production. We were ready to light up a whole airport if we had to, so we used 1k and 2k HMI movie lights and different color LED lights that we placed in the engine compartment, air intakes and turbine exhaust to add a realistic colorization that mixed well with the fog used in movie sets. It gave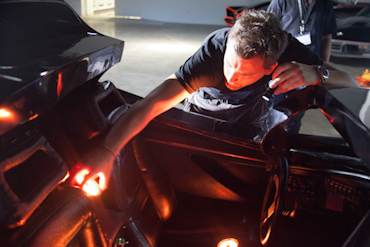 us a more believable end-result. A fog machine, dolly, jib and tons of equipment were also playing a major role. This was a special shoot and with an opportunity like this, you want to make sure that you arrive prepared. ur camera rig setup was ready to support any camera, small or large. Our camera choice was a Canon MK III that performed perfectly in low-light situations. The whole mood was to be mysterious, ethereal and Gotham-like. It was also a great experiment for us to see how the new MK III performed versus its earlier brother, the MK II. We used a Zeiss 50mm cp.2 cine-lens, a Canon 20mm, 35mm, 85mm, and 300mm that performed perfectly, despite them not being actual cinema lenses. Still camera lenses are good for moving-picture filming because they are affordable, but with some limitations that you don't have in cinema lenses (which also are much more expensive.)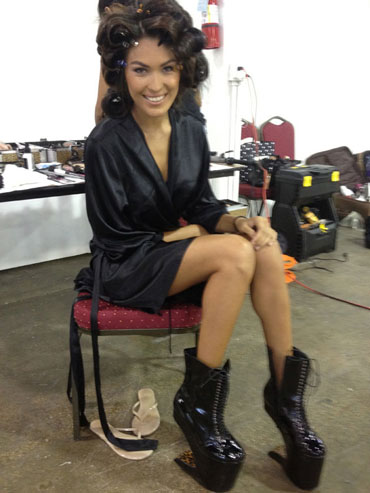 Our model came from NEXT Modeling Agency (Miami) and we wanted to have somebody with a sinful and sultry look. Vanessa Jorge was a perfect match with her dominant appearance that can make anybody's knees buckle, even a veteran Playboy photographer. Her love for the car was instantaneous and we can only assume the car overheated due to the mere proximity of this prime example of feminine pulchritude.
As we knowingly cruised down on the street without a license plate, at least five police cars flew by without even stopping or batting an eye until an officer with a motorbike and a keen eye decided to take a closer look. We think it was more the curiosity (the "man and his machine and size factor") that caught his attention. What first started as a Napoleonic complex quickly turned into a friendly North Miami police officer offering to give our model a ride on his motorbike (which did not make the slightest impression on our model), but their friendship was sealed and love for the car was mutually announced… of course.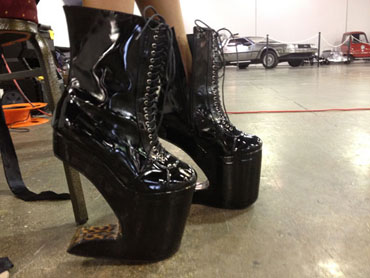 The Dezer Collection has so many different vehicles that one can easily spend a month just filming them without tiring. It took two days to get enough footage to put something together. Final Cut Pro was used to edit the footage and Adobe After Effects was used to create the special effects. The 3D "Centerfold" lettering was created in Lightwave, a software program often used in major Hollywood movies. Although we did not see Hollywood and actually just drove around the parking lot and few public streets instead, this proves the results may be achieved without all the Hollywood glitz and glitter, using only imagination and creativity to accomplish the project.
Enjoy…
Jarmo Pohjaniemi