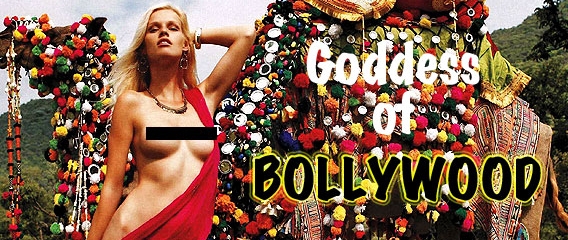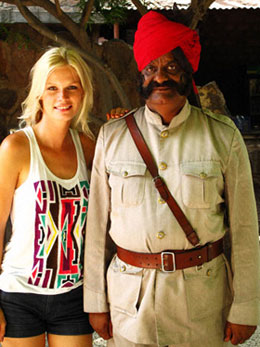 Driven by an unstoppable hunger for great pictures and epic locations, photographer Ales Bravnicar and his team recently set their course for India to shoot another beautiful top model for the pages of Playboy Magazine.
You may not know it, but Ales Bravnicar is not only the master of light and shadow, he is also a master in researching and selecting amazing locations and integrating them into his glamour work. He handpicks every GPS coordinate as meticulously as he does his subjects. For many years now, he has been photographing scantily clad top models in all four corners of the world. When asked if this is his version of a true dream job, he laughingly replied, "If you do what you love you'll never work a day in your life. I do not take it as a job, it is just fun."
The Indian photoshoot happened away from the public eye in the shelter of private locations assisted by just a handful of locals. There, Ales was able to focus on the shooting without the curious crowds India is so famous for and the model was able to concentrate on posing. Her years of experience in the fashion industry helped enormously.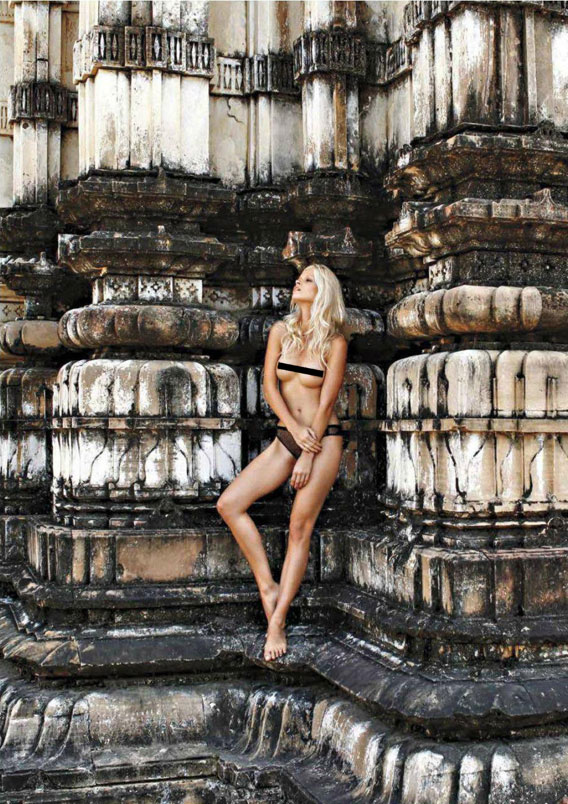 The 26-year old model Ales photographed is no stranger to fame – she splits her time between partying in the clubs of Milan, Munich and Miami with Felipe Massa, Erick Morillo or Mel Gibson and shooting international campaigns from Barcelona to Boston for clients like Lexus, Guess and Gillette – the latter with "Oblivion" superstar Olga Kurylenko. Being a part of the elite model team, she knows very well how to put the "show" in showbusiness.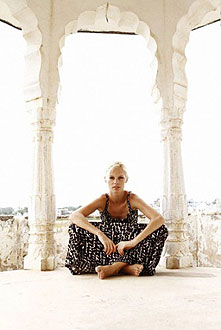 Ales used to travel with portable strobes, but stopped bringing them on assignments after the Pelican case they were in never got opened for three consecutive trips. "Why not use natural light, the one gift we have available for free? I absolutely adore the play of shadows and highlights created by available light.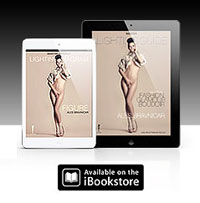 It is amazing but only if you can control it!" says Ales. "The key thing I have to concentrate on to get the most out of the situation is no longer how to position the strobes, but how to position the model. After the model strikes the perfect pose we add the missing light with reflectors." He carries at least two zebra/white California Sunbounce reflectors and swears by them. "Unlike circular reflectors that shimmer even in mild wind, these never bend and are ultra light. Just perfect for any situation." The reflectors are used for much more than just bouncing light. Ales has an assistant cover him and the model with one when reviewing the pictures. It also gets spread on the floor to protect the equipment from sand and moisture. "There are at least a hundred uses for a fabric reflector. That's why you always need to bring more than one," says Ales. "However, avoid the cheap ones. Remember, in our industry, lighting is everything."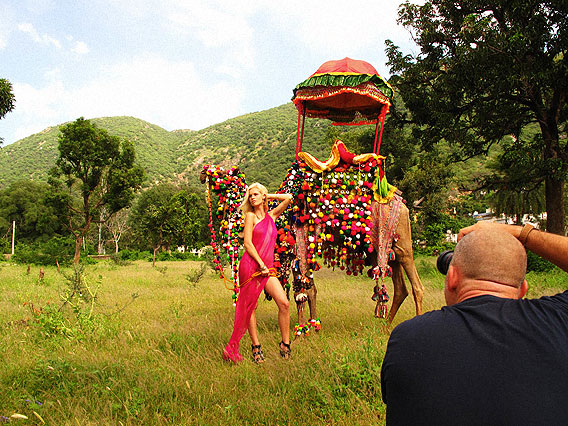 All work and no play makes Jack a dull boy. After the shoot, the team sets off to visit some of the local sights and attractions, most notably the palace where Christopher Nolan shot scenes for his latest Batman movie. Aleš celebrated his birthday on the way back to the base camp and it was on this four-hour drive down slow and treacherous Indian roads that their car got hit by a raging bull. "India's most sacred of all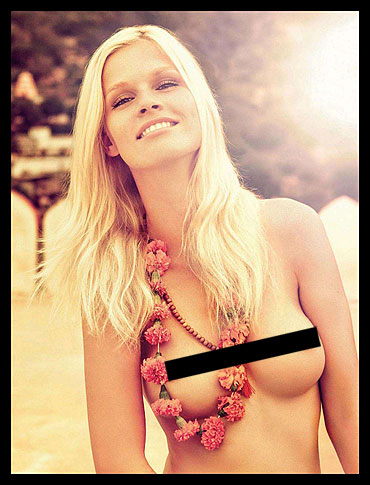 animals must have hated the loud Bangla music from the car's screeching speakers," jokes Ales. "We were in the middle of the party and our driver was doing the Flash Gordon speed of at least 10 m.p.h. when something with horns hit our car from the side. Nobody was hurt and the bull proudly walked away really slowly, head raised and all. We laughed for hours." In India it is a crime to hit a cow with the car… but what if the cow hits you?
As you read this, Ales's Indian pictorial is being published in seven international editions of Playboy – from Poland to Mexico – with more to follow in the near future. Aleš, who as a true Canon Ambassador used two EOS bodies for the job, plus one compact PowerShot G for BTS footage, will share his experience on traveling light and getting high-quality results at one of the upcoming Shoot The Centerfold seminars. Meanwhile, you can check out his very own posing guide and lighting diagrams here. Watch this space!
ShootTheCenterfold.com