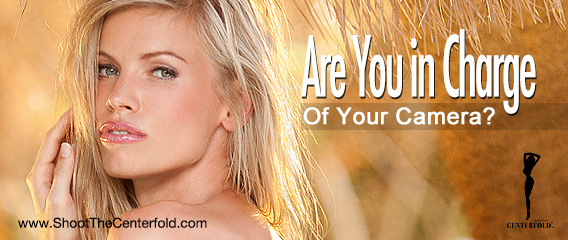 You might consider yourself a professional photographer that knows the proper aperture and shutter speed setting for every shot and every possible scenario. However, this type of knowledge and insight is an impossible aspiration! If your specialty includes strobe lighting, it's impossible to determine lighting values without using a light meter. Today, DSLR cameras let us take images much easier and more affordably than in the days of film. If you don't like an image that you took, you have several options: erase, take a new shot to replace the old one, change settings, or easily edit the photo in the post-process without any loss of quality especially if you take your photos in a RAW format as most professionals do.
Cons of shooting JPG: This may work for an individual and his personal projects but if you have a commercial client or a publication who demands your images in RAW after your shoot, you are out of luck.

There's a big difference between a working professional photographer and a self-proclaimed professional who shoots and operates mostly alone and releases images portraying unnatural lighting conditions. When you enter a real professional studio environment where light- meters, f-stops and ISOs are the ABC's of photography within 1-10th of a stop differentiation (and not to mention color metering that gives your client's product a realistic appearance), then you know the true value of a light meter and how light affects your photo set and, ultimately, your career.
I don't get the luxury of keeping the RAW files for most of my high-end jobs. The client takes them and they deal with the color corrections and want to reserve the rights for editing. The same goes for US Playboy. So shoot RAW and shoot spot on!
Most camera brands have similar inside Light Metering system. For example the Canon 5D Mk II and MK III have 4 modes: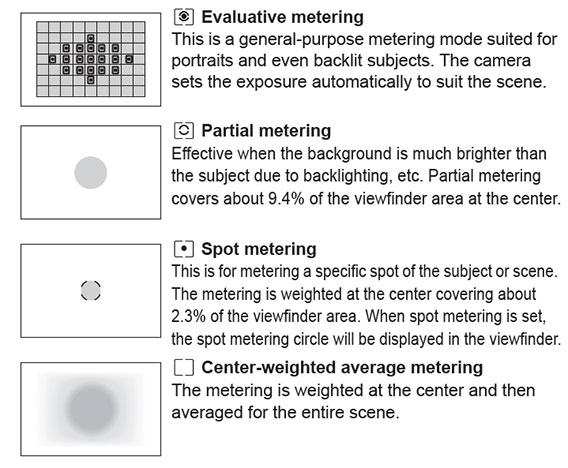 Do you need a Light Meter?
Simply put, if you have managed without in the past, you could carry on without it. This is a simple and true fact. But having one has its benefits. You can't go wrong by owning one as you could always use your camera's internal metering.
You should find what best suits you when shooting in natural light. If you are shooting a setup where light is constant and there are no shiny objects, you should go right away with a light meter.
Light meters are what help me get find perfect exposures in less time than trial and error techniques and they will aid you in learning the light setup and camera settings.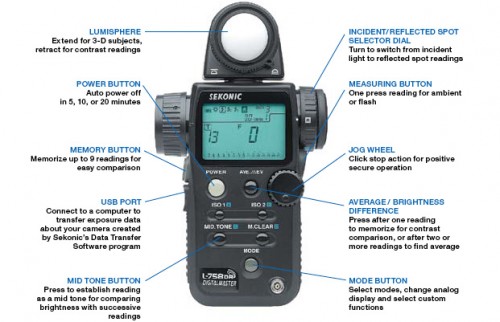 Sekonic Light Meter
When and why to use a Light Meter
I will not delve into the exact details of how light meters work but a simple explanation would be that your DSLR camera measures light from reflections of your scenery while light meter measures incident, direct light from the direction where you point it.
There are different versions of light meters with many functions and capabilities. Most stand-alone light meters measure strobe flashes and constant light. Some feature options to calculate averages from multiple measurements, to save measurements, etc.
In situations where you have extremes, or above or under average brightness your camera will try to compensate for it, leaving us with sometimes over- or under-exposed images. Editors will notice this inconsistency and measure your photography and lighting skills based on your images. The camera doesn't know what you want, just like a piano is a wooden box with bunch of keys sticking out of its side. It still needs to have someone who knows how to play it. Do you know how to play your camera or is your camera playing you?
If you only shoot in natural light and still insist on not using a light meter, check out LUMU, a cool metering device that plugs right into your iPhone or Android to get you started.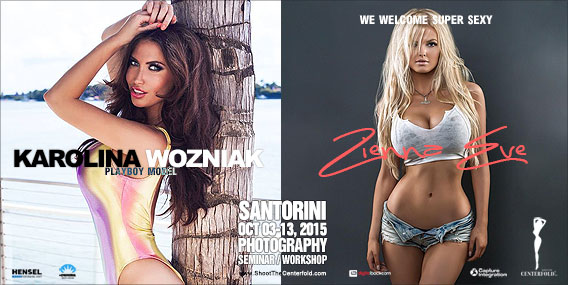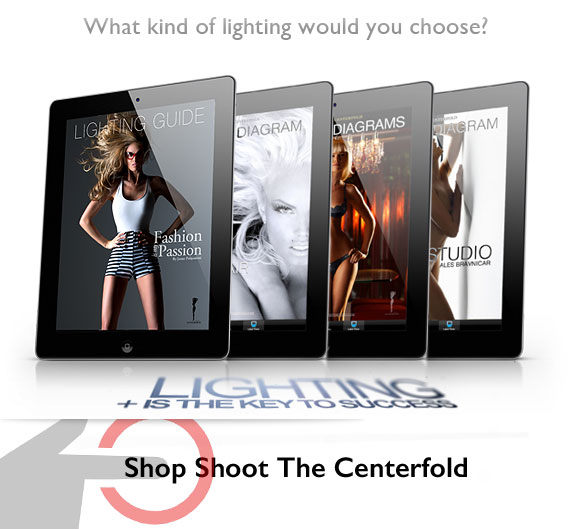 © 2015 Copyright ShootTheCenterfold.com. All rights reserved.