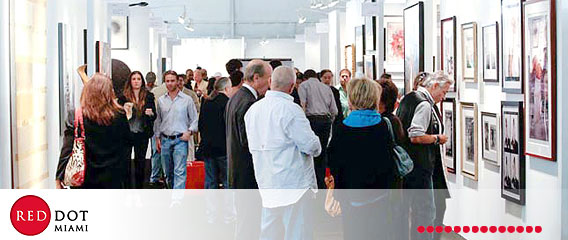 Art Basel was a whirlwind in Miami Beach this past weekend, a whirlwind with lots of money swirling around in it. Promoters and gallery owners said more money was spent this year than in any year since before the economic downturn in 2008.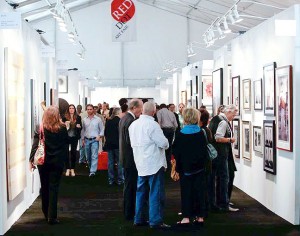 That appetite for high-priced art also crossed Biscayne Bay to large shows on the Miami side of the water, especially to Art Miami, Red Dot, SCOPE, Pulse and Aqua were the big tent art shows in the Midtown Miami district that held galleries exhibiting hundreds of artists from about 70 countries. According to the director of that fair, Palm Beach County art world veteran Nick Korniloff, Palm Beach County collectors were among those in the mix.
"This year we've seen bigger collectors at the fair than we did last year," said Korniloff. "We're getting more museum groups and more important curators. And we'll get over 50,000 people in here before it's over. Let's say about 5 percent of those are true collectors, but the others, the masses, get to see and love the art."
Shoot The Centerfold photographer Jarmo Pohjaniemi was among the featured artists at Red Dot – Art basel. Jarmo has exhibited his photography successfully in fine-art world for past 4 years. Jarmo's direction and vision expands from his Playboy work when it comes to fine-art galleries.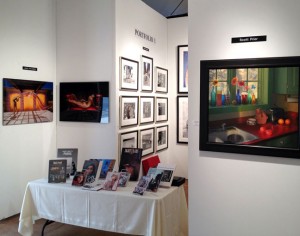 Jarmo's comment: This is a huge privilege for me to be to participate and show some of my work among these famous and established artist like Elliott Erwitt, Douglas Kirkland Steve McCurry, Mark Chagall, Demarchelier Helmut Newton and numerous other top names. I hope to set an example to many photographers, Shoot the Centerfold attendees and other who want to get into photography business, that the sky is the limit and live your dreams to the fullest.
There is quite nothing more regarding and validating than be able to be part of a successful fine-art or photography world, and been excepted as an artist. I met so many art dealers, galleries, buyers and talented photographers during past 5 days, and this just has just been amaizing experience for me. Every art fair I participate, I learn and refresh my goals that I want to reach in my photography. Also I want to thank all the Shoot The Centerfold attendees and family who came by to support the cause that we all believe in .. "great photography". It felt as my family came to see me and I just want to share all the new stuff I have learner and accomplished in our next seminar / workshop in Miami on Jan 27-29, 2011.
ART BASEL MIAMI SALES REPORTS
An estimated $2.5 billion worth of art was up for grabs at Art Basel Miami Beach's 260 booths, luring art tourists of all types as well as celebrity supercollectors collectors like Dasha Zhukova and Eli Broad. Broad took home a large-scale Kara Walker drawing for $175,000 from Sikkema Jenkins & Co., while rap mogul P. Diddypicked up YBA bad girl Tracey Emin's white cursive neon, I Listen to the Ocean and All I Hear is You (2011), for £45,000 at Lehmann Maupin. P. Diddy also nabbed one of those interactive light installations by the collective Andom International that were such a hit at Carpenters Workshop Gallery at the Design Miami fair.
New York dealer Christophe van de Weghe showed his blue-chip chops, with sales of a 2004 Gerhard Richter Abstraktes Bild for $2.8 million and a 1961 Frank Stella selling for $1 million. As for new talent, the bonanza was at Chicago's Kavi Gupta Gallery, where Armory Show artist and all-around man-of-the-moment Theaster Gates, who performed at the fair's opening ceremony with his gospel group The Black Monks of Mississippi, sold no fewer than 35 sculptures, most within the first three hours. Prices ranged from $30,000 for a plinth lodged with a porcelain plate to $250,000 for a wooden structure with a ceiling of lantern glass slides, which went to trustees of the Virginia Museum of Fine Arts. 
Another hot young property, Brooklyn artist Carol Bove made something of a splash at David Zwirner, who sold all five of the Bove works on hand — two paintings on linen and a set of sculptures — for between $60,000 and $150,000, including one to the massive private Jumex collection in Mexico.
PULSE MIAMI
Now in its seventh year, Pulse and its director Cornell DeWitt are clearly atop the satellite art-fair circuit, with this year's event drawing 15,000 visitors, including Hollywood tycoon (and recently fired Oscars producer) Brett Ratner and movie starsAdrien Brody, Catherine Zeta-Jones and Michael Douglas, who was spotted scrutinizing Paramodel's miniature sushi truck sculptures at Tokyo's Mori Yu gallery, part of the fair's IMPULSE section.
Danziger Gallery cleaned up with a series of six 1970s seascapes, "Sections of England: The Sea Horizons" by Garry Fabian Miller, selling for $20,000 apiece. And the young California artist Allison Schulnik, who layers oil paint onto her canvases like cake icing, sold 12 works out of her studio after her Culver City gallery, Mark Moore, sold both of the paintings it had brought to the fair. The artist is having a solo exhibition at the Laguna Art Museum in 2013.
Chicago dealer Carrie Secrist gallery sold two editions of Angelo Musco's creepy five-panel photographic mural of piled naked bodies replicated into the shape of a forest's root systems and branches, Xylem, each for $90,000. Santa Monica gallery Shoshana Wayne sold a photo triptych of Khmer Rouge prisoners by Dinh Q. Le Cambodia: Splendour and Darkness, to a private collection in New York for $180,000. And Hasted Kraeutler sold Kim Dong Yoo's painting of Marilyn Monroe done up to resemble Einstein, Mao, JFK and other iconic figures, for $117,000.
ART MIAMI
Just ending its 22nd year, this satellite fair started out as the only one in town — and still does plenty of business. Galerie Michael Schulz sold Gerhard Richter's Abstraktes Bild for $1.6 million, Mark Borghi Fine Art sold works by Jean-Michel Basquiat (for $250,000) and Alexander Calder ($85,000), and Osborne Sandborne sold three Henry Moore sculptures for in the neighborhood of $500,000.
Paintings remain hot sellers, with a 1959 work by recently deceased color field artistKenneth Noland, titled Blue Painted Blue, going for $350,000 at Bridgette Mayer Gallery. And James Barron Gallery placed Richard Diebenkorn's Reclining Nudefor $85,000, while British artist Jason Martin just about matched his auction record with his painting Kreyòl, selling at Forsblom Gallery for $135,000.
Pace Prints brought the crowd pleasers, however: Yoshitomo Nara's shiny, white, functioning Doggy Radio sculptures. The gallery sold 45 for a healthy total of $112,000.
RED DOT
Boca Raton dealer Richard Coplan (Coplan Gallery) fetched six-figure numbers by selling iconic photography from Douglass Kirkland, Elliott Erwitt, Steve McCurry and Jarmo Pohjaniemi. Scott Prior's paintings were also a hit at the sale.
NEW ART DEALERS ALLIANCE
Younger artists may be the draw at NADA, but nevertheless Manhattan dealer Leo Koenig sold nine 1968 photographs by German painter Sigmar Polke for $175,000. At On Stellar Rays, a private collector snapped up the first edition of a Clifford Owens' "Anthology," a series of photos of Owens re-enacting various pioneering performances by black artists. The series, which is currently on view at MoMA PS1, sold for $169,000.
Lower East Side dealer Simon Preston sold out his entire booth, including a $22,000 aluminum wrap sculpture by Bushwick artist Michelle Lopez and a $26,000 painting by Belgian artist Caragh Thuring.