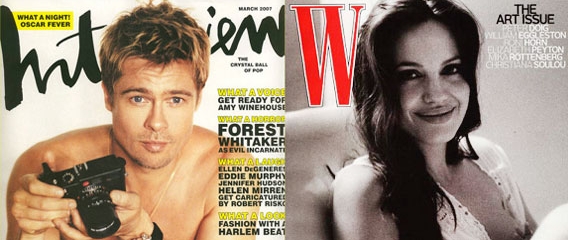 If the guy wasn't already talented enough, now Brad Pitt is showing off his ability to shoot photos of his gorgeous "wife" and family using black and white film. The photos are quite spectacular and give us all an interesting insight into his life behind closed doors. You will want to see these.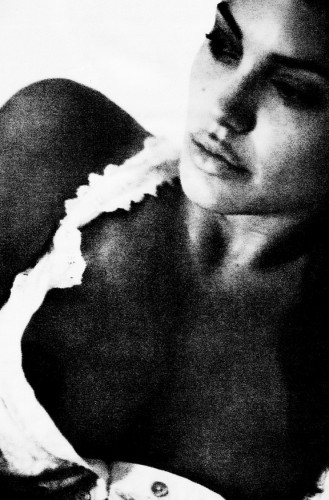 The photos originally were published in the November 2008 issue of W Magazine. According to Lomography.com "W's Creative Director Dennis Freedman wanted a different perspective for their next feature of Angelina Jolie, revealing an angle yet unseen of one of the most photographed women in the world. The answer couldn't have been more obvious and ambitious. "I was surprised that Brad accepted the challenge," said Freedman as Brad Pitt showed interest and enthusiasm in shooting the portraits himself."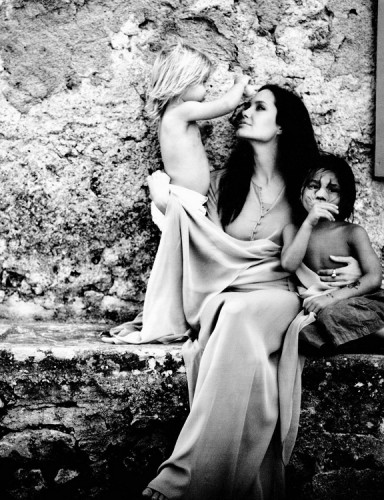 To produce the photos for the assignment from W Magazine, Pitt requested rolls of Kodak Tech Pan – a film that had been discontinued back in 2004. The magazine's photo editor however located 40 rolls of the film to send to Pitt to use as requested. Tech Pan was popular with photographers in the fashion industry for it's high contrast black and white results.
"Pitt also wanted to try a specialized film used in World War II–era movies. That was a no-go. One of Vellam's sources instead recommended Ilford to achieve the same romantic, grainy quality. Assistant Bookings Editor Will Higdon-Sudow hopped a flight with it and made the handoff in a hotel lobby. The results speak for themselves."
Maybe I'm biased because I've had a little crush on Brad since I was 10 (Fight Club?) but I think the photographs are great. Not because they are technically well-executed, but because Freedman achieved what he wanted from the get-go: to give readers a closer, sanctioned look into the the lives the couple constantly tries to keep away from prying eyes.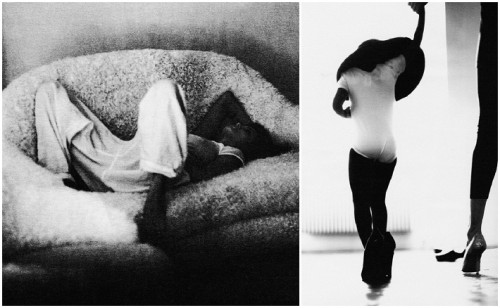 While looking over the images and been impressed with Pitt's ability to capture images that goes far beyond just snapshots around the house. The lighting is simple and beautiful and the composition is fantastic. His subject is of course absolutely stunning and those lips, wow! But who knew that Pitt had such a great eye for capturing photos.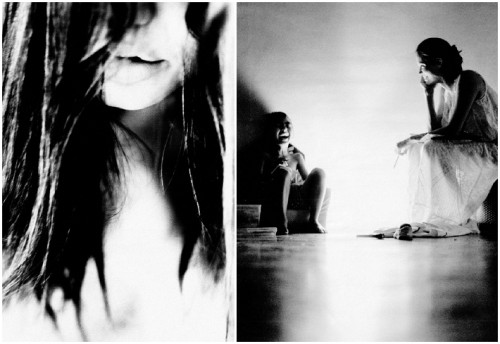 There's a sense of self-aware narration in the shared images, yet somehow, with the classy choice of black and white film and the way light finds Brad's subjects (or vice versa), there is an even greater sense of ennui and mystery that leaves me wanting to see more. For that alone, the endeavor is a success.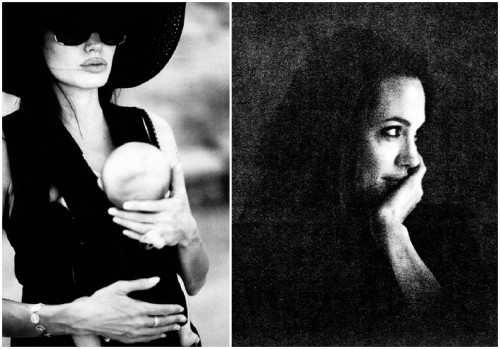 Freedman notes that previously, he already noticed Brad's attention to detail. "Last time we collaborated, I was struck by his sensitivity to the subtleties of photography. I knew that he possessed a highly tuned critical eye and would be very demanding of himself. Still, I wasn't prepared for the beauty and intimacy of the images he made of Angelina and the children."