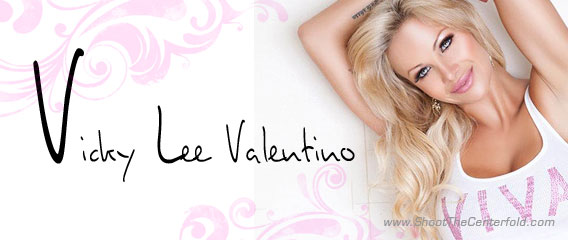 Australian model import Vicky-Lee Valentino joins Shoot The Centerfold's Oct. 13-14, 2012 seminar/workshop. She sets a distance record for the model to travel the farthest distance to one of our seminars. Her Aussie accent and Outback good looks may even set some of us to bouncing like a kangaroo with a boomerang! To wet our shrimp-on-the-barbie appetite, here's a short interview with Kiwi bombshell Vicky-Lee. This Oz beauty has been seen in numerous magazines, newspapers and on television. Her passions include modeling, TV presenting, acting, and designing her new swimwear line. Enjoy!
Interview:
Name: Vicky-Lee Valentino
Home: Between Sydney, Australia and Rhode Island, USA (by way of NZ).
Seen in: Numerous magazines, newspapers and on television!
Passion: Modeling, TV presenting, acting, and designing my new swimwear line.
Likes: My best friends, my industry, traveling, working out, and living a healthy lifestyle.
Dislikes: Negativity, arrogance, lack of sleep and flights over 2 hours long. My A.D.D. kicks in once I get bored and there's nowhere to go on a plane!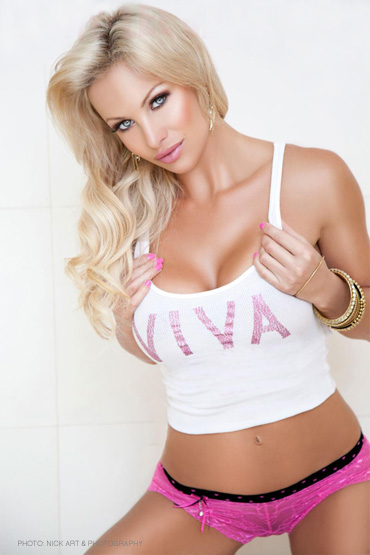 STC: Vicky-Lee Valentino, it is truly pleasure to have you join us at our next Shoot The Centerfold seminar/workshop in Miami Oct. 13-14, 2012.
Vicky-Lee: Hello, Thank you very much, I'm excited to be part of the team
STC: You are setting a model travel record by traveling all the way from Sydney, Australia to join us. We have had photographers from Australia come to our seminars before, but models have usually been found close by. We understand that quality should never be measured in distances and for those who don't know, Australia is about as far you can get from Miami Beach, Florida where we are having our next seminar.
Vicky-Lee: Haha! I know, right? I think my flight time is around 21 hours in total. I must love the Shoot The Centerfold team already! It's not the most fun flight, but there's gold at the end of the rainbow; Miami Beach and you guys!
STC: Tell us about your modeling. We see that you have gotten some great titles under your belt like, Miss Hawaiian Tropic (NZ), Miss Swimsuit Illustrated (NZ), Miss Indy (NZ), and the list just goes on and on…
Vicky-Lee: Yes, I do have some titles under my belt. I was actually very shy when I was young and I just kind of fell into modeling when I won the "Fresh Face" of a skincare product when I was 15 or 16. This started my career. I did a bunch of shoots and started doing some acting over the next few years. I also won prom princess at school. This is when I got some serious confidence! (laughs)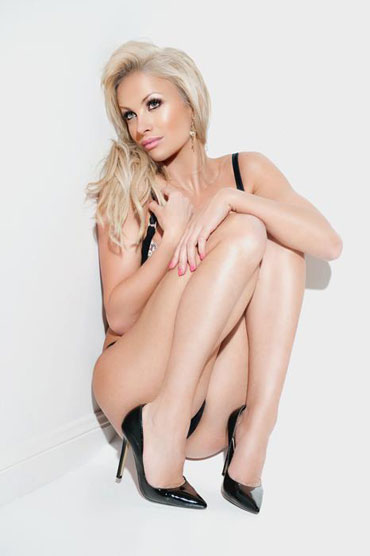 However, I started a graphic design company when I was 19 years old, but still made time to do featured roles on "Xena: Warrior Princess" as Gabrielle's naked body double! (laughs) This is when I took the glamour road. I met a girl on set who convinced me to do a bikini contest and for some reason, it was my time and I started winning them all.
From there, I got into the media, published on covers of magazines and traveled to Australia, USA and China representing New Zealand in pageants. This lead to the reality TV shows and TV presenting, which I really love. In 2010, I moved to Australia and won the Girls of Playboy Golf Australia contest. I'm very lucky to have met some great contacts and now I am looking to pursue my career in the USA, while working on bringing out my swimwear line with a girlfriend who is a model in the fitness industry.
STC: You've been modeling for quite some time. Do you have any advice for beginning models?
Vicky-Lee: Be yourself and show them what you've got! You need to have a nice, patient, friendly personality in this industry also. That is important. It doesn't matter how beautiful you may think you are, but if you're bitchy, difficult and unreliable, no one will want to work with you. Have confidence, but don't be too cocky.
STC: What about photographers? Do you have any advice for them? What's important to you when working with a photographer, regardless of their skills?
Vicky-Lee: Just be real. Don't be afraid to give direction, as we can't see what you can. I like to be able to joke and have fun with my photographers. Having a personality doesn't affect your skills, in fact, I think it helps. Being comfortable around each other is important. It also helps if you're playing my favorite heavy metal bands! (laughs)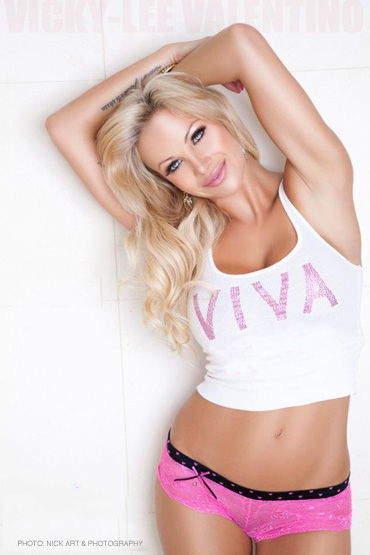 STC: What do you think are your best features (apart from having a great personality)?
Vicky-Lee: I think my eyes are my best feature. I am a big '"face" person so I like to use my eyes and mouth to make a shot. People always ask me where I got my nose done, but I've never touched my face! That's far too scary for me! So, I guess I have a good nose! (laughs) I had never even noticed my nose until people started asking me that! Funny!
STC: You have also taken an interest in acting and being in movies. Do you like acting better than modeling? Don't forget to tell us about the "Men's Virginity" documentary you did!
Vicky-Lee: I love acting! I'm a Gemini so I came out of the womb already prepped with different personality options! (laughs) I have a large imagination and I enjoy being able to play the part of someone else. Truth be known, I would love to play a role in a psychological thriller or horror! I once played out a bunch of fantasy roles in a documentary called "Men's Virginity" which obviously was about men losing their virginity. That was fun, as the men interviewed for the documentary ranged from an injured teenager in an ambulance to men back in World War II days. Acting is different from modeling. I'm still myself when I am modeling. I love it, though they are both fun. I also love TV presenting, probably more so than acting. Music television and entertainment television are my passions.
STC: You were also in the "Miss Popularity" reality show. As we don't get to see it here in the USA, you just have to come and make an impression in person. It goes without saying that your popularity is going to hit a chord for many. Reality shows are a very "in" thing in the USA market from the Kardashians to Miami's hot housewives. Have the Kardashians made their way to the Australian tube yet and how popular are they over there?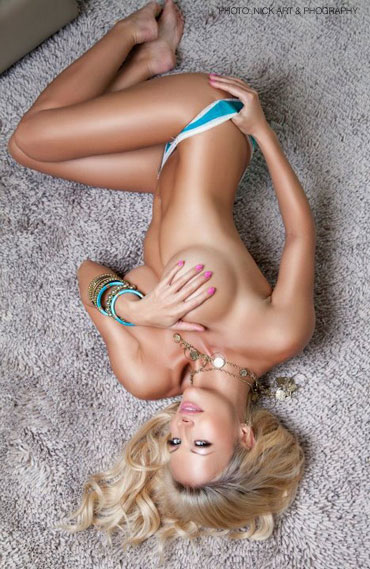 Vicky-Lee: Yes, "Miss Popularity" was my first reality TV show. It was actually filmed in the outback of Australia for NZ TV. There were snakes, spiders, mud and all sorts of crazy tasks we had to do. I made some great friends on the show and this really helped my career. It was this show that really made me a household name in my country.
From there, I was also on a show called "Celebrity Treasure Island" which was a survivor type show. These shows have since been aired in Australia, Asia and some parts of Europe, I believe. Oh, boy, Aussies go crazy over the Kardashians and Jersey Shore, etc. Kardashians are big here. I'm not a fan, but good for them; both those shows have been big hits.
When it comes to reality shows, for the people who love it, you can't miss a show, and for the people who love to "hate" it, you can't miss a show, either. It's a crazy world. I'm more in to Rob Dyrdek's shows – ridiculousness is a favorite. I was a big fan of "Jackass" and "Nitro Circus." I like the more funny shows with crazy antics!
STC: Shoot The Centerfold's own Steve Wayda photographed Kim Kardashian a few times for pictorials. What do you think? Is she all that hot? Is this a "Blonde vs. Brunette" question, or do blondes rule?
Vicky-Lee: What does Steve think? He's the professional. I have not met Kim in person before, but every photo I see of her, she looks nice. She has a nice face and she wears clothes and does poses that work for her. "Blonde vs. Brunette" Hah! Well, I was always a "blondes rule, they are far more sexy" person. I think that was Pamela Anderson's fault! (laughs). But then I saw Adriana Lima! I can't decide; my "all that" list is a tie between Candice Swanepoel, Rosie Huntington-Whiteley and Adriana Lima!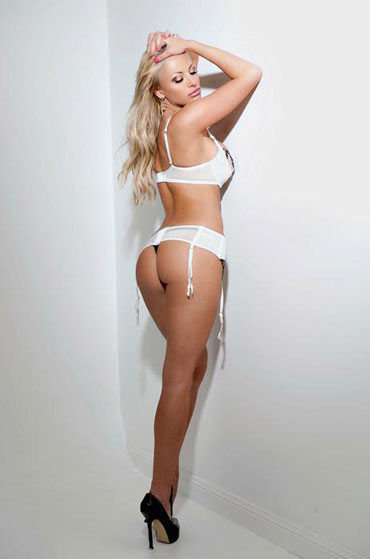 STC: Tell us about your Playboy experience.
Vicky-Lee: I first was involved with the Playboy brand in 2007 when I was cast to do an advertorial in a NZ TV magazine for the Playboy Channel on Sky TV. I enjoy going to the Playboy Mansion and in 2010, I won the Girls of Playboy Golf Australia contest. From that title, I was asked to host pool openings in Thailand and do interviews for TV, radio and newspapers in Singapore in 2011 as a glamour model with a Playboy title. Now, I can't wait to be a Playmate of the Month!
STC: A model like you must get tons of offers from photographers. Tell us what which are the best and worst pick-up lines photographers have used.
Vicky-Lee: You know what? I have become very good at either filtering out the types that hit on you, or finding out that they are likely to be the type to hit on you and I never work with them. We are often wearing hardly any clothing, and sometimes nothing at all, so I think it's important to be professional. Harmless flirting is ok, you know, but I prefer not to be creeped out at work. (laughs)
STC: What are some of your favorite places you have travelled?
Vicky-Lee: Cancun, Mexico. I would love to shoot there! Let me know if anyone is keen! I've been there on vacation twice already this year. Hawaii, Miami, Thailand and Australia also have beautiful beaches. Singapore and Japan are super cool, too. I love the people there.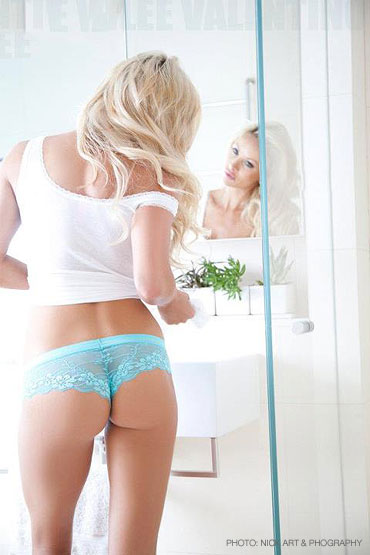 STC: Where will you be in five years?
Vicky-Lee: I can't even figure out what I'm doing next week! I would love to have built myself as a brand in the USA. Hopefully, be getting some cool gigs in the industry and have our swimsuits on thousands of boobs and bums!
STC: You are going to be meeting quite a few photographers at the STC and we are all very excited to meet you and hearing your awesome Australian accent; clearly the best export Australia has to offer!
Ladies and gentlemen, Vicky-Lee Valentino promises to make her mark during our seminar and we are going to capture the best of her with our cameras. She hints that going to the beach and swimming are some of her favorite things to do, so perhaps we all should pack our Speedos and a low-calorie attitude for those beach photo opportunities!
So, there you go; our first taste of Vicky-Lee Valentino! To see more, join us for our Shoot The Centerfold seminar/workshop on Oct. 13-14, 2012 in Miami.