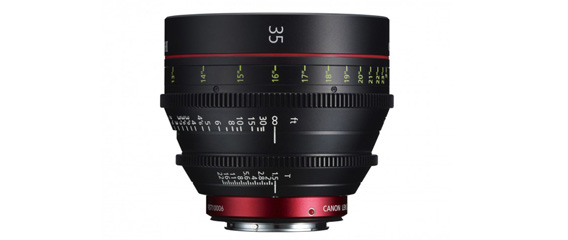 Designed for Film-Style Operation, the Canon Cinema Prime Lenses Deliver Exceptional 4K / 2K / HD Imaging Performance and a Broad Range of Focal Lengths.
Canon U.S.A., Inc., a leader in digital imaging solutions, has announced today the new CN-E35mm T1.5 L Fsingle-focal-length Cinema prime lens designed for large-format single-sensor digital cinematography cameras employing Super 35mm or full-frame 35mm imagers. Delivering outstanding optical performance in contemporary 4K / 2K / HD motion imaging, the new Canon CN-E35mm T1.5 L Fprime lens is the sixth member of Canon's line of compact, precision-matched EF-mount Cinema prime lenses, which also includes 14mm, 24mm, 50mm, 85mm and 135mm EF-mount models.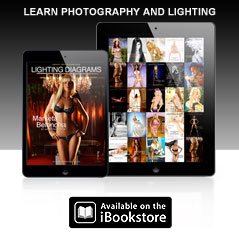 Collectively, Canon's Cinema prime lens family delivers a wide range of the most important choices in focal lengths to address a myriad of creative digital cinematography choices. All six Canon Cinema prime lenses provide a full-frame 36mm x 24mm image circle for full compatibility with the Canon EOS-1D C, EOS C500, EOS C300 Digital Cinema cameras, the EOS 5D Mark III and EOS-1D X DSLR cameras, the EOS C100 Digital Video Camera and EF-mount cameras made by other manufacturers. The lenses also feature consistent color balance, minimal focus breathing, water-resistant rubber gaskets, and an 11-blade aperture diaphragm to help achieve creative depth-of-field manipulation and pleasing "bokeh" effects. The six Canon Cinema prime lenses are also designed to facilitate production with uniform stepless gear-positioning rings for iris and focus, with an identical 300º smooth rotation angle on the focus ring. These control rings – switchable from feet to metric labeling – maintain just the right amount of resistance with consistent operating torque. Lens barrels are engraved with easy-to-read scale markings, and consistent 114mm front lens diameters can accommodate screw-on filters and other accessories.
"As with all Canon Cinema prime lenses, the new Canon CN-E35mm T1.5 L F lens has been crafted to meet the creative requirements of the most discerning cinematographers, directors and producers," said Yuichi Ishizuka, executive vice president and general manager, Imaging Technologies & Communications Group, Canon U.S.A. "Filmmakers indicated a need for this lens in our lineup and with its launch, we now offer six cinema prime lenses covering some of the most important focal lengths."
Canon EF Mount Advantages
All Canon Cinema prime lenses feature a genuine Canon EF-mount with electronic contacts that interface with corresponding contacts on Canon cameras for direct communication between each device. This communication allows lens data – including F-numbers – to be displayed in the viewfinder. Both the F-number and the lens model name are also recorded in the camera's video file as metadata. The new upcoming firmware announced today for the Canon Cinema EOS C500, EOS C300 and EOS C100 cameras will provide Canon proprietary features, such as the Peripheral Illumination Correction function, for the CN-E14mm, 24mm, 50mm, 85mm and 135mm lenses and is scheduled to be available by the end of 2013. Such features are scheduled to be available for the new CN-E35mm lens in 2014.
Canon Cinema Prime Lens Comparison Chart
Focal Length
CN-E14mm
CN-E24mm
CN-E35mm
CN-E50mm
CN-E85mm
CN-E135mm
Maximum
Aperture
T3.1
T1.5
T1.5
T1.3
T1.3
T2.2
Image Circle
Full Frame
35mm
Full Frame
35mm
Full Frame
35mm
Full Frame
35mm
Full Frame
35mm
Full Frame
35mm
Angle of
View**
104.3°  x
81.2°
73.7°  x
53.1°
54.4°   x
37.8°
39.6°  x
27.0°
23.9°  x
16.1°
15.2°  x
10.2°
M.O.D.***
0.2m
0.3m
0.3m
0.45m
0.95m
1.0m
Focus Rotation
Angle
300º
300º
300º
300º
300º
300º
Outer
Diameter
114mm
114mm
114mm
114mm
114mm
114mm
Length
94mm
101.5mm
101.5mm
101.5mm
101.5mm
116mm
Weight
2.65 lbs
2.65 lbs
2.43 lbs
2.42 lbs
2.87 lbs
3.09 lbs
Image Circle
Full Frame
35mm
Full Frame
35mm
Full Frame
35mm
Full Frame
35mm
Full Frame
35mm
Full Frame
35mm
Iris Blade
11-blade
11-blade
11-blade
11-blade
11-blade
11-blade
Optical
Quality
4K
4K
4K
4K
4K
4K
**Horizontal Angle of view for full frame 35mm (aspect ratio 1.5:1, 36.0×24.0mm)
***M.O.D: Minimum Object Distance
Canon Cinema Zoom Lenses
The versatility of image-capture options using Canon EOS Cinema Cameras can be further extended with Canon's Cinema Zoom lenses (the CN-E14.5-60mm T2.6 wide-angle and the CN-E30-300mm T2.95-3.7 telephoto) and compact Cinema Zoom lenses (the CN-E15.5-47mm T2.8 wide-angle and CN-E30-105mm T2.8 telephoto). All four lenses are available in both EF- and PL-mount versions; the mount can be switched at a Canon service facility in the United States for added flexibility. Almost all of Canon's EF Series photographic lenses can also be used with Canon Cinema EOS Cameras, including Image Stabilized zoom, tilt-shift and macro lenses.
Pricing and Availability
The Canon CN-E35mm T1.5 L F Cinema prime lens is expected to be available in December 2013 for an estimated retail price of $5,200. For a visual representation of the power of Canon's Cinema optics, please visit:pro.usa.canon.com/cineoptics.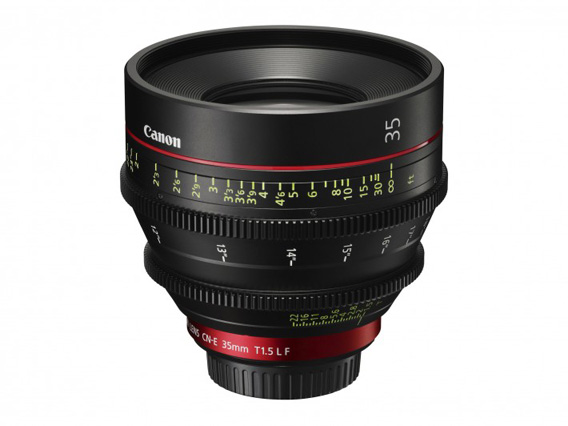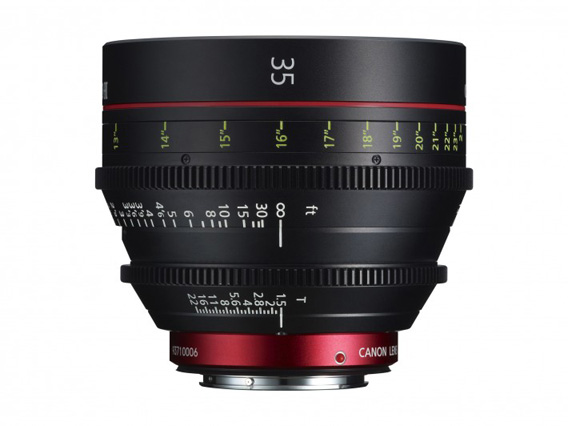 © 2013 Copyright ShootTheCenterfold.com. All rights reserved