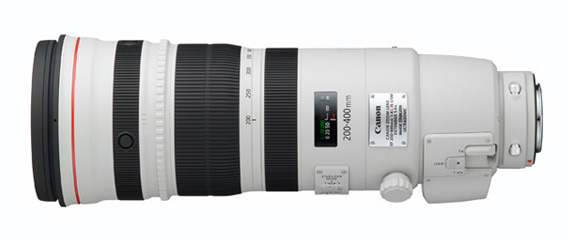 Text by Stephen Shankland
The good: The Canon EF 200-400mm f/4L IS USM Extender 1.4X combines terrific optics, autofocus, and image stabilization with standout flexibility from a built-in telephoto extender.
The bad: Few can afford the $11,800 price; 8.3 pounds is a lot to carry around; there's some vignetting when shooting wide open.
The bottom line: You get you what you pay for with the Canon EF 200-400mm f/4L IS USM Extender 1.4X: superlative performance and flexibility.
Maybe money can buy you happiness after all
I'm very impressed with Canon's hulking but versatile supertelephoto, the EF 200-400mm f/4L IS USM Extender 1.4x. If what makes you happy is sharp-focus shots of skittish wildlife, racing motorcycles, and air show jets, this lens delivers.
But its price tag — $11,800 — means only professionals and the best-funded hobbyists will get the chance to buy that happiness.
The lens' tremendously useful trick is a built-in 1.4x telephoto extender that, with the flip of a lever, changes it from a 200-400mm f4 lens into a 280-560mm f5.6 lens. That single trick means that this lens costs nearly twice what Nikon charges for its 200-400mm f4 competitor.
The price isn't too far out of line with other very high-end telephotos — $11,000 for Canon's EF 400mm f/2.8L IS II USM, for example, or $10,400 for its EF 500mm f/4L IS II USM Lens. However, the sad reality is a lot of Canon customers were hoping for something priced more like Nikon's $6,500 AF-S Nikkor 200-400mm f/4G ED VR II or that offered better performance than Canon's EF 100-400mm f/4.5-5.6L IS USM design, with its elderly first-generation image stabilization and middling sharpness. It's hard not to bridle after seeing how Canon raised the price of its 24-70mm f2.8 lenses from about $1,300 to $2,100 moving from its first-generation to second-generation design.
Price aside, the lens is super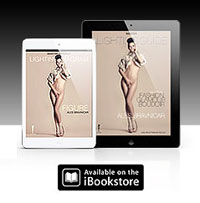 In my testing on a Canon EOS 5D Mark III, I found the lens sharp either with or without the 1.4x extender engaged. There's no need to stop down, either; the maximum aperture of f4 at 200-400mm or f5.6 at 280-560mm performs admirably. Its autofocus operation is snappy, its magnesium-alloy build is rugged, the image stabilization is effective, and its 2-meter close-focus distance is good for nearby subjects like hummingbirds at a feeder. Distortion was minimal, and bokeh was creamy. My only complaint about the optics was significant vignetting when shooting wide open.
Using the built-in 1.4x extender quickly becomes routine. At the Paris Air Show, I'd have the lens all the way out at 560mm for a small stunt plane's acrobatics, then flip the lever and take the zoom to 200mm for a hulking Airbus A380 taxiing nearby. Walking in the Bois de Boulogne forest, I'd quickly shift from 560mm for small birds to 300mm or 400mm for comparatively fearless mallards. It takes almost no time to learn how to move your hand from the shutter release button to the 1.4x lever to change the range. There's a lock to keep it at one setting or the other, but I never had any trouble with the mechanism.
The built-in extender is useful enough that I could imagine it cropping up elsewhere in Canon's lens line. It adds a lot of complexity to the design — the lens goes from 25 lens elements at 200-400mm to 33 lens elements when the 1.4x extender is engaged. But Canon tuned the 1.4x extender's optics for this particular lens to keep image quality higher than with external extenders, and I could see a pro photographer enjoying the ability to change a 300mm f2.8 to a 420mm f4 even at the cost of one stop of exposure. The only real awkwardness I had with the extender was remembering to open up the aperture to f4 from f5.6 when disengaging the extender.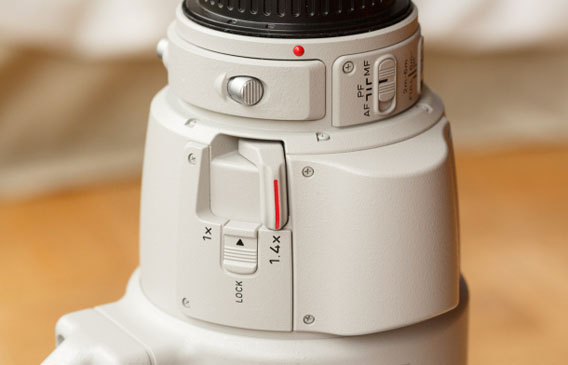 The standout feature of the Canon EF 200-400mm f/4L IS USM Extender 1.4x lens is a built-in 1.4x telephoto extender. It's operated by flipping a lever near the camera end of the lens. The feature comes at a cost: the lens has a suggested price of $11,799 and weighs 8.3 pounds.
At 8.3 pounds (3.6kg), the lens is heavy. If you don't have a monopod or tripod (or mammoth shoulder muscles), you'll quickly tire of holding it up. And it's bulky, 14.4 inches (36.6cm) long without its lens hood. The size and weight are par for the course for supertelephoto lenses, but that doesn't make it any easier to track fast-moving subjects like pirouetting helicopters and skittish birds.
Fortunately, the image stabilization helps a lot. For stationary subjects, I was able to shoot at 560mm at 1/40 sec. with blur-free results about half the time, even without leaning against walls, cars, or trees for stability. When the supermoon fortuitously arrived while I had the lens for testing, I shot handheld with my own 1.4x extender attached for a 784mm f8 configuration with consistently good results at 1/250 sec.
Sharpness diminished with my second-generation Canon 1.4x extender attached, but I was still impressed. And the hassle of putting on the extender, in particular with a lens this large, made me appreciate the convenience of having one built in all the more.
The lens, a member of Canon's high-end L-series family, is admirably sturdy, with seals to protect against water and dust. The operation of all the controls is easy, with comfortable ribbed rubber grips for zoom and focus.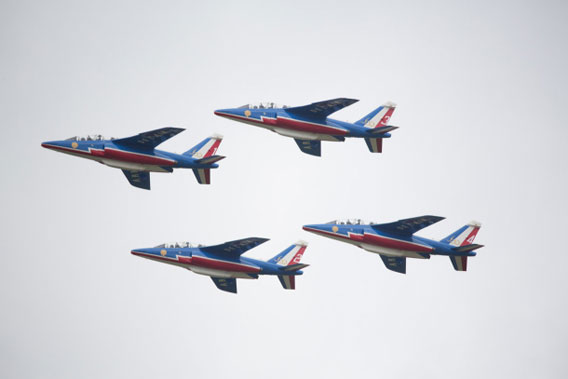 Vignetting is a minor but noticeable issue with the Canon EF 200-400mm f/4L IS USM Extender 1.4X, chiefly when shooting wide open. This shot was at 560mm, f5.6, 1/1,000 sec., at ISO 200.
On the lens barrel are a lot of switches for a lens. Closest to the camera is a switch to set the lens focus range — either the full range, 2 to 6 meters, or 6 meters to infinity. Next to that switch is the autofocus setting: autofocus, manual focus, or the newer power focus, a movie-oriented feature that uses a motor to smoothly change the focus.
| | | |
| --- | --- | --- |
| Mount |   | Canon EF |
| Focal range |   | 200-400mm without 1.4x extender; 280-560mm with extender |
| Aperture range |   | f4 without extender; f5.6 with extender |
| Minimum focus distance |   | 6.5ft/2m |
| Angle of view |   | 6.2-12 degrees without extender; 4.4-8.8 degrees with extender |
| Elements |   | 25 without extender, including fluorite and ultra-low dispersion glass; 33 with extender |
| Coating(s) |   | fluorine on front and back elements for dirt resistance; SWC (subwavelength structure coating) to cut flare and ghosting |
| Filter diameter |   | 52mm drop-in |
| Length |   | 14.4 in./366mm |
| Diameter |   | 5in/128mm |
| Weight |   | 127.7oz/3620g |
| MSRP |   | $11,799 |
Farther out on the barrel is the switch for choosing stabilization modes: 1 for full image stabilization, 2 for vertical-only stabilization for panning shots, and 3 for engaging stabilization only after you've pushed the shutter release button. Here you can also set a an autofocus preset that's useful when you can predict a subject's distance — the point on a track where a race car comes into view, for example, or the watering hole on a safari.
The lens is well suited for sports and wildlife photographers who benefit from some flexibility. Those who specialize in birds might well be better off with Canon's 500mm or 600mm f4L lenses, perhaps augmented with a 1.4x telephoto extender. Birds, unless comfortable around humans, are generally small, fast-moving, and far away. That means the 200mm end of the 200-400mm lens' range isn't terribly useful, and f5.6 is a notch slower when you're at maximum telephoto.
Just getting the lens out into the field is an ordeal. It comes with its own suitcase and shoulder strap, but I found it more convenient to reconfigure my unusually large camera backpack. Most camera daypacks won't be able to hold it, though.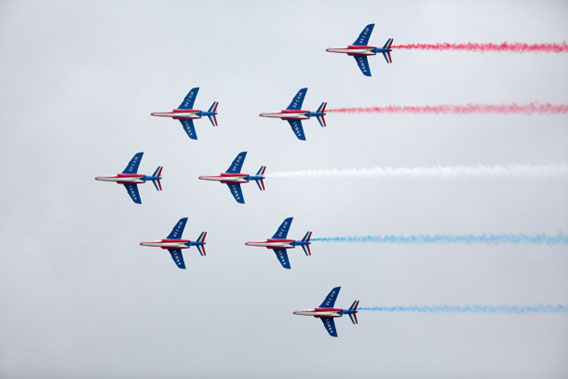 The Canon EF 200-400mm f/4L IS USM Extender 1.4X can be moved rapidly from 200mm to 560mm by flipping the 1.4x extender lever and rotating the zoom ring, something that's handy as air show planes come and go. Click the image for a look at the sharpness of the planes. This shot was at 225mm, but moments earlier the jets were far enough away that 560mm was appropriate.
Many photographers in the market for a lens like this will already have sturdy tripods, gimbal mounts, and big packs, but if you don't, the high cost of this lens will be supplemented by some expensive accessories. Compared to the cost of the lens itself, though, it's pocket change.
The price is easier to stomach when you think about what it would cost to stretch from 200mm to 560mm so rapidly. To handle that range without the laborious process of attaching a teleconverter, you'd need two camera bodies and two lenses. Even with more affordable options, such as the $1,700 100-400mm or Canon's $1,340 EF 400mm f/5.6L USM with a 1.4x extender attached, you're talking about thousands of dollars, an aperture of f8 at 560mm, and a lack of image stabilization at the long end that puts more limits on your shutter speed.
Other options are Sigma's 150-500mm F5-6.3 APO DG OS HSM or its $1,000 120-400mm F4.5-5.6 DG APO OS HSM with a teleconverter. These are geared more for consumers, though, and come with compromises in sharpness and aperture.
Perhaps the best alternative would be to get a crop-frame camera body such as Canon's 7D or new 70D and the Canon 100-400mm. With the 1.6x focal-length multiplier, you'd be looking at an equivalent of 160-640mm, and you won't suffer the autofocus limitations of shooting at f8.
There's no question what the most desirable option is, though: the superb image quality and supertelephoto flexibility of Canon's extendable 200-400mm. It's no wonder Canon is charging a premium.
Credit: Stephen Shankland